The lucky winner of the Your Autumn Unseen Places Nature Challenge can choose one of the amazing nature experiences list below. Read the competition terms and conditions.
Winners
Spot Prizes: J.Selimovic, A.Harewood and J.Field
Major Prize: J.Thompson
Hiking and Walking Experiences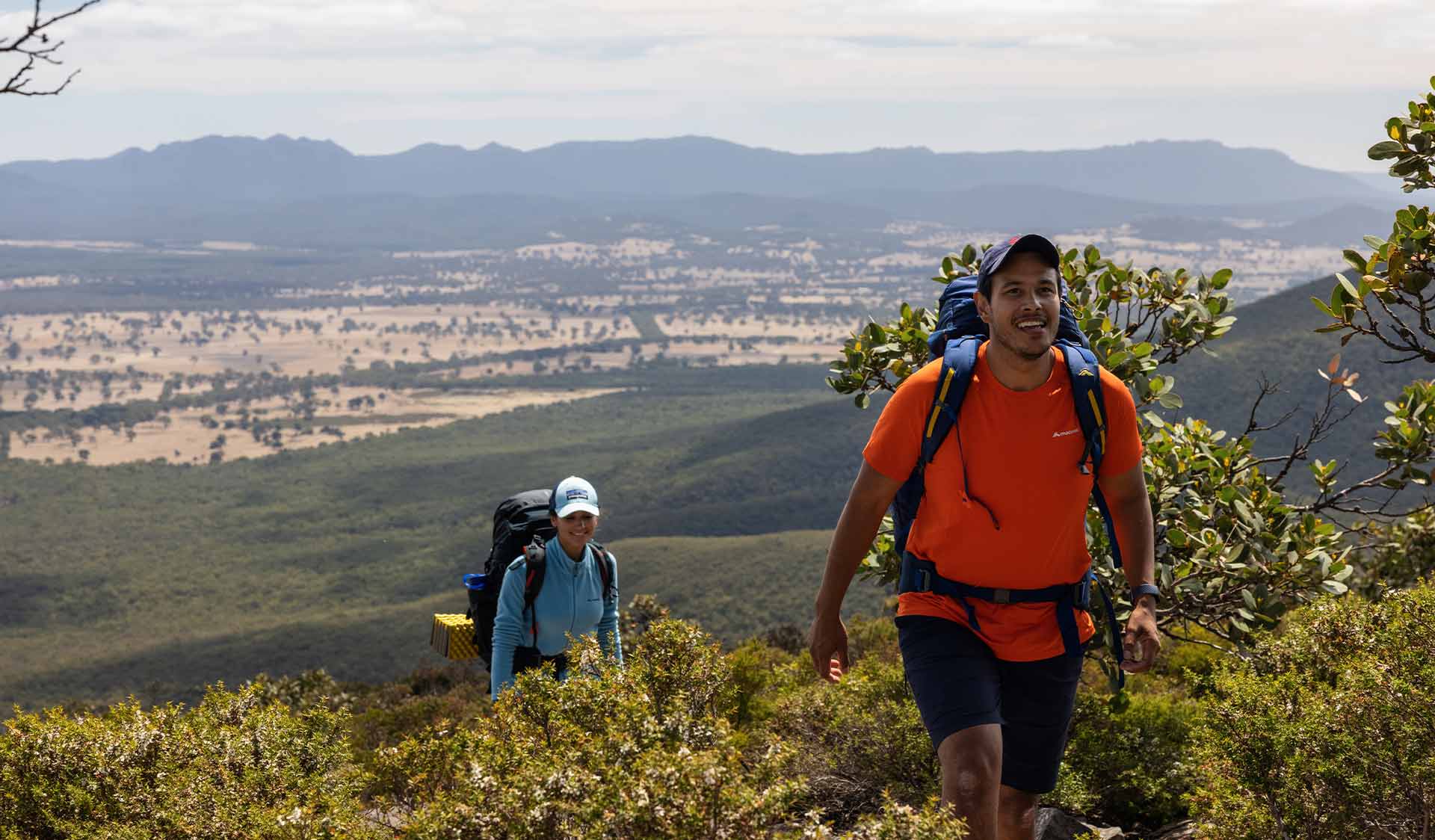 1. Grampians 3-day hiking adventure for 2
If you love hiking, then choose this three-day adventure on Victoria's newest world-class trail, the Grampians Peaks Trail. And... Don't rough it, do it in style with Grampians Peaks Walking Company. This prize option is for two people to join any of the GPWC seasonal scheduled departure dates on their 3 day, 2 nights, fully guided and catered Northern Huts Walk experience.
2. Alpine hiking for 2 with a night sleeping up in the trees
Join Alpine Nature Experience nature immersion on one of their Falls to Hotham hike departures and experience a different way to hike! No heavy packs, tents, campsite set up or cooking – it's all done for you. And there's a twist! The tents are hoisted between trees! Join Alpine Nature Experience on an all-inclusive 3-day, self-guided curated hike from Falls Creek to Mount Hotham including a night eco-glamping in treetop tents, all meals, pre and post hike accommodation in 3-star accommodation, and transport to the hike starting points.
3. Complete Great Ocean Walk 7-day guided and catered tour for 2
104km of guided walking through spectacular diverse terrain from tall forests to windswept cliff-tops presenting amazing coastal views - nature truly unfolds around every bend. Carry only a day pack as you (2 people) enjoy the amazing sights of one of Australia's greatest multi-day walks. Inspiration Outdoor Tours make an end-to-end walk on Victoria's iconic Great Ocean Walk achievable and enjoyable on this 7-day guided tour. Excellent home-made food, comfortable lodge style accommodation and knowledgeable guides will complement your trip.
High Adrenalin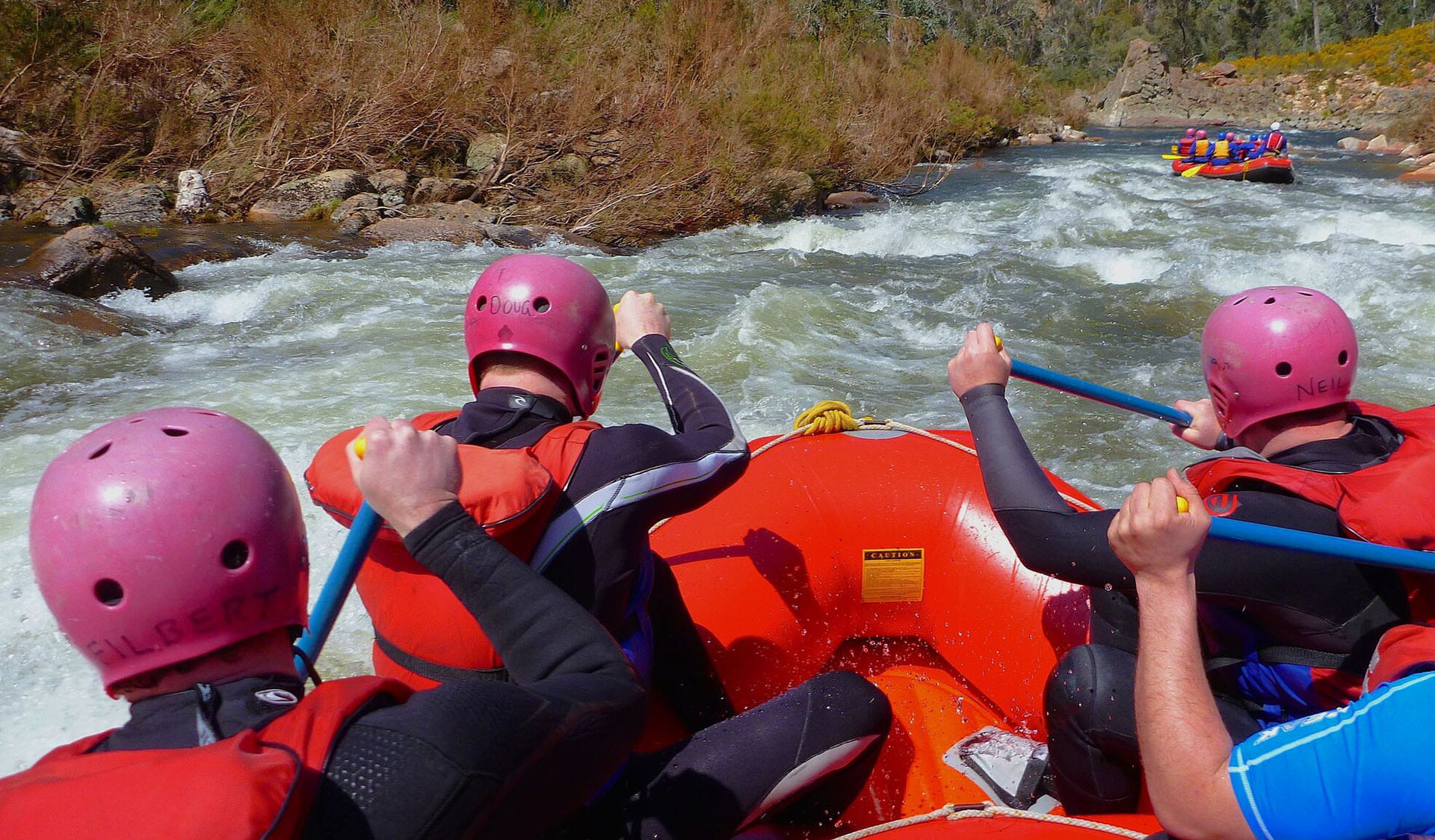 4. Cliff-camping experience and rock-climbing ascent for 2 in Mount Buffalo National Park
This unique adventure with Unleashed-Unlimited includes a thrilling overnight stay on the world's highest cliff camping experience, over a sheer 300-meter cliff face in the stunning Mount Buffalo gorge! The experience includes an afternoon training session before the descent over the cliff edge for the overnight stay. Absorb the breathtaking views whilst you enjoy your dinner and settle in for an unforgettable night of adventure sleeping on the wall. Then wake to a sunrise breakfast followed by a climbing ascent of the Cathedral at Mount Buffalo!
5. A day white-water rafting for up to 10 people in the Mitta Gorge, Alpine National Park
Full day rafting with Rafting Australia on the spectacular Mitta gorge in adrenalin-pumping world-class rapids. Experience towering granite river gorges and the exquisite wilderness of the majestic Alpine National Park during your 19km rapid descent. Plummet between intricate rock formations and tackle the foaming fury of the Mitta Gorge on a full-day adventure, your adrenalin will hit overdrive. All river equipment, experienced guides, river shuttles, lunch and river wear is provided
Outdoor adventure and fun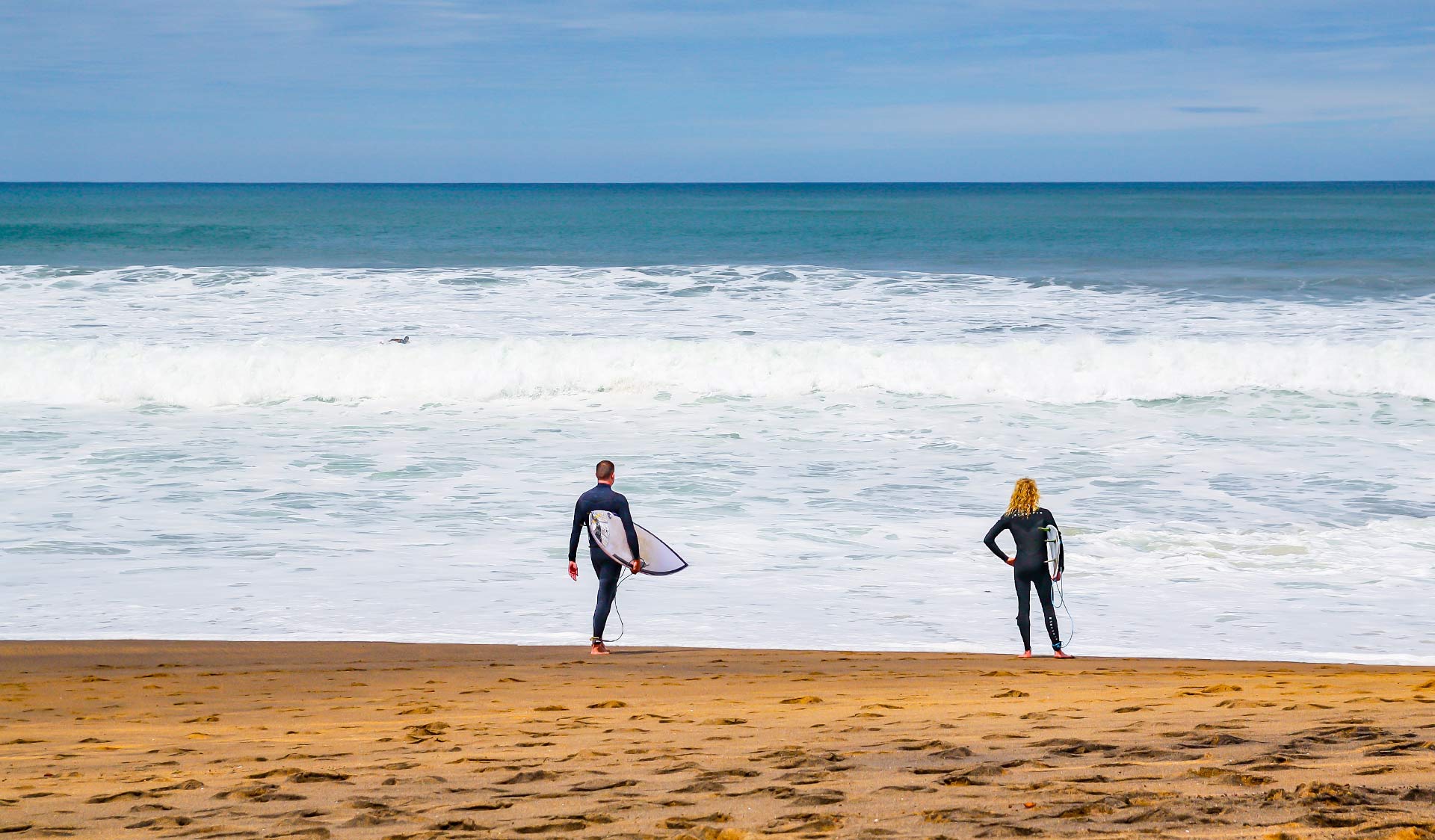 6. Glamping and outdoor fun for 2 with 5 nights and food in Alpine National Park
Surrounded by the stunning mountains of Victoria's High Country, Diana Alpine Lodge is the place to base yourself for an alpine experience. Spend 3 days exploring the area at your leisure then hike or cycle to your 2-night glamping adventure. Everything is set up ready for your stay, so when you arrive at the campsite you can dine, read, play a board game, watch the stars and enjoy the peace. Includes 3 nights at the lodge, 2 nights glamping, most meals, and a historic tour.
7. Surfs Up for 2 lucky people! Learn to surf in the heart of Great Ocean Road beach culture
Join one of Honu Honi's Weekender Surf Camp experiences. You'll be treated to two surf lessons at Point Addis and Otway National Park, a beach yoga class to unwind and relax, 2 nights glamping in a luxurious bell tent just metres from Torquay beach (we camp at the Torquay Foreshore Caravan Park), all meals while at camp (all lovingly cooked from local sourced produced), and free use of our surfboards and wetsuits outside of the lessons so you can surf all weekend long! Transfers from Geelong station if required also included so you can travel without a car.
Remote and wild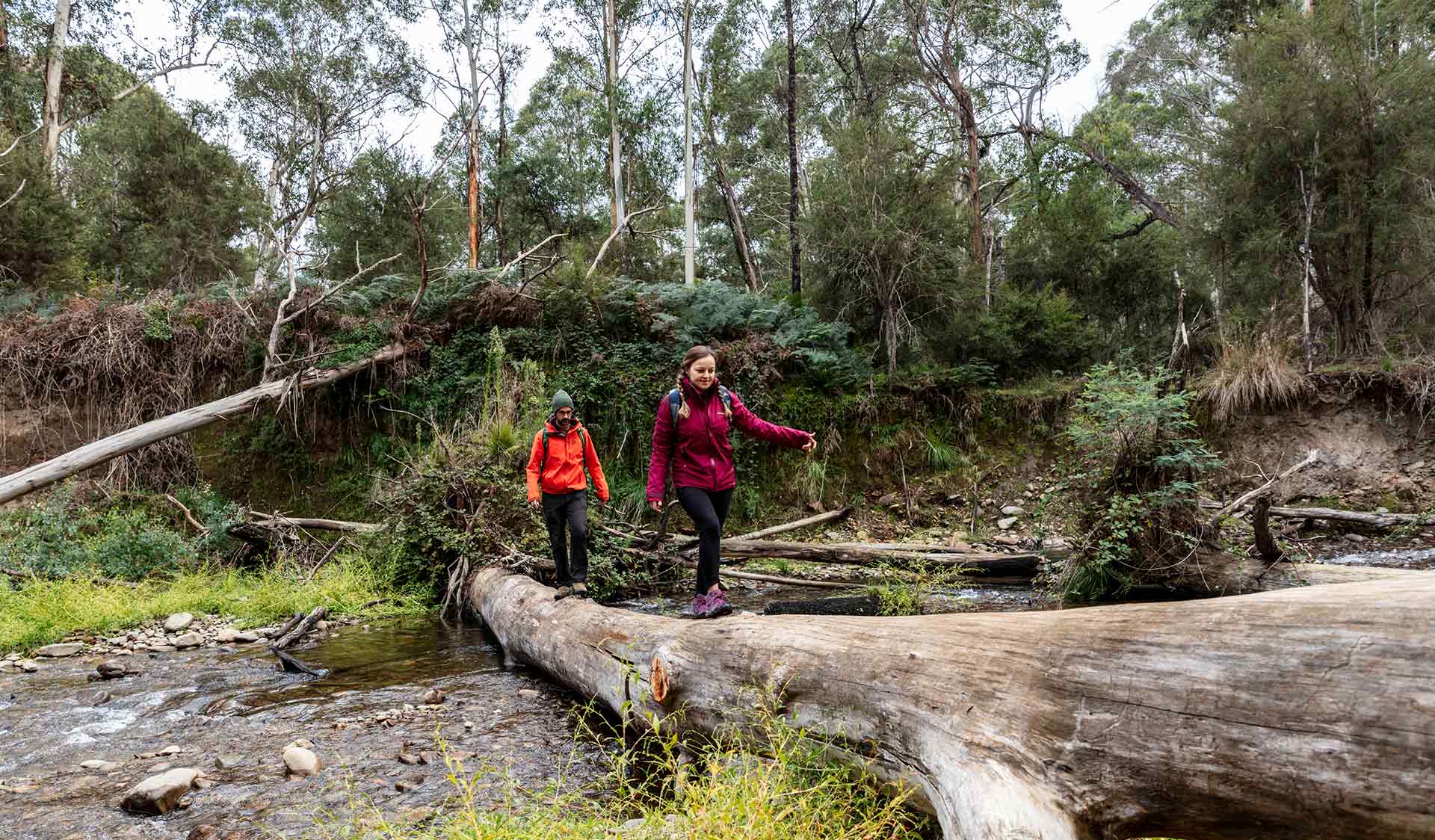 8. Remote, guided fly-fishing experience with camping and meals for 2 in High-Country rivers
Join High Country Guiding for a complete nature immersion, learning fly fishing in remote Victorian high-country rivers and streams, on their Wilderness camp beneath the stars package. Two days guided fly fishing, 3 nights camping accommodation with all meals this experience is suited to the novice to fly fishing or an advanced angler. Head into some of the most remote rivers left on this planet for a truly unique fly-fishing experience.
Leisurely nature-based excursions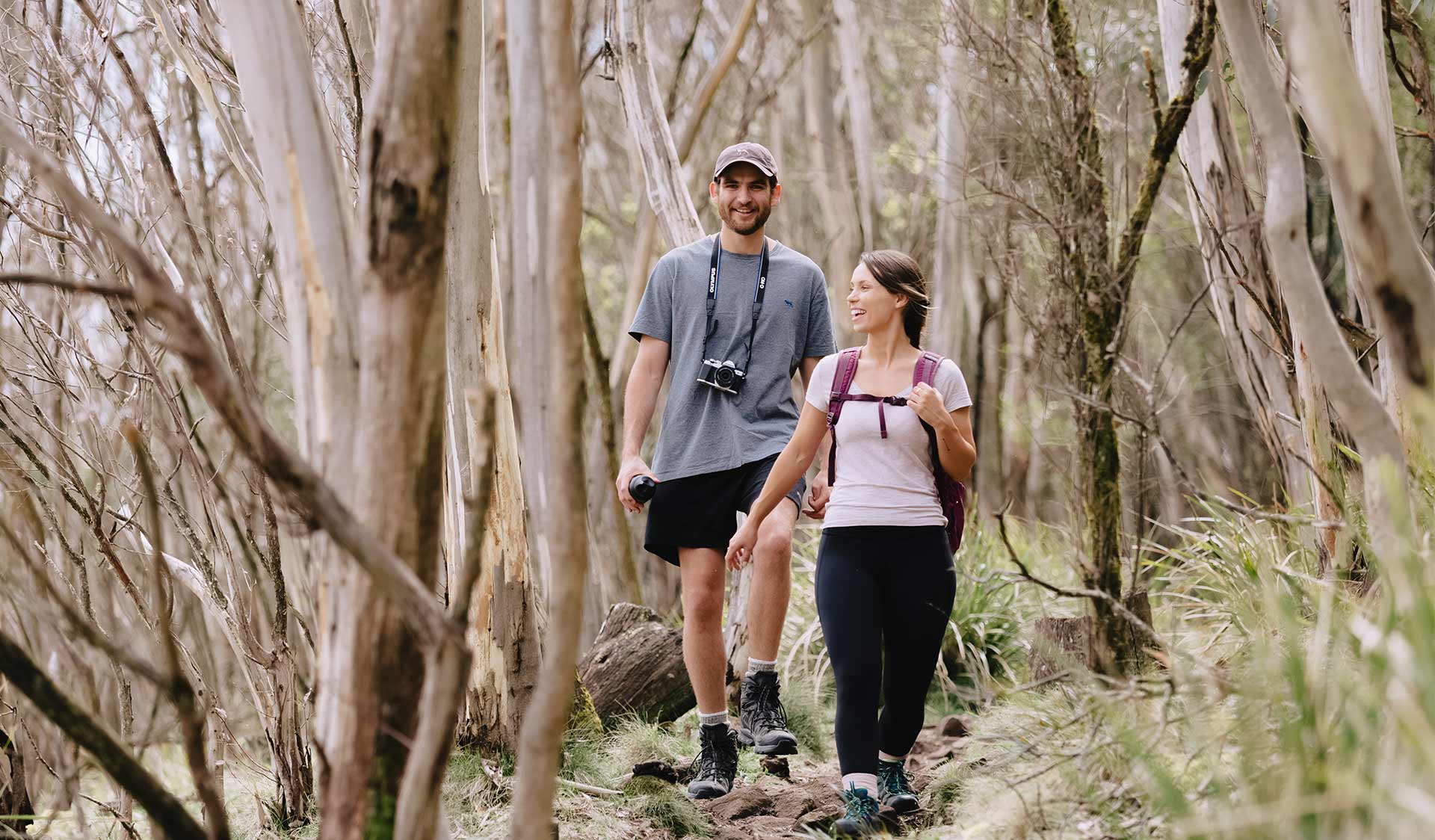 9. Spend a day touring Daylesford with up to 10 friends
Travelling from Melbourne with Escape Discovery Adventures, explore the postcard township of Daylesford with its quirky art galleries, antique stores and local artisans before enjoying a private curated tasting experience of fine spirits and liqueurs. Picnic hampers, packed with local delicacies await us for lunch at a fabulous boutique vineyard off the beaten track, then spend the afternoon exploring the mysterious Hanging Rock region. All inclusive of morning coffee, tastings, lunch and guide in superior comfort of a custom-built Mercedes fleet.
10. Grampians 4-night cottage stay, scenic flight and wine tour for 2
Staying in a vineyard cottage looking over the vines and the Grampians (Gariwerd) National Park, begin your Grampians through the senses tour with Grampians Helicopter Tours. Listen to the history of the town and the national park during your guided history walking tour, see the Grampians from above in your scenic flight and get a real taste of the region during a half-day wine tour including 3-4 vineyards, underground cellar tour, and lunch.
11. Hot air balloon over Melbourne for 6 people followed by champagne breakfast
An incredible way to witness some of Melbourne's parks and natural spaces as well as the city skyline, join either The Balloon Man or Liberty Balloon Flights on a 1 hour flight followed by a gourmet breakfast.