Explore parks in north west Victoria this spring
Spring has arrived, swathes of wildflowers are in bloom right across north west Victoria and it's the perfect time to pitch a tent and explore that little bit deeper into nature. Remember to be COVIDSafe and check the latest travel advice before you leave home.
Winter brings rain that transforms this arid landscape into a spring wonderland. The dry landscape is covered with tiny desert plants that sprout from long-dormant seeds, carpeting the ground with clusters of flowers.
Our very own Parks Victoria Ranger Lisa has given us a list of her favourite campgrounds and top walking trails to enjoy this spring. So pack up the camping gear and choose your favourite adventure before it gets too hot in summer to enjoy this beautiful part of the state.
"Spring is my favourite time of year in these Mallee parks. The normally grey-green landscape bursts to life with colour," said Lisa.
"Spring is the perfect time of year to enjoy the vast north-west corner of Victoria. The winter rains mean the parks are teeming with new life. Get out and enjoy it all before the heat of summer sets in."
Hattah-Kulkyne National Park
Top campground - Lake Hattah and Lake Mournpall
The camping areas at Lake Hattah and nearby Lake Mournpall are open, spacious and a perfect place to base yourself to explore the lakes – which are currently full of water - and surrounding areas of the park. Non-flush toilets, fireplaces and picnic tables can be found in both campgrounds. Enjoy incredible starry night skies and abundant birdlife around the lakes. Bookings are required and fees apply. Book here.

Top walks

Warepil Lookout Walk – 600m, 30 minutes return
Stroll from the car park up to the lookout tower for commanding views of the surrounding Mallee Region – this is a great place to see the famous Mallee sunsets. Look out for Mallee native wildlife skittering between the vegetation on the way up the track.

Bugle Ridge Walking Trail – 10km, 3 hour circuit
Starting at the Lake Hattah camping area, this loop walk follows the ridge between wetlands and the southern lake system, circling south to pass between Lake Brockie and Nip Nip Lake. Keep an eye out for abundant wildlife, including kangaroos, emus, Wedge-tailed Eagles, Whitebellied Sea Eagles and Whistling Kites.
Wyperfeld National Park
Top campground - Wonga Camping Area
At the southern end of Wyperfeld National Park, Wonga camping area is a large flat open campground with plenty of space and facilities for large or small groups, Catering for tents and caravans, there are 60 campsites, each with a fireplace. There is a large picnic shelter, tables, fireplaces, non-flush toilets and water for hand washing. Learn more about the culture and environment within the park in the Visitor Information Centre or enjoy a range of self-guided interpretive walks. Bookings are required and fees apply. Book here.
Top walks
Eastern Lookout Nature Tour – 15km, 4-6 hours return
Walk along the quiet roadside to explore the wildlife and changing environments of Wyperfeld National Park. Morning and evening are best for wildlife viewing – keep an eye out for Wedge-tailed Eagles, various parrots, possums, emus and kangaroos. Or if you prefer, you can drive the route, which is suitable for 2WD vehicles, and stop along the way for the short 25-minute return walk to the Eastern Lookout for vast views over the desert. It is also a great spot to watch the sun rise or set.
Desert Walk – 6km, 2.5 hours return
An ideal walk for a day trip, the Desert Walk starts at Nine Mile Square carpark and offers excellent views across to Big Desert and Outlet Creek. This sandy loop track is a great way to experience the mallee environment in all its spring splendour.
Murray-Sunset National Park

Top campground – Lake Crosby
With 11 campgrounds spread across the park, there is something to suit everyone. If you are accessing the park in a 2WD vehicle then head to the main campground, located at Lake Crosby. From your campsite you can watch the pink lake change colour as the sun rises and sets, then take in the massive starry night sky stretching to the far horizon. With picnic tables, non-flush toilets and fire pits, this is the perfect base to explore the park. Camping is free and no bookings are required.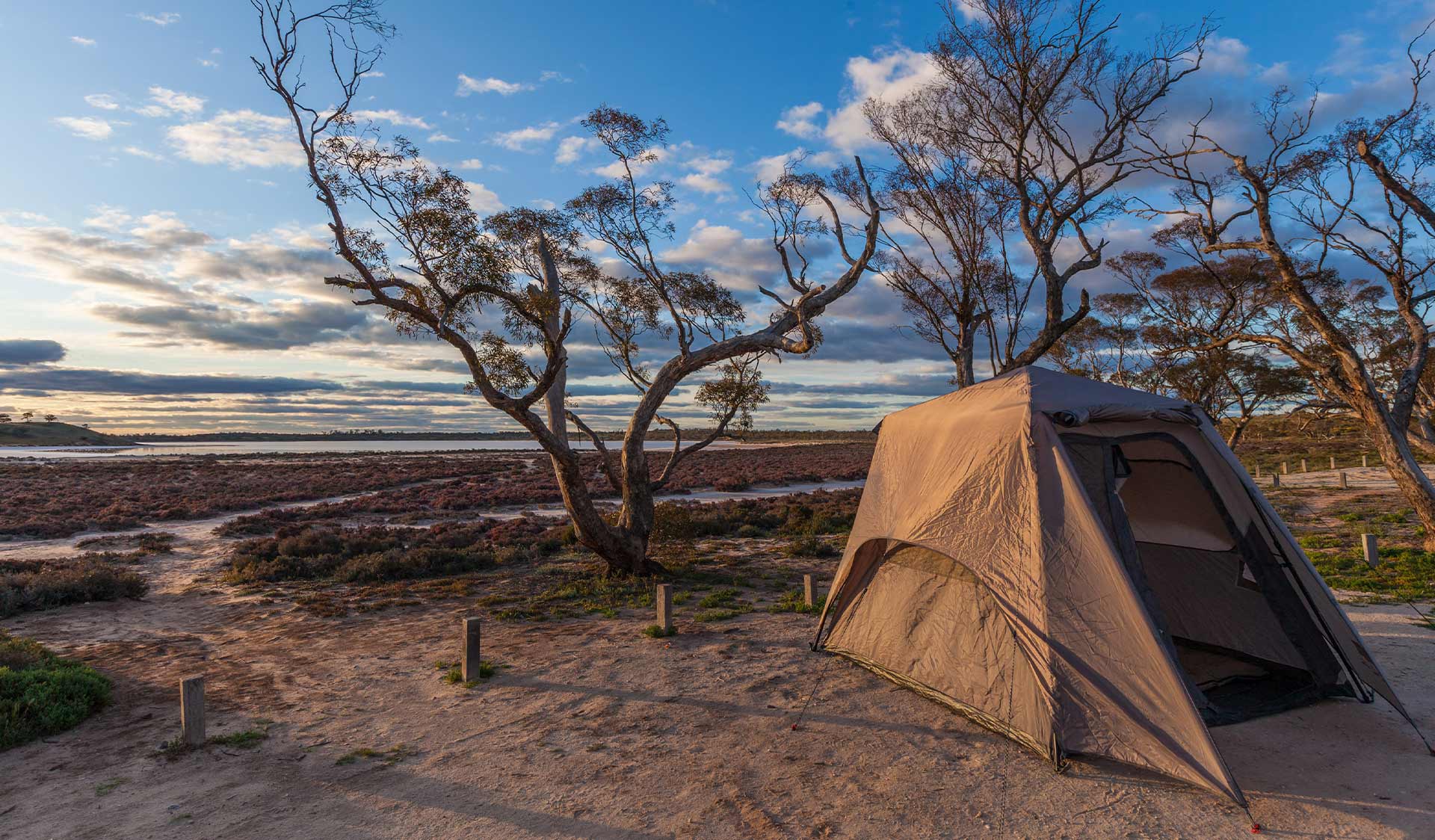 Top walks
Both of these short circuit walks are at pink lakes close to the campground, which during spring are surrounded by wildflowers.

Lake Becking – 1.4km, 40 minutes circuit
Follow the old railway line, which used to carry salt into Linga, on this pleasant short walk. Look out for interpretive boards along the way telling the stories of the area.

Lake Hardy – 1.7km, 45 minutes circuit
Walk around the pinkest of the Pink Lakes for beautiful photo opportunities, especially at sunrise and sunset when the soft light and rising mist brings out the lake's colouring.

Alternatively, if you'd prefer something a little longer, try the 4.8km Kline Loop Nature Walk leaving from the Lake Crosby campground.


Follow these safety tips to stay safe when enjoying these parks.
Want to have a campfire? It's important to check the park regulations before collecting firewood as it's different at various parks and campgrounds. We always recommend you bring your own firewood.