Grampians National Park closures due to planned burning
Friday 22 April, 2022
Planned burning will close sections of the Grampians Peaks Trail and key visitor sites at short notice from March to June 2022. It is important you consider this interruption when planning your trip.
Planned burning is a critical part of park management and reducing bushfire risk in the Grampians National Park. The right weather conditions are needed for a safe and effective burn- cool to warm temperatures, very little wind, no rain. We appreciate these are the same great conditions most people hope for when visiting a park. Because planned burning is so dependent on the right weather conditions, we cannot give exact dates or times when they will occur. They can be moved forward/backward or cancelled at short notice.
Fields Track Planned Burn: from Sunday 24 April
Please note: will NOT impact Grampians Peaks Trail
Planned Burn closures:
Fields Track
Griffin Track
Mirranatwa Gap Lookout
Victoria Valley Road will be closed at Mirranatwa Gap for 1 day as we ignite the planned burn off the road edge – digital road traffic signs will be placed at appropriate intersections to notify visitors and highlight detour/ access to Halls Gap along Grampians Road.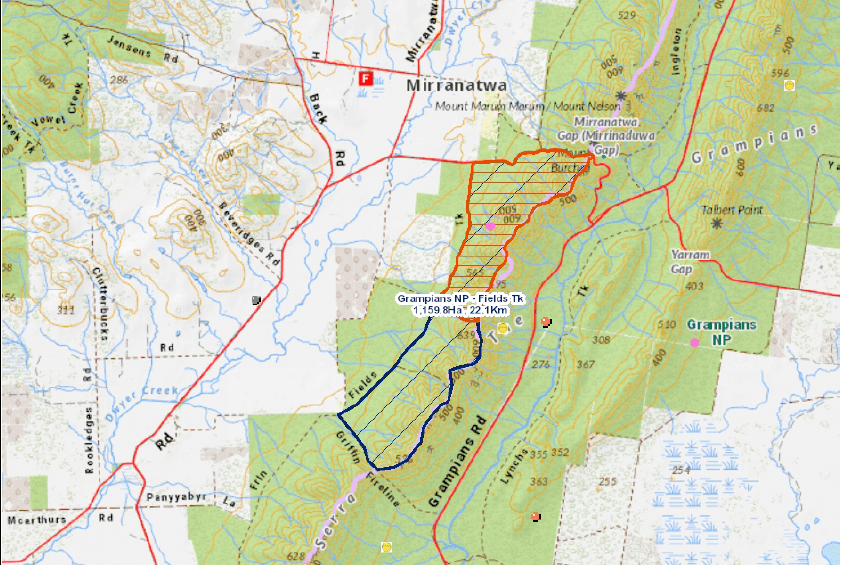 Pohlners Road Planned Burn: from Monday 25 April
Please note: will NOT impact Grampians Peaks Trail
Planned Burn closures:
Link Track
Smiths Road
Pohlners Road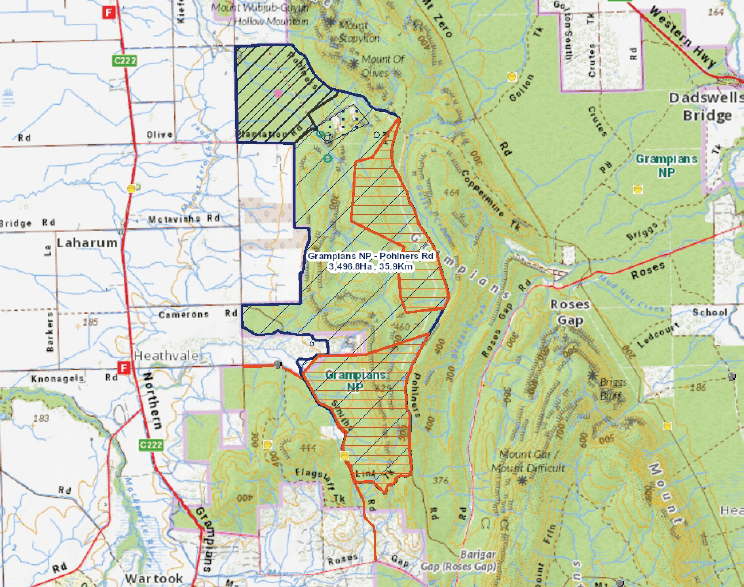 Yarram Gap Planned Burn: Tuesday 26 April to Friday 29 April
Please note: WILL impact Grampians Peaks Trail
Planned Burn closures:
Grampians Peaks Trail will be closed from Jimmy's Creek Road (Section C5) to Griffin Fireline Trailhead (Section S2)
Grampians Peaks Trail Wannon Hike-in Campground
Grampians Peaks Trail Yarram Hike-in Campground
Wannon Crossing water crossing area
Lynches Crossing Road
Yarram Gap Road will remain open with traffic management
Wannon Crossing Campground will remain open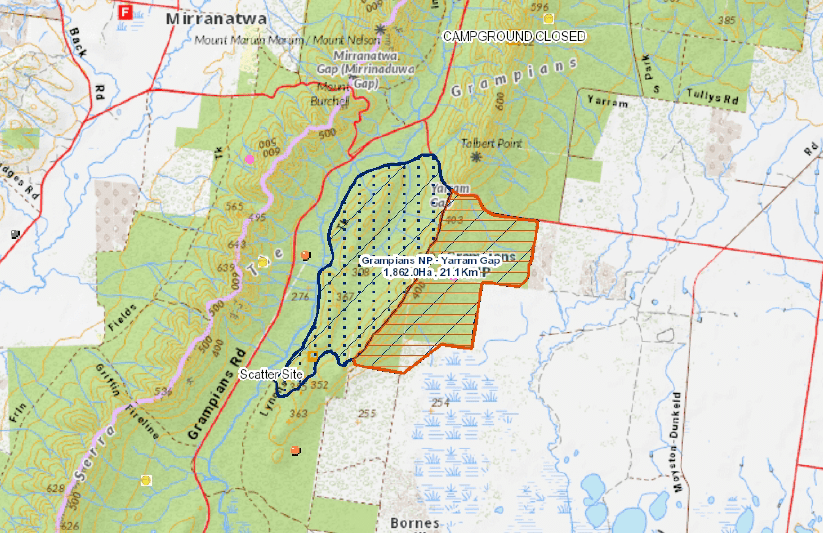 A free shuttle bus service will be available for Grampians Peaks Trail walkers affected by the planned burn and will run throughout the planned burn period (26-29 April).
The shuttle bus will go from Halls Gap to Jimmy Creek Campground to Griffin Trailhead back to Halls Gap 3 times per day (morning, lunchtime and afternoon). A more specific timetable will be available soon.
For the latest information on the shuttle bus timetable please contact Brambuk The National Park and Cultural Centre on 8427 2058.
If you wish to cancel your camping booking, a full refund will be provided. You can call our Customer Service team on 13 1963 to cancel, rebook or for more information.