Portarlington Harbour Upgrades
Project status
August 2022 - Project complete
Project stages and timing *
Stage 1: New pier head and low landing April to November 2021 (complete)

Stage 2: Removal of old pier September to October 2021 (complete)

Stage 3: Construction of rock groyne September to December 2021 (complete)

Stage 4: Construction of the covered walkway February to August 2022 (complete)

Stage 5: Landscape and other improvement works Mid-2022


Project funding
Portarlington Pier work is part of the $24 million Victorian Government Piers and Jetties Stimulus Package. The total project cost is $9.6 million.


Project partner
Department of Transport


Key information
Portarlington Harbour, on Wadawurrung Sea Country, has undergone significant improvements in recent years to realise the long-term vision set out in the Portarlington Safe Harbour Plan 2009. The work will create a state-of-the-art facility that is safer and more accessible for commercial operators, recreational boaters, anglers, the local community and visitors for years to come.

The new Portarlington Pier was completed in 2017 and has been a popular fishing, boating and diving spot. It's also home to Port Phillip Ferries and the Port Phillip mussel farming industry.

The works have delivered vital improvements such as a covered walkway to the ferry terminal, a new strengthened pier head, widened deck to provide safer access, and an accessible low landing. Upgrades to the pier support local aquaculture fishers, the ferry service and other harbour visitors, as well as creating jobs during construction.


Works being undertaken include:
Pier head and low landing replacement . April to November 2021. Stage complete
Sections of the original northern pier head will be removed, along with the eastern low landing. The new pier head will be stronger, allowing for higher load capacities to better service the aquaculture industry. In addition, a new more accessible floating low landing pontoon will be built to the south of the existing landing.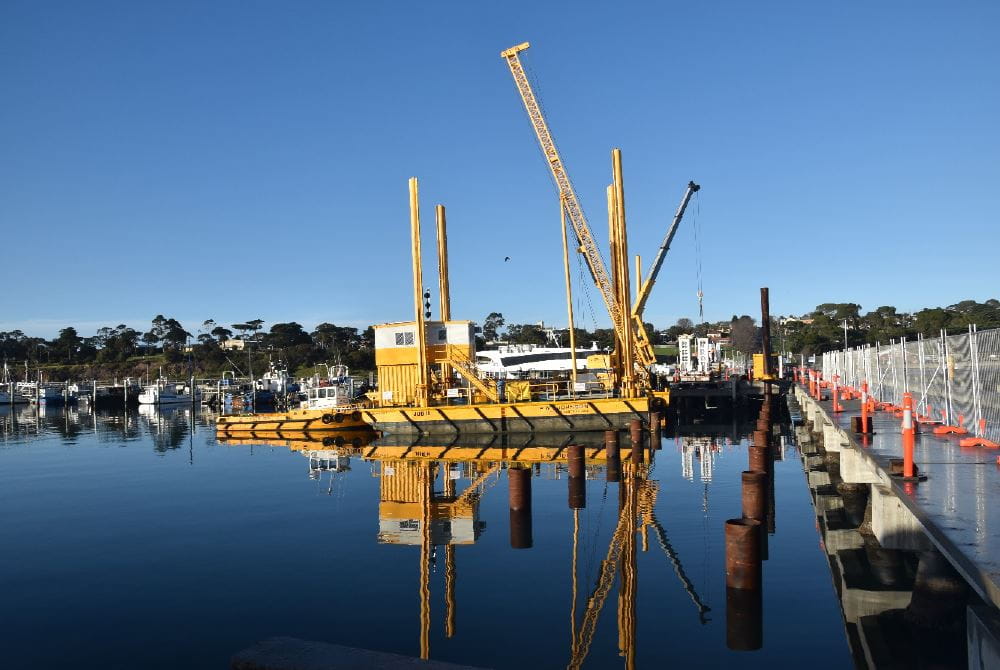 Demolition of pier head and low landing and driving of new piles. June - July 2021.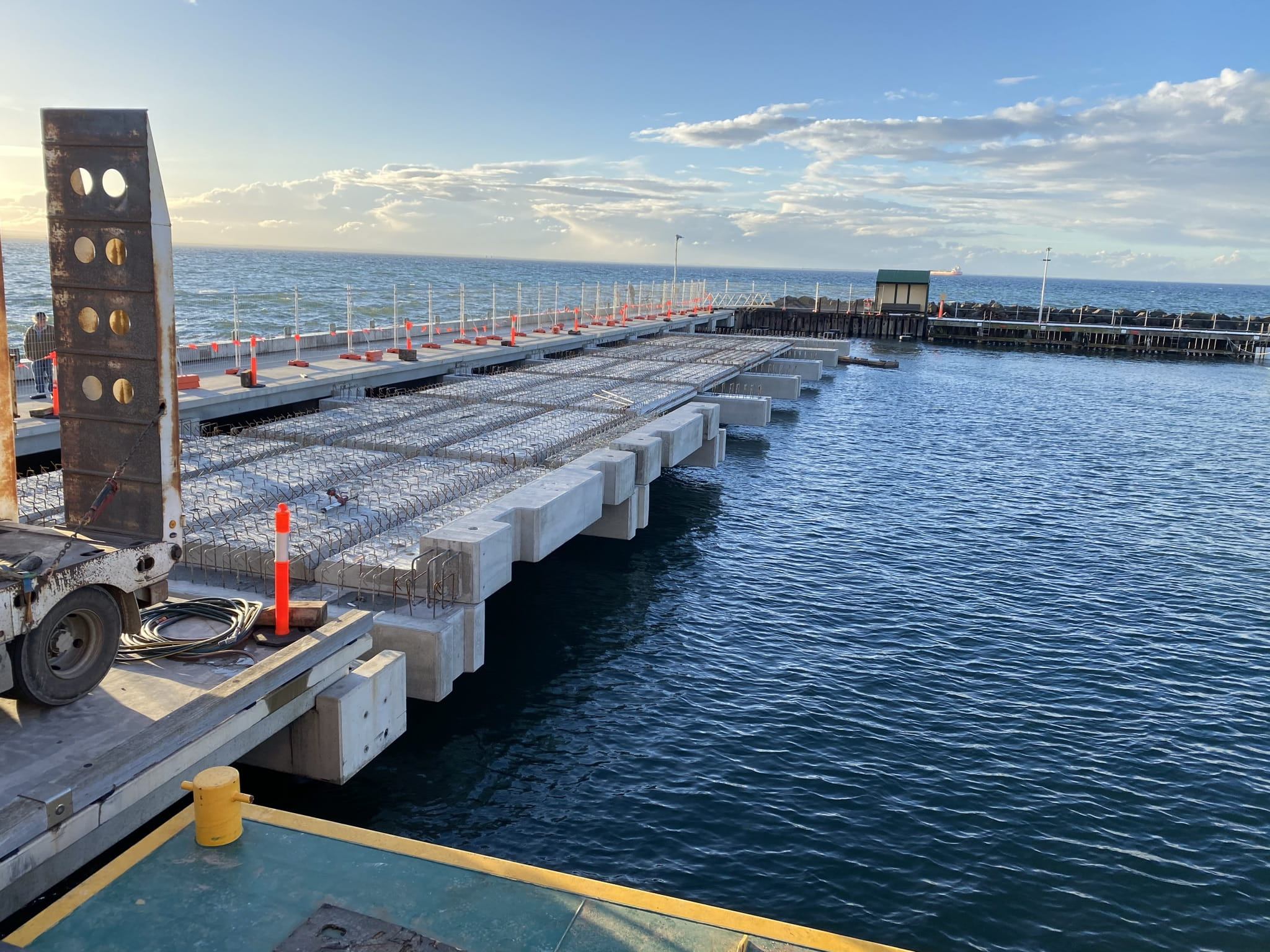 Construction of new pier head July - August 2021.
Pier head concrete pour - August 2021.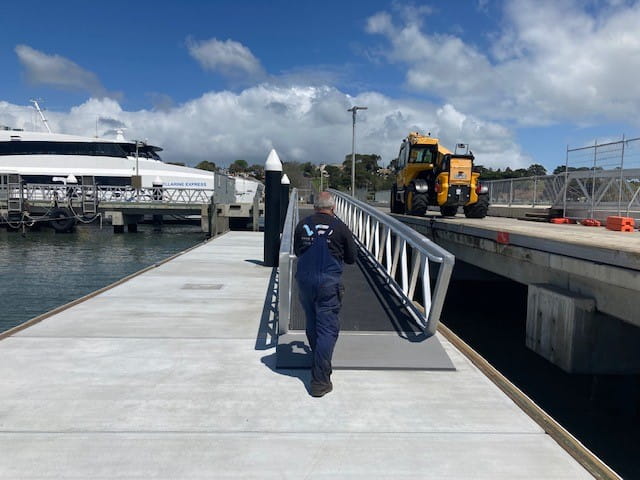 New low landing floating pontoon - October 2021
Removal of old pier. September to October 2021. Complete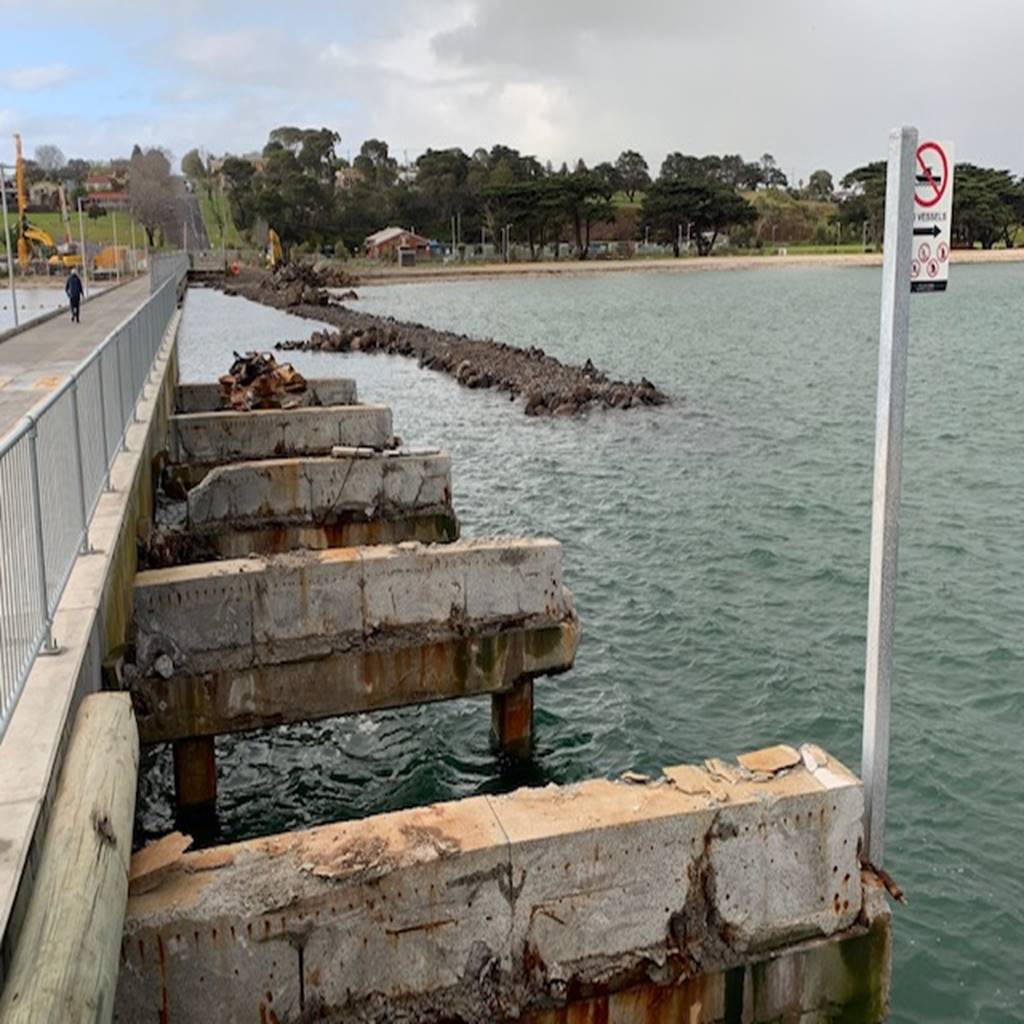 Construction of rock groyne. September to December 2021. Complete
Construction of a new rock groyne on the western side of the harbour will help reduce wave height, protect the ferry berth and reduce sand migration into the harbour. The new groyne will connect to the existing fixed wave screen forming a complete barrier reducing wave action and keeping sand on the beach, not in the harbour.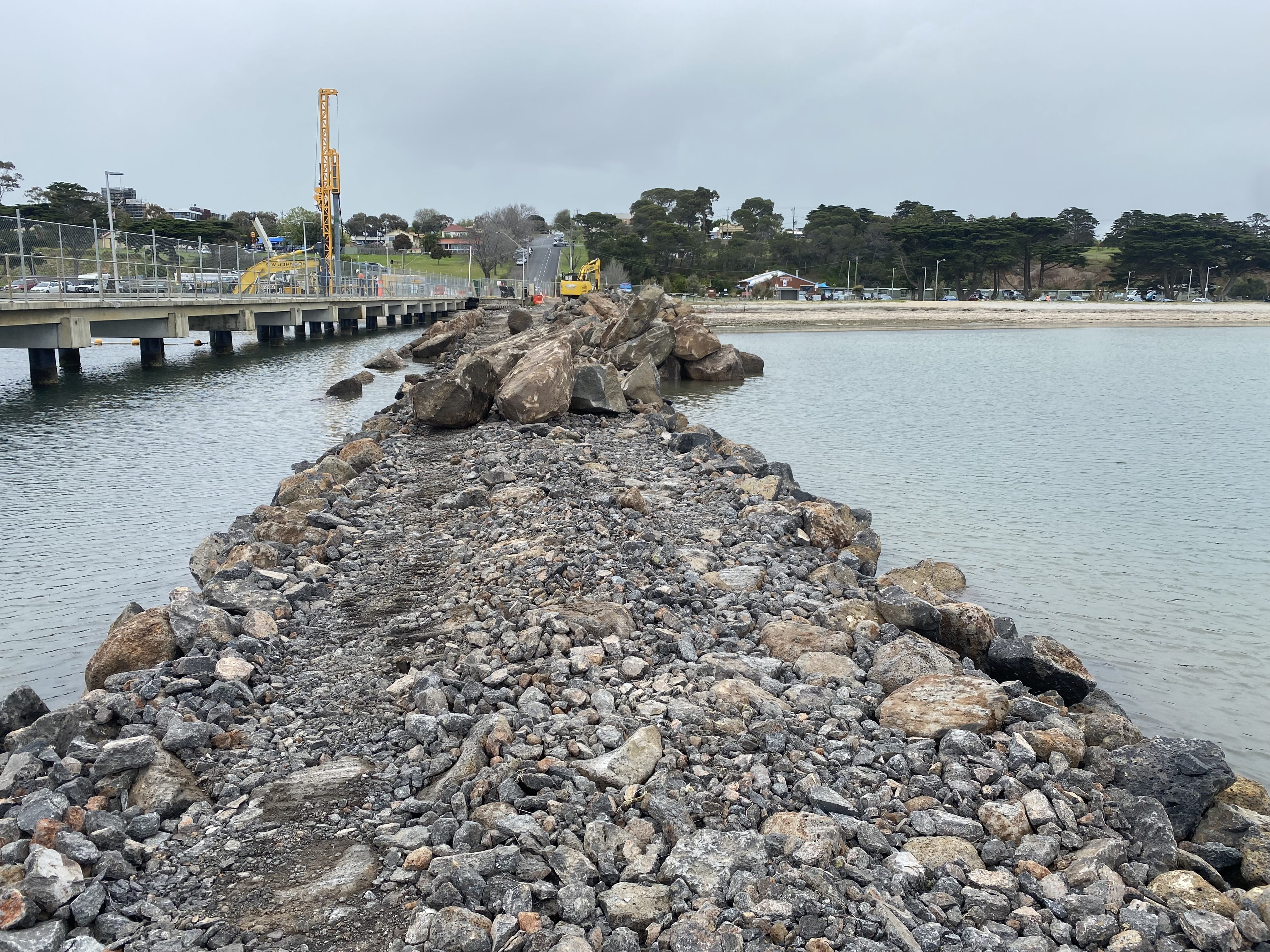 Western rock groyne under construction - October 2021
Construction of covered walkway and foreshore mussel 'groyne'. February to Mid-2022. Complete.
On the foreshore, a collection of 13 concrete mussels has been installed. Designed in collaboration with Wadawurrung and foreshore management, the mussels serve an important function in sand retention and help to prevent future beach erosion. Visually they serve as a continuation of the covered walkway's artwork, provide a link to the local aquaculture industry and enhance the area's amenity for visitors and the local community. While solid and weighing over 500kg each, the mussels are able to be mechanically relocated in future to best serve their purpose in protecting the foreshore ecosystem.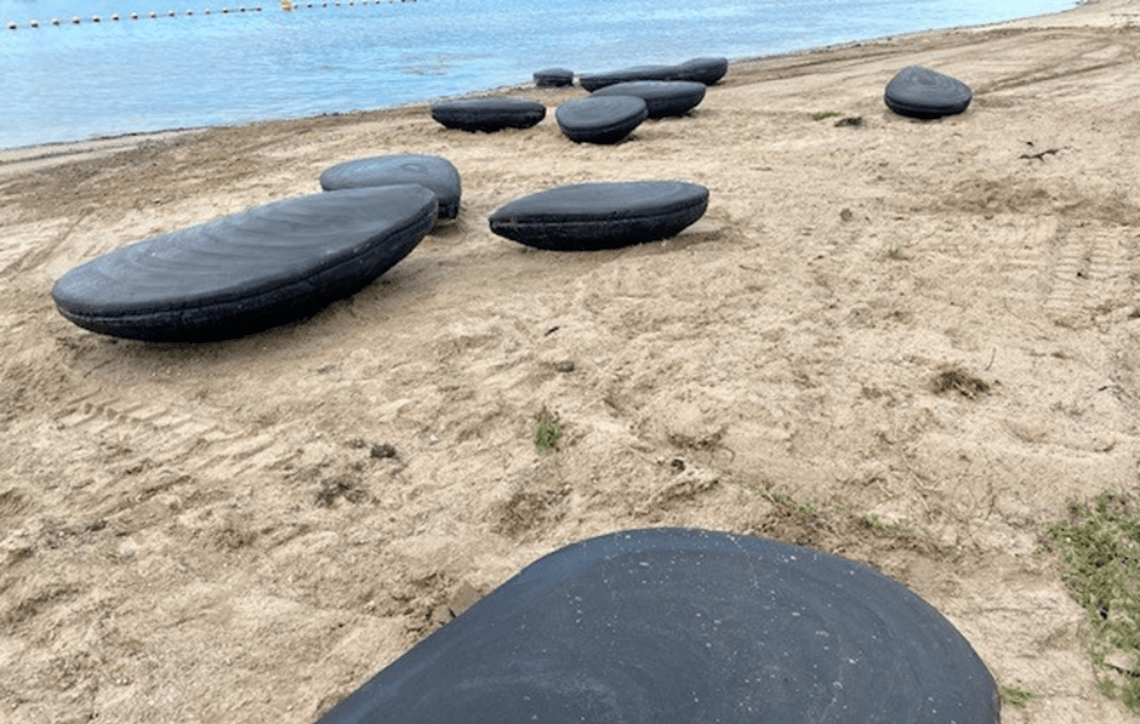 Concrete mussel shells on Portarlington foreshore - April 2022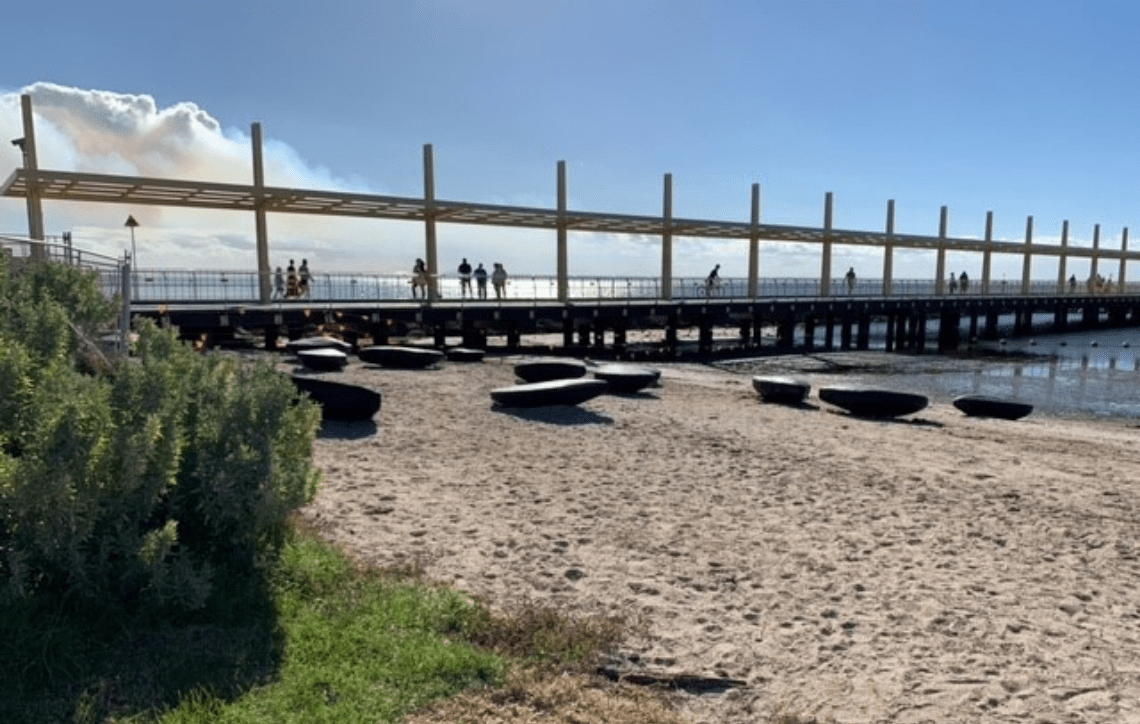 Portarlington foreshore with mussel groyne installed adjacent to the pier's covered walkway - April 2022
A purpose-built walkway will provide safer access from the foreshore to the ferry terminal, separating commercial vehicles and pedestrians. The covered walkway will provide shelter from wind, rain and wave spray. Artwork created by the Traditional Owners of Wadawurrung Country will be incorporated into the walls of the structure.
As is currently the case, pedestrians and authorised vehicles will continue to share access on the western side of the new pier while the covered walkway is being installed.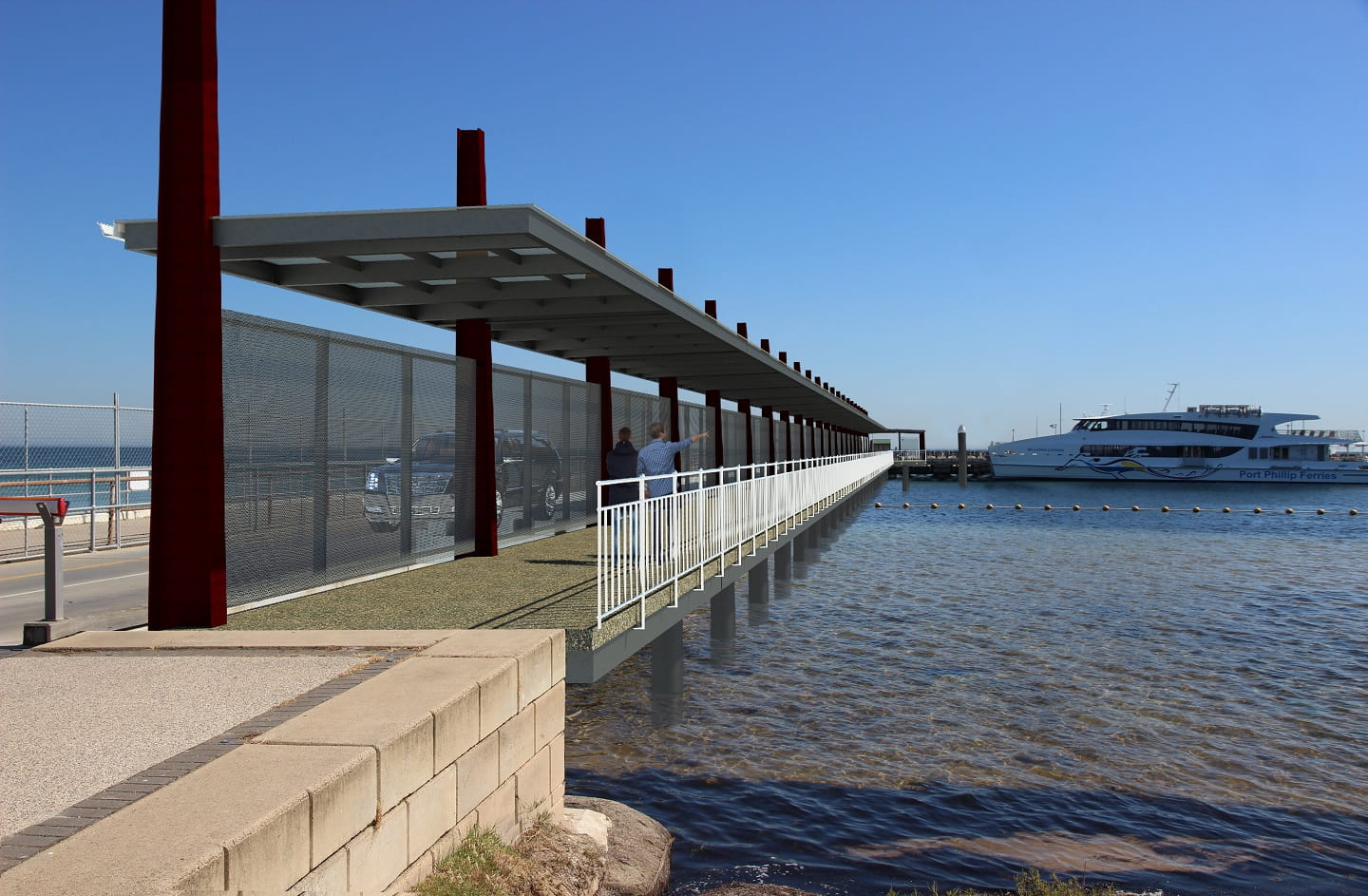 Artists impression of Portarlington Pier covered walkway entrance.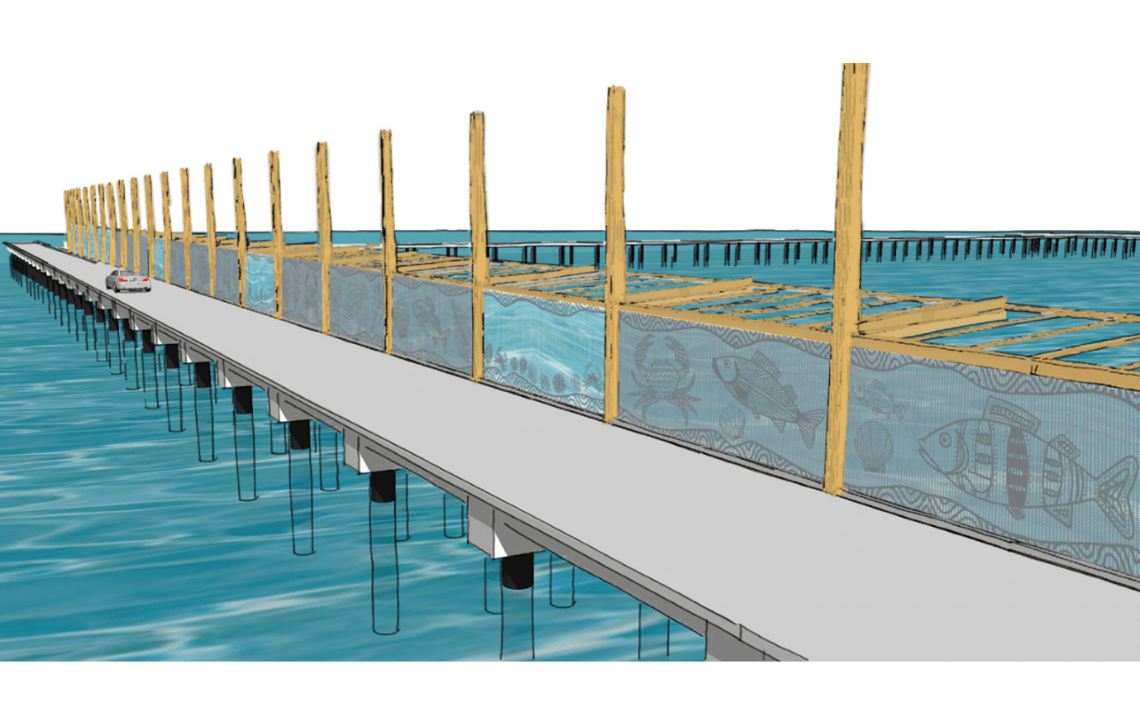 Artists impression of Wadawurrung Country artwork integration into the covered walkway.
Landscape and other improvement works Mid-2022.
Improvement works on the pier and covered walkway entrance will enhance pedestrian access and existing services will be altered accordingly. Minor improvements to the northern breakwater will enhance pedestrian access.

Staged work may be subject to change due to weather, approvals and other influences.
Access to the harbour and pier during works
Maintaining safe access for commercial operators, as well as fishers, boaters and pedestrians will be a priority during construction. Access may be limited or varied (but not fully restricted) to sections of the new pier and existing groyne at times to enable safe works and deliveries. A full extended closure is not planned. See onsite signage for more information.
Ferry services will continue to operate throughout the works. Please see Port Phillip Ferries website for timetables
Licensed tour operator and commercial operator access will be maintained unless otherwise notified.


Other disruptions during works
There may be some visual amenity impacts. A fenced work site is established in the foreshore car park.
It may be noisy while works are underway. Noise will be restricted to site working hours. Heavy and oversized vehicles may require access to the pier for deliveries - directions from contractors and on site signage should be observed for safety.
Works will be suspended from 18 December 2021 to end of January 2022 to minimise impact on community, local business and visitors during the peak summer season.
Alternative nearby locations for pier walking, angling and recreational boating during the works can be enjoyed at Queenscliff South Pier and Harbour Precinct and St Leonards Pier.
Other information
Parks Victoria is the local port Manager for Port Phillip, Western Port and Port Campbell, with the three local ports combined receiving approximately 80 million visits a year, and include 263,000 hectares of waterway, marine protected areas, channels, piers and jetties, moorings and aids to navigation.
Stay up to date
To receive further information sign up to the Portarlington Harbour updates mailing list.
For general enquiries email info@parks.vic.gov.au or you can call us on 13 1963.
Download the Portarlington Pier Community Update 1 April 2021.
Download the Portarlington Pier Frequently Asked Questions - May 2021.
Download the Portarlington Pier Community Update 2 September 2021.
Read the Portarlington Pier Community Update 3 May 2022.
Read the Portarlington Pier Community Update 4 August 2022.
Related items
Places to see - Portarlington Harbour Anchoring Zone
Places to see – Portarlington Harbour Swimming Only Zone
Places to see - Queenscliff Pier and Harbour Precinct