Queenscliff South Pier preservation works
Project duration & key dates
Works commence – May 2020
Works complete – December 2021
Stage One - Substructure strengthening works to the Waiting Shed and Lifeboat Shed. May 2020 - April 2021 (Complete)
Stage Two – Repairs to the Lifeboat Shed, exterior repairs to Waiting Shed: June – December 2021 (Underway)


Project funding and partners
$500,000 – Living Heritage Grant – Heritage Victoria

$500,000 – Better Piers and Waterside Facilities Program – Department of Transport



Key information
Vital works are being carried out to the historic Queenscliff South Pier to help extend its life and preserve the heritage values.

The works are being undertaken in two stages. In stage one, piles and crossheads beneath the Waiting Shed and Lifeboat Shed are being repaired ensuring the substructure will support the historic structures for the next 30-40 years. In stage two, the Lifeboat Shed will undergo external recladding and reroofing, refurbishment of windows and doors and internal repairs to the floor decking, and maintenance painting. Repairs will also be done to the Waiting Shed exterior including repairing the gable ends and finials, structural wall frame repairs, replacement of weatherboards and other exterior woodwork to preserve the historic building fabric.

Queenscliff South Pier and Lifeboat Shed were an integral part of the infrastructure provided to improve the safety for ships entering or leaving Port Phillip. Many lives were saved through the efforts of the crews that manned the lifeboat, which is now located in the nearby Queenscliff Maritime Museum. Today it is a popular place for sightseeing, walking, commercial dive operations, fishing and angling.


Access to pier during works
Maintaining safe access for all users continues to be a priority. Access may be varied (but not fully restricted) to sections of the pier at times, and will be communicated through onsite signage. Alternative short term recreational berthing facilities are available at St Leonards Pier and Portarlington Harbour.


Works update
Due to storm and COVID-19 impacts, completion of works is delayed to December 2021.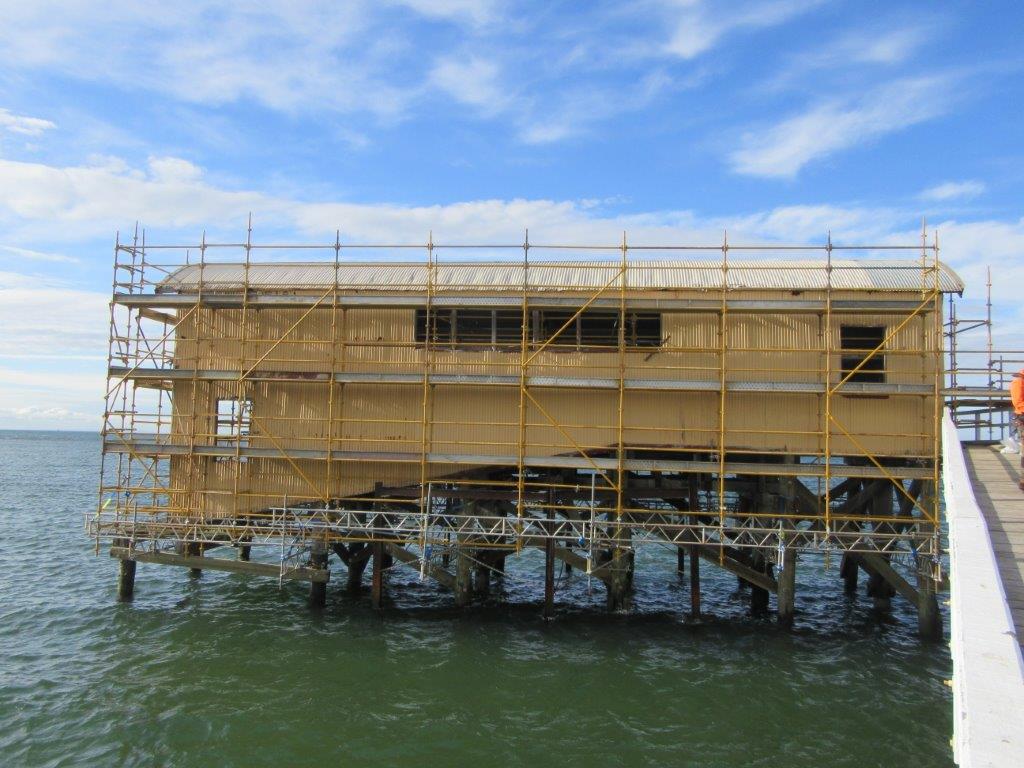 Scaffolding installed externally on the Lifeboat Shed ready for cladding and reroofing. Doors, windows and louvre panels have been removed and will be restored / refurbished off site and then reinstalled.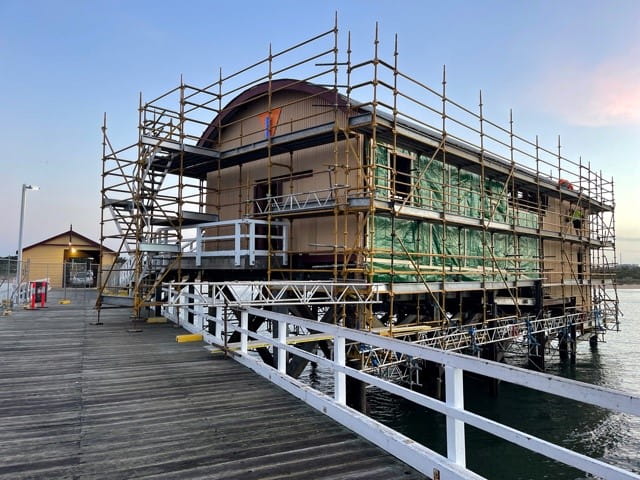 Walls of the Lifeboat Shed being prepared for recladding.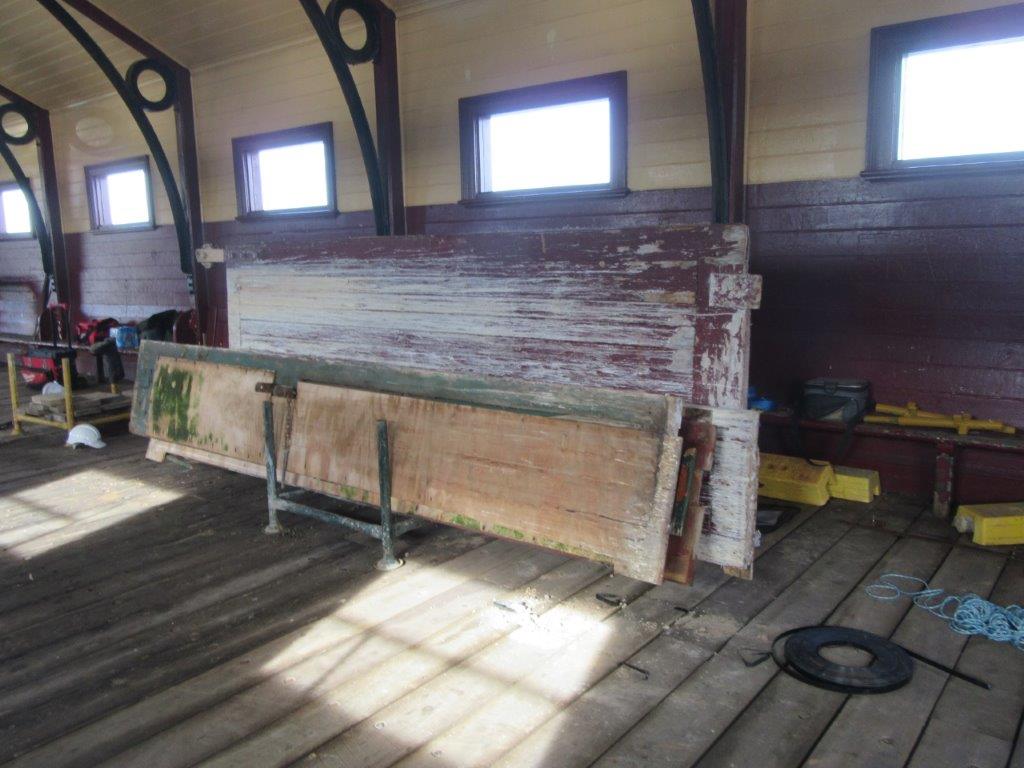 Doors, windows and louvre panels have been removed from the Lifeboat shed to be restored / refurbished off site and then reinstalled.
History of the pier
The Queenscliff South Pier was built in 1884 and was called the 'Steamer Pier' as it catered for steamboat use for passengers and carriage of goods.

The Lifeboat Shed was constructed on the now dismantled Fishermen's Pier north of the existing pier between 1926-29 and included a slipway with roller, channel, keelway and cradle to store the Queenscliff Lifeboat, and relocated to the current site in 1946.

This lifeboat was in service for approximately 50 years, and attended many calls for assistance, including the search for Prime Minister Harold Holt in 1967. Today it can be seen at the Queenscliffe Maritime Museum.

The Lifeboat Shed and Waiting Shed were added to the Victorian Heritage Register in 1982 as a symbol of both historical and architectural significance to Victoria, as a rare example of timber pier structures - with few remaining in Victoria.

The pier has featured in many films and television shows over the years, including the popular Miss Fishers Murder Mysteries.



Frequently asked questions
Will the pier be closed during the work?

The pier has remained predominately open and accessible to the public throughout the first stage of works as these works were mostly beneath the pier. Now that the works are 'above water' there will be a greater contractor presence, and some access changes are required for public safety. Any changes in access will be communicated on site. Visitors are encouraged to observe on site signage and temporary fencing directions for safety. Alternative short term recreational berthing facilities are available at St Leonards Pier and Portarlington Harbour.

Will public access inside the Lifeboat Shed be allowed once the work is complete?

No, general public access inside the Lifeboat Shed is currently not permitted. Although extensive work will have been done to the shed's substructure, the shed interior has a sloping floor and is not safe for unsupervised public access until further work is done. Interpretive signage will provide visitors with an insight into the Lifeboat Shed original operations and interior.

What is the proposed future use for the Lifeboat Shed and Waiting Shed?

Once restored, the Waiting Shed will have renewed capacity to provide future opportunities for community use and consideration of appropriate uses. The Waiting Shed will continue to provide a welcome shelter for anglers and visitors to the pier during inclement weather.


Stay up to date
For regular project updates, please subscribe to the Queenscliff South Pier mailing list.
For general enquiries email info@parks.vic.gov.au or call Parks Victoria on 13 1963.
Other information
Parks Victoria is the local port Manager for Port Phillip, Western Port and Port Campbell, with the three local ports combined receiving approximately 40 million visits a year, and include 263,000 hectares of waterway, marine protected areas, channels, piers and jetties, moorings and aids to navigation.

Parks Victoria is responsible for protecting more than 3,000 historic places and objects across the state and plays a stewardship role of sustainably managing these historic places on behalf of the community a diverse collection which is significant in representing key aspects of Victoria's history.


Related items
Places to see - Queenscliff South Pier
Queenscliffe Maritime Museum
Queenscliff Art Prize exhibition: A free outdoor art exhibition where works by Australian artists are exhibited on Queenscliff South Pier. November 2021 to April 2022.