Marine national parks and sanctuaries 20th anniversary
Twenty years ago, the very best samples of Victoria's marine biodiversity including rocky reefs, seagrass meadows, and ocean beaches were hand-picked to be protected forever.
Victoria established one of the world's first representative system of fully protected 13 large marine national parks and 11 smaller marine sanctuaries. Parks Victoria were appointed as the managers of these parks.
People often think about tropical coral and warm water when we talk about Australia's marine life, but here in Victoria we have some of the rarest and most diverse habitats in the world. We work with partners and volunteers to manage Victoria's marine protected areas not just because these places offer us a place to enjoy, or because they contribute to a healthy liveable environment, but because these places are important. They're beautiful and rare and brimming with life.
As Victorians, we should be proud to have led the way in protecting these unique underwater worlds.
World Oceans Day webinar
The weird and wonderful life of underwater parks
Join Dr Mark Norman, Chief Conservation Scientist and internationally-renowned marine expert, and hear from marine rangers from across the state, sharing stories about Victoria's weird and wonderful underwater species.
View recording on YouTube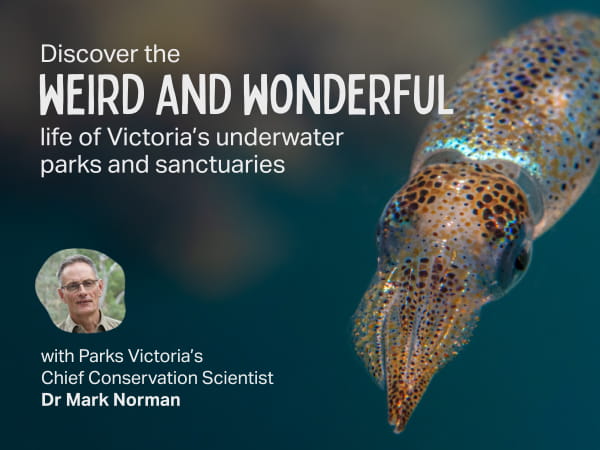 Explore Victoria's 24 marine national parks and sanctuaries