Explore
Cape Conran Coastal Park
Cape Conran Coastal Park is part of an Aboriginal cultural landscape. Parks Victoria respects the deep and continuing connection that Traditional Owners have to these lands and waters, and we recognise their ongoing role in caring for Country.
Cape Conran Coastal Park is tucked away along Victoria's far-east Wilderness Coast. Camp among Banksias and Manna Gums alongside colourful New Holland Honeyeaters and inquisitive Lace Monitor goannas. The wild ocean beaches are perfect spots for beachcombing and, from May to October, look out for whales on their annual migration.
Choose from a range of camping options. From the remote Bemm River and Pearl Point to the main campground, Banksia Bluff which has toilets and bush showers.
The park is home to a charismatic cast of wildlife, including Victoria's biggest lizard, the Lace Monitor, Wombats, Southern Brown Bandicoots, Long-nosed Potoroos and birds such as the New Holland Honeyeater and White-bellied Sea Eagle.
See magnificent marine animals. Dolphins surfing in the waves, whales migrating from May to October and seals at Beware Reef Marine Sanctuary. Dive or snorkel at Joiner's Channel or West Cape to see an amazing, diverse underwater ecosystem.
Stroll along the East Cape Boardwalk. Interpretive signs explain the Aboriginal history of the Cape.
As beaches and coasts are natural environments, you may encounter hazards. Follow our water safety advice to make sure your day out at Cape Conran Coastal Park is a safe and enjoyable one.
Things To Do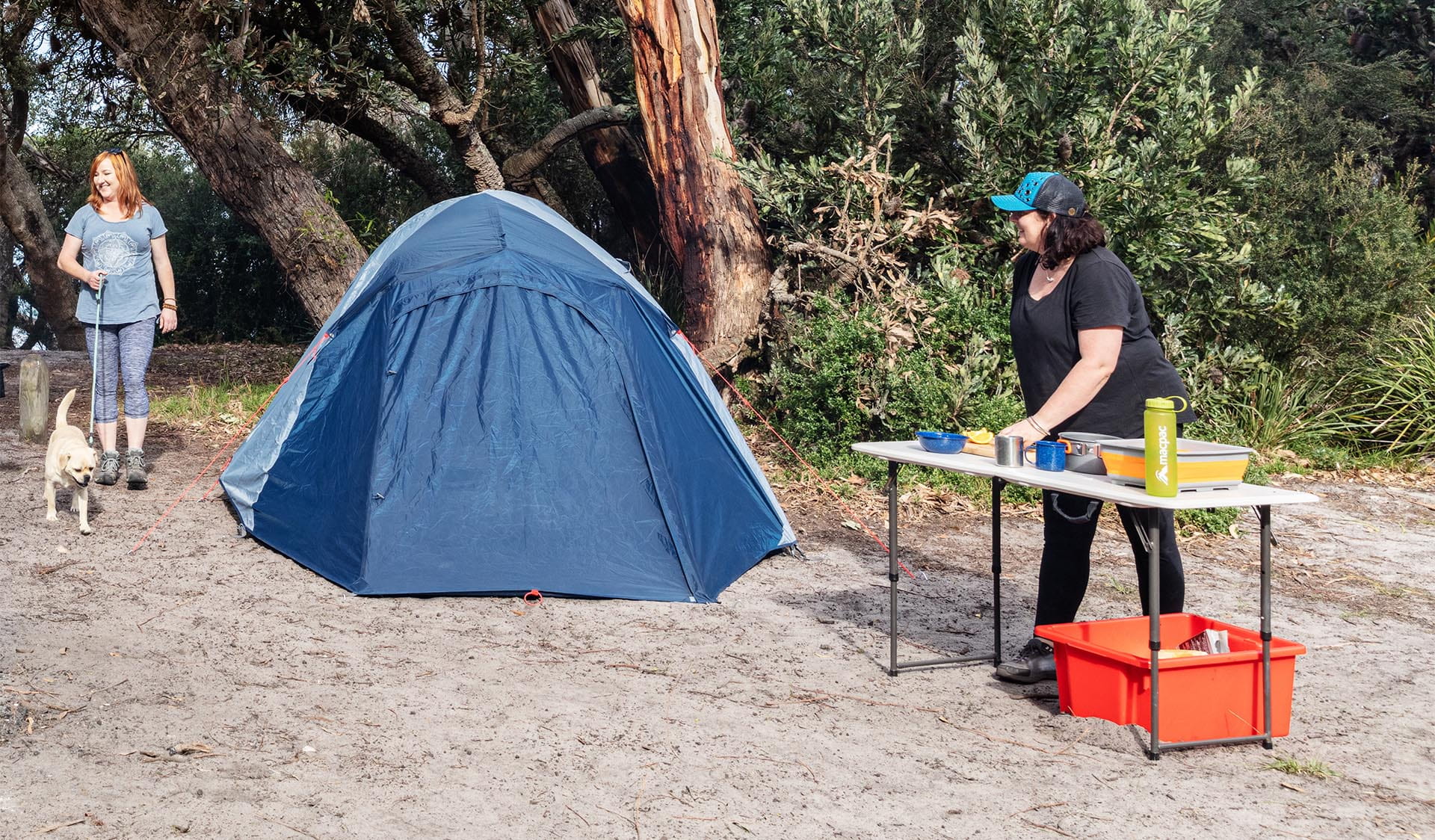 Banksia Bluff is a tranquil wooded campground where the peace is only broken by the dawn chorus and waves crashing. Set up camp among gum and banksia woodland and relax by the campfire. Camp with your dog on select sites.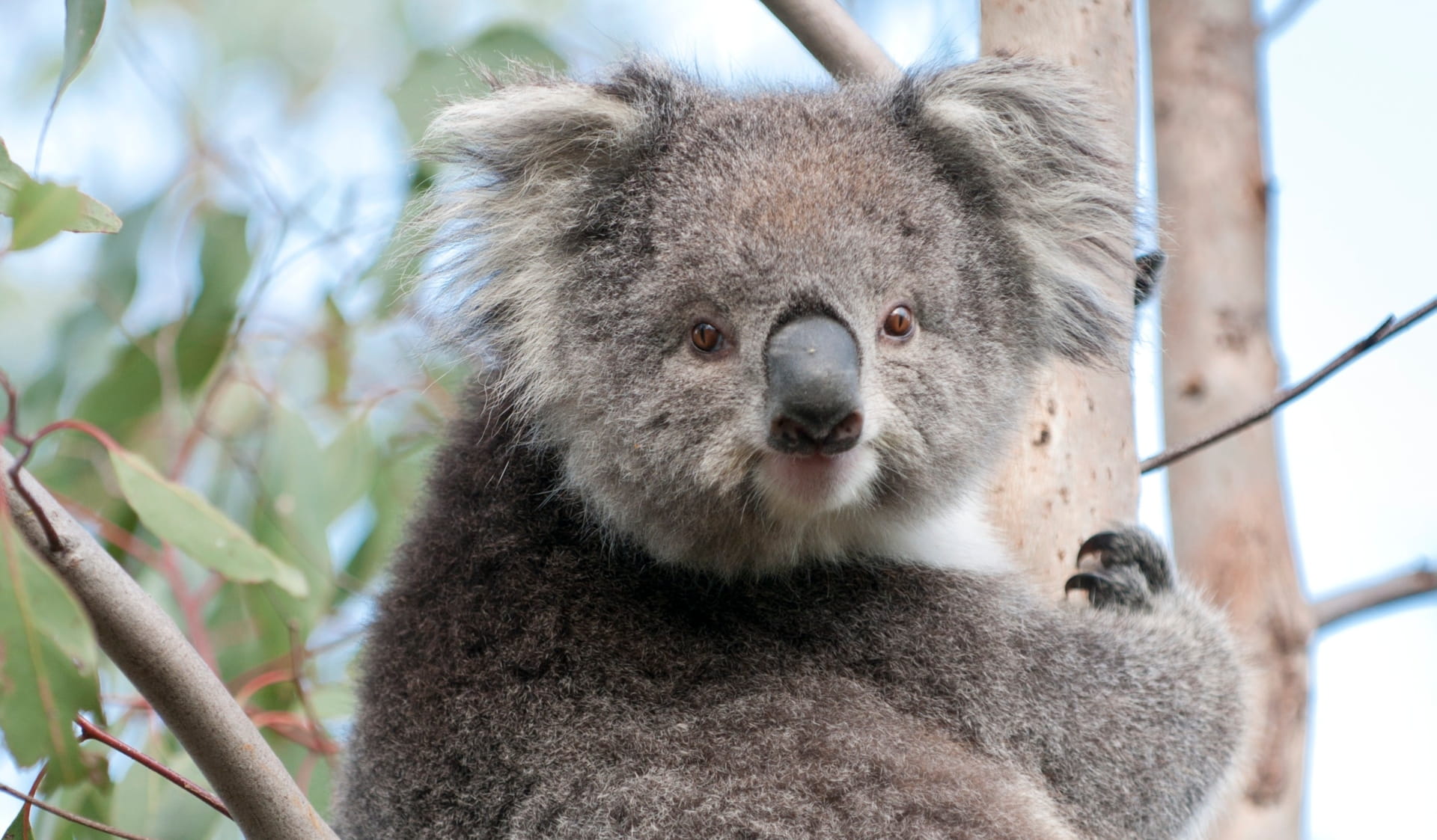 Binn Beach is a good spot for surf fishing. The campground has easy access to the beach via a sandy track over the dunes.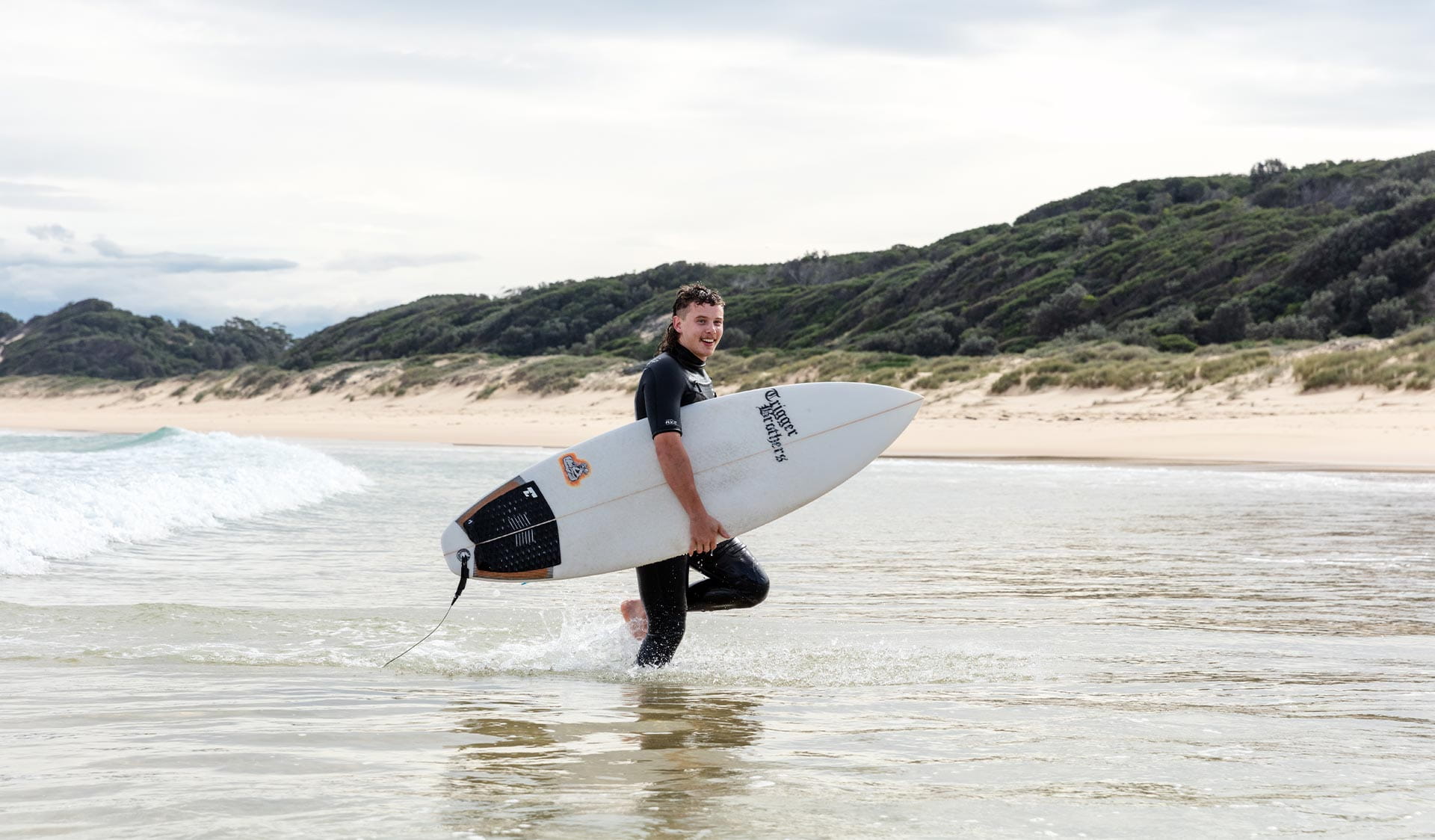 East Cape Beach
East Cape is a good spot for a picnic offering gas barbecues and picnic tables. There are also a number of walks from the visitor area.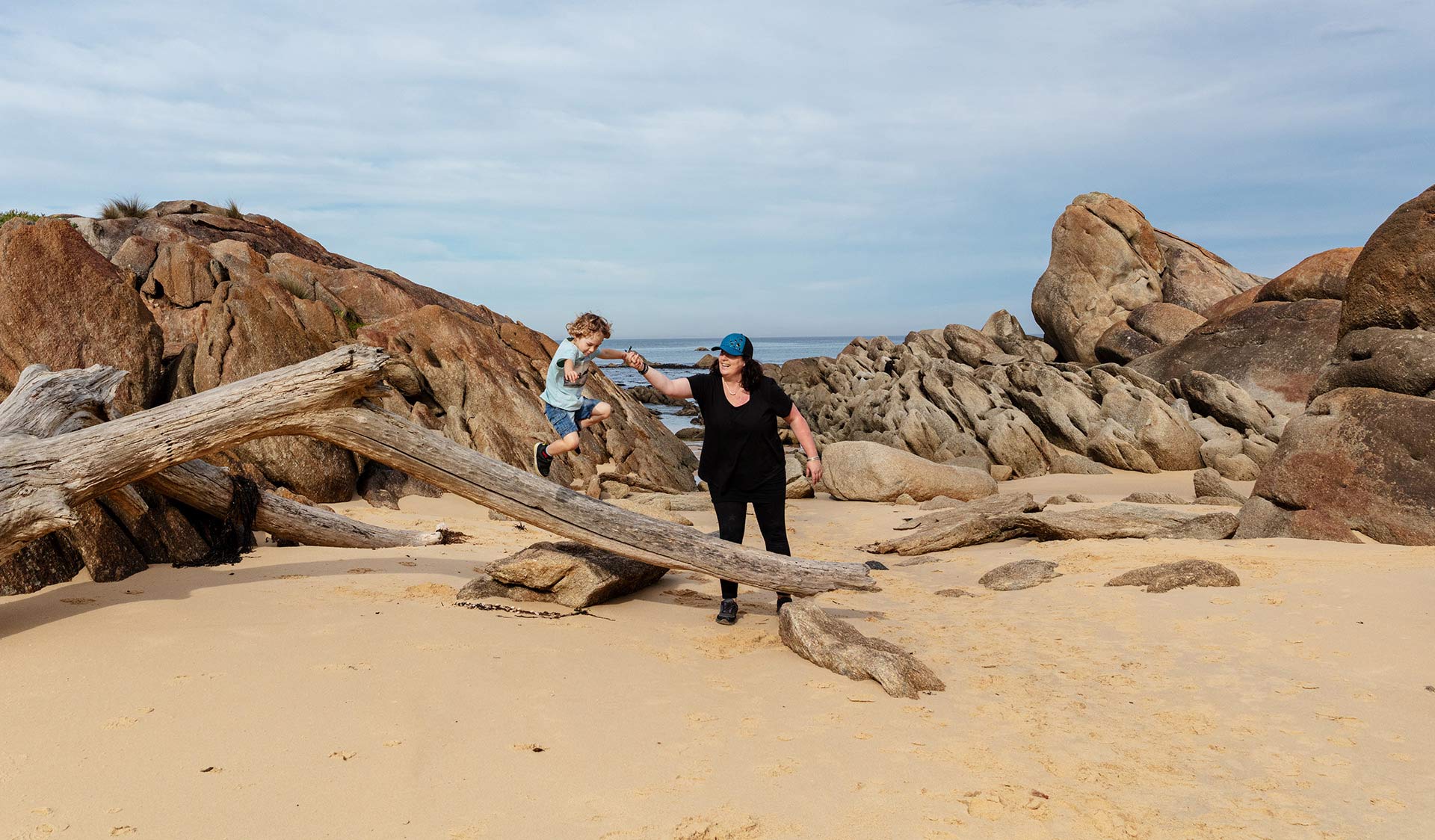 This is a small, remote campground that is best suited to walkers or those hiking the Wilderness Coast Walk. It has easy access via a sandy track over the dunes to the beach.
Tours and adventure experiences in parks
One of the best ways you can get into nature is with a Licensed Tour Operator.

There are more than 400 Licensed Tour Operators across Victoria who are ready and waiting to help you experience and connect with Victoria's spectacular parks and waterways.

Discover more than 60 different types of nature-based experiences including hiking, mountain biking, boating, four-wheel driving, indigenous culture tours, birdwatching, surfing, diving and so much more.

Licensed Tour Operators know all the best places to go and will plan and prepare your visit to ensure you are safe and can enjoy your nature-based adventure to the fullest.
Find a Licensed Tour Operator
How to get there
Cape Conran Coastal Park
When you're there
Download the Cape Conran Coastal Park visitor guide for more information about the park and the plethora of experiences to be had within its borders.
Need to know
Cape Conran Coastal Park
Accessibility
Visiting a park can be more of a challenge for people with disabilities, however in Victoria there are a wide range of facilities to help people of all abilities enjoy our wonderful parks around the state.
Assistance dogs are welcome in Parks Victoria parks and reserves. Entry requirements apply for parks and reserves that are usually dog prohibited, such as national parks.
Cape Conran boat ramp
West Cape offers the only boat launching ramp in the area. The road leading to the ramp is sealed and a large car park is located nearby. Take care when using this boat ramp due to its exposed location.
The ramp is regularly subject to sand and kelp. The ramp is often slippery. It is advisable to use a 4WD to launch and retrieve vessels.
Parks Victoria generally clears the ramp of sand when conditions are favourable, but due to the rapidly changing state of the ramp, there may be occasions when there is sand on the ramp and ocean conditions are calm. Launching and retrieving vessels is generally easier around high tide.
Check the web cam image for current conditions of the boat ramp.
Change of Conditions
Nature being nature, sometimes conditions can change at short notice. It's a good idea to check this page ahead of your visit for any updates.
West Cape (Cape Conran Coastal Park)

Cape Conran boat ramp upgrade - closure information

Located 15km east of the township of Marlo and part of Cape Conran Coastal Park, the boat ramp at

West Cape is a popular boating and fishing destination. It provides the only direct ocean access

between Lakes Entrance and Mallacoota and is a key access point to the nearby Beware Reef Marine

Sanctuary.

Better Boating Victoria are funding $2.79 million worth of upgrades to the boat ramp at Cape

Conran. While work is undertaken at the site, the boat ramp will be

Closed to all users from Monday 12 September until Saturday 10 December 2022

During this period, commercial, recreational, and emergency service boat users are advised that the

closest ocean access ramps are at either Mallacoota to the east or Lakes Entrance to the west.




The Victorian Government investment at Cape Conran boat ramp will make it cheaper, easier, and

more accessible for all Victorians to enjoy time on the water. Key features of the upgrade include:




·

Increasing the jetty by 21m to provide additional berthing space

·

Steepening the gradient of the single-lane ramp to bring it in-line with current standards and to minimise accumulation of sand and kelp

·

Marking areas of hazardous rock to improve navigation and safety

·

Construction of a new concreate apron at the top of the ramp

·

Installation of a convex mirror to provide a view of the ramp before vehicles towing trailers commit to turning onto the ramp apron

·

Construction of a retaining wall to protect vehicles and Aboriginal cultural heritage from collision

The Boating Victoria ramp finder

web cam

allows those interested in the site to follow the progress of the ramp upgrade. Once completed, the ramp will have increased berthing capacity, easier launch and retrieval capability, and protection of cultural heritage.

This park has been impacted by recent significant weather events

This park has been impacted by significant flood and/or storm events and some areas may be closed or restricted. Check the

Storm and Flood Affected Parks page

for the most up to date information on this location.

Yeerung River Road - Road Works, 12th of December 2022

Road works along Yeerung River Road are scheduled for the 12th of December 2022. Visitors to Banksia Bluff Campground and Yeerung River Estuary can expect delays.

Notices Affecting Multiple Sites

Dog Friendly Parks

The wet and warmer weather has brought paralysis ticks out in record numbers. Paralysis ticks are known in Coastal and near by Coastal areas and rainforest gullies.




Keep your dog on lead in permitted parks


Dogs are permitted in many parks and reserves provided they are under control and on leads at all times. Visitors should keep their dog on-lead except in designated off-lead areas. Keeping your dog on a lead ensures you both have a safe park visit.

Poison baits may be laid to control foxes or other feral animals. Baits can be fatal to dogs.
Even if your dog is friendly, other dogs may not be.
Your dog can catch parasites (such as fleas and ticks) from wildlife.
Snake bites are a real risk in natural areas such as parks.
Wildlife such as kangaroos and koalas will defend themselves if threatened by a dog and can cause significant injury to or the death of your dog.

Dog-friendly code of conduct

Consider other park users and ensure that dogs are always kept under effective control.
Always carry a lead, even when in off-lead areas.
Bring a friend if you wish to walk with more than two dogs.
Ensure children are supervised whilst near dogs, as they are vulnerable to attack.
Ensure your dog's identification, registration and vaccinations are up to date.
Minimise any disturbance to native fauna, including birdlife in the park.
Clean up after your dog and take all rubbish home.

Banksia Bluff Accommodation

The new Banksia Bluff Accommodation is currently under planning and works. During this time Banksia Bluff Accommodation and Olive-Berry Lodge remain closed to bookings. An announcement of a release date for future bookings will be posted on the website.




Notices Affecting Multiple Parks

Ground shooting operations targeting deer

Ground shooting operations targeting deer will be undertaken in these Parks from December 2022 to June 2023.

Some access restrictions may apply. Please observe local signage.




Alpine National Park (Bogong High Plains, Mount Bogong, Dinner Plain, Dargo High Plains, Foothills and Southern Alps)

Buchan Caves Reserve

Burrowa-Pine Mountain

Cape Conran Coastal Park

Cabbage Tree Creek Flora Reserve

Errinundra National Park

Howitt-Wellington Plains

Lake Tyers State Park

Mount Baw Baw National Park

Mount Buffalo National Park

Mount Mittamatite Regional Park

Mount Mitta Mitta Flora Reserve

Mount Lawson State Park

Mount Granya State Park

Mountain Creek Education Area

Pheasant Creek Flora Reserve

Wabba Wilderness Park

Wilsons Promontory National Park

Ground shooting operations targeting deer

Ground shooting operations targeting deer will be undertaken in this Park from December 2022 to June 2023.

The park will remain open for visitors during ground shooting operations.

For more information about deer control to protect biodiversity, please visit this link.


Ground shooting operations targeting deer

Ground shooting operations targeting deer will be undertaken in this Park from December 2022 to June 2023.

The Park will remain open to visitors.

For more information about deer control to protect biodiversity, please visit this link.

How we keep it special
Cape Conran Coastal Park bushfire recovery
We are restoring visitor facilities at Cape Conran following major bushfire damage in summer 2019/20. The recovery work includes rebuilding accommodation, campground and visitor facilities, installing a drinking and waste water connections to Banksia Bluff campground and construction of a new shared-use path between Marlo and Cape Conran.
Go behind the scenes with our rangers to find out more about the recovery process.