Explore
Great Otway National Park
Great Otway National Park is part of an Aboriginal cultural landscape. Parks Victoria respects the deep and continuing connection that Traditional Owners have to these lands and waters, and we recognise their ongoing role in caring for Country.
Great Otway National Park stretches from Torquay, along the world-famous Great Ocean Road and up through the Otways hinterland. Discover windswept coastlines and breathtaking waterfalls in tall mountain forests, walk the iconic Great Ocean Walk, immerse yourself in the Otway Lightstation's history, or surf some of the best breaks in Australia. Enjoy the great outdoors and explore the wonders of the Great Otway National Park.
See the stunning coast between Apollo Bay and the Twelve Apostles by foot on the Great Ocean Walk, where nature unfolds at every step. Do the whole walk in eight days or tackle it in sections on weekends away. Immerse yourself in nature by walking the Surf Coast Walk over 44km from Torquay to Aireys Inlet.
Or drive the iconic Great Ocean Road. Built by soldiers recently returned from World War 1, it is the world's longest war memorial.
Take a tour and discover the colourful maritime history of the Cape Otway Lightstation. Climb to the top of the historic lighthouse for dramatic views of the so-called Shipwreck Coast.
Surf the thunderous beach breaks off Johanna Beach and discover the fascinating underwater mini-ecosystems of rockpools in the Eagle Rock Marine Sanctuary at Aireys Inlet or the sandy shores and rock platforms along the Great Ocean Road.
Ride through tall eucalypt forests, dry heathy scrub and dense fern gullies along the Forrest Mountain Bike Trails in the nearby Otway Forest Park, or simply relax among the eucalyptus trees and have a picnic at the Sheoak Picnic ground near Lorne.
Traverse fern-laden valleys to discover picture-perfect waterfalls such as Erskine Falls, Sheoak Falls, Triplet Falls, Hopetoun Falls and Kalimna Falls.
Walk through the mossy forest of Melba Gully and witness the unique night-time spectacle of glow worms.
Visit Maits Rest to discover gorgeous fern gullies or the giant beech trees – some of which are up to 300 years old and walk among the towering Californian Redwoods hidden in the Otway Ranges.
For longer stays, there are excellent camping opportunities whether you are looking for a family-friendly place to park your caravan or a solitary night under the stars.
As beaches and coasts are natural environments, you may encounter hazards. Follow our water safety advice to make sure your day out at Great Otway National Park is a safe and enjoyable one.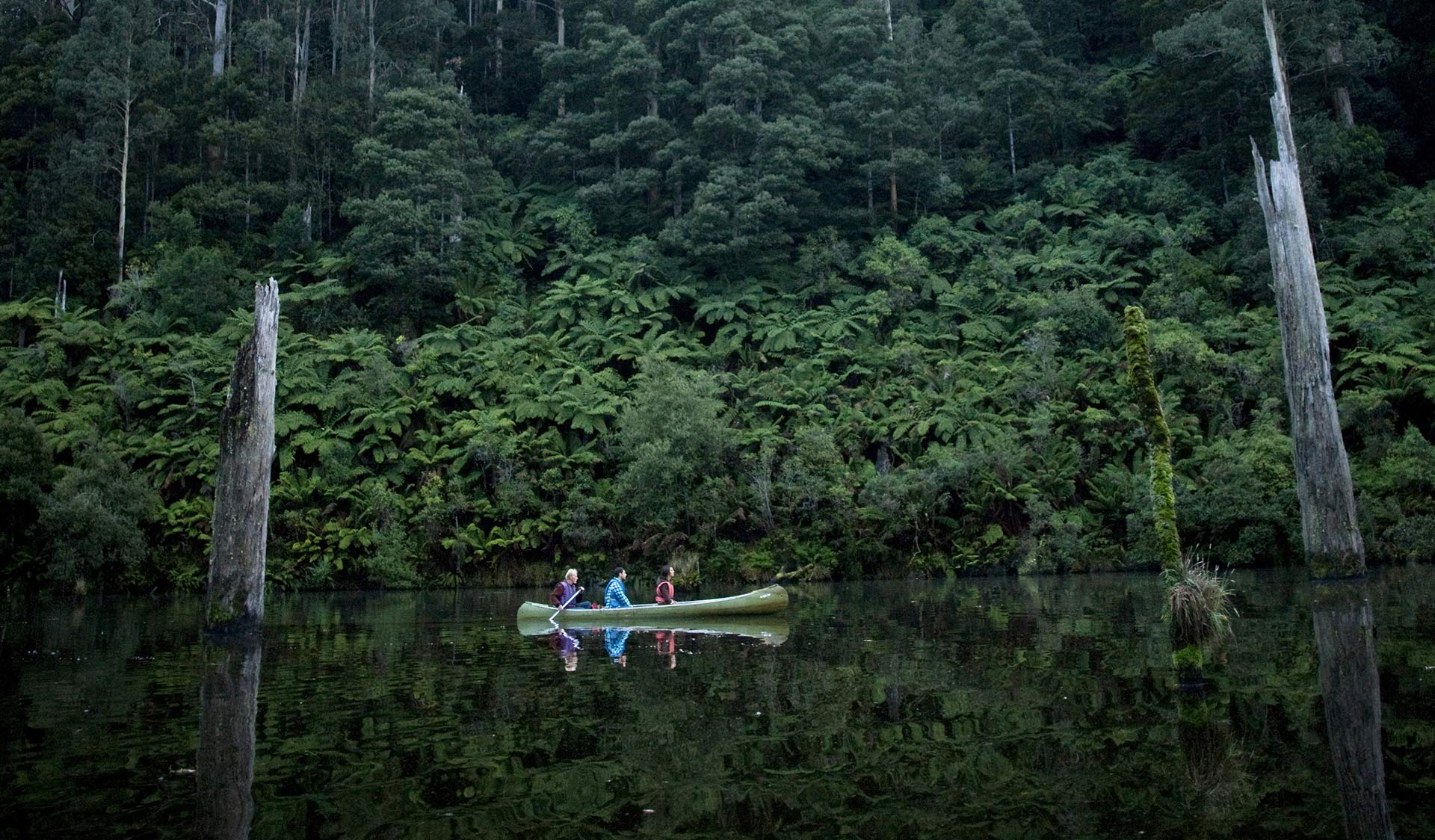 The Forrest section of Great Otway National Park, along with Otway Forest Park, encompasses a stunning landscape including undulating plains and plateaus of the hinterlands and magnificent Mountain Ash forests.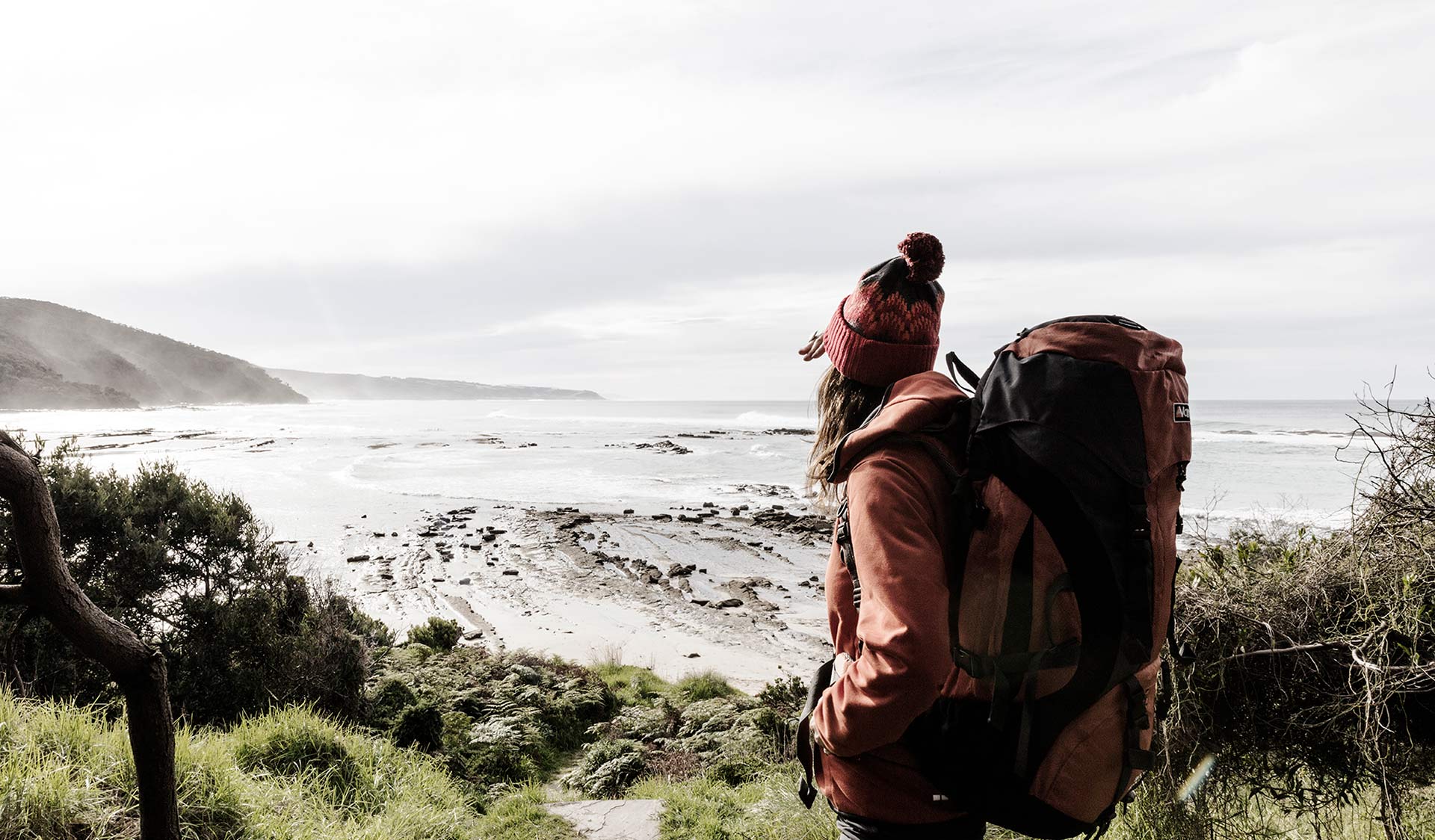 The Great Ocean Walk is a one-way, long-distance walk extending just over 110km. This once-in-a-lifetime hike will take you eight days.
Great Otway National Park
Explore the different areas
Explore all of the different areas within the Great Otway National Park.
When you're there
Download the Great Otway National Park visitor guides for more information about the park and the plethora of experiences to be had within its borders.
Need to know
Great Otway National Park
Accessibility
The Colac Otway Shire and Surf Coast Shire each have an all-terrain wheelchair, called a Trailrider, that is available for park visitors with mobility difficulties. The chairs can be booked with the respective shires.
Assistance dogs are welcome in Parks Victoria parks and reserves. Entry requirements apply for parks and reserves that are usually dog prohibited, such as national parks.
Subscribe to Parks Victoria
Sign up to receive the latest ideas, inspiration and news delivered right to your inbox.
Change of Conditions
Nature being nature, sometimes conditions can change at short notice. It's a good idea to check this page ahead of your visit for any updates.
Kalimna Tramline Link Walk (Great Otway National Park)

Kalimna Tramline Trail Closed

This walking track is closed due to damage to a pedestrian bridge. Walkers can still access the Lower Kalimna Waterfall via the Kalimna Falls Walking Track, which starts at Sheoak Picnic Area.

Sharps Campground (Great Otway National Park)

Sharps Campground Permanently Closed

Due to environmental and safety risks, Sharps campground will be permanently closed from Thursday 22nd December 2022.




For more information please see attached fact sheet.

Attachments: Sharps Campground closure Fact sheet (200KB)

Kalimna Falls Walk (Great Otway National Park)

Upper Kalimna Walking Trail Closed

Walking trail to Upper Kalimna Falls closed until further notice due to storm damage. Lower Falls remain open.

Notices Affecting Multiple Parks

Garvey Track Closed until further notice.

Garvey track will remain closed until further notice. Major road works are due to occur when conditions are suitable.

Cora Lynn Campground (Great Otway National Park)

Cora Lynn Campground Closure

This campground is closed until further notice due to hazardous trees.

Great Otway National Park

Trail closures due to severe weather damage.

St George River Walk is closed between Allenvale Campground and Cherry Tree Creek

Cumberland River Walking Trail is closed


Lifejackets Required For Rock Fishers from March 1, 2022

A two-year trial of new laws

that require rock fishers to wear a lifejacket at high-risk locations will commence on

1 March 2022

.

For Great Otway National Park this includes:


Artillery Rocks, west of Lorne

The rock platform opposite Sheoak Falls, south of Lorne




Fines apply if you don't wear a lifejacket at these sites.

Sheoak Picnic Area (Great Otway National Park)

No All-Abilities Toilet at Sheoak Picnic Area

No all-abilities toilet access at Sheoak Picnic Area. Portable toilets temporarily in use.

Notices Affecting Multiple Sites

Red Rocks Beach - steep beach drop-off at lower access to eastern beach stairs.

Walkers and beach users be aware of changed beach conditions at eastern end of Red Rocks Beach, access with care and caution. The lower section of stairs currently has a significant steep slope on the beach making access difficult and challenging.

Maits Rest Rainforest Walk (Great Otway National Park)

Maits Rest Carpark- bus access

Maits Rest Carpark is suitable for small coaster buses only. Large buses or coaches are advised to use Melba Gully walk track near Lavers Hill.

Melba Gully Day Visitor Area (Great Otway National Park)

Melba Gully - Large bus access

Melba Gully Walk Track and picnic area is accessible for large coaches. Toilet facilities are available on site
Tours and adventure experiences in parks
One of the best ways you can get into nature is with a Licensed Tour Operator.

There are more than 400 Licensed Tour Operators across Victoria who are ready and waiting to help you experience and connect with Victoria's spectacular parks and waterways.

Discover more than 60 different types of nature-based experiences including hiking, mountain biking, boating, four-wheel driving, indigenous culture tours, birdwatching, surfing, diving and so much more.

Licensed Tour Operators know all the best places to go and will plan and prepare your visit to ensure you are safe and can enjoy your nature-based adventure to the fullest.
Find a Licensed Tour Operator
How we keep it special
The Great Otway National Park and Otway Forest Park Management Plan was first published in December 2009 and amended in November 2019.