Birdwatching is a great way to get into nature and learn more about our incredible native wildlife. Around 450 species of birds call Victoria home, including many rare and endangered species. Whether you're a seasoned twitcher or brand-new to birding, here are some of the best places for birdwatching in our national parks.
Take a trip to Victoria's Mallee region and you'll find ample opportunities for birdwatching. Wyperfeld National Park, Murray-Sunset National Park, Hattah-Kulkyne National Park, Kings Billabong Park and Little Desert National Park are some of the best places to spot birds including bush birds, birds of prey and parrots. The expansive wetlands of Kings Billabong Park and Hattah-Kulkyne National Park are also perfect for spotting a variety of wetland birds. With over 300 species of birds recorded in the region, you'll be sure to spot something special. Significant species include the Regent Parrot, Malleefowl and Black-eared Miner.
If you want to try something new or meet like-minded people, contact a licensed tour operator. They are experts in birdwatching and will make sure you get the most from your session.
Birds of prey
Take a trip to the north-east of the state and explore the historic box-ironbark forests of Chiltern-Mt Pilot National Park. Plenty of short walks perfect for birdwatching await you, along with the chance to spot a Brown Goshawk or Square-tailed Kite among the trees. You might also catch a glimpse of a Barking Owl, Little Eagle, Black-shouldered Kite or Wedge-tailed Eagle, so keep your eyes peeled! Visitors to Chiltern-Mt Pilot National Park can also spot bush birds such as Painted Button-quail, Rainbow Bee-eater, Speckled Warbler or parrots including Swift Parrot, Turquoise Parrot, Gang Gang Cockatoo, Australian King Parrot, Red-rumped Parrot, Musk Lorikeet and Purple-crowned Lorikeet.
More places to visit for birds of prey:
Bush birds
Just over an hour's drive from Melbourne, Brisbane Ranges National Park is one of the state's richest wildflower habitats and a haven for nectar-drinking bush birds. Watch for the striking figure of the Yellow-tufted Honeyeater and keep an eye out for the flash of vivid red adorning the breast of the Scarlet Robin. You might also see White-throated Nightjar, Striated Pardalote, New Holland Honeyeater, Grey Shrike-thrush, Red-browed Finch, Eastern Yellow Robin or Common Bronzewing. This is one of the best places in the state to spot the elusive Spotted Quail-thrush.
More places to visit for bush birds:
Parrots
Head south to Wilsons Promontory National Park, whose coastal bushlands and craggy mountains are home to an abundance of birds. In the grasslands and grassy woodlands you might spot the sapphire wing plumage of the Blue-winged Parrot. Look carefully among the coastal heathlands for the shy and unusual Ground Parrot – one of only five ground-dwelling parrots in the world – and scan the mountain trees for the flashy red heads of Gang Gang Cockatoos. Wilsons Promontory National Park is also home to a variety of bush birds including the Olive Whistler, Beautiful Firetail, Southern Emu-wren, Crescent Honeyeater, Forest Raven, Bassian Thrush, Flame Robin, Ground Parrot and Hooded Plover and sea birds like waders, ducks and terns, Hooded Plover and Pied Oystercatcher.
More places to visit for parrots:
Sea birds
Nestled in Victoria's far-east Wilderness Coast, the beachside habitat of Cape Conran Coastal Park is a sanctuary for sea birds of all kinds. You'll likely spot the distinctive red bills of Oystercatchers on the shore, and overhead you might catch a glimpse of a White-bellied Sea Eagle. Keep an eye out as well for the Pilotbird, Eastern Whipbird, Hooded Plover, Double-banded Plover, Pied Oystercatcher, and Red-necked Stint, as well as many gulls and terns.
More places to visit for sea birds:
Water and wetland birds
Coolart Historic Area features a natural creek system and artifically created wetlands that are a haven for a multitude of birds. The hides and observatory are great spots for birdwatching. Keen observers will see Swamp Hens and White Ibis, many species of ducks, crakes and rails, White Ibis, Hoary-headed Grebe, Cormorants, Chestnut Teal, Blue Billed Duck, Crakes, Rails. Plenty of bushbirds and parrots also call the park home. The diversity of habitats means you might spot up to 60 species in one day!
More places to visit for water/wetland birds:
Iconic Victorian Birds
For seasoned birdwatchers who want to see the rare and exceptional, keep an eye out for:
Orange-bellied Parrot – Spit Nature Conservation Reserve, Lake Connewarre State Wildlife Reserve
Satin Bowerbird – Dandenong Ranges, Kinglake National Park, Great Otway National Park
Cape Barren Goose – Serendip Sanctuary, Wilson's Promontory National Park
Mallee emu-wren; Red-lored Whistler; Striated Grasswren; Black-throated Miner – The Mallee
Hooded Plover
A charming bird endemic to southern Australia, the Hooded Plover is characterised by its black hood, white collar, and red eyes and bill. This medium-sized plover lives in many of Victoria's ocean beaches and subcoastal lagoons.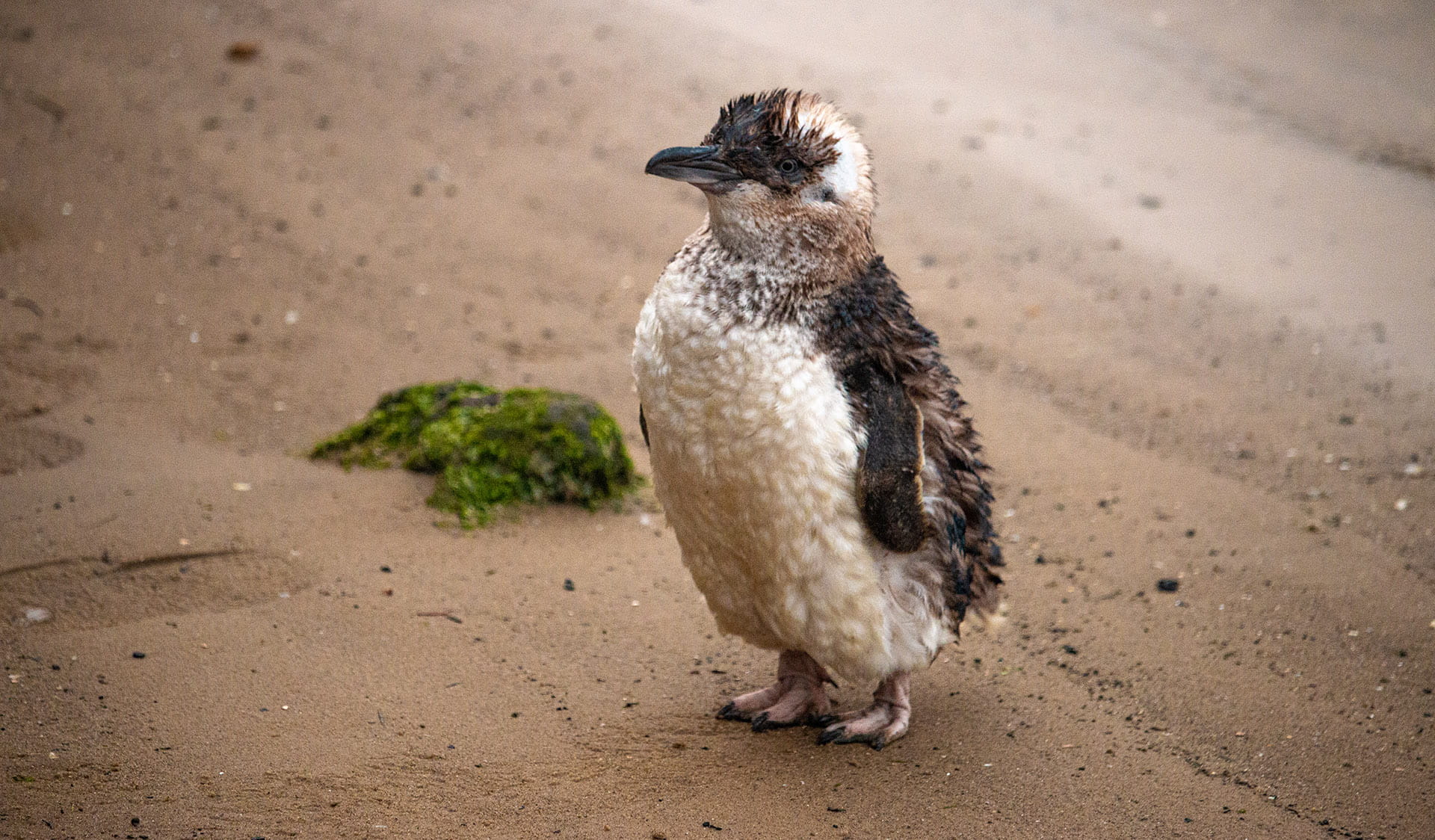 Little Penguin
The aptly named Little Penguin is the smallest species of penguin, growing to an average of just 33cm in height. Their plumage is slate blue. The St Kilda Breakwater is home to a colony of Little Penguins. Just before dusk, you can view the colony coming ashore from the promenade on the St Kilda Breakwater.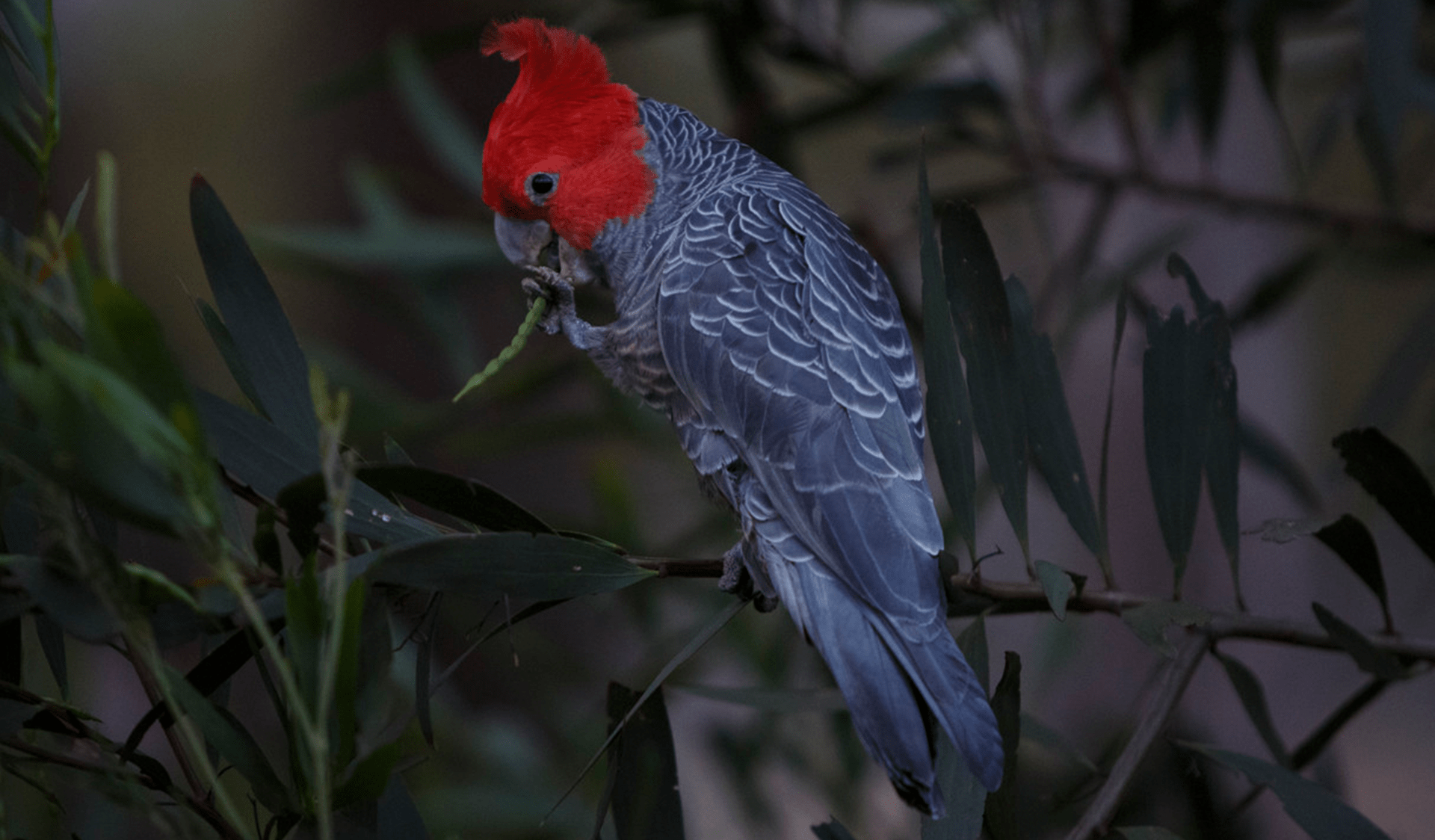 Gang Gang Cockatoo
A cheeky and distinctive forest parrot, the Gang-gang Cockatoo is easily recognisable: look for the males' bright red head and crest, and listen for their creaky-gate call.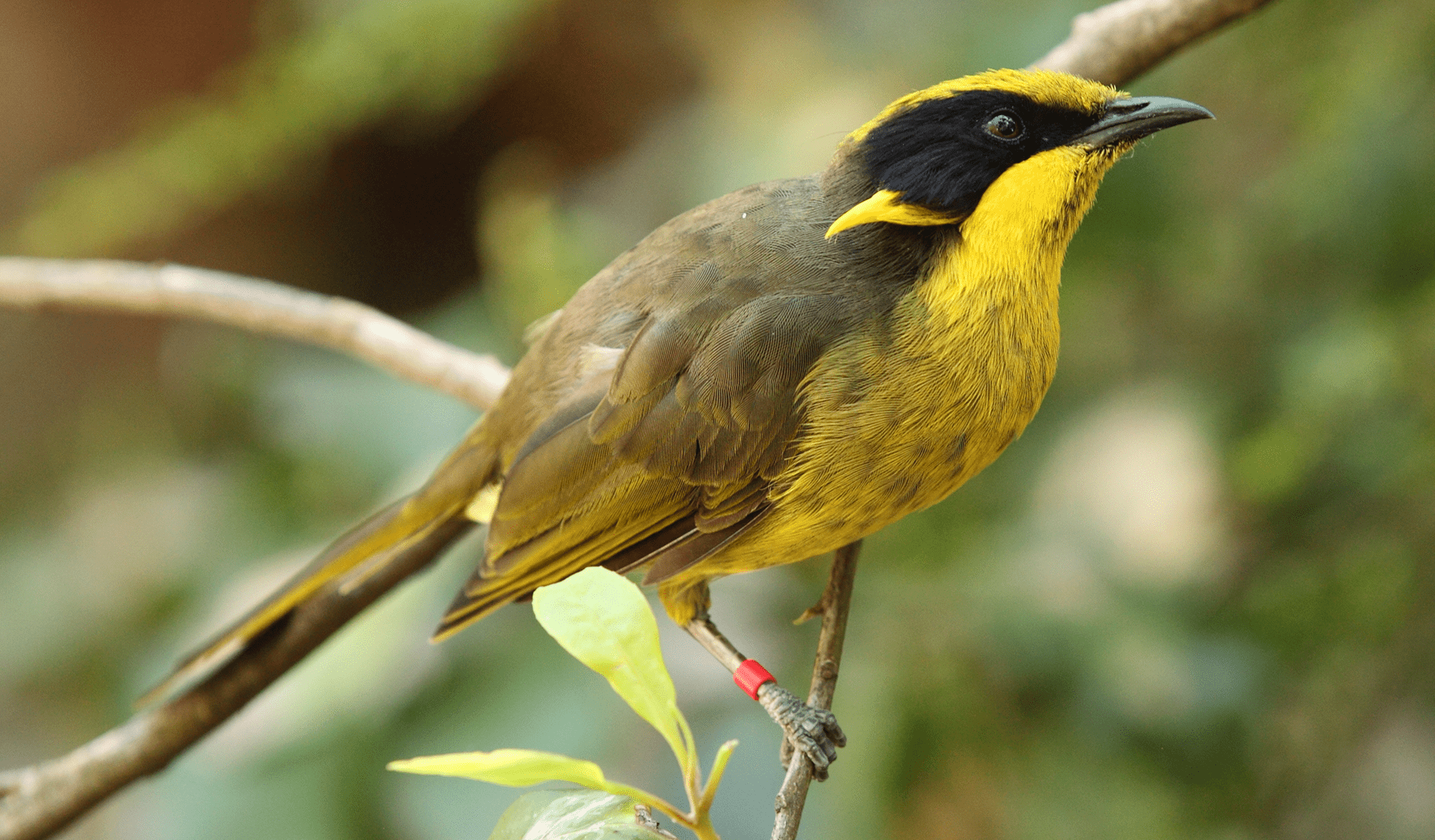 Helmeted Honeyeater
This vividly-coloured passerine is one of Victoria's official faunal symbols. The Helmeted Honeyeater has a black mask, a yellow crown and a "helmet" of golden feathers on its forehead. They live exclusively in a remnant of bushland 50km east of Melbourne, and are the subjects of active conservation efforts.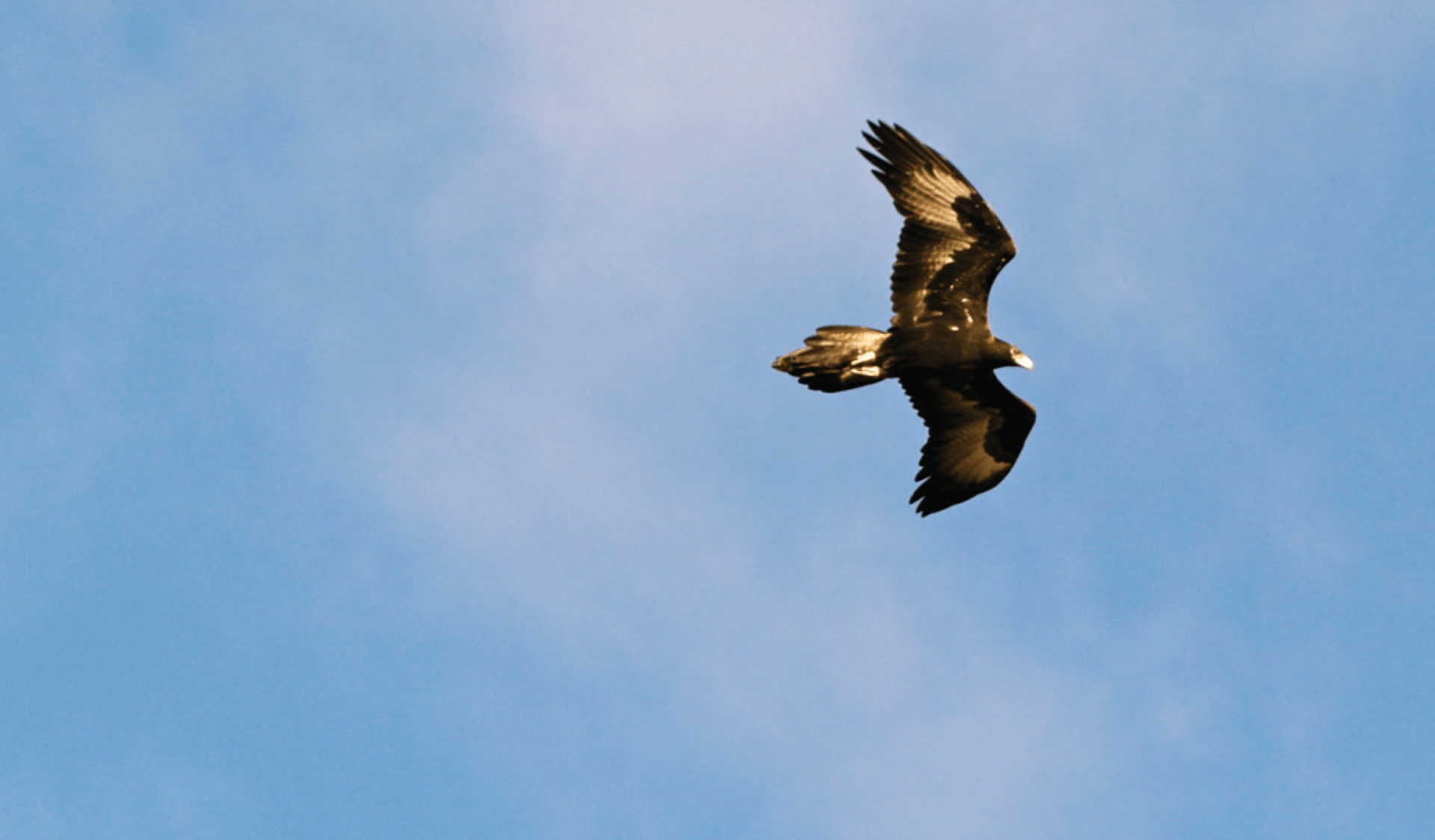 Wedge-Tailed Eagle
The majestic Wedge-tailed Eagle is the largest bird of prey in Australia. Its wedge-shaped tail, long legs, and huge wingspan – often reaching 2 metres across – make it unmistakable. The adults range in colour from mid-brown to reddish-brown to almost black. They are magnificent predators which can be found riding the thermals all over Australia.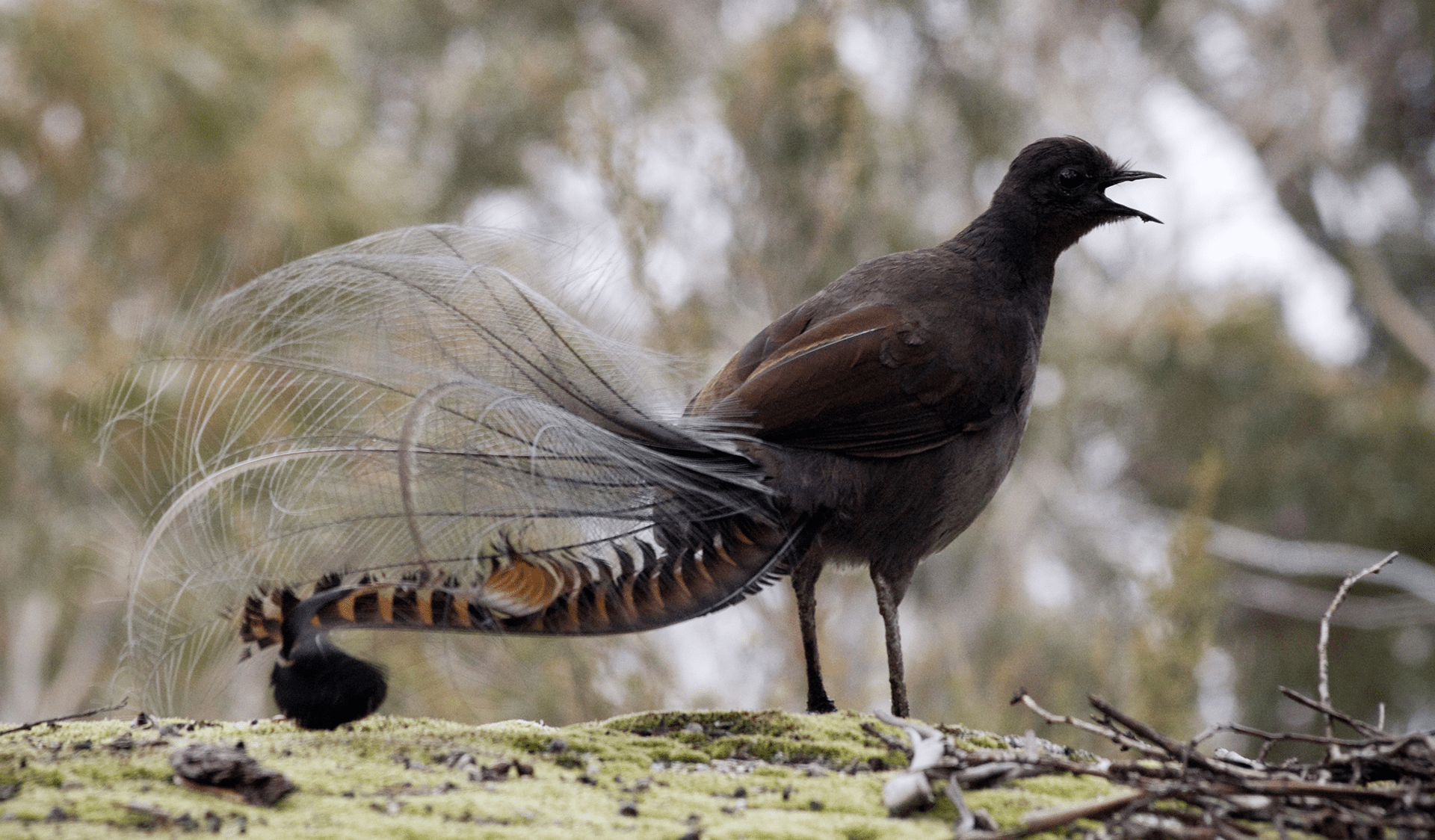 Superb Lyrebird
As spectacular in song as it is in sight, the Superb Lyrebird is one of the world's largest songbirds – it's about the size of a pheasant. The males' tail is a spectacular plume of ornate buff, brown and white feathers, the outer two of which evoke the shape of a lyre. Even more recognisable, however, is the Lyrebird's song: an incredible medley of mimicked calls, from the calls of other songbirds to the click of a camera shutter.
Need to know
Birdwatching
How you can help
Your birdwatching can help play an important part in conservation efforts. Here are some ways you can help preserve and protect Victorian birds:
Record the date, time and location of Orange-bellied Parrot sightings and reporting them to Parks Victoria
Register with Birdlife Australia's BIRDATA project, where you can upload bird lists to help conservation activities in Australia (they even have an app!)
Guidelines for responsible birdwatching
When observing birds, it is important to:
Remember that you are in their natural habitat, take your rubbish and leave the area as you find it
Keep a safe distance, avoid making loud noises and keep flash photography to a minimum
Do not approach nesting birds and don't use call playback devices as this can stress birds
Leave your pets at home. Dogs can disturb birds and are not permitted in most conservation areas
Wear suitable clothing for the weather conditions, take a hat, sunglasses, sunscreen and insect repellent, especially if visiting wetland areas where insects are rife
Make sure you have a charged mobile phone in case of emergency. If heading to remote areas, be aware that mobile reception may be unavailable, so plan ahead and let someone know where you are going before you leave
Take binoculars and/or a camera with a zoom lens
Read more about responsible birding on the BirdLife Australia Ethical Birdwatching Guidelines fact sheet (PDF).
More parks for birdwatching