Explore
Gippsland Lakes Coastal Park
Gippsland Lakes Coastal Park is one of the jointly managed parks within Gippsland. The Joint Management agreement recognises the fact that the Gunaikurnai people hold Aboriginal Title and maintain a strong connection to Country. As custodians of the land, they are the rightful people who speak for their Country. These parks and reserves are cultural landscapes that continue to be part of Gunaikurnai living culture. For more information on Joint Management, please visit the Gunaikurnai Traditional Owner Land Management Board and the Gunaikurnai Land and Waters Aboriginal Corporation.
The Gippsland Lakes Coastal Park is a serene retreat in Central Gippsland - stretching along the narrow expanse of Ninety Mile Beach from Seaspray to Lakes Entrance. An interconnected area of wetlands and coast, the park consists of the Boole Poole Peninsula, Bunga Arm and many other small islands. This unique and picturesque paradise contains diverse terrestrial and marine environments, with the lakes and marine coastal parks offering countless recreational activities.
Follow Shoreline Drive from Paradise Beach to Seaspray along the Western side of the park to truly immerse yourself in the beauty of our natural world. Here, you can partake in oceanside bushwalks, swim in the soothing sea and kayak across the scenic lakes. Hire a yacht, boat, canoe or kayak, bring your own or join a tour. Ninety Mile Beach is well known for its surf fishing, whilst the calm waters of the Gippsland lakes are great for catching salmon, tailor, whiting, flathead and bream.
With many places to camp, you can pitch a tent or park your van at free camping sites along Shoreline Drive, or paid sites at Paradise Beach, where you can hear the soothing roar of the waves crashing onto the nearby shore. Alternatively, you could opt for a more remote fee based camping option at Bunga Arm - which is only accessible by boat. If camping isn't your style- base yourself at Loch Sport, Paynesville, Metung or Lakes Entrance - all gateways into the Gippsland Lakes Coastal Park. Closer to Loch Sport you will find the ultimate serenity nestled in the bush. Spoon Bay and Red Bluff campgrounds provide an escape from the hustle and bustle of the city. A little off the beaten track, you are sure to have a secluded lakeside getaway.
As rivers, lakes and reservoirs are natural environments, you may encounter hazards. Follow our water safety advice to make sure your day out at Gippsland Lakes Coastal Park is a safe and enjoyable one.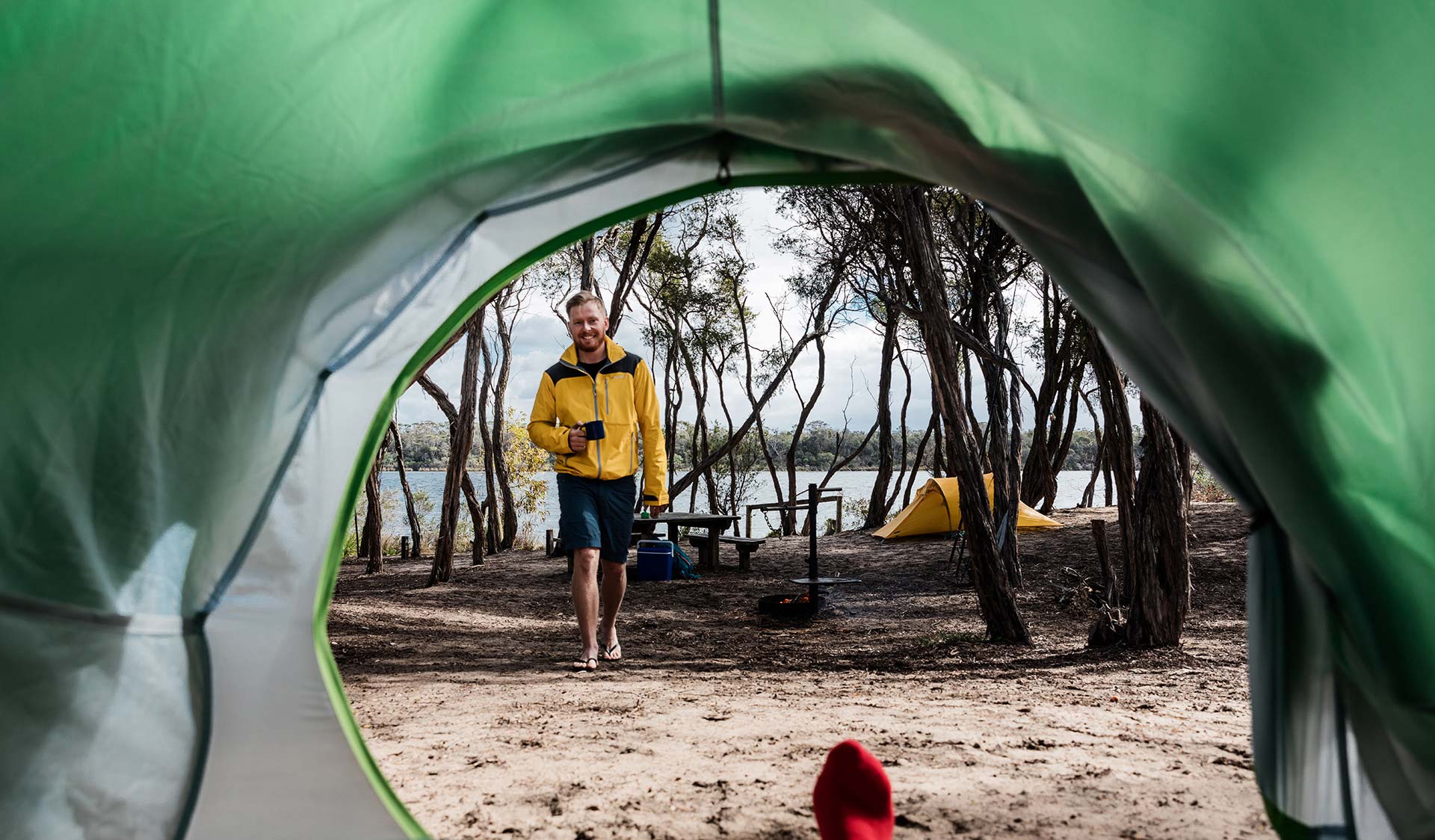 Escape the crowds and make your way to Bunga Arm, a 250-metre sand barrier formed over thousands of years separating the tranquil waters of the Gippsland Lakes from the rough ocean swells of Bass Strait. Choose from seven scenic campgrounds only accessible by boat nestled on this bird-rich island.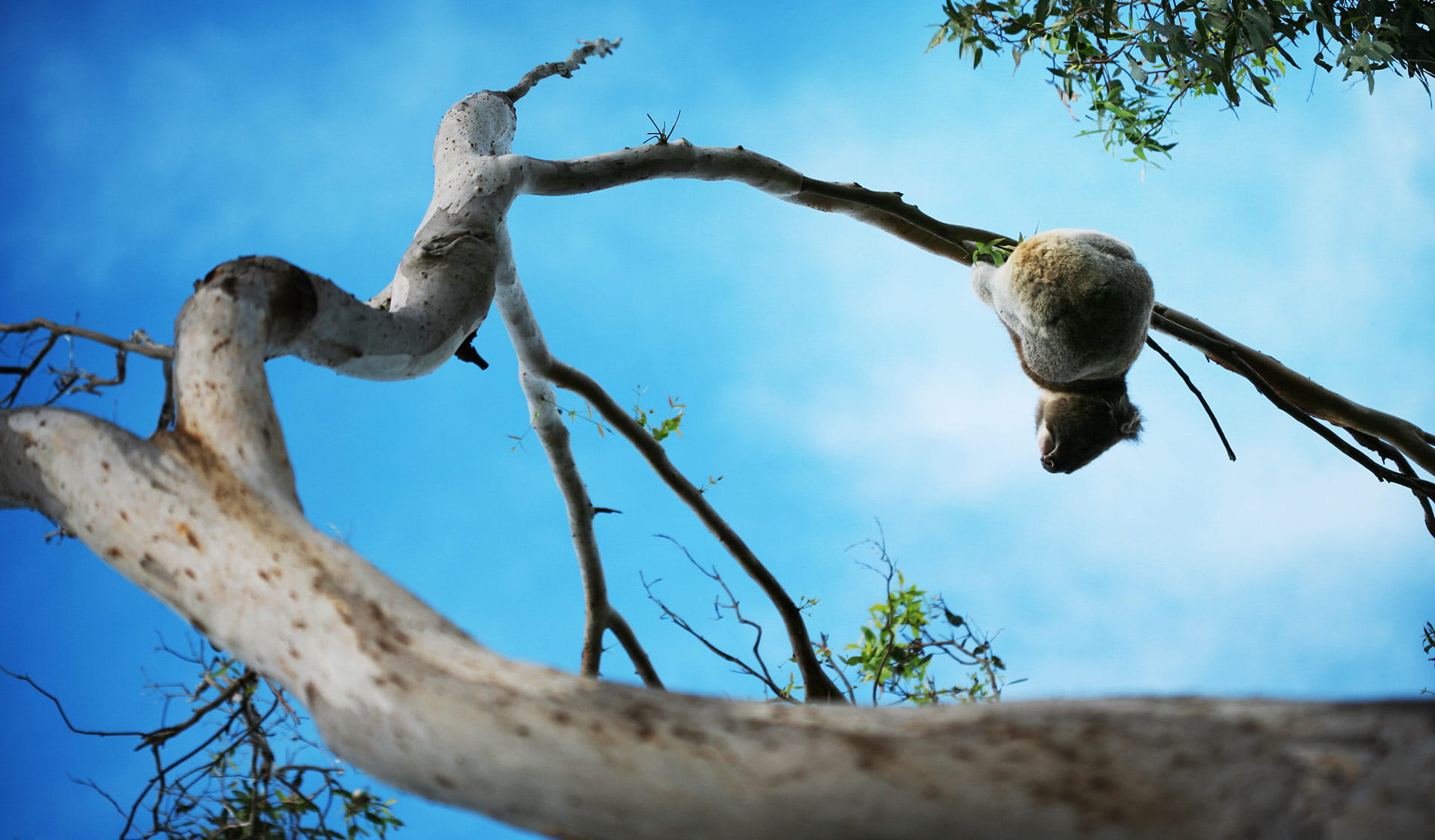 In addition to the bookable sites at Bunga Arm and Paradise Beach there are some free campsites available on a no booking, no fees,camping is on a first in, first-served basis.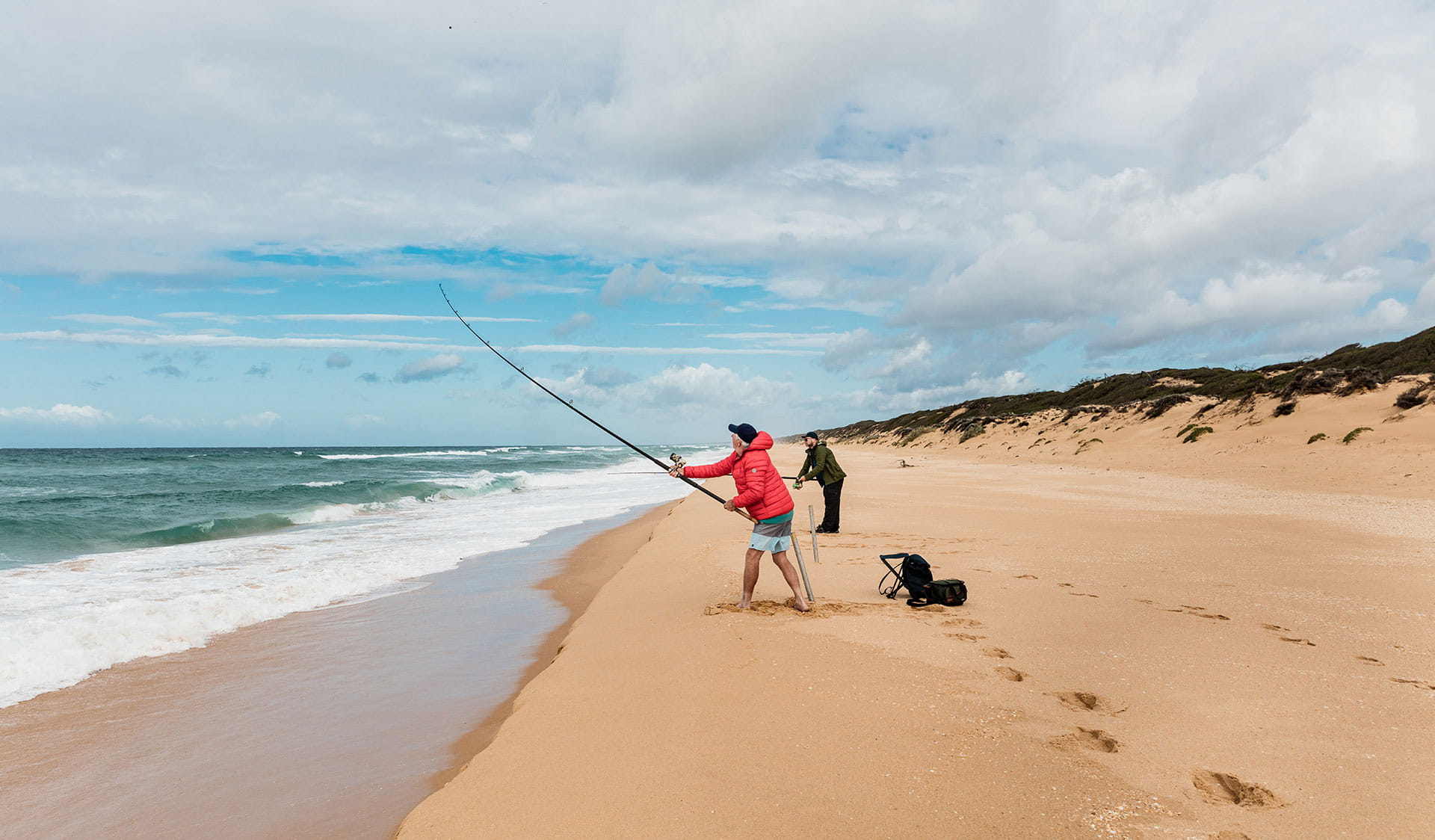 Pack your four-legged friend for dog-friendly car-based camping at Paradise Beach in Gippsland Lakes Coastal Park, west of Loch Sport
When you're there
Continue your exploration of the Gippsland Lakes Coastal Park. Download the visitor guide before you visit.
Dogs are only permitted at the following locations and must be controlled on a leash at all times:

Barrier Landing
Ocean Grange
Paradise Beach
Loch Sport Causeway
The Wreck
Flamingo Beach
The Honeysuckles
between campsites one to six on Shoreline Drive at Golden Beach.
Dogs are not permitted in other areas of the park or between campsites seven to nineteen along Shoreline Drive, Golden Beach.
Camping & accommodation
Gippsland Lakes Coastal Park adjoins an extensive lake system separated from the Tasman Sea by the sand dunes of Ninety Mile Beach. Swim, kayak, boat, or fish along the scenic expanses of sheltered water. Among the tranquil campgrounds, choose from 90 Mile Beach, Bunga Arm or Paradise Beach.
Check availability
Need to know
Gippsland Lakes Coastal Park
Accessibility
Beach access along 90 Mile Beach is poor at all sites for people in wheelchairs because of steep paths over dunes and steps.
There are no steps on the path to the viewing platform at Golden Beach and it is wheelchair accessible.
Picnic and camping areas have moderate to good accessibility.
Assistance dogs are welcome in Parks Victoria parks and reserves. Entry requirements apply for parks and reserves that are usually dog prohibited, such as national parks.
Change of Conditions
Nature being nature, sometimes conditions can change at short notice. It's a good idea to check this page ahead of your visit for any updates.
Notices Affecting Multiple Parks

Seasonal road closures 2021

Some roads in this park are subject to seasonal road closures. Seasonal road closures generally operate after the long weekend in June through to the end of October, but may be extended due to seasonal conditions. Visit the seasonal road closures page for maps and more information.

Notices Affecting Multiple Sites

Accessible by four-wheel drive vehicles only

Due to recent weather events, The Lakes National Park is currently only accessible by four wheel drive vehicles.

Lake Reeve Track Road Works

Vegetation management and roadworks have commenced on Lake Reeve Track in The Lakes National Park. Major plant and equipment will be frequenting the area, please abide by all road signs and drive safely to the conditions.
Tours in the area
Bushwalking, four-wheel driving, horse riding, kayaking, rock climbing and mountain biking are just some of the many activities you can experience in Victoria's parks.
If you want to try something new or meet some like-minded people on your next visit to a park, contact a licensed tour operator.
Parks Victoria licenses tour operators who are experts in these activities and more. They will help you get the most out of your visit.
View all local tours
How we keep it special
Gippsland Lakes Coastal Park is part of the Gippsland Lakes system which has traditionally been a major food source for Gunaikurnai people. Evidence of their use and occupation is visible in the many midden sites, artefact scatters and scar trees within the park. The Gunaikurnai and Victorian Government Joint Management Plan provides a description of joint management strategies and actions that are specific to The Lakes National Park and Gippsland Lakes Coastal Park.