TrailRider all-terrain wheelchairs are now available in a number of Victoria's parks enabling visitors with mobility limitations to explore the great outdoors. The TrailRider allows visitors to access more rugged walking trails not otherwise accessible with conventional wheelchairs.
Local staff can provide expert advice on the best routes for chairs, so with the help of chair operators you can experience Victoria's parks like never before. A minimum of two chair operators are required to operate the chair.
TrailRiders have adjustable seating and supports, making them suitable for adults and children with varying abilities. Motorised chairs are available at some locations allowing visitors to explore steeper and longer trails.
The TrailRiders are free to use, but please book in advance to avoid disappointment. Users are required to bring a helmet and undertake a chair induction. The chairs easily disassemble and fit in the back of most medium sized SUVs.
TrailRiders are available at selected parks and also at community locations near parks. Motorised TrailRider chairs are available to book at the following park locations:
Grampians National Park, Brambuk National Park & Cultural Centre on (03) 8427 2058
Dandenong Ranges National Park, Grants on Sherbrooke Restaurant at Grants Picnic Area on (03) 9755 2888
Wilsons Promontory National Park Information Centre on (03) 8427 2122
Other TrailRider chair locations
TrailRiders can also be booked and borrowed for free at the following selected local Shires and Visitor Information Centres which are located near parks:
Colac Otway Shire (Manual TrailRider)
Great Ocean Road Visitor Information Centre, 100 Great Ocean Road, Apollo Bay, Victoria 3233
Phone: 1300 689 297
Email: gorvic@colacotway.vic.gov.au
Website: www.visitotways.com
Hepburn Shire (Manual TrailRider)
Daylesford Regional Visitor Information Centre, 98 Vincent St, Daylesford
Phone: 1800 454 891
Email: events@hepburn.vic.gov.au
Website: www.visitdaylesford.com.au
Kinglake National Park (Motorised TrailRider)
Parks Victoria Office, 2970 Heidelberg-Kinglake Rd, Kinglake
TrailRider Hire Expression of Interest - Kinglake
Loddon Shire (Motorised TrailRider)
Loddon Visitor Information Centre, 24 Wilson Street, Wedderburn
Phone:(03) 5494 3489
Email: loddonvisitorinformation@loddon.vic.gov.au
Moorabool Shire (Manual TrailRider)
Lerderderg Library, 215 Main St, Bacchus Marsh
Phone: (03) 5366 7100
Email: info@moorabool.vic.gov.au
Website: www.moorabool.vic.gov.au
Howmans Camp Alpine Centre (Motorised TrailRider)
2587 Bogong High Plaind Road, Falls Creek
Phone: (03) 5758 3223
Surf Coast Shire (Manual TrailRider)
Surf Coast Sport & Recreation Centre Beach Road, Torquay (next to the Visitor Information Centre and Surf World Museum)
Phone: (03) 5261 4606
Email: surfcoastsrc@surfcoast.vic.gov.au
Website: www.surfcoast.vic.gov.au
Warburton Visitor Information Centre (Motorised TrailRider)
3400 Warburton Hwy, Warburton
Phone: (03) 5966 9600
Email: info@visitwarburton.com.au
Website: www.visitwarburton.com.au
We can offer assistance
Parks Victoria has developed a TrailRider Volunteer program to assist you to explore parks in the All terrain TrailRider wheelchairs, if you require extra support. A TrailRider Volunteer is a trained operator to push and pull the TrailRider chair provided for any visitors using the chair. TrailRider Volunteers are available at both the Dandenong Ranges and Grampians National Parks.
TrailRider visitor Karen Fankhauser explained her experience: "Freedom ... It means I can actually experience bushwalking and that's something you can't do in a normal chair. For someone with limited mobility or no mobility it's an amazing experience ... instead of just watching from a viewing platform you get to be within the park itself." quoted in The Sunday Mail, February 2018.
The service is free of charge however please book a week in advance.
To book a volunteer please contact:
Email: volunteer@parks.vic.gov.au
Your guide to using TrailRider chairs in parks
Planning Your Walk
Tell a responsible friend or family member of your planned walk. Stay on designated and marked walking tracks and trails to avoid getting lost. The highly advanced tracks may require some navigation skills as the directional signs may be limited. When transporting the TrailRider it is recommended that a minimum of two people lift the chair into the vehicle and that it is secured.
Safety when using a TrailRider chair
The TrailRider requires a minimum of 2 inducted operators.
Additional operators are required on the more advanced trails.
Chair passengers are required to wear a bike helmet.
Always have the seat belt fastened while seated in the chair.
The chair has a weight limit of 113kg, total of the rider and gear.
When stationary, ensure the chair is on level ground, the kickstand is down and is stabilised by at least one operator.
The chair is not designed to go in water deeper than 100mm, and could result in damage to the motor in the wheel-hub.
Be safe, be prepared
Before you begin exploring these outstanding tracks, plan ahead.
Trail use by non-motorised TrailRider chairs
The motorisation of the TrailRider reduces the number of operators needed to comfortably undertake a track. The length of a track, the steepness, the number of obstacles to negotiate and the fitness of the operator will determine how many extra operators would be needed for a non-motorised chair.
TrailRider Track Grading System
Parks Victoria has developed a TrailRider Track Grading System (TTGS) for motorised TrailRiders. This system focuses on the number, skill and fitness levels of TrailRider operators. Not all park walking trails are suitable for TrailRider chairs and visitors should always refer to park visitor information guides for recommended trails.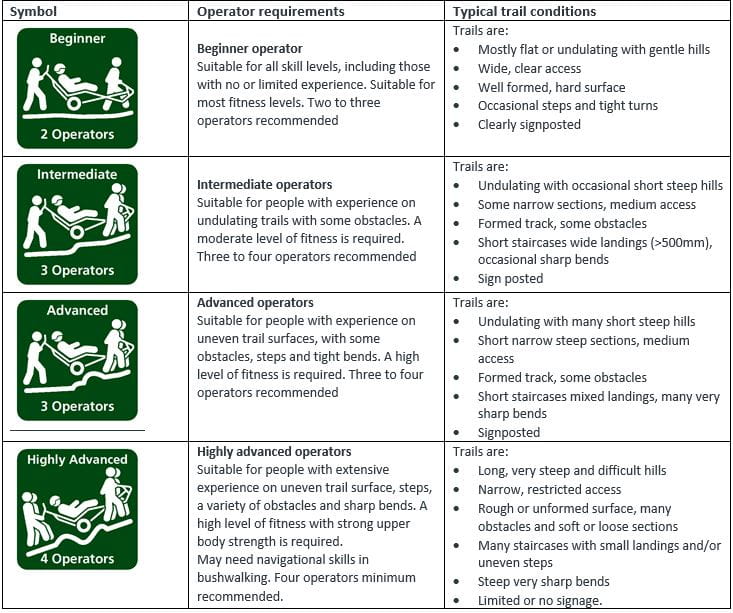 Trail Anomalies where additional operators are recommended
In some instances, there will be a variation to the standard TrailRider signage due to some trails being an exception to the grading system. Some of these trails will have a tricky obstacle to navigate or be a little longer than normal for the grading or have an extra-long steep slope. In these circumstances an additional operator is needed though they do not need to have a higher skill level. In these instances, these signs will be used: