Multiple investigations underway into illegal firewood harvesting activity
Wednesday 6 July, 2022
Parks Victoria is working closely with Victoria Police and the Office of the Conservation Regulator to find and charge illegal firewood harvesters in the Shepparton and surrounding areas.
Parks Victoria enforcement officers have been dismayed at the scale of habitat destruction from the illegal removal of river red gum timber in the area, with a spike in offences in Shepparton Regional Park in particular. During May alone, about 200 standing dead red gums have been felled and removed along the Goulburn River. These red gums provide critical hollows for nesting birds and mammals.
Several investigations are currently underway looking at multiple suspects, and some equipment and river red gum timber has been seized. Patrols targeting this activity will continue for several months as part of Operation GOULBURN, launched in April this year.
It is a timely reminder to members of the community to consider where the firewood you purchase has come from. We urge all Victorians to ask questions before they buy, to avoid inadvertently supporting illegal firewood operators and to reduce the impact of these illegal activities on our environment.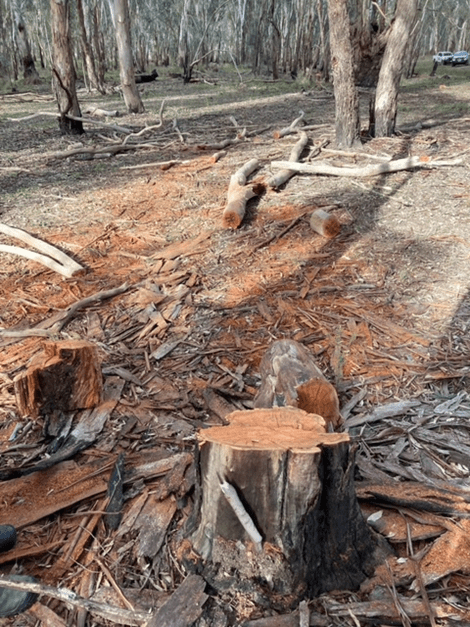 Trees damaged in Shepparton Regional Park by illegal firewood harvesting. Credit: Parks Victoria
For more information on buying firewood, visit https://www.vic.gov.au/buying-firewood
The Victorian Government provides a range of financial support programs to assist people with low incomes in heating their homes. These include the $250 Power Saving Bonus for Victorian households with an electricity account from 1 July, and up to $650 from the Non-Mains Utility Relief Grant for Victorians on low incomes who rely on non-mains energy, including firewood, and have experienced unexpected financial hardship.
Details of the non-mains energy concessions are available online: https://www.ffm.vic.gov.au/firewood/energy-concession-and-support
More information about Operation Goulburn can be found on the Parks Victoria website. https://www.parks.vic.gov.au/get-into-nature/conservation-and-science/conserving-our-parks/compliance-and-enforcement/enforcement-operations
Quotes attributable to Adam Nitschke, Acting District Manager Northern Rivers

"The offences we are seeing are not isolated cases- some are carefully planned illegal commercial operations that work hard to evade our surveillance and intelligence gathering efforts."
"Thorough and accurate investigations take time and it is important we get it right to make sure the people undertaking these activities are held to account. We encourage community members to report any suspicious behaviour to Victoria Police or Parks Victoria on 13 19 86"