Design to start on spectacular alpine walk
Tuesday 12 July, 2022
Experienced architects K2LD Architects have been appointed to create designs for the extended Falls to Hotham Alpine Crossing – a multi-day 57-kilometre walk through the spectacular Alpine region.
The Victorian Government has provided $17 million for planning and Stage One construction to extend the current 37-kilometre track by connecting other existing tracks in the area. K2LD Architects will design the track upgrades and two campgrounds that will include basic roofed accommodation.
A key focus of the extended Falls to Hotham Alpine Crossing will be to support people with varying hiking abilities to enjoy one of Australia's outstanding Alpine walking experiences.
By allowing a broader range of people to experience the Alpine National Park, more people will appreciate and advocate to protect this special landscape.
Minimising impact to the landscape is a guiding principle of this project and Parks Victoria is incorporating recommendations made as part of an independent Environmental Values Assessment to ensure this is the case.
The facilities created will better manage the impact of walkers and campers on the Alpine landscape. For example, toilets in overnight locations will reduce uncontained human waste, while walkways will keep people off sensitive areas of vegetation.
The project will also support the regional nature-based tourism sector, bringing benefits to local communities and creating an anticipated 129 jobs in total during and after construction.
All works as part of the project will be subject to detailed environmental and cultural assessments before designs are completed and work commences.
Draft designs are expected to be created later this year and shared with the public by Parks Victoria.
Subject to on-ground and construction industry conditions, Stage One of the project is expected to be completed in 2024. To find out more about the project go to www.parks.vic.gov.au/projects
Quotes, attributed to District Manager Chris Derrick
"The proposed accommodation spots include tent sites and a small number of unobtrusive, low-impact huts that blend in with the Alpine environment."
"Walkers will still be able to camp in other locations along the track and complete the crossing for free if they don't want to use the new overnight facilities."
"K2LD Architects is being supported by JAWS Architects, who together have delivered highly successful projects over the past 15 years, and have extensive experience in hiking, including on the Three Capes and Overland Tracks in Tasmania."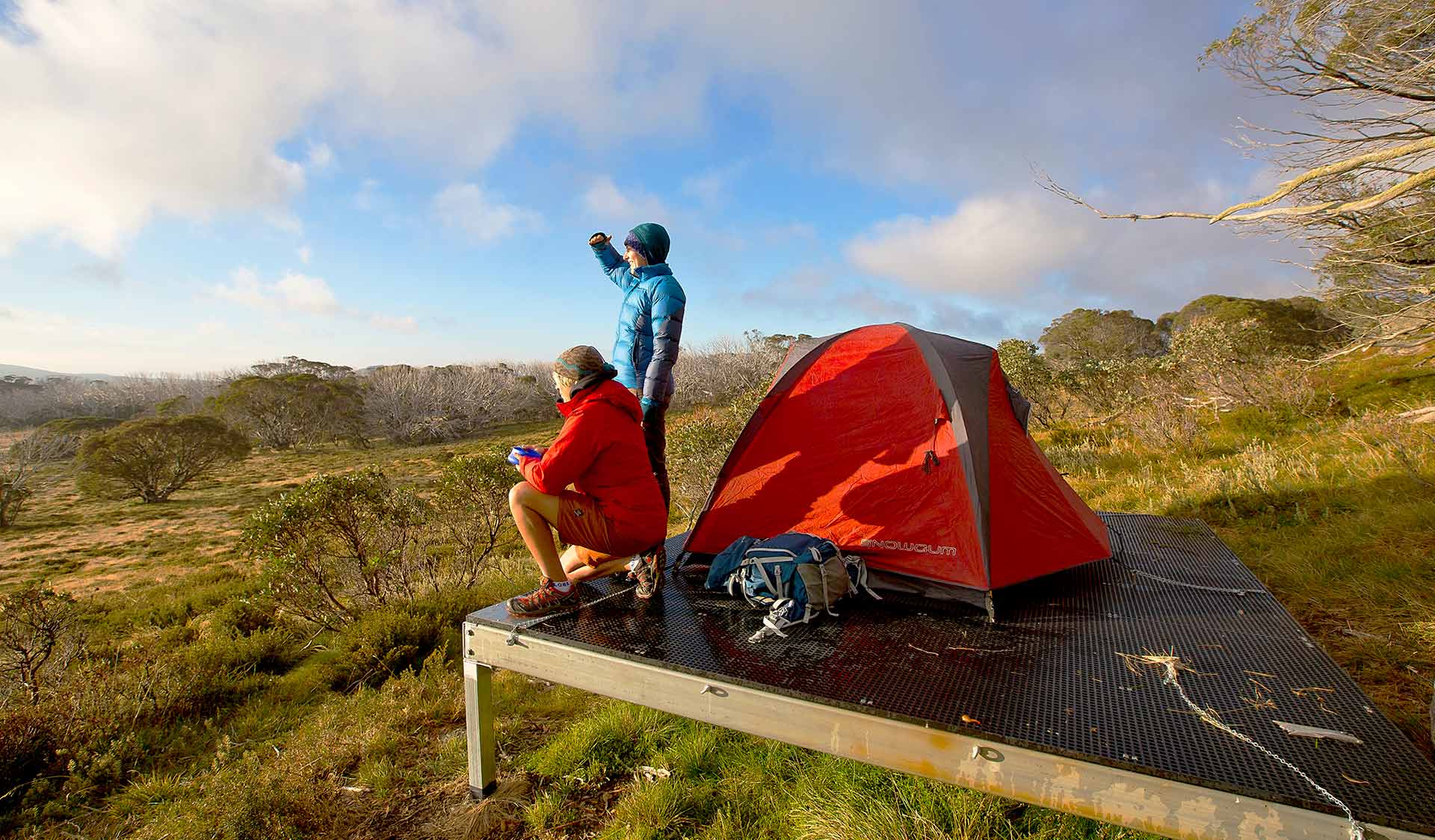 Camping opportunities on the Falls to Hotham Alpine Crossing will be upgraded. Credit: Parks Victoria