Witness Spider Crabs in Port Phillip Bay
Friday 21 May, 2021
Every year around the time of the full moon in May or June, Giant Spider Crabs (Leptomithrax gaimardii) gather in their thousands in the shallow waters of Port Phillip – this is called an aggregation.

When close to shore the aggregation is visible from the water's surface as a dark mass, which has attracted admirers over the past few years.

With the aggregation occurring in different parts of southern Port Phillip each year, it is anyone's guess where the crabs will gather this year. Only when the full moon is approaching will we know whether to head to Rye, Blairgowrie, St Leonards or Queenscliff to witness this natural phenomenon.
No one really knows why they migrate to the shallows and moult their shells, but a logical theory is for safety in numbers while they're soft, wobbly and vulnerable.
"They're like deflated pool toys," says Dr Mark Norman, Chief Conservation Scientist at Parks Victoria.
"This creature with a hard exoskeleton goes 'I'm trapped inside this armour I need to shed it so I can grow', so they find a safe space to climb out of their undergarments."
"They tend to pile up under jetties and once there's a big enough group so that they feel safe, they shed their shells, pump themselves up with water to become 50 per cent bigger, then sit and wait while their new armour hardens."
"Usually within a couple of hours of shedding they're just firm enough to be able to start walking. But while they're at their most vulnerable, it is a feeding frenzy for predators like cormorants, pacific gulls, octopus and stingrays."
The spider crab aggregation is a spectacular sight, visible from piers and jetties in a dark mass as big as a cricket field.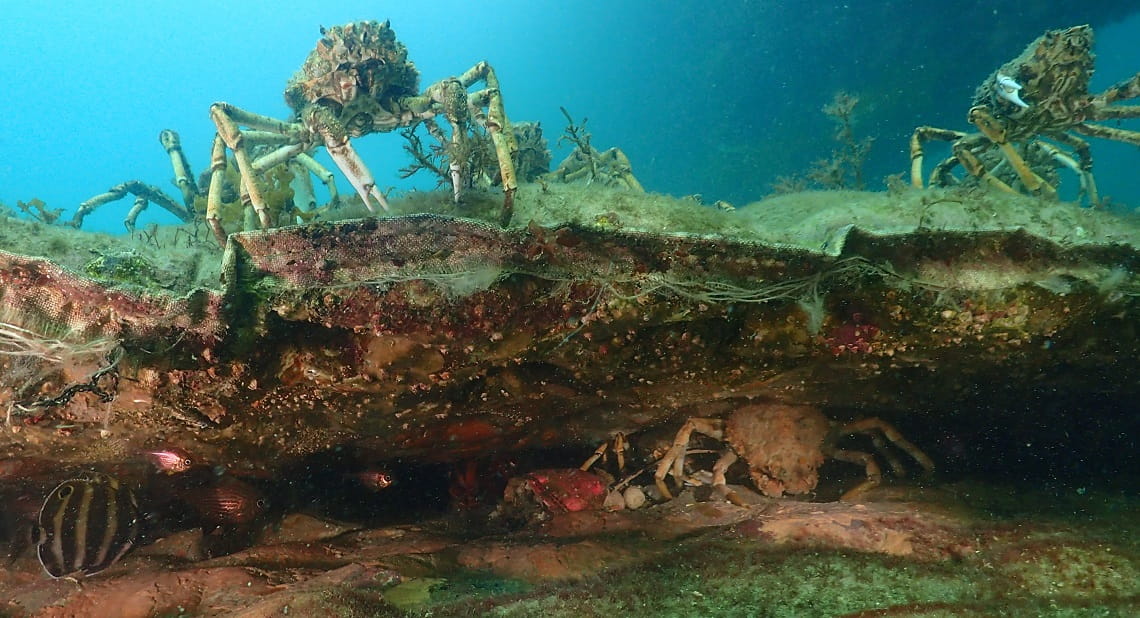 Photo credit: Jonathon Stevenson
While Parks Victoria is responsible for managing the waters of Port Phillip, the Victorian Fisheries Authority (VFA) is responsible for managing Victoria's fisheries resources. VFA is the independent statutory authority responsible for fishing licenses, quota management, educating the public about their rights and obligations relating to fishing and enforcing the provisions of the Fisheries Act 1995. Find out more at the
VFA website
.

Parks Victoria Rangers and VFA Officers patrol spider crab locations during the aggregation period, to enable mutual respect and understanding between the crabs and the community, so that the phenomenon can be enjoyed by future generations.
Tips for observing the Spider Crab aggregation
Be careful - Pay attention to safety signs and barriers and don't overcrowd piers and jetties.
Respect the environment - Respect the marine environment and ecosystems that inhabit it. We encourage you to look but don't touch.
Dispose of your litter responsibly – Either use the bins provided or take home any rubbish, including discarded crab baits.
Swim safely - If diving, always use a clearly displayed dive flag to indicate your presence.
Share the water responsibly - Stay out of the way of boating and fishing activities.
Look after yourself - Never go in the water by yourself and stay within the limits of your training and experience.
Check the weather forecast - Beware of sudden changes in weather, check tides and swell conditions before getting in the water.
Know the catch limits - Find out more at the VFA website.


The waters of Port Phillip contain a range of different ecosystems that are home for thousands of underwater species.
Watch this video to learn more about the habitat and marine life in Port Phillip and some programs to monitor and take care of them:
Learn more about the interesting and unique marine life across Victoria.