Veteran ranger Brian Martin celebrates 40 years at Parks Victoria
Tuesday 8 February, 2022
Reminiscing on his now 40-year career with Parks Victoria, Brian Martin repeatedly states, "I probably get accused of not having many days off and it's because I don't want to miss anything."
After leaving a carpentry apprenticeship and surfing his days away at Williamsons Beach in Wonthaggi, Brian took a chance on a position with Crown Land Management on September 21, 1981 – one of the organisations which evolved to become Parks Victoria.
"Back then, I used to look up to the rangers who worked for the National Parks Service. I never expected all the organisations to merge into one and for me to eventually share a title with the people I used to put on a bit of a pedestal."
"Now, when people ask me when I'm going to retire, I think, while I'm still massively enjoying what I do and getting on so well with the people I work with, why not stick around?"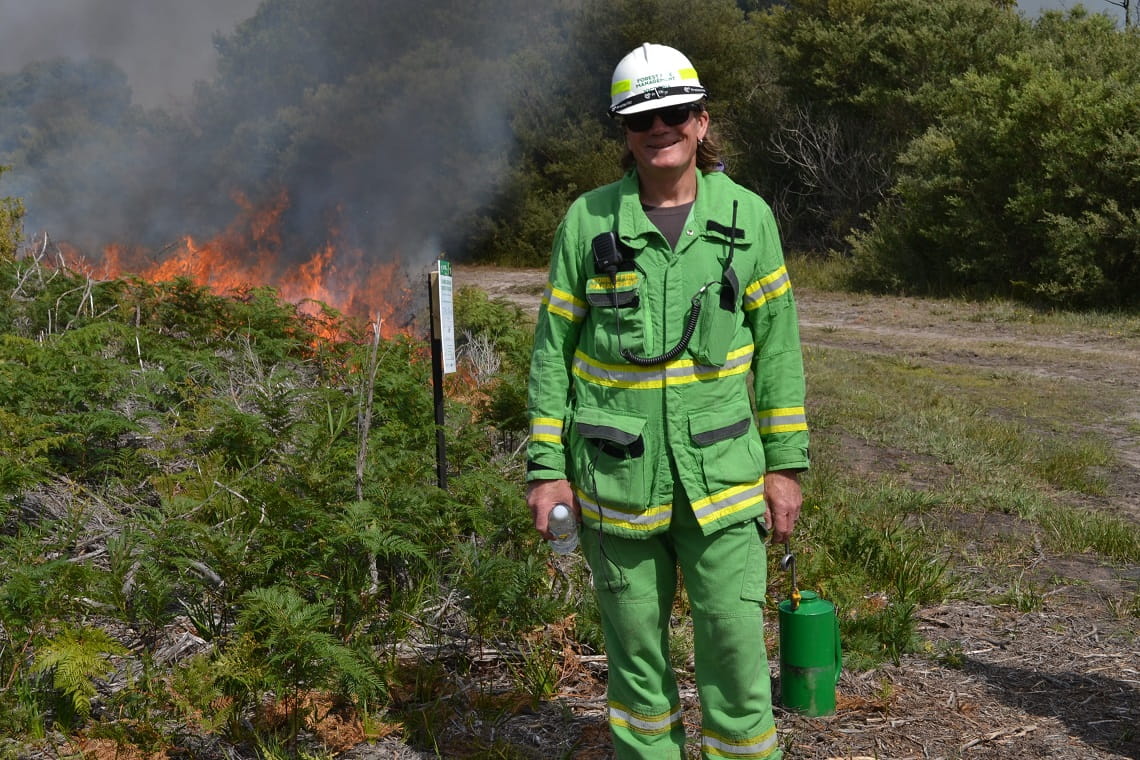 Brian supervising a planned burn at Wonthaggi Heathland
Starting out at Inverloch before eventually transferring to Wonthaggi as Ranger Team Leader for the Bass Coast area, Brian has been involved with just about every aspect of working amongst and protecting nature.
From his leadership on migratory bird monitoring and capture activities around Anderson Inlet and Corner Inlet, working on the forefront of efforts to protect the Hooded Plover and dedicating more than 13 years to a koala relocation program on Snake Island, to the ongoing management of wildlife rescue – from native animals on the land to various sea mammals including seals, dolphins and whales – and now overseeing planned burning operations, three Ranger/Field Service Officers and six Project Fire Fighters, Brian has taken every opportunity to expand his skills and knowledge in this field.
In recognition of his unwavering dedication to the role, in 2021 he became the latest recipient of the Bill Slade 40 Years of Service Award.
A beloved and respected colleague with more than three decades of firefighting experience, Bill died while on active duty with Forest Fire Management Victoria, working to contain a bushfire in the Anglers Rest area near Omeo on January 11, 2020.
Having just completed 40 years of service with Parks Victoria before his death, the award was named after Bill as an everlasting tribute to the much-loved husband, father, colleague and friend. The award serves to commemorate his life and respected career, and to highlight the remarkable contributions of our staff to Victoria's parks and communities.
Brian Martin is a worthy recipient who had the good fortune of working with Bill for most of his career, managing him for the last 25 years of their working relationship. Those who saw them together can attest to their amazing bond professionally and personally.
"Bill started at Parks a little sooner than I did," Brian recalls, "I knew him my whole working life."
"We were great mates. His loss still feels raw and continues to impact the staff who knew him well. I'm really pleased he's been recognised through this award, that it's named after him, and I feel grateful to accept it."
Prior award recipients include Michael Anzin, John Argote, Rocky Barca, Carol Buckingham, Scott Coutts, Charles Dickie, Kenneth James, Jennifer Joseph, Heather Mahncke, Alexander Wade, Anthony Walton, Bryan Welbourne, Dale Wilson, John Busacca, David Collins, Jack Dinkgreve, Paul Fernando, Christopher Holmes, Trevor McIntosh and Sean Keenan.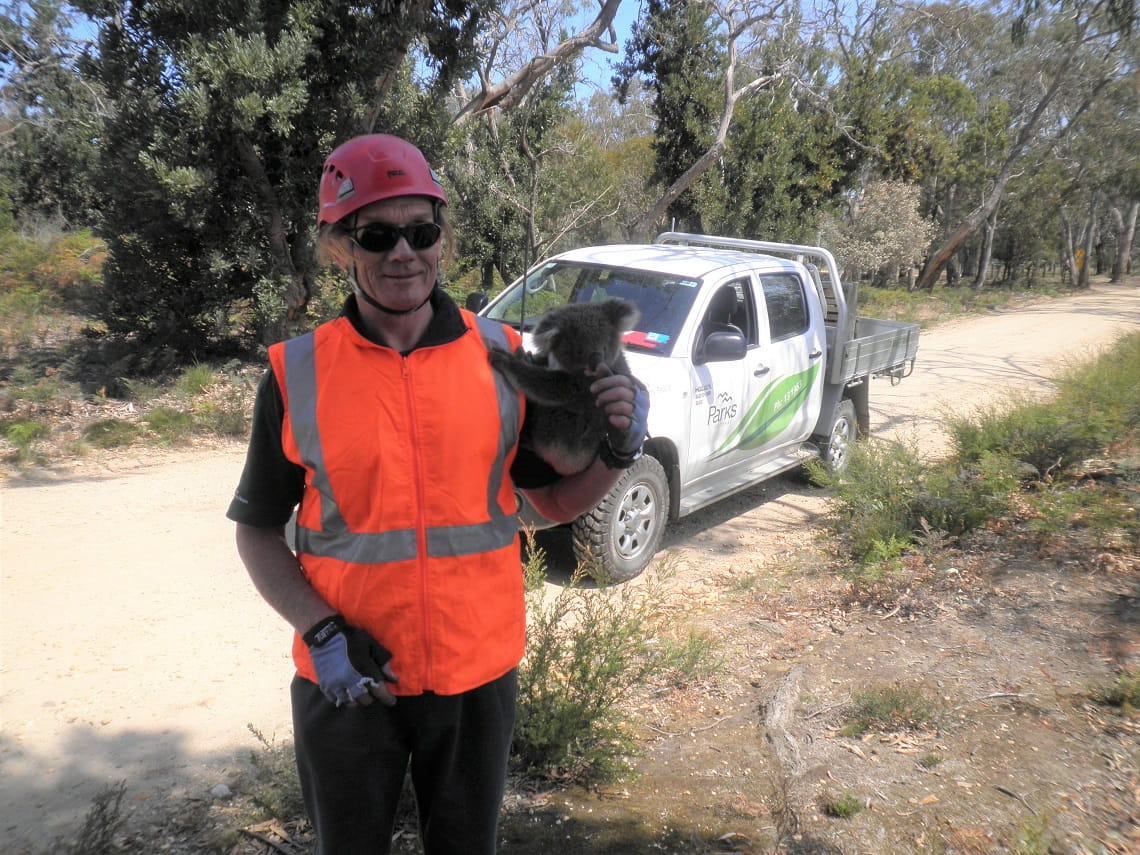 Brian in Raymond Island during a koala relocation program
Brian is mostly recently proud of the establishment of the Yallock-Bulluk Marine and Coastal Park between San Remo and Inverloch, which is a culmination of the dedication of Brian and his team to nurturing and preserving the coastline on this stretch of Bunurong Country for many years.
Combining 40 kilometres of unique coastal reserves, the Park is a varied landscape of dramatic cliffs, sandy coves, wetlands and underwater reefs that are home to unique flora and fauna. The final Access and Infrastructure Plan for the Park launched in November 2021.
Brian's team is also focused on supporting the delivery of the Cape to Cape Resilience Project, which aims to protect the coastline around Inverloch, Venus Bay and Anderson Inlet from the damaging impacts of natural processes such as winds, waves, tides, currents and catchment flows, which move sand and sediments that reshape the coastline.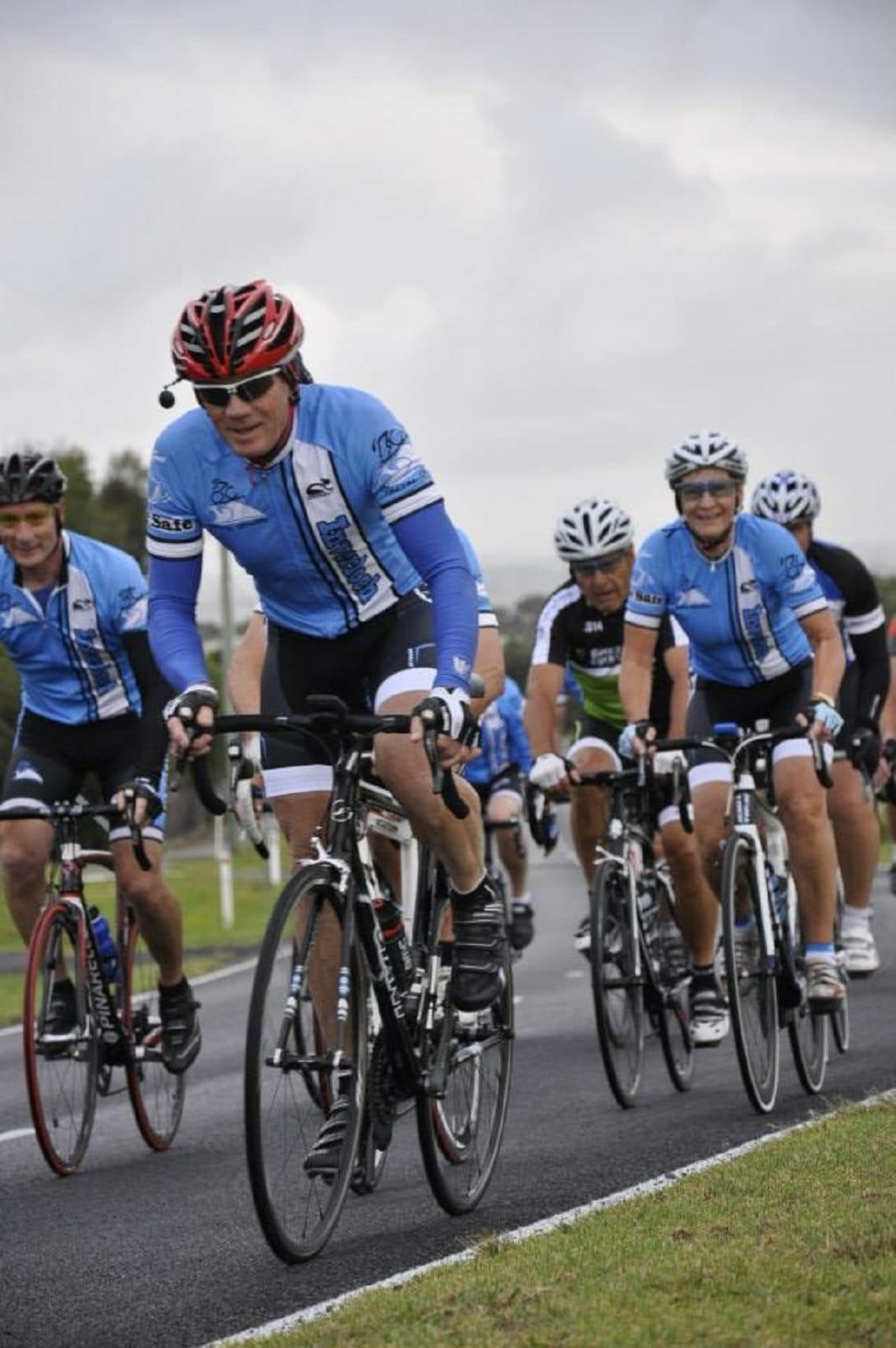 Brian (pictured in a red helmet) cycling with the Inverloch Coastal Crewzers
With his loving wife of more than 40 years by his side, as well as his three sons and eight grandchildren, Brian believes one of the key drivers to success is surrounding yourself with good people.
"That's what it's all about for me. It's been a pleasure working with the local Parks Victoria teams and managing some great people over the past few years, as well as partnering with key community groups including the South Gippsland Conservation Society, Bass Coast Friends of the Hooded Plovers, Friends of Wonthaggi Heathlands and a number of other local volunteer groups."
He is particularly happy to see more and more young people expressing an interest in becoming rangers, bolstering an important passion for protecting Victoria's natural and cultural heritage.
"The one thing I would say is crucial, to starting a career as a ranger or really enjoying whatever your work path may be, is to jump in and put your hand up for anything and everything," he says.
"In my younger days, I think a lot of people who knew me would have said that I lacked a bit of confidence. But, over the years, I've managed to overcome that and I think it's because I've thrown caution to the wind and I've put my hand up for all sorts of stuff – even when I thought it might not be a good fit, or I might not be up to it, it's always turned out to be a good decision because it's helped me grow as a person."
"If you can learn anything from me, it's that."