Listening to protect frogs on Lake Mountain
Wednesday 2 March, 2022
An exciting new research project in Yarra Ranges National Park is underway to learn more about the biodiversity of frogs in the Lake Mountain plateau.

The project between Parks Victoria, Museums Victoria and Lake Mountain Alpine Resort will capture and record frog calls across the alpine resort and national park. Ten specialised recording devices have been placed near waterbodies to record frog calls 24 hours a day over a four-month period.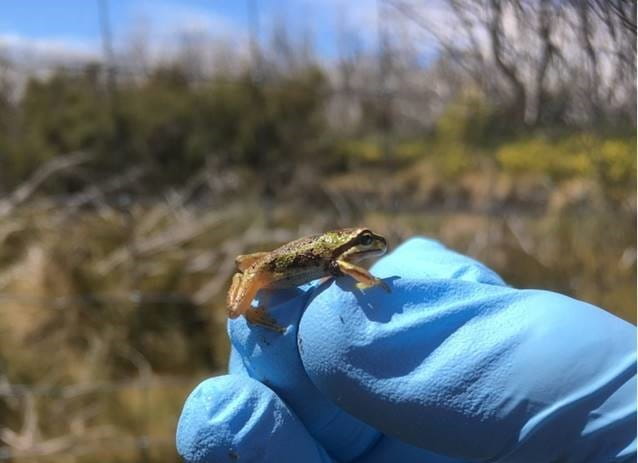 Alpine Tree Frogs have been previously found in Lake Mountain
Different species of frogs each make their own unique call. A frog's call could sound like a croak, ribbet or grunt. They can also differ by pitch or speed. Identifying frogs on appearance alone can sometimes pose a challenge as they can be difficult to distinguish. This is where the study of Bioacoustics can help.

By recording and monitoring where the species-specific sounds are captured, the research team will run the frog calls through a specialised call recogniser to determine which species are living on Lake Mountain.

Sarah Matthews is one of the rangers involved in coordinating the research project. "The recording devices are fantastic as they are a non-invasive way of capturing data. We don't have to disturb the frog's habitat to identify them. After all the sounds are captured, there will be lots of work to complete running the data through a call recogniser program to identify which species are present."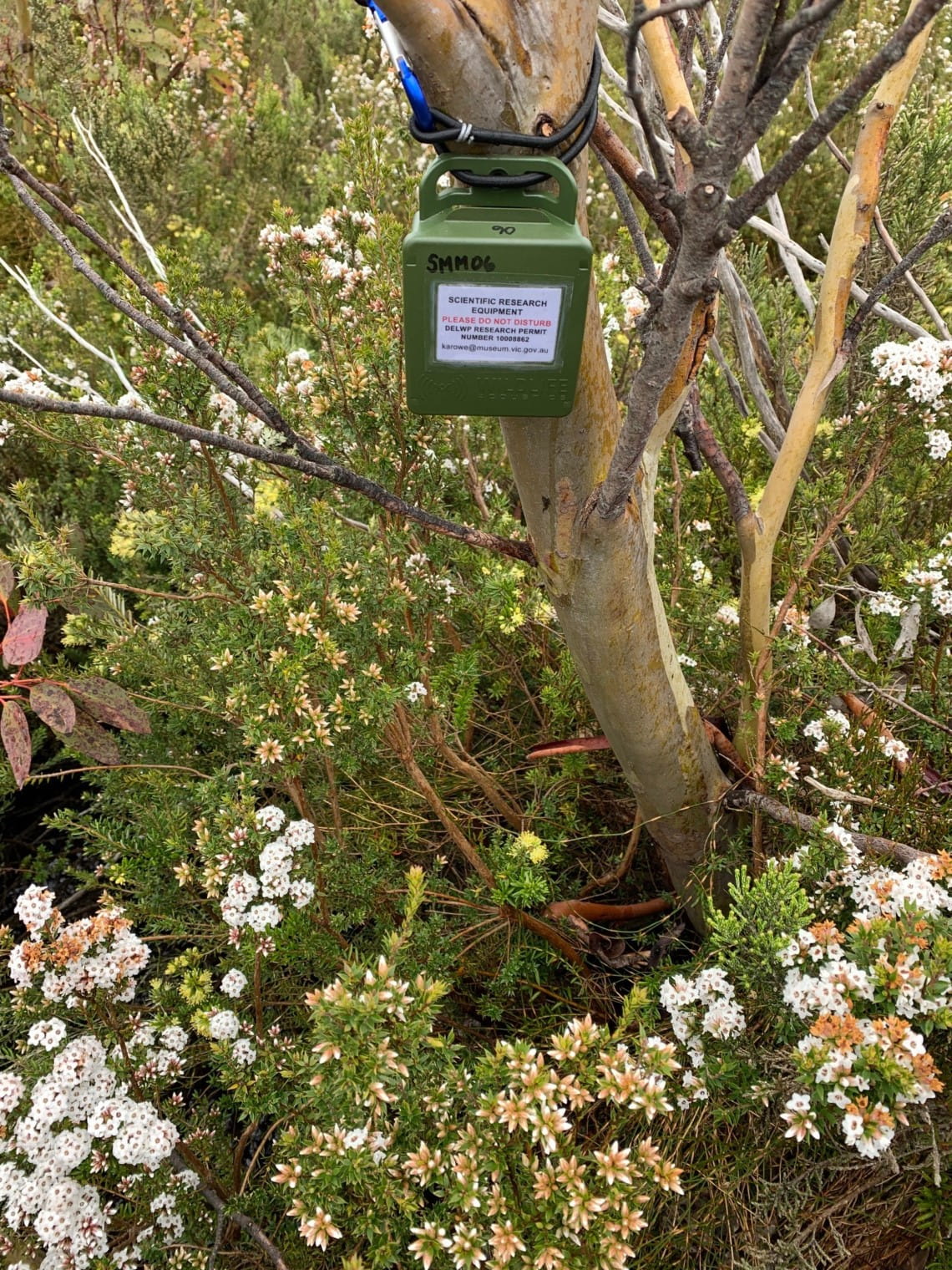 A bioacoustic recording device placed on Lake Mountain
Lake Mountain was historically home to a range of frog species including Common Froglet (Crinia signifera), Victorian Smooth Froglet (Geocrinia Victoriana) and the threatened Alpine Tree Frog (Litoria verreauxii alpina). In 2009, the Black Saturday bushfires saw significant damage to the native habitat, flora, and fauna species in the region.

"This project is an amazing opportunity to provide important insight into what species have recovered since the fires.

We expect to detect some frog species like the Common Froglet and the Victorian Smooth Froglet, but we are excited to see what else might be recorded. Some species like the threatened Alpine Tree Frog haven't been sighted on the mountain since the 1950s."

Lake Mountain is part of an Aboriginal cultural landscape in the traditional Country of the Taungurung People. It is a pristine and varied land with subalpine tracks and ski trails. Across the summer months, the mountain sees wildflowers bloom and is a popular space for visitors to escape the summer heat. In winter, it is transformed to a ski resort, offering 37kms of ski trails to explore.

Lake Mountain plateau features vital habitats including the threatened Alpine Sphagnum Bog, an incredible land and water ecosystem which is of particular importance to animals including the endangered Alpine Bog Skink.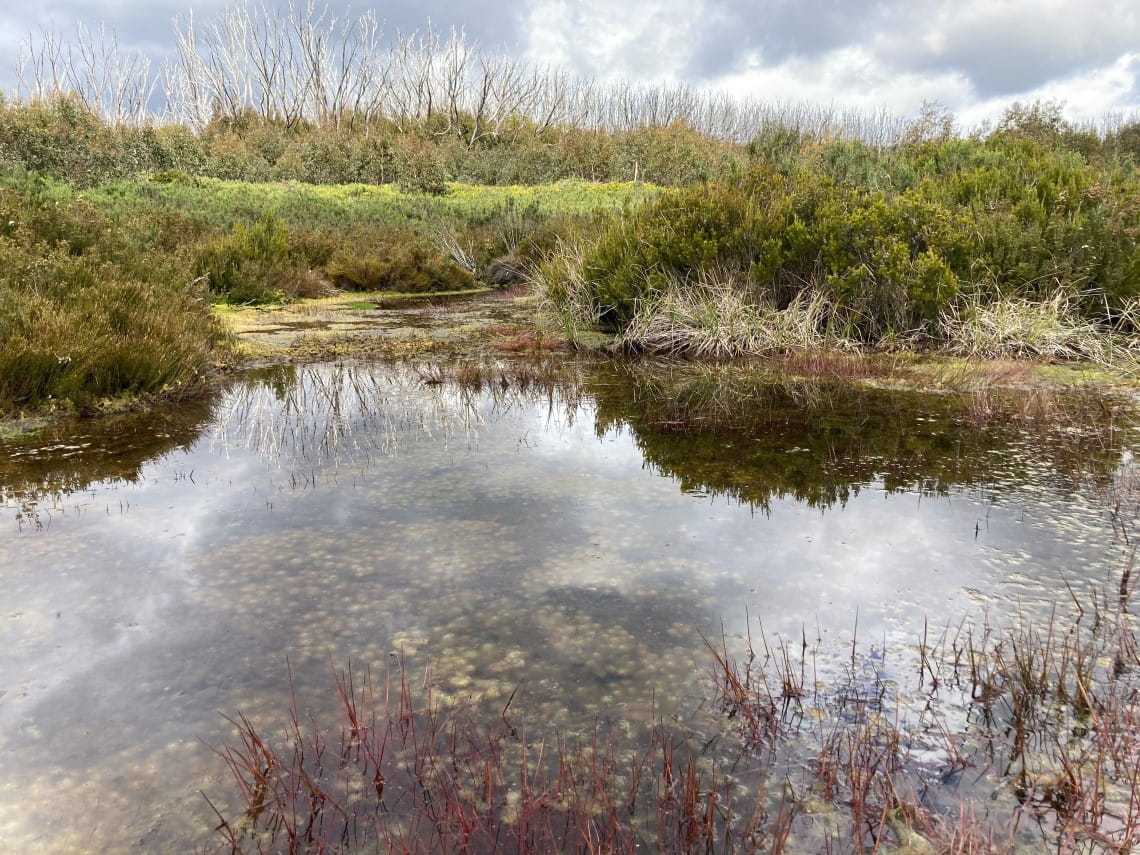 Alpine Sphagnum Bog located on Lake Mountain provides important habitat for both frogs and tadpoles
The research project on Lake Mountain is part of a broader conservation to protect nature – reducing threats and improving the health of Yarra Ranges National Park. Deer are a major threat to the health of Victoria's alpine bogs and wetlands and are controlled at a landscape-scale through shooting, with special exclusion fencing in high biodiversity-value areas to protect specific habitats and native species. Through this program, several bogs will be fenced to allow moss to recover, protecting frog species which rely on the water as tadpoles.

"Learning more about how populations are recovering is important to ensure our future work will aid the recovery of native animals in the region."

The research partnership between Parks Victoria, Museums Victoria and Lake Mountain Alpine Resort has been funded thanks to a grant from the Foundation of National Parks and Wildlife.

For more information about Parks Victoria's work to protect and conserve wildlife, visit https://www.parks.vic.gov.au/get-into-nature/conservation-and-science