Historic Shipwreck Coast monument accessible again
Wednesday 27 July, 2022
A monument to one of Victoria's most dramatic shipwrecks can now be visited by walkers after Parks Victoria constructed a track to its remote location.
The monument was erected on the cliffs at Moonlight Head on the Shipwreck Coast, paid for by local people to commemorate the lives lost on the barque Fiji, which ran aground nearby on 6 September, 1891.
The dramatic wreck and subsequent rescue efforts cost the lives of 14 sailors and one local rescuer, Arthur Wilkinson, who had saved a drowning man but died in the attempt.
In the aftermath of the tragedy, the coastal community raised funds for a monument to Wilkinson and the others. It was installed at the Moonlight Head cliffs in March 1892.
Over the last 130 years, the area around the monument has changed significantly. Now part of the Great Otway National Park, vegetation had grown thick around it, the monument known only to very keen observers and historians.
Local historian Alan McLean and descendants of the rescuers asked Parks Victoria to restore access to the monument, as a short diversion from the famous Great Ocean Walk.
"When Alan came to us, we developed a plan and consulted with Eastern Maar as Traditional Owners to make sure they were comfortable," Area Chief Ranger Andrew McKinnon says. "We also had to seek permits and approvals from Heritage Victoria due to the history of the site."
Contractors began work on the track in May. "We cleared about 500m of undergrowth – it only took five days using specialised machinery."
Wet weather has meant the track still needs a final topping of gravel to be officially complete and restore access to the monument.
A replica of the original picket fence at the monument will also be installed in due course.
"We're really happy to be able to honour this important story from Victoria's maritime history."
The Fiji monument is about 1km walk from the Devil's Bend campground on the Great Ocean Walk and around a 7km round trip from the nearest carpark at Wreck Beach.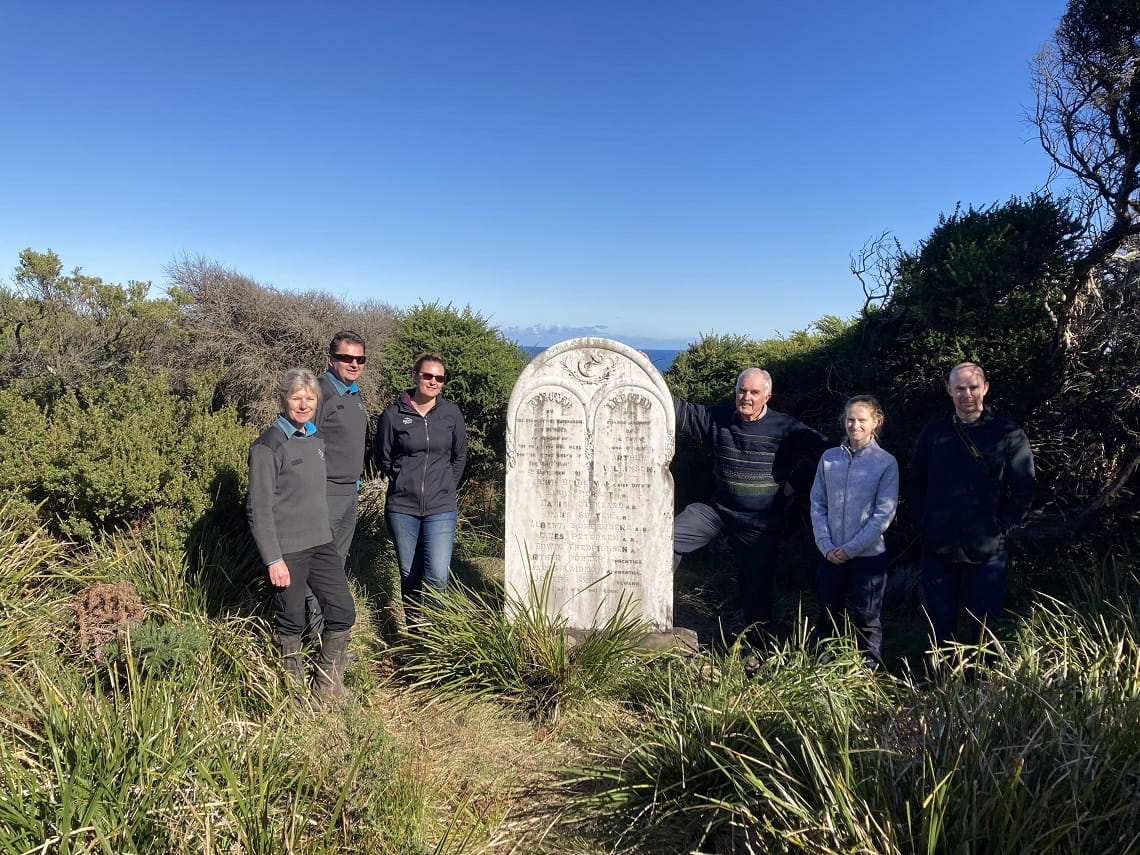 Parks Victoria's Tina Garrett, Andrew McKinnon and Kim Wilson at the Fiji monument with historian Alan McLean and Danielle Wilkinson and Liam Phillips from Heritage Victoria. Credit: Parks Victoria