Meet Geoff the River Cleaner
Friday 28 April, 2023
A new vessel has joined Parks Victoria's efforts to keep the Yarra open, safe and clean – say hello to Geoff.
Just arrived from Queensland, Geoff is an Automatic River Cleaner, built by the Ocean Crusaders Foundation. It will be moored in Melbourne CBD on the Yarra River for a six month trial.
Geoff is a complement for the existing Parks Victoria litter traps on the Yarra and Maribyrnong Rivers.
It has a distinctive, old-fashioned looking water wheel that drives a conveyor belt to collect rubbish. Solar panels also provide power when the current is low.
Floating debris is captured by two floating boom arms and guided towards the conveyor belt mouth. The conveyor deposits the rubbish in a bin, which is monitored by cameras (powered by the solar panels) and notifies rangers when it's full.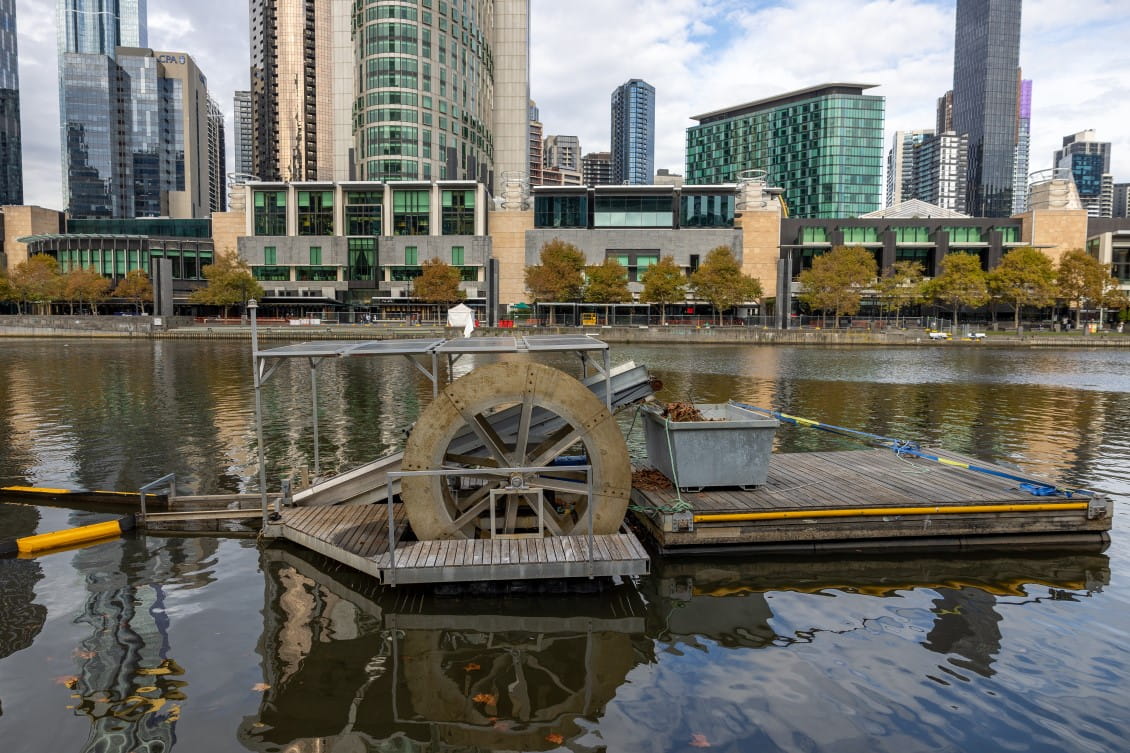 Geoff, a new Automatic River Cleaner, is moored in the Yarra River. Credit: Parks Victoria.
"The water wheel means that as the river runs faster, the conveyor will also run faster and collect debris quicker," says Parks Victoria's District Manager Sarah Eggleton.
"Geoff is an innovative new system that we're hoping will increase the amount of rubbish we can take out of the river, particularly in places where our litter traps can't be used."
When the bin is full, it can be floated to the shore and replaced.
This project is supported by Parks Victoria and the Victorian Government, through funding from the Australian Government.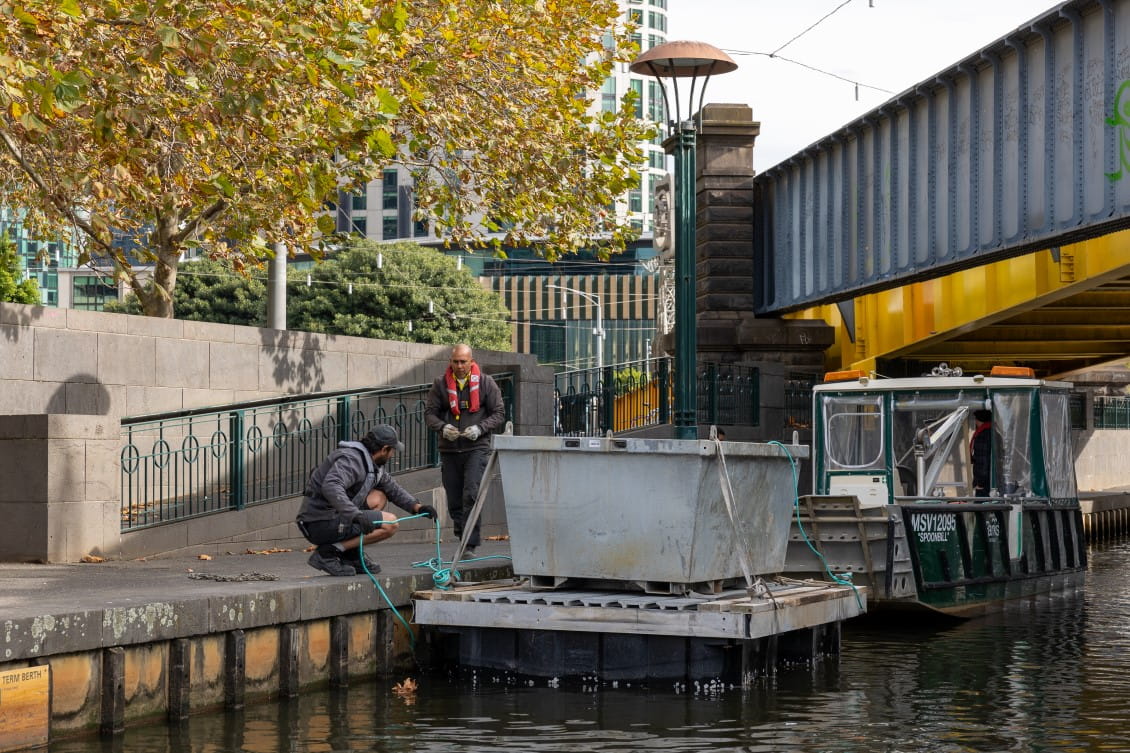 Emptying Geoff after a weekend of gobbling up rubbish. Credit: Parks Victoria
In 2021, the 20 litter traps on the Yarra and Maribyrnong collected more than 145 cubic metres of rubbish – around 900 bathtubs full.
Everyone has a role to play in managing litter, by putting litter in the bin we can reduce the amount of rubbish washed into our stormwater drains which discharge into our rivers and the bay.
Parks Victoria is intercepting as much rubbish as it can before it reaches Port Phillip Bay. The litter traps help to protect Victoria's precious marine ecosystem, including the Bay's marine protected areas.
As well as collecting floating rubbish and debris, Parks Victoria also periodically dredges the Yarra to keep the boating channels open and remove anything that has sunk to the bottom.
Last year the dredging program removed more than 20,000 cubic metres of silt – eight full-sized Olympic swimming pools – along with more than 100 e-bikes and e-scooters, more than 30 road bikes and 40 trolleys.