Gardens that awaken your senses
Monday 25 September, 2023
Picture yourself standing in a garden. You're admiring the vibrantly coloured flowers, while the scent of native herbs waft past you on the breeze. You can hear insects buzzing, birds calling and the sound of water trickling nearby, and the textures of the different plants tickle your fingers.

Welcome to the enchanting world of sensory gardens, where nature meets your senses in a symphony of delight.
What is a sensory garden?
Sensory gardens are a kaleidoscope of experiences specifically designed to enage, captivate, and rejuvenate your senses. They're not your typical flowerbed – they're a multi-sensory adventure!
Sensory gardens encourage visitors of all ages and abilities to experience nature close-up.
The location of a sensory garden, as well as the different types of vegetation planted, are carefully chosen to evoke as many senses as possible. This is so visitors aren't just looking at nature, but are instead hearing, smelling, touching, and even occasionally tasting, the natural world around them.
These immersive gardens are an educational treasure trove for kids and adults alike. They provide a fun, hands-on opportunity to learn about the diverse world of plants, nature, and ecosystems.
Many sensory gardens are also thoughtfully designed to be inclusive and accessible. This means it doesn't matter whether you're young or young at heart, able-bodied or differently abled, sensory gardens offer an inclusive experience for everyone to get close to nature.
In a fast-paced world, sensory gardens act as a little oasis of tranquillity where calming scents and soothing sounds offer a respite from the daily grind. It's well-known that spending time in nature is good for the soul, and sensory gardens provide the chance to stop and take in the surrounds without venturing too far from home.
Sensory gardens play a small but important role in promoting biodiversity and providing shelter for important pollinators like butterflies and bees. A miniature eco-system can be created with the right sensory garden plantings.
What elements make for a good sensory garden?
To improve biodiversity, aim to use native plants for how each sense is to be engaged. For example, native grasses like kangaroo grass and common tussock grass have interesting textures to feel. Native mint and eucalyptus offer nice fragrances. Wattles and flowering gums create colourful flowers, while ruby saltbush and cherry ballart are good examples of bush tucker that can be eaten.
Careful thought needs to be given to the placement of a sensory garden to capture the sound of being in nature. A trickling stream might be running nearby, or there may be trees nearby for birds to call home and where the wind can rustle through their leaves.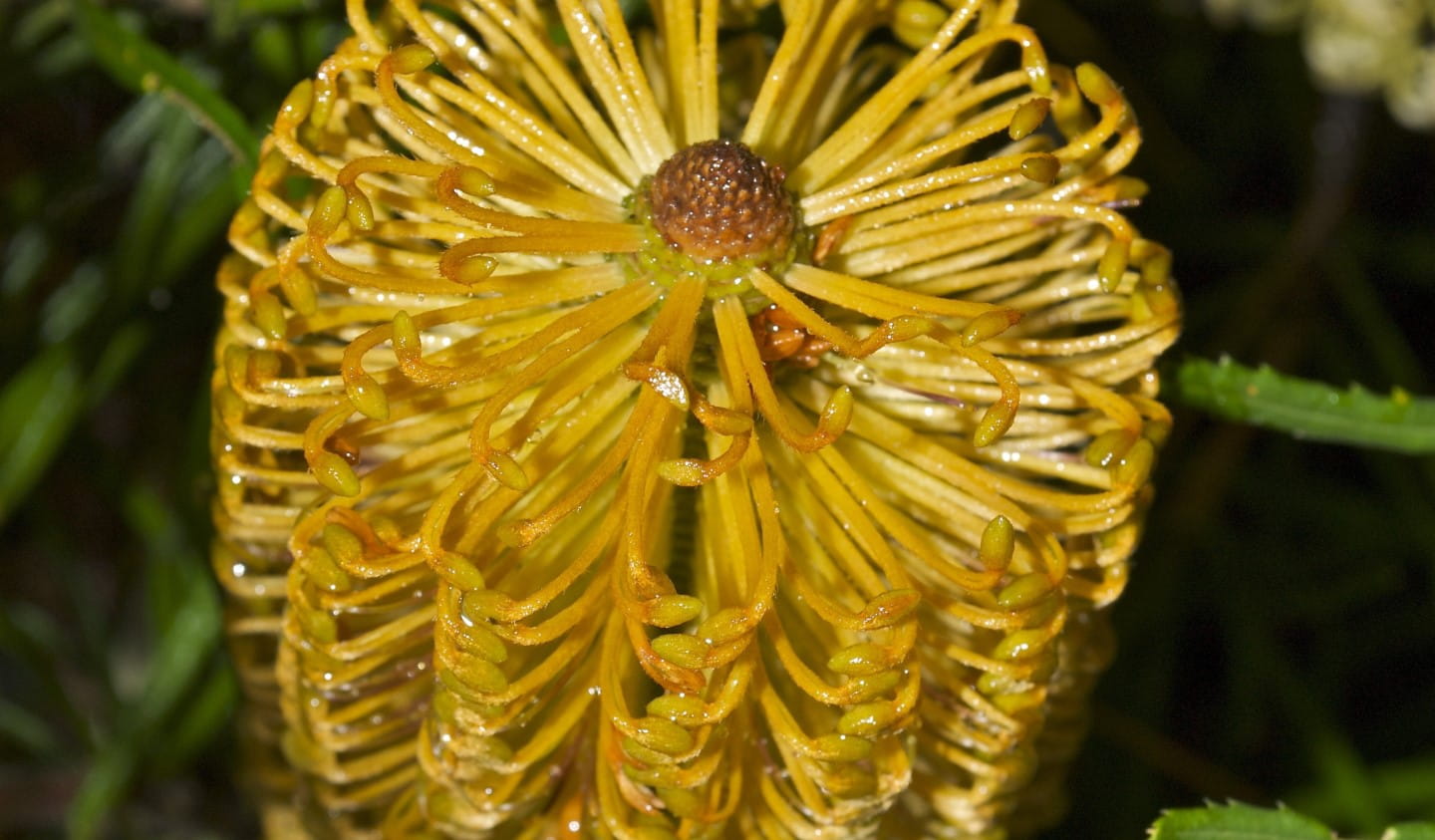 The yellow banskia plant has a variety of interesting textures.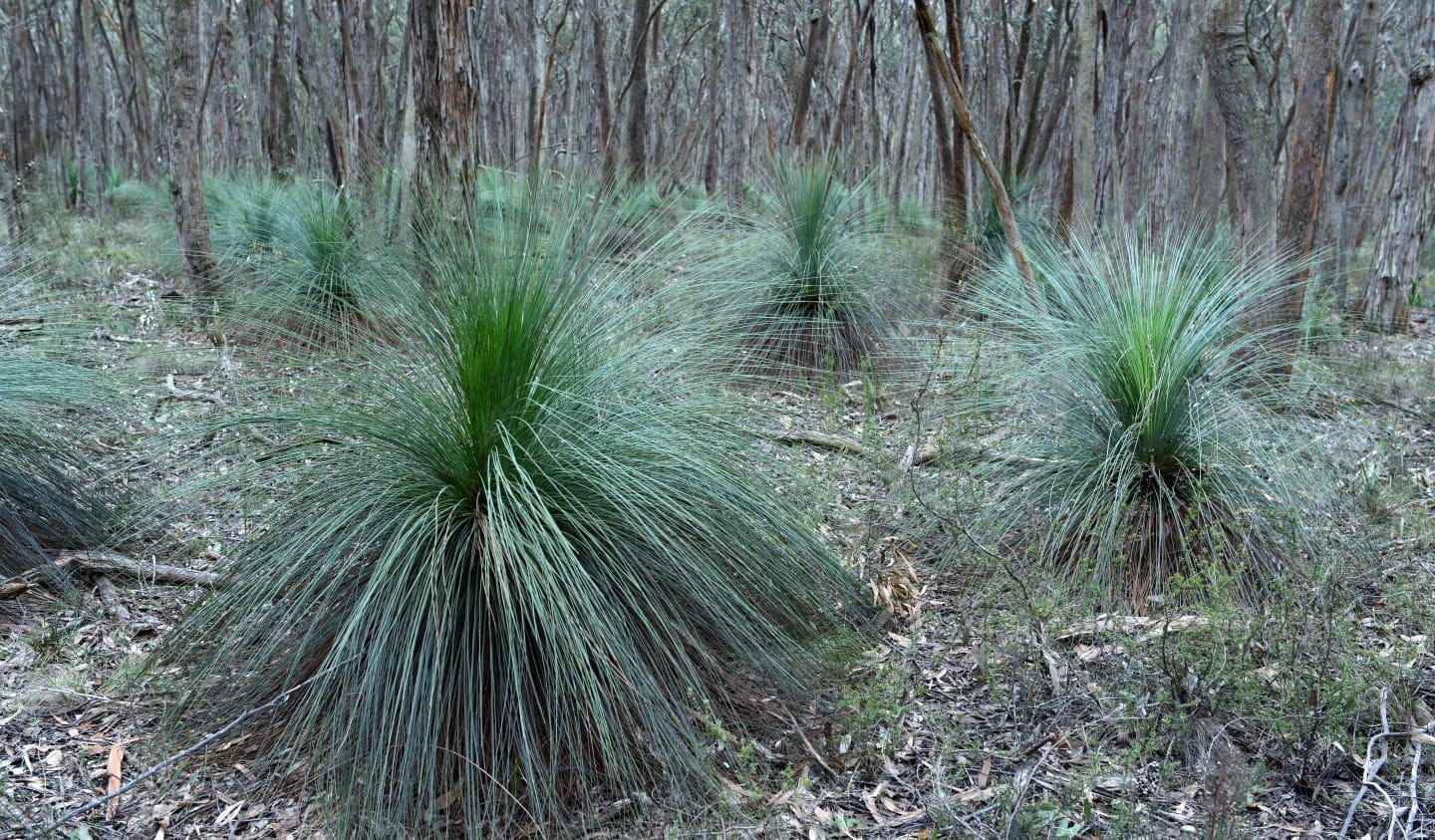 Grass trees are soft to touch and have a distinctly different shape to the surrounding landscape.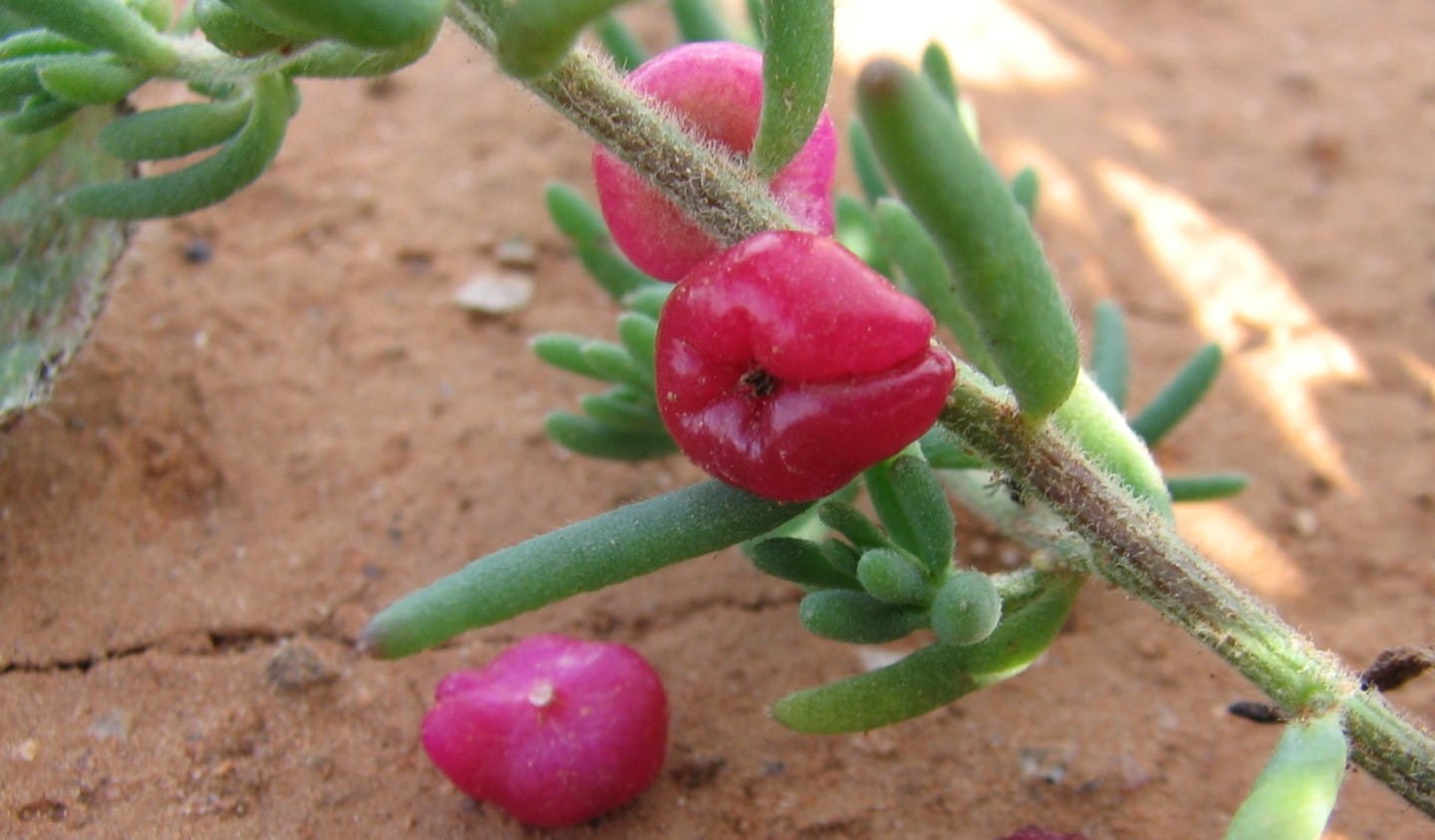 Ruby saltbush is a good example of native bush tucker that can be planted in sensory gardens. (Photo credit: Melburnian, CC BY-SA 3.0 via Wikimedia Commons)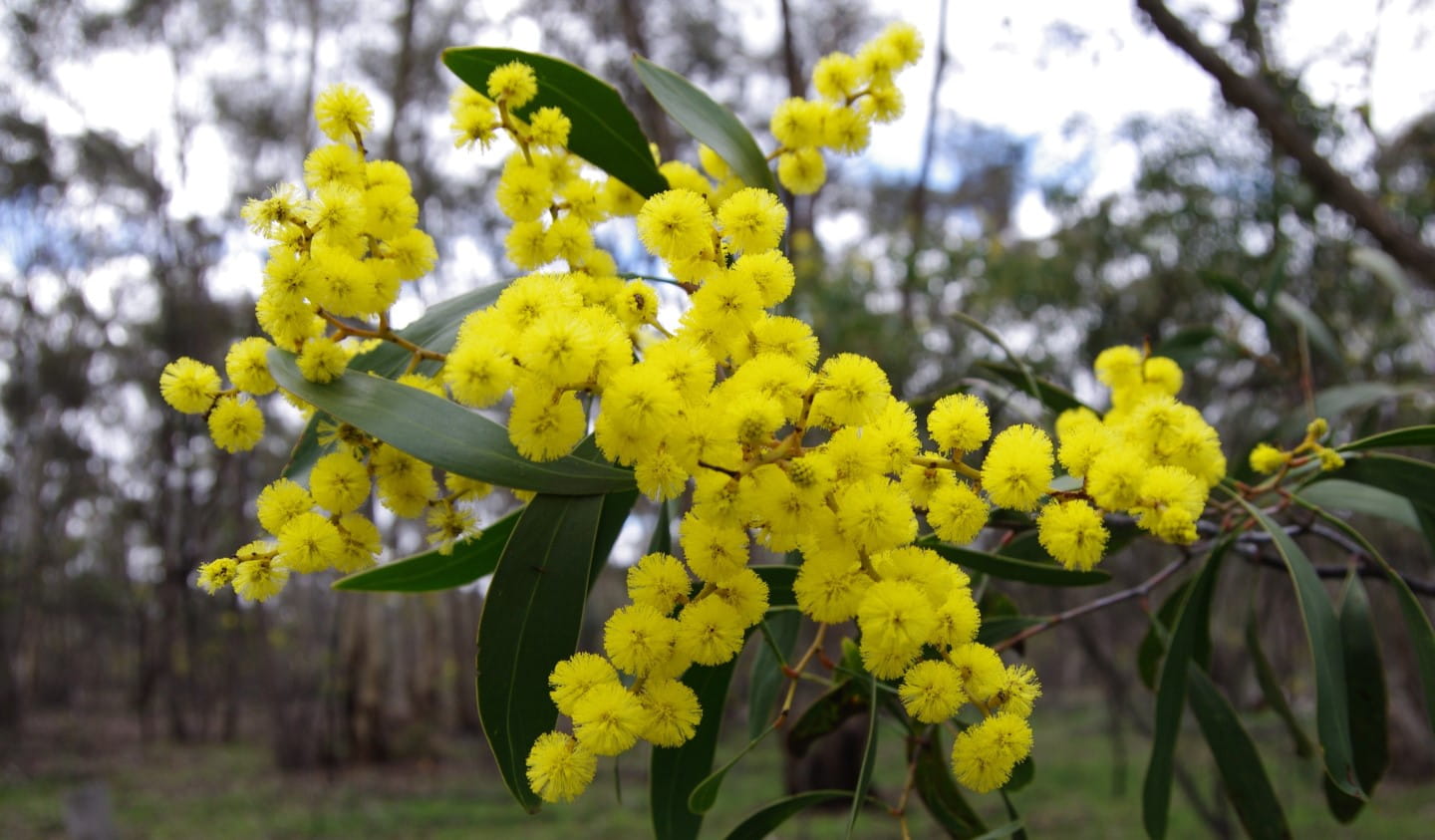 A splash of bright yellow wattle stands out against the dark green and browns of the bush.
A sensory garden for Serendip Sanctuary
Many parks, botanical gardens, and even schools have embraced the magic of sensory gardens and Parks Victoria has plans for more.
In September 2023, Environment Minister Ingrid Stitt announced a partnership between a collective of passionate local businesses and Parks Victoria to create one at Serendip Sanctuary, outside Geelong.
CDC Victoria, CMV Truck & Bus, and Volvo Bus Australia have combined to contribute $45,000 towards the project, which is being co-designed with disability groups and local schools.
The project follows the creation of a dementia-friendly sensory trail at Woowookarung Regional Park in Ballarat. That award-winning trail was co-designed with people living with dementia and their carers, Ballarat community health groups, the Department of Health, and Dementia Australia. CDC Victoria, a bus and coach lines company, also provided a three-year sponsorship of that trail.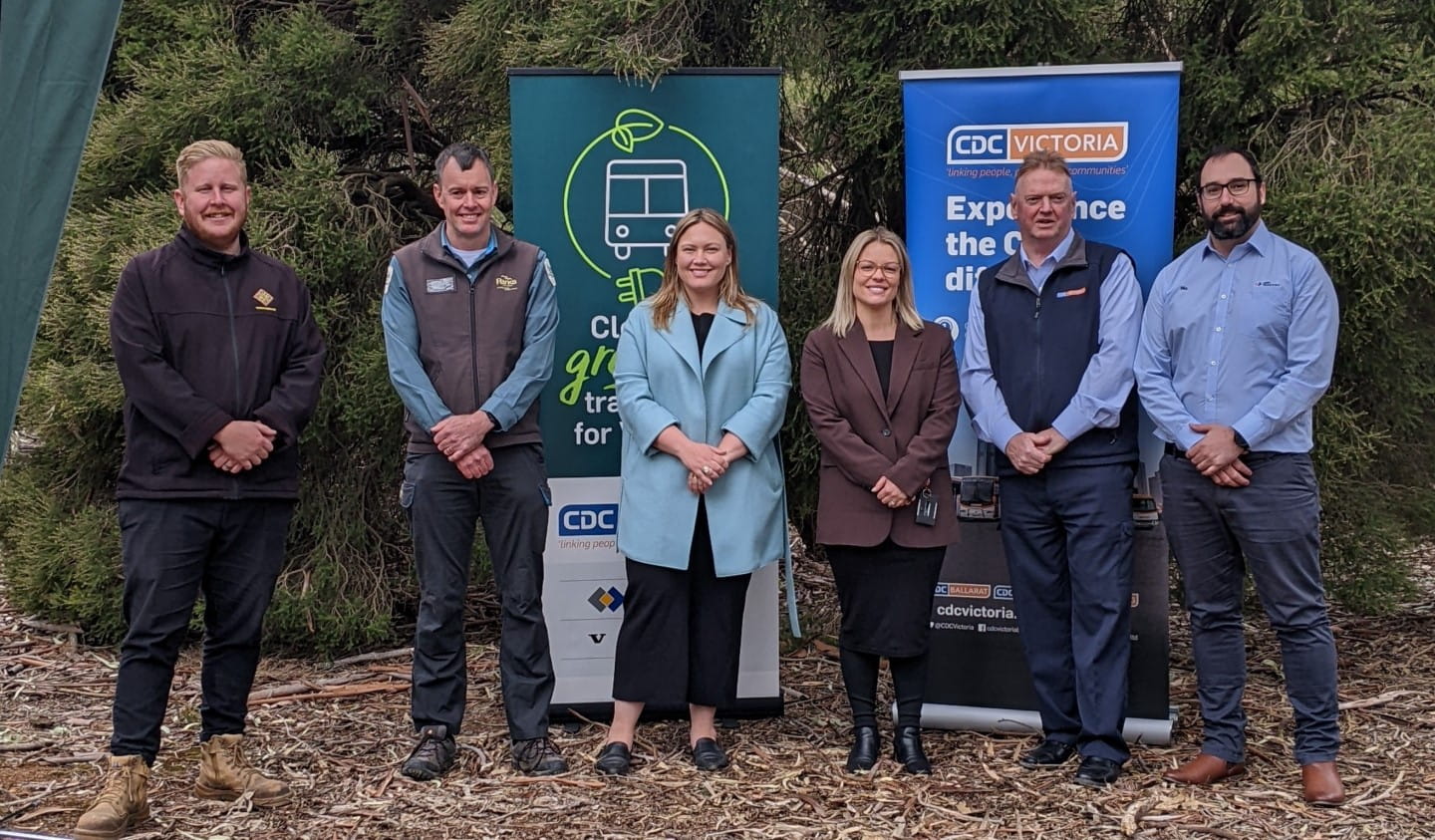 From left to right: Wadawurrung Traditional Owners Aboriginal Corporation General Manager Greg Robinson, Parks Victoria District Manager Stuart Lardner, Member for Lara Ella George, Jess Brzezicki from CMV Group, CDC Victoria CEO Jeff Wilson, and CMV Group's Nick Curran at Serendip Sanctuary announcing the new sensory garden.
Where else can I find sensory gardens in Victoria?
Here's a brief list of Parks Victoria sensory gardens that are ready to make your senses run wild.
Wattle Park
A sensory garden has been created in Wattle Park in Burwood to compliment the new nature-based all-abilities playspace which opened in April 2023. The garden is close to the tram-shaped play fort, which also includes an accessible pathway up to the second level of the play area which enables visitors in wheelchairs to enjoy both the view from the top and the batter slide with assistance.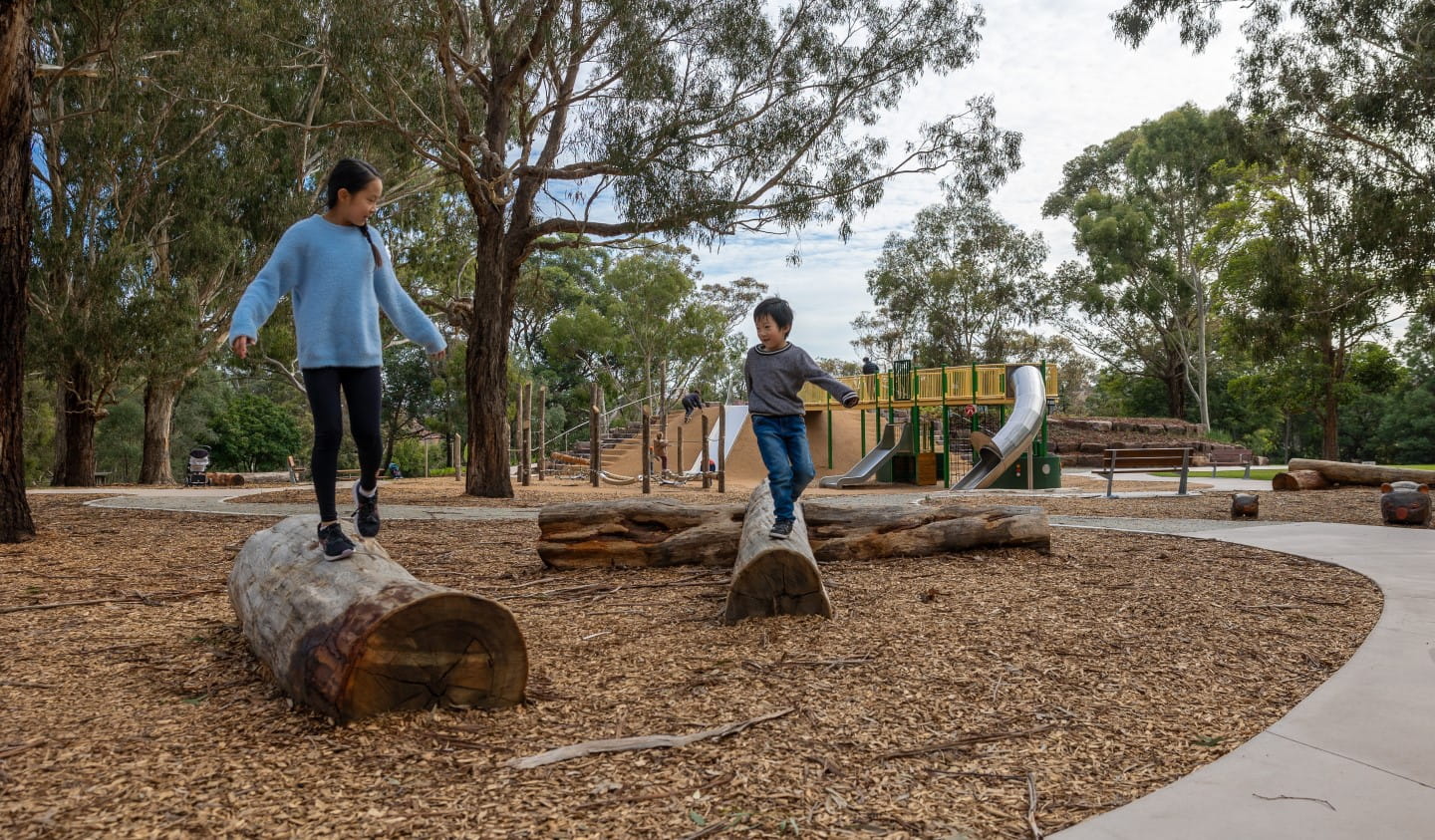 Pictured above: The newly-constructed playscape at Wattle Park features a sensory garden and sensory play elements.
Woowookarung Regional Park
It's not just children who can benefit from spending time in sensory gardens. People with dementia can find sensory gardens calming, while also stimulating their senses at the same time.
In 2021, Parks Victoria created Australia's first Dementia-Friendly Forest and Sensory Trail in Woowookarung Regional Park, near Ballarat, on the traditional lands of the Wadawurrung people.
The easy-going trail offers places to stop and reflect on positive memories, feelings and sensations. With pathways wide-enough to allow wheelchairs and carers, assistance dogs, and groups from residential aged care facilities, the trail is an accessible opportunity for people living with dementia to enjoy being in nature.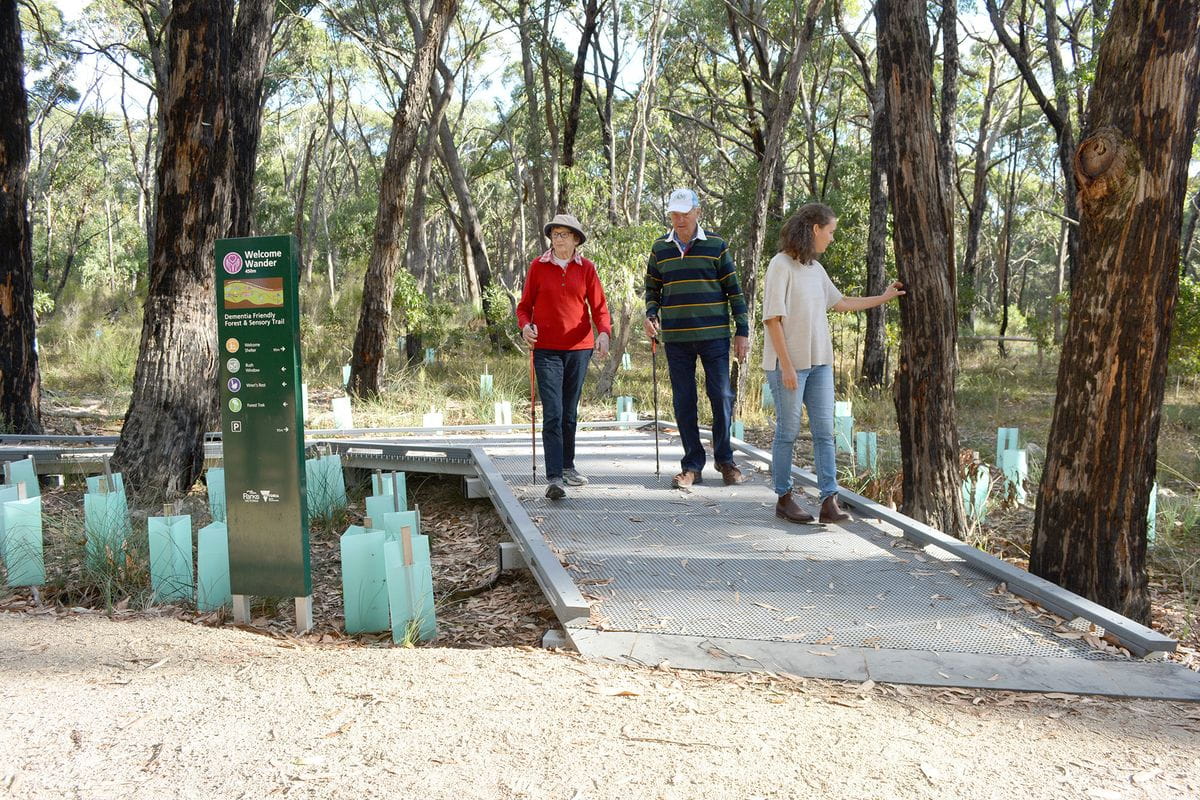 Pictured above: The Dementia Friendly Forest and Sensory Trail in Woowookarung Regional Park has been designed for people of all ages and abilities. Photo credit: Thompson Hay Landscape Architects.
Healesville Freeway Reserve
Parks Victoria will also create a sensory garden at the Healesville Freeway Reserve which stretches between Forest Hill and Vermont, on the traditional lands of the Wurundjeri people. The sensory garden was announced in August 2023 with the release of the Park Layout Plan.
The space will provide for passive recreation, experimental garden beds and different sensory elements. The size and scale of the garden will be subject to further consultation with Nadrasca Farm and consideration of neighbouring properties.
Construction on the sensory garden and the Healesville Freeway Reserve upgrades are expected to begin in 2024.