Meet alpine Ranger Jo Durrant
Tuesday 26 September, 2023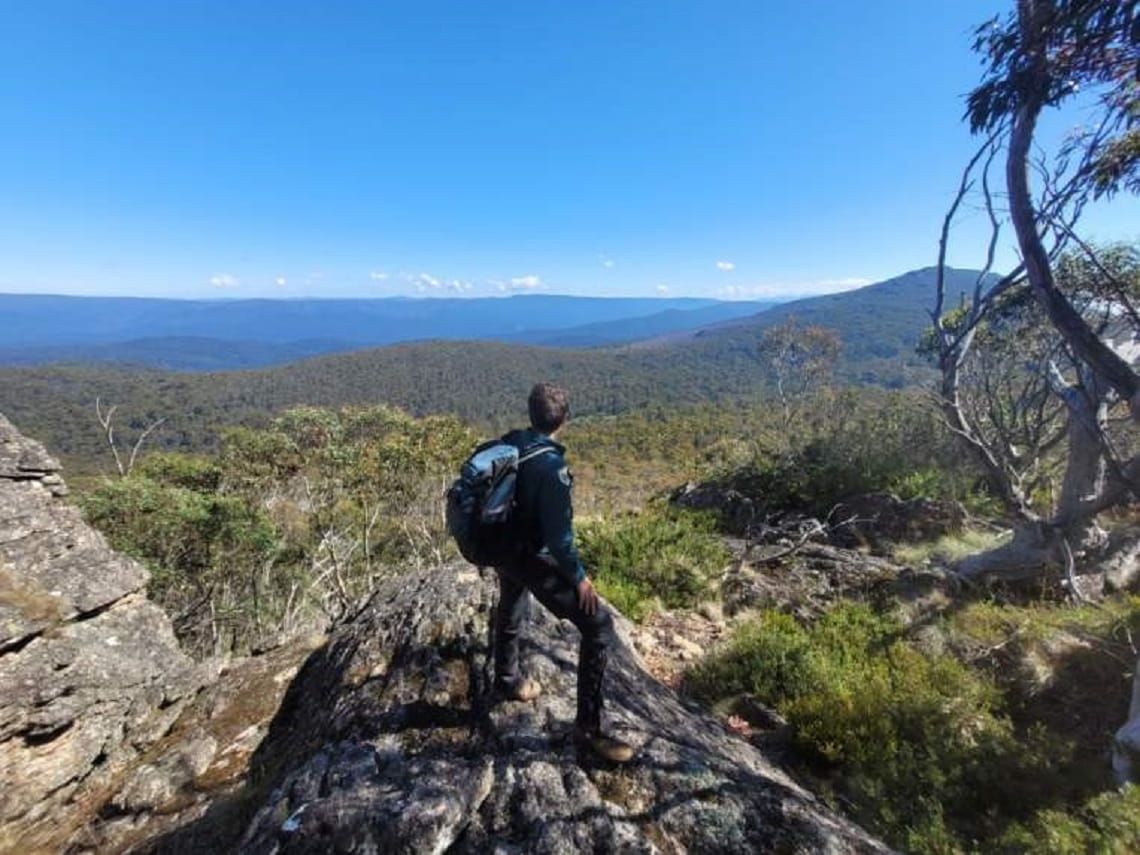 Ranger Jo looking across mountain peaks. Photo credit: Parks Victoria
Jo Durrant's work as a Parks Victoria Ranger in the Victorian alps involves a lot of feral pig control and keeping parks safe and accessible for visitors. But the work she loves most is scaling nearly inaccessible gorges to help conserve the threatened southern Brush-tailed Rock-wallaby (Petrogale penicillata) which is native to this special landscape.

Based in the East Gippsland hamlet of Omeo, Jo has worked at Parks Victoria for six years. Along with day-to-day ranger duties such as facility maintenance, cleaning toilets, making sure signage is correct, and keeping parks safe and clean for visitors, Jo says her conservation work continues to keep the job exciting.

"I do feel quite lucky in my role because of the conservation projects I'm involved in and the many partners we work with to deliver them," she says.

"One of the most exciting things our team does is work with the Department of Energy, Environment and Climate Action (DEECA) and other agencies to help conserve the southern Brush-tailed Rock-wallaby at Little River Gorge in the Snowy River National Park."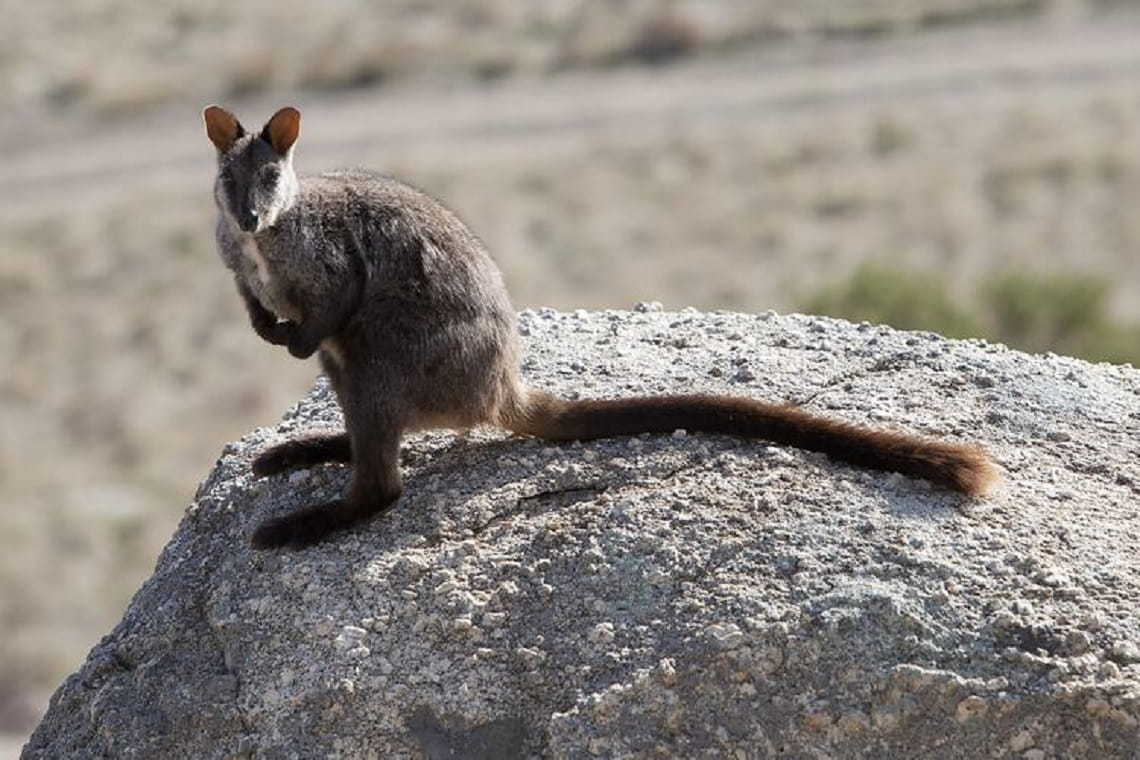 A southern Brush-tailed Rock-wallaby perched on a rock at Mount Rothwell. Photo credit: Heath Warwick, Museums Victoria
"Little River Gorge is Victoria's deepest gorge. It's a very challenging but incredibly rewarding environment to work in."

In line with the Victorian Brush-tailed Rock-wallaby Action Statement and the National Recovery Plan, DEECA has coordinated efforts to conserve the wallaby for more than 30 years. Through a range of techniques, the program has increased the existing Little River Gorge population from less than 10 individuals to more than 50, helping them bounce back from the brink of extinction.

The species now survives mostly on isolated rocky escarpments along the Great Dividing Range from south-eastern Queensland through eastern New South Wales to eastern Victoria. Between threats from introduced predators and humans hunting for their pelts, the species is restricted to remote rock gorges. Here their aptitude for climbing and gripping incredibly steep rock faces keeps them mostly safe from feral cats, foxes and human activity.

Today, Victoria's only populations leap and bound through Little River Gorge and the Grampians (Gariwerd) National Park. Feral cats and foxes remain the biggest threat to their survival.


Innovative research

"In the early 2000's, researchers at the University of Adelaide did some really innovative things to help bring the species back from the brink of extinction," Jo says.

"Because their survival rate wasn't very good and there were only a handful of individuals left in the wild, they undertook cross-fostering trials, which involved the removal of joeys in the very early stages of development in their mother's pouch, carrying them safely out of the gorge and fostering them in captivity with other species; either Tammar Wallabies (Macropus eugenii) or Yellow-Footed rock-wallabies (Petrogale xanthopus), who adopted them as their own."

"This encouraged the individuals to reinitiate their reproductive cycle more quickly and produce a new joey, usually within 30 days."

But cross-fostering was just one aspect of the program. "In any threatened species scenario, if you end up with just a handful of individuals there is going to be a large amount of in-breeding and that population isn't going to be genetically robust," says Jo.

The solution has been breeding the wallabies with a counter population of northern Brush-tailed Rock-wallabies from the Tidbinbilla Nature Reserve in New South Wales, as well as animals from Mount Rothwell in Victoria. This practice is called hybridising.

DEECA staff, along with rangers from Gunaikurnai Land and Water Aboriginal Corporation and Parks Victoria carry the resulting individuals to Little River Gorge in special backpacks and release them in the park to help boost the genetic health of the population.
Jo describes the Little River Gorge wallabies as "iconic". "You see them jumping around on these steep rockfaces where it seems like nothing else would be able to survive," she says.

Over the years, Jo has become part of a specialised on-ground field crew traversing the rugged gorge to monitor the welfare of this sensitive population.

"There are specific routes in and out of the gorge - you have to know your way around."

Jo grew up in Melbourne and loved learning about natural systems, how different species fit together and the roles they all play. She completed university degrees specialising in Ecology, Evolutionary Biology, and Zoology, taking on post-graduate research and field-based roles before landing a job at Parks Victoria. She finds it really rewarding to work in East Gippsland.

"Over the last six years, I've found myself getting sucked deeper and deeper into the remoteness of East Gippsland, which I love. The more remote you get and the more rugged the terrain, the more special the projects you work on and the environments you work in."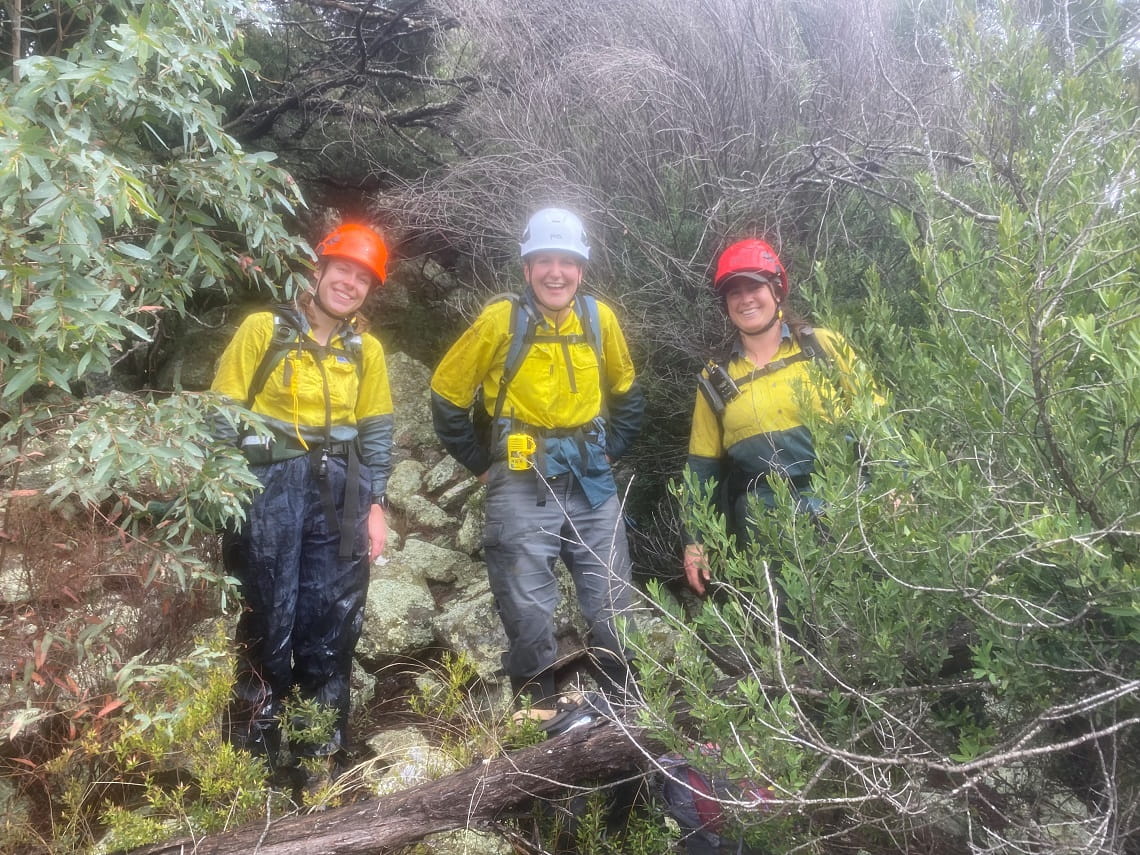 From left to right - Emily Cordy (DEECA), Jo Durrant (Parks Victoria) and Willow Bourke (DEECA). Credit: Parks Victoria
Working to control feral pigs
Another focus of Jo's work has been planning and strategising to control the feral pig population that damages sensitive alpine peatland environments. Jo explains that while the hard hooves of deer and feral horses damage the soil, the snout rooting actions of feral pigs also cause enormous impacts.
"The way they forage, they've got the strongest snouts of any animal," says Jo. "They flip the earth over with their snout and really dig around for tubers and grubs, but they also eat things like frogs. When they root around looking for whatever they want, they often damage other species as well as ecosystem functions."
Her work in the alpine environment has made her much more aware of its fragility.
"I wish people understood how sensitive various parts of the alps are and how slow-forming and slow-repairing they are. The very remote parts of the alps can attract people who want to go off and do silly things like driving through barriers into areas they shouldn't and putting big wheel tracks through sensitive environments that take years to heal."
Reflecting on what gives her hope for the future of the alpine environment, Jo says she admires people who "care for Country and care about preserving and restoring things."
"Maybe people are starting to realise that sometimes the best thing we can do is get rid of threats and let nature take care of itself."