Learning together: Caring for Country from Victoria to New Mexico
Friday 13 October, 2023
The Budj Bim Cultural Landscape on Gunditjmara Country in south-west Victoria is a long way from Valles Caldera National Preserve, in the Jemez Mountains of north-central New Mexico, but both protected areas are volcanic lands steeped in connection for the First Peoples.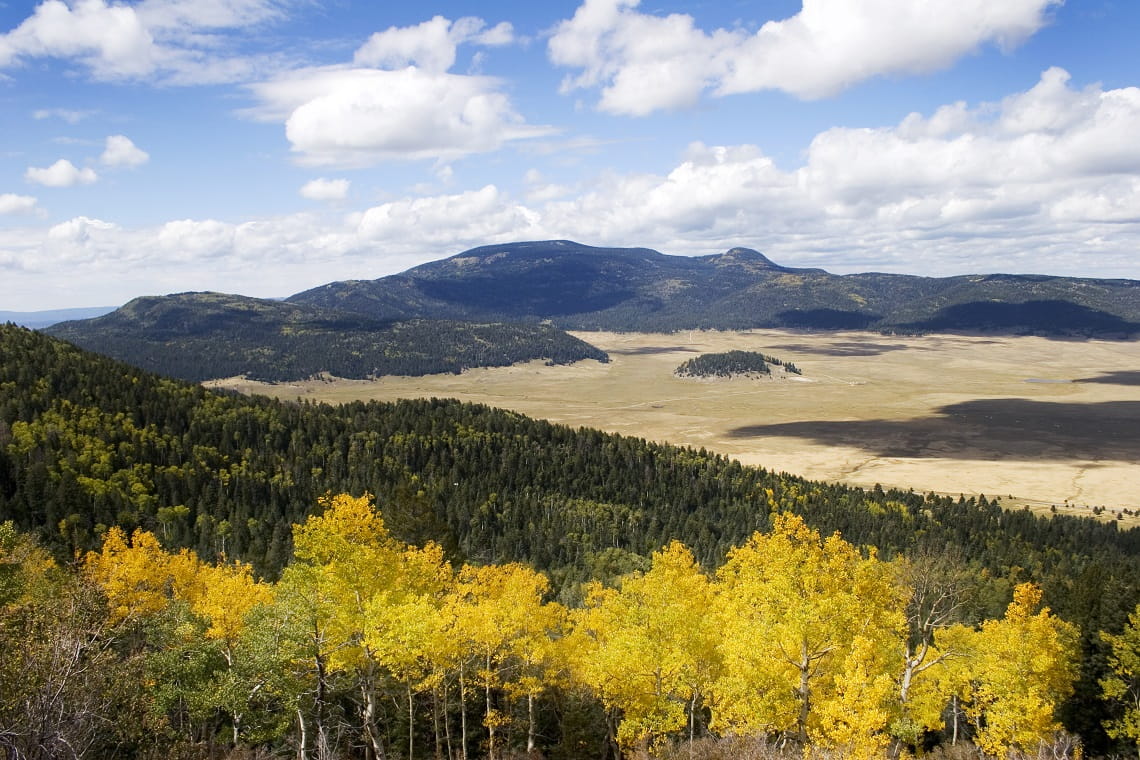 Panoramic view of Valles Caldera National Preserve with Redondo Peak in the distance. Golden aspen trees in the foreground give way to the pine forest to the valley floor below, a sweeping grass prairie. Credit US National Park Service.
Jorge Silva Bañuelos, the Superintendent of Valles Caldera National Preserve, was in Victoria recently to learn about how Parks Victoria is working in partnership with Traditional Owners under joint and co-management arrangements of 49 parks and reserves, Managing Country Together.
"Our vision for Valles Caldera National Preserve is to become a national model for sustainability, restoration, and tribal partnerships that offers a welcoming and engaging landscape for all," Jorge says.
"While the US National Park Service and Parks Victoria do work on opposite sides of the planet, we share an enormous range of common issues around everything from restoring legacy land uses to new solutions such as tree thinning, managing fire, and working with the First Peoples."
Valles Caldera, the remnant of a volcanic eruption 1.25 million years ago, has 38 tribal groups who consider the area a deeply sacred place and their connection extends back more than ten thousand years. The rich geologic deposits of high-quality obsidian (volcanic glass) were utilised for tools and weapons, and it is considered one of the most significant cultural obsidian sources in North America.
While on Gunditjmara Country visiting Budj Bim National Park, which is co-managed with the Gunditj Mirring Traditional Owners Aboriginal Corporation, Jorge was taken on a cultural tour starting at the Tae Rak Aquaculture Centre.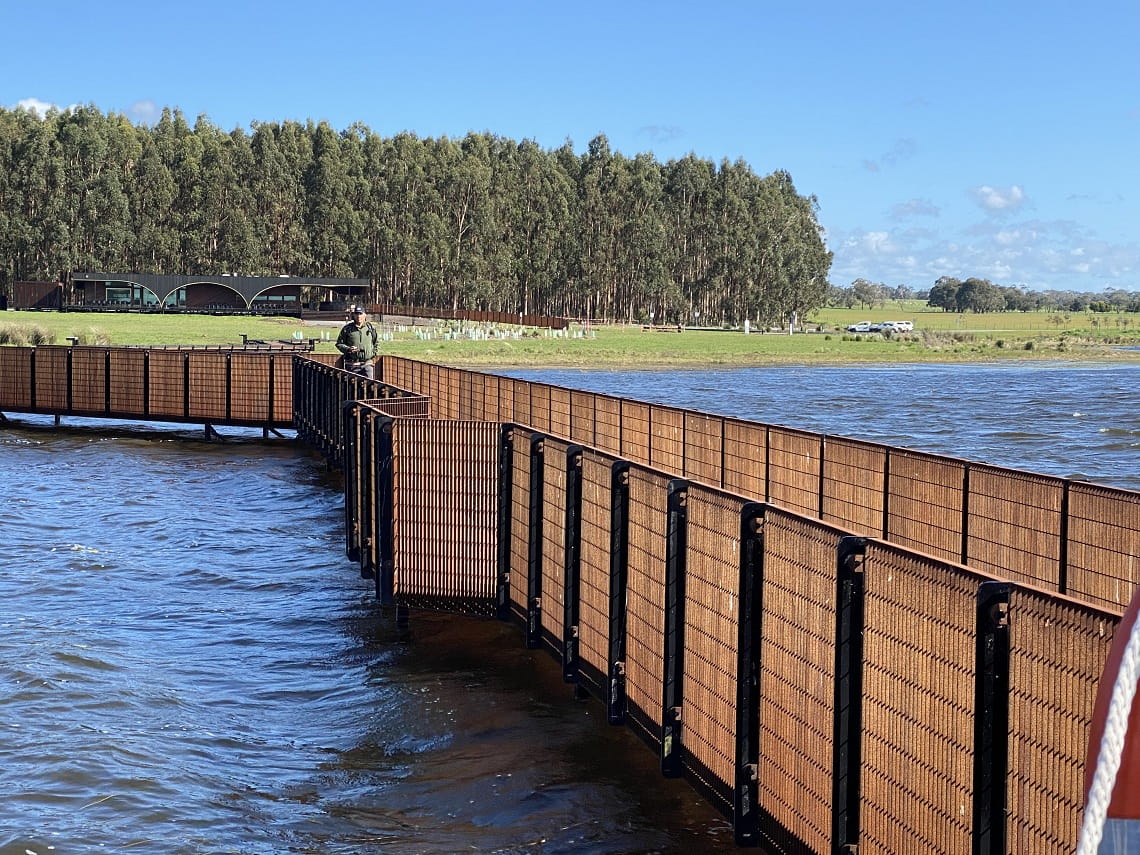 Superintendent Jorge Silva Bañuelos at Tae Rak (Lake Condah) on Gunditjmara Country, and the newly completed Tae Rak Aquaculture Centre in the background. Credit Parks Victoria.
"One of the things that struck me was the draining of Tae Rak (Lake Condah) for agricultural use as essentially an effort to harm the Gunditjmara people and take away their livelihood and their cultural connection to land."
The Budj Bim Cultural Landscape contains one of the world's most extensive and oldest aquaculture systems. The Budj Bim lava flows helped create a complex system of channels, weirs and dams developed by the Gunditjmara in order to trap, store and harvest kooyang (short-finned eel – Anguilla australis).
In July 2019, the Budj Bim Cultural Landscape was inscribed on the UNESCO world heritage list, which recognises the international significance of the landscape and the aquaculture systems.
"The story of Tae Rak reminded me of the history of the American bison, where during the Indian Wars, the US military began killing off huge herds of bison to try to eliminate a primary food source, but also the cultural identity of the Plains Indians in America," Jorge said.
"And they've gone through a similar effort of renewal to restore the American bison on the landscape, to try to restore that cultural heritage. To realise that it was only in 2010 that Tae Rak (Lake Condah) was allowed to be refilled and restored, and what will come of that in terms of cultural restoration is quite inspiring," Jorge says.
Jorge also visited Gunaikurnai Country where he was welcomed by representatives from the Gunaikurnai Land and Waters Aboriginal Corporation (GLaWAC).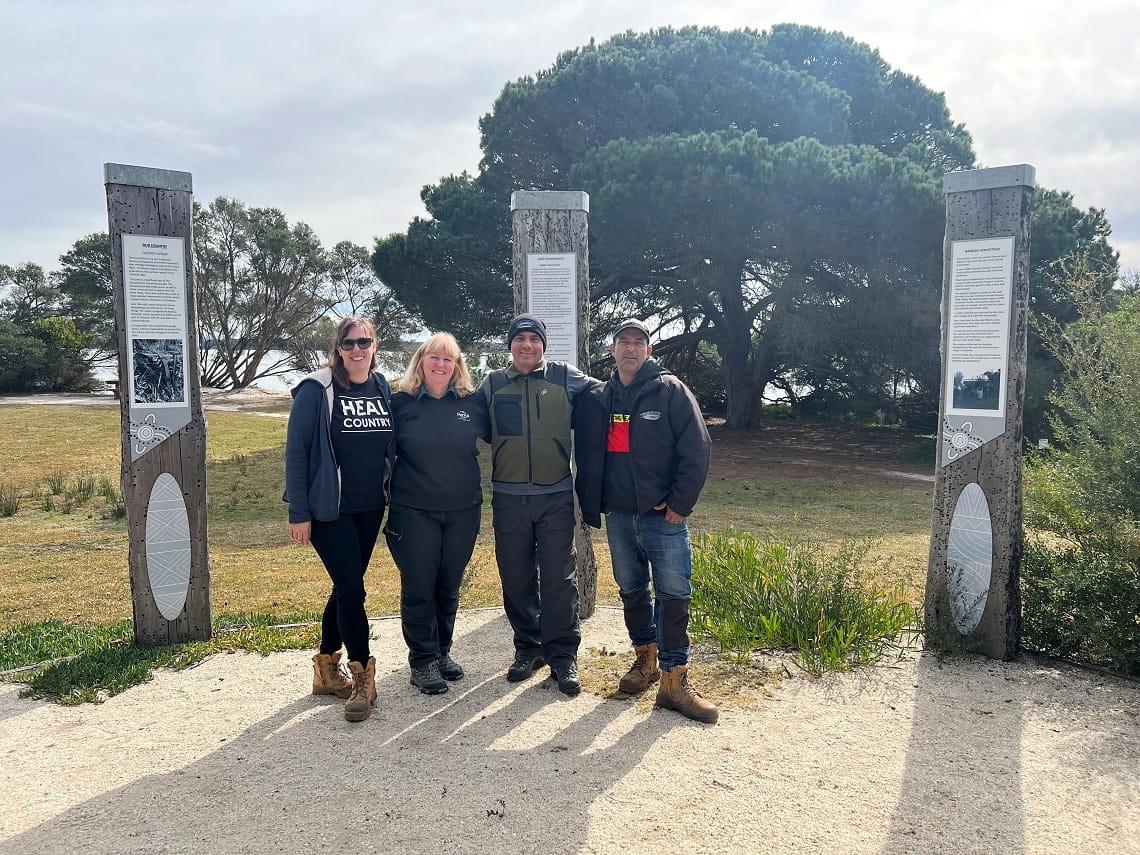 L-R Katherine Mullett, General Manager – On Country, Gunaikurnai Land and Waters Aboriginal Corporation (GLaWAC), Susie Cutlack, Regional Project Coordinator Joint Management, Parks Victoria, with Superintendent Jorge Silva Bañuelos, Valles Calderas, US National Park Service, and Alfie Hudson, Landscape Manager, GLaWAC.
"Meeting with the Gunaikurnai Traditional Owners and talking to some of the representatives from GLaWAC was a great opportunity to see what these partnerships can become over time after receiving Aboriginal title in 2010, and getting beyond that initial hurdle," Jorge says.
"I was impressed with how GLaWAC and the Gunaikurnai people have been building their own capacity to develop higher levels of partnerships with Parks Victoria and the culturally important parks and reserves, where they're constructing these five pillars and shields to recognise their five clans and convey the cultural importance of these lands to visitors."
"I'm interested in how Valles Caldera National Preserve can look at our own signage to provide similar recognition and acknowledgement. There are a whole host of Traditional Owners who are connected to that landscape, so it's something I'm going to reflect on to see how we can translate this concept back home," Jorge says.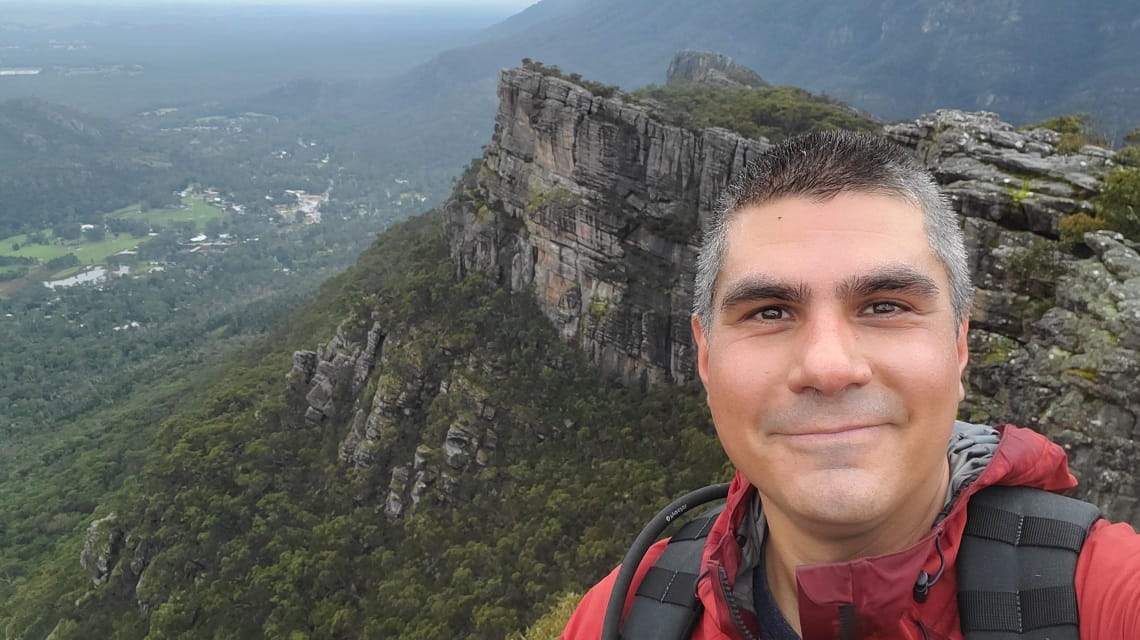 Superintendent Jorge Silva Banuelos visited the Gariwerd Cultural Landscape which for more than 22,000 years, has been the living, hunting, gathering, cultivating, ceremonial, Dreaming Country and territory of the Djab Wurrung, Jadawadjali and Gunditjmara peoples.
"Representing the Jadawadjali, Djab Wurrung and Gunditjmara peoples, Barengi Gadjin Land Council Aboriginal Corporation; Eastern Maar Aboriginal Corporation and the Gunditj Mirring Traditional Owners Aboriginal Corporation worked in partnership with Parks Victoria to complete a management plan for the Greater Gariwerd Landscape (2021).
"What I observed at Gariwerd was the acknowledgment of the other Traditional Owners stories that it wasn't a debate over which Traditional Owner has supremacy or not but recognising they all came there as a meeting place," Jorge says.
"Upon reflection, it reminds me of the stories at Valles Caldera with our 38 mobs utilised the landscape as a tribal commons. To some degree, the colonial construct of having to make a native title claim that demonstrates you were the only group that had a continual presence in an area, has the effect of pitting one Traditional Owner group against another."
"I am heartened to learn how within the Gariwerd Cultural Landscape the Traditional Owner groups have found ways to work together despite these challenges and that the policy of Parks Victoria is to meaningfully engage with all Traditional Owners regardless of an adjudicated native title claim," Jorge observed.
The study tour 'Learning from Our Colleagues Abroad' is a great example of how international exchange enriches best practice in park management and highlights the benefits of building long term relationships across agencies.
To find out more visit Parks Victoria Managing Country Together.