New boat ramp and jetty a win for all
Thursday 9 November, 2023
Fans of boating and fishing in Geelong and Melbourne's west can now enjoy a new user-friendly boat ramp and jetty to access Port Phillip and Corio bays for a day on the water.

The Kirk Point boat ramp, adjacent to The Spit Wildlife Reserve in Avalon, has been transformed from an old single lane ramp to a new dual-lane grooved ramp surrounded by a breakwater to provide protection from southerly and easterly winds.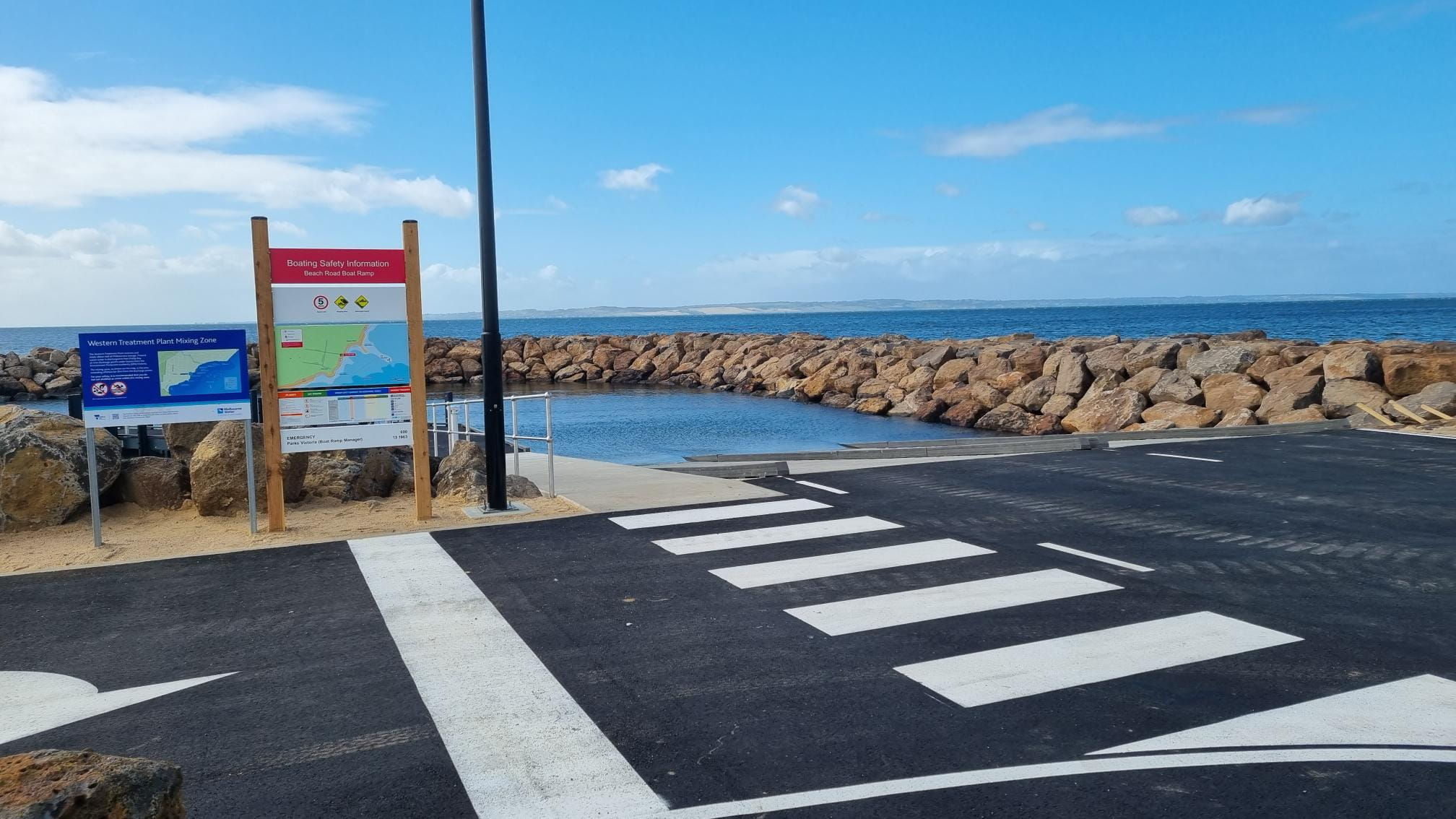 A new jetty has been built alongside the ramp to provide boaters space to tie their boats up while parking without needing to get their feet wet.

Parking has also been improved with a total of 31 spaces big enough for a car and trailer. As part of the upgrade, the ramp has been renamed Beach Road boat ramp to more accurately reflect its location.

The area is popular with fishers as well as bird watchers within the adjoining wildlife reserve who use the area for parking.

Throughout the project, the area's environmental sensitivity was forefront to protect local birdlife and wetland areas.

Work was done outside the peak boating season to minimise inconvenience to people and during the cooler months to minimise impact on migratory birds in and around the nearby wetlands. This upgrade will redirect vehicle access to help protect the surrounding sensitive saltmarsh vegetation, which is important for the birds.

Both the parking area and the ramp itself have been added to the Boating Vic camera network, so you can check conditions and how busy the facility is via the free smartphone app or website before you leave home.

The ramp will primarily cater for smaller vessels due to the shallow nature of the water in this part of Port Phillip. Boaters with larger craft are advised to launch at Werribee South, St Helens or Limeburners in Geelong.

Parks Victoria worked with Better Boating Victoria to deliver these $4 million upgrades, in close consultation with Melbourne Water, the Wadawurrung Traditional Owners, the boating community and local environmental groups. 

This is just one of a number of projects going on in Port Phillip Bay to improve jetties and piers. From Altona Pier's redevelopment to the Rye Pier reconstruction, improvements are happening right around the Bay to help people get out and enjoy a day by the water.

We want more people in more places to enjoy the health benefits of connecting with nature, have a break from the urban surroundings and relax by the Bay.
See and find out more about the boat ramp.