Information session on bushfire recovery projects
Wednesday 15 November, 2023
Communities in East Gippsland have an opportunity to hear about the ongoing recovery of local parks, reserves and infrastructure at an information session in November.
The Black Summer bushfires burnt vast areas of land and destroyed park facilities across East Gippsland, while subsequent floods added fresh impacts at many locations.
While most parks re-opened soon after these events, the complex recovery process continues to rebuild infrastructure, including at Buchan Caves Reserve, Cape Conran Coastal Park, and Croajingalong National Park.
New facilities are also on the way to help rejuvenate visitation and tourism, and to protect the area's environmental and cultural values.
These recovery projects are part of the Victorian Government's commitment to improving tourism infrastructure across Victoria's east, to maximise the economic benefits of tourism and support local jobs after the devastating effects of the Black Summer bushfires.
At Buchan Caves Reserve, tours are as popular as ever and the pool is being enjoyed after reopening earlier this year. Tenders are currently being evaluated to develop designs for the roofed accommodation and camp kitchen that were lost in the fires.
Projects at Cape Conran are progressing through assessments and permits processes to replace and repair infrastructure damaged or destroyed by fire and floods. This includes boardwalks, accommodation, and the Yeerung Bridge and lookout.
At Croajingalong National Park, concept designs have been completed to replace or upgrade jetties around Mallacoota Inlet. There will also be upgrades to day visitor areas around the inlet with facilities like picnic tables, fire pits, access tracks, barbeques, and toilets.
A procurement process is underway for the construction of Thurra River Bridge, a project being managed by the Department of Energy, Environment and Climate Action. The new bridge will restore access and allow additional projects to progress, such as upgrades for the Point Hicks Visitor Precinct and lighthouse.
On 23 November, Parks Victoria will host an online information session to provide an update on these projects and others.
Date: Thursday 23 November 2023
Time: 6pm – 7pm
Register to attend: https://shorturl.at/cJW27
Information about projects and upgrades being delivered in Gippsland and across the state is available on the Parks Victoria website: www.parks.vic.gov.au/projects/eastern-victoria
Quotes attributable to Kerri Villiers, Regional Director – Eastern Victoria:
"Fire and flood recovery can be complex and lengthy – but we understand the importance of Gippsland's parks and visitor facilities."
"We're continuing to work through the important assessments and permits to make sure we build back better and with respect for the landscape."
"Anyone interested in hearing about how these projects are progressing and all that's involved should come along to our information session this month."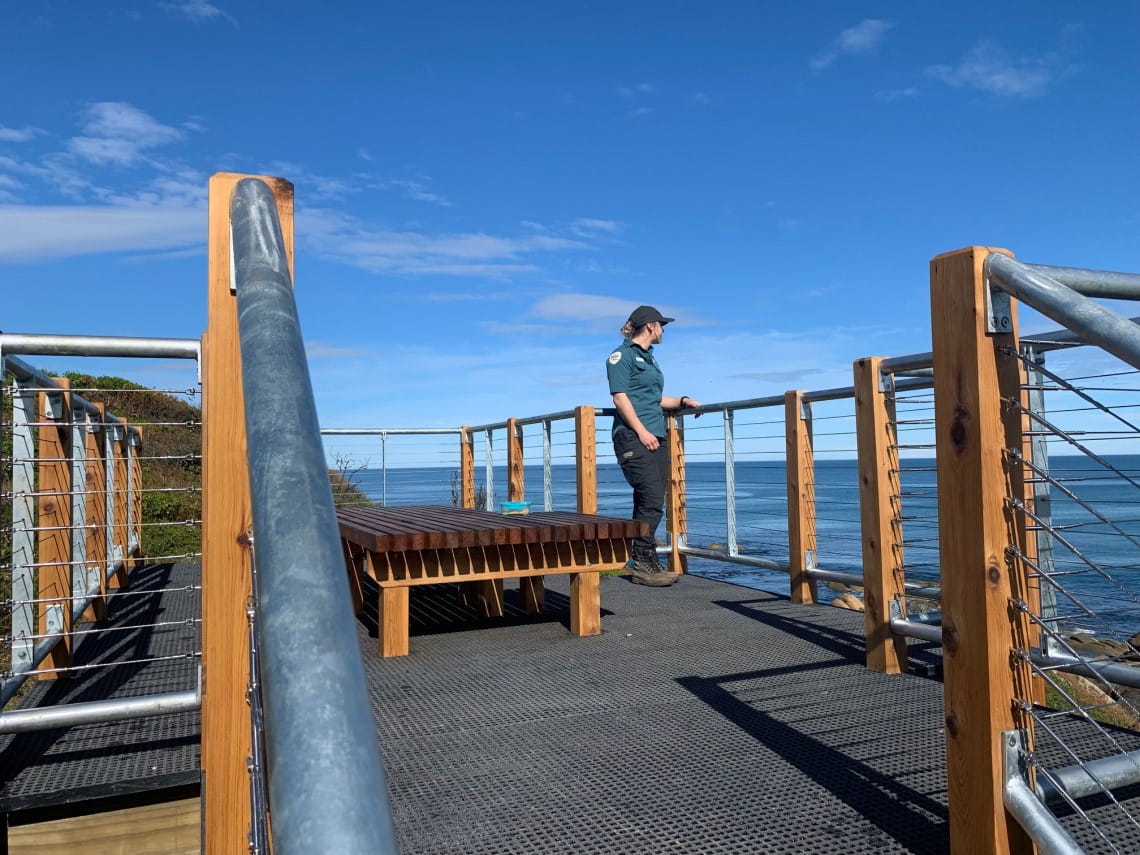 The Salmon Rocks Lookout at Cape Conran Coastal Park is one of the completed bushfire recovery projects in East Gippsland. Credit: Parks Victoria