The 1000 Steps is probably Melbourne's most popular bushwalk. Officially the Kokoda Track Memorial Walk, runners love the challenge of the steep trail, locals appreciate the convenience and tourists just want a picture of a gorgeous rainforest walk. But to truly appreciate this unique place, you need to visit when it's quiet.
The Kokoda Track Memorial Walk (incorporating the 1000 Steps) departs from Ferntree Gully Picnic Ground, winding up a steep hill along a creek through lush rainforest, before emerging into a clearing where you can enjoy great views of Melbourne through the trees. Complete the loop by taking the Lyrebird Track back to the carpark.

The path is steep and beautiful, which makes it attractive to fitness walkers, runners and tourists.
Things to do
How to enjoy the 1000 Steps
The 1000 Steps is very popular. To get the most out of this place, it's advisable to visit at a quieter time. That means midweek, early in the morning or both. That way you can appreciate the atmosphere of this magical rainforest and why Australian soldiers felt it was so similar to the Kokoda Track in Papua New Guinea where they fought in the Second World War. You've also got a better chance of spotting the noisy but very shy Superb Lyrebird.

1000 Steps alternatives
If you simply want to enjoy the majesty of the old trees around Ferntree Gully, and are not set on walking the 1000 Steps, try the Ramblers Track Loop. This is a gentle and quiet walk through old-growth forest.

If you're looking for a less popular but similarly demanding walk or run, the Granite Track in nearby Lysterfield Park is worth a go. You can even cool off with a swim in the lake afterwards!

Kokoda Track Memorial Walk or 1000 Steps?
At the foot of the 1000 Steps are a series of signs explaining this walk's association with the Australian soldiers.

Created in the early 1900s, the 1000 Steps Walk was originally made from tree fern trunks laid along the wetter areas of the track to make the climb a little easier. These were replaced by wooden palings, and more permanent concrete steps were installed in 1950.

The veterans of the Kokoda campaign adopted this park as their memorial site in 1998. The similarity of the walk to the first 100 metres of the Kokoda Track in Papua New Guinea resulted in the establishment of fourteen plaques along the walk, dedicated to the Australian Military Forces who fought and died on Kokoda.

The 1000 Steps represent the 'Golden Staircase', a name given by Australian soldiers to the 2000 steps cut by the Australian Army Engineers and others into the track between Uberi and Imita Ridge.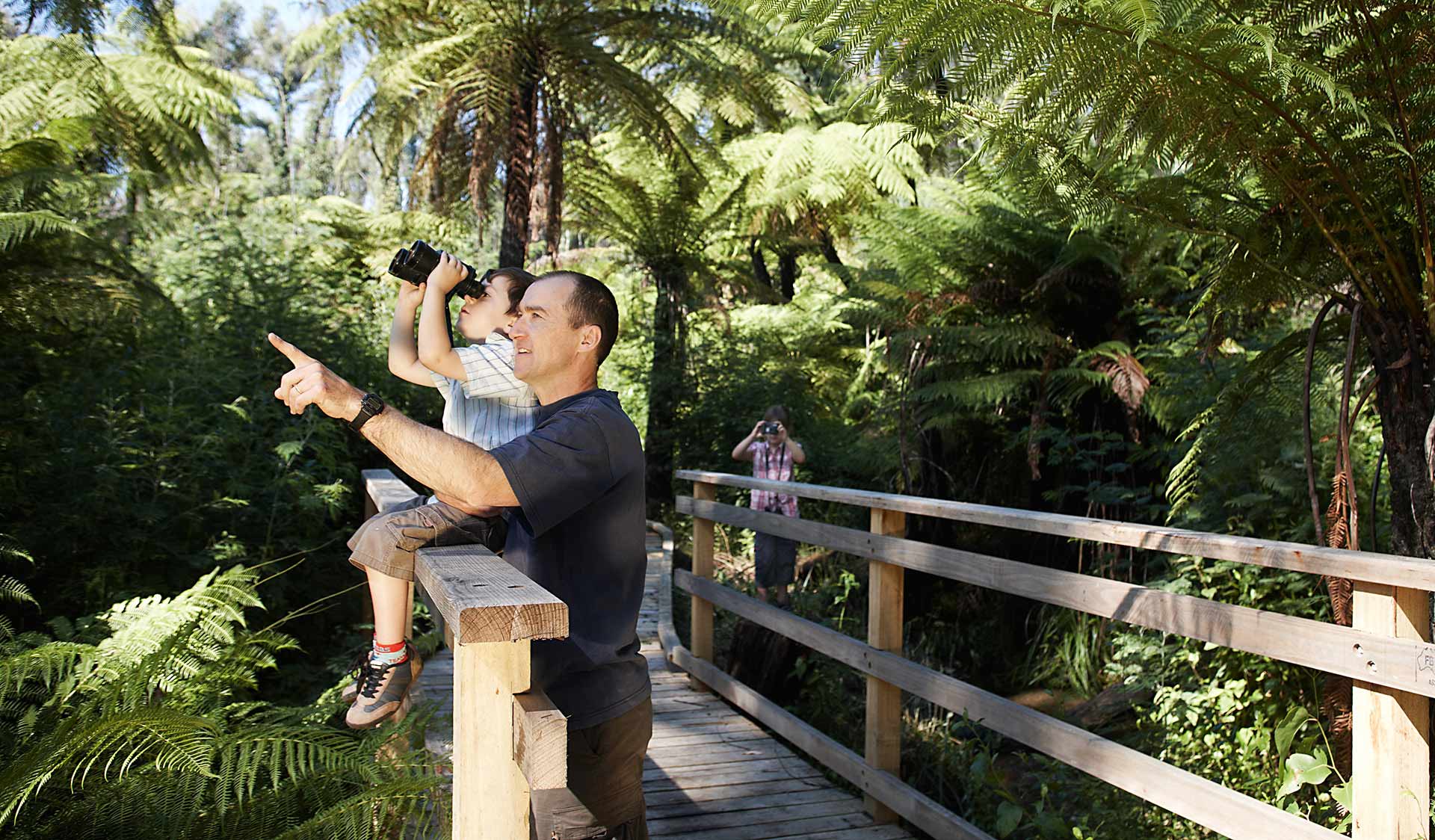 From bushland to wetlands and everything in between, parks provide habitat to an abundance of common and rare bird species. Go for a wander and see how many you can spot.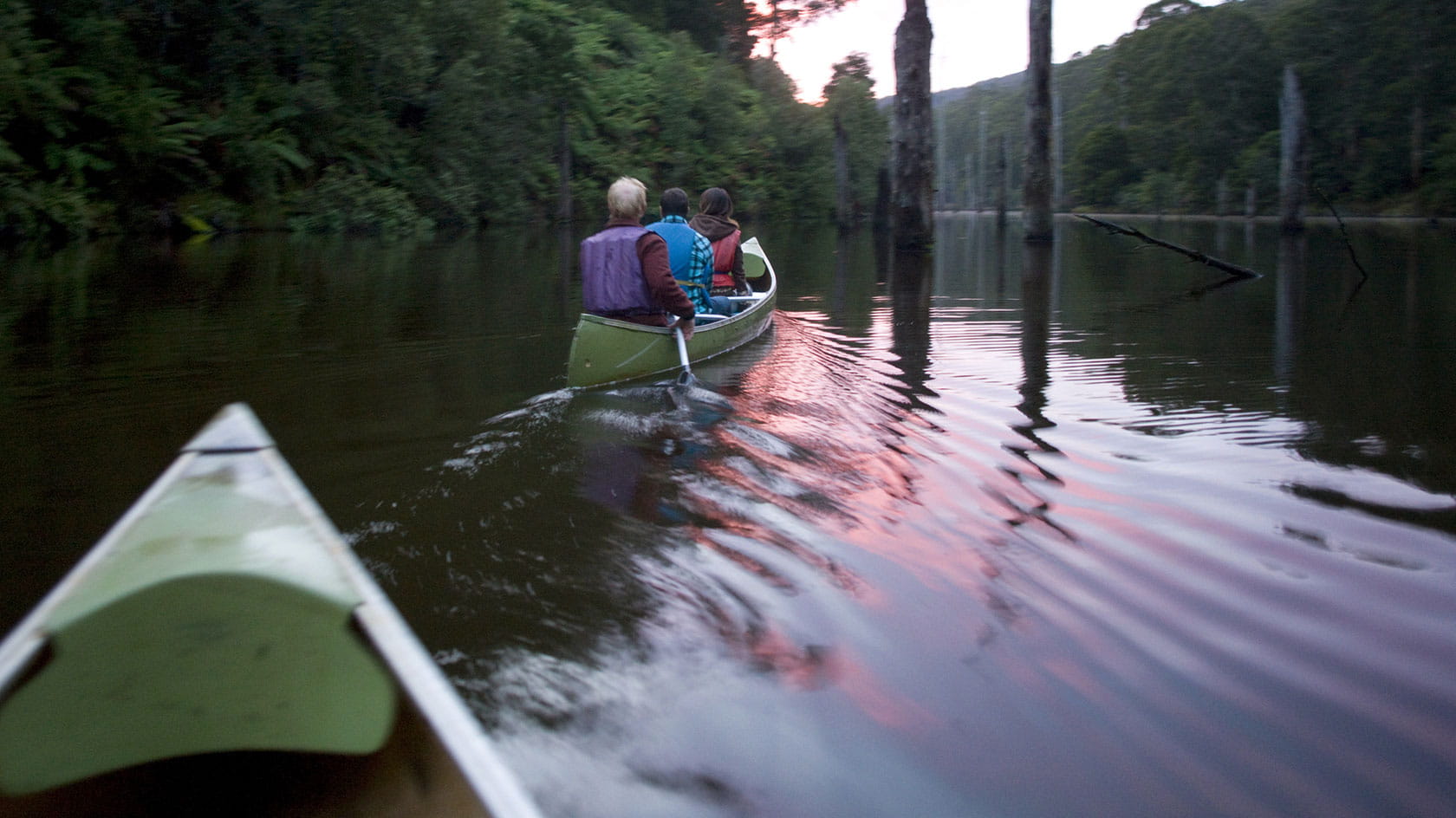 Canoeing and kayaking are great ways to explore beautiful waterways. Enjoy the tranquility and spot wildlife that hikers don't normally see.
How to get there
1000 Steps Walk (Trail)
The 1000 Steps trail departs from Ferntree Gully Picnic Area, which is just at the junction of the Mount Dandenong Tourist Road and the Burwood Highway in Upper Ferntree Gully.
When you're there
The 1000 Steps is a very popular walk and the car park at Ferntree Gully picnic area will be full by 10am on most weekend mornings. You might have better luck parking your car at One Tree Hill Picnic Ground at the top of the 1000 Steps. Alternatively, leave your car at home. It's a a leisurely 1200m stroll from Upper Fern Tree Gully train station to the bottom of the steps. Download the visitor guide before you go.
Need to know
1000 Steps Walk (Trail)
Accessibility
Visiting a park can be more of a challenge for people with disabilities, however in Victoria there are a wide range of facilities to help people of all abilities enjoy our wonderful parks around the state.
Change of Conditions
Nature being nature, sometimes conditions can change at short notice. It's a good idea to check this page ahead of your visit for any updates.
Notices Affecting Multiple Parks

Parks closed due to Total Fire Ban

The following parks are closed on Thursday 21 November 2019 due to a Total Fire Ban in the Central Forecast District: Alfred Nicholas Memorial Gardens, George Tindale Memorial Gardens, Dandenong Ranges Botanic Garden, Pirianda Garden, RJ Hamer Arboretum, William Ricketts Sanctuary, Dandenong Ranges National Park (including One Tree Hill, Sherbrooke, O'Donohue and Valley Picnic Ground, Eagles Nest Picnic Ground, Doongalla Homestead, Grants Picnic Ground, Ferntree Gully Picnic Ground, Kalorama Park, 1000 Steps - Kokoda Memorial Walk and Olinda Falls), Black Hill Reserve, Perrins Creek, Sassafras Creek Nature Conservation Reserve and Silvan Reservoir Park.

Dandenong Ranges National Park

Wattle Track (in Sherbrooke Forest) closed indefinitely

Wattle Track in the Sherbrooke Forest area of the Dandenong Ranges National park is closed indefinitely due to a tree falling and destroying the Wattle Track (Long Bridge) foot bridge. Walkers can use Monument Track as an alternative route.


Ramblers Track closed

Ramblers Track at Ferntree Gully is closed until further notice due to a fallen tree blocking access.


Sassafras Creek Trail closed between Moxams Road and Baynes Park

Sassafras Creek Trail is closed between Moxams Road and Baynes Park until further notice due to severe damage from a fallen tree.


Kays Picnic Area (Sassafras Creek N.C.R)

Kays Picnic Ground Closure

Visitors, please note Kays Picnic Ground is closed due to a tree hazard.