Explore
Marlo Coastal Reserve
Marlo Coastal reserve is where the Snowy River meets the sea. This idyllic park offers camping, fishing and boating in a natural setting just 90 minutes from Bairnsdale.
Stay at dog-friendly Corringle Foreshore Campground, nestled between the sea and a lake in banksia woodlands close to the beach.
Water and boating activities can be enjoyed within the estuary, where the sheltered waters allow for fishing all year round. Enjoy the quiet serenity as you drop a line or head to the beach to try your hand at surf fishing.
Explore the park on the fascinating Snowy River Estuary Walk. Winding its way from the township of Marlo to Mots Beach and ending at the ocean beach opposite Frenches Narrows, the journey offers breathtaking views of the estuary and the ocean beyond, as the path crosses through different vegetation types and habitats.
Set just over 5 km, the comfortable walk takes an hour and 40 minutes one way, offering a closer look at the natural flora and fauna of the East Gippsland region as you move through Banksia Woodland, Coastal Salt Marsh and the critically endangered Littoral Rainforest, important habitats for species including the Grey-headed Flying Fox and the Little Tern.
To stay a little longer, book a spot at Corringle Foreshore Campground, where you can fall asleep to the sounds of the ocean beneath a blanket of stars.
Things To Do
Corringle Foreshore Campground is nestled between Corringle Slips on the Lower Snowy River estuary and Bass Strait. Pitch a tent in banksia woodlands close to the beach. Dogs (on a lead) are welcome in this perfect fishing and boating location.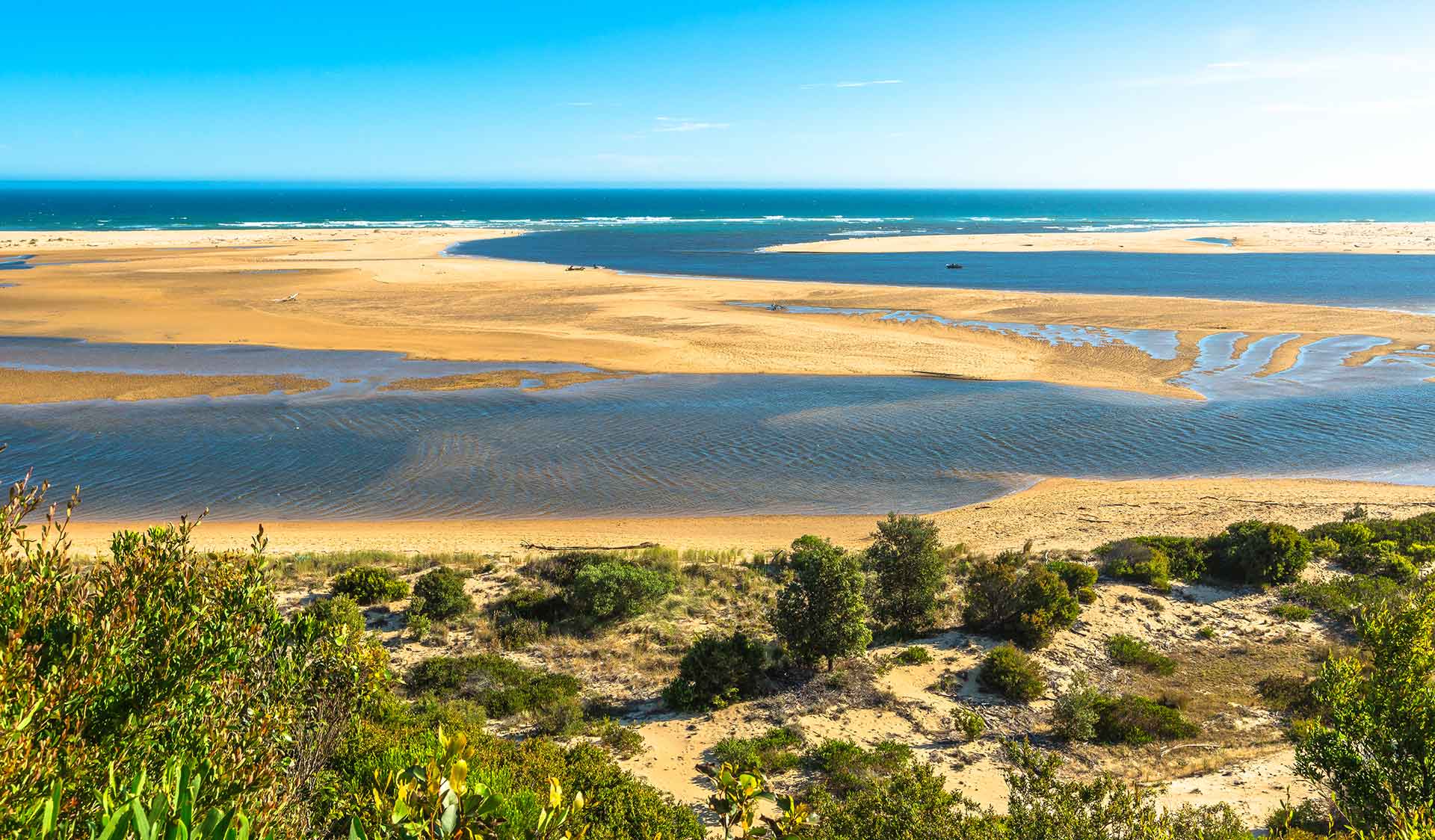 Snowy River Estuary Walk
Starting in the coastal township of Marlo, the Snowy River Estuary Walk provides an amazing insight into unique environs surrounding the lower reaches of the Snowy River estuary, linking through to the wild ocean beach opposite Frenches Narrows.
Marlo Coastal Reserve
This area is well known for its wildlife. Keep an eye out for:
Tours in the area
Bushwalking, four-wheel driving, horse riding, kayaking, rock climbing and mountain biking are just some of the many activities you can experience in Victoria's parks.
If you want to try something new or meet some like-minded people on your next visit to a park, contact a licensed tour operator.
Parks Victoria licenses tour operators who are experts in these activities and more. They will help you get the most out of your visit.
View all local tours
Nearby Events
No results
There are no results matching your criteria.
How to get there
Marlo Coastal Reserve
When you're there
Visitors are encouraged to be self sufficient with drinking water.
A concrete boat ramp is located at The Slips, providing access to the Snowy River Estuary.
Swimming is not advised as the ocean beach at Corringle is unsafe due to strong rips and currents.
An amateur fishing licence is required for all waters in Victoria including ocean fishing.
Camping & accommodation
Corringle Foreshore Reserve has a relatively natural campground close to the beach. Facilities include pit toilets, including a disabled access toilet close to the day visitor area, picnic tables and fireside barbecues. A limited supply of untreated tank water is available.
Check availability
Need to know
Marlo Coastal Reserve
Accessibility
Visiting a park can be more of a challenge for people with disabilities, however in Victoria there are a wide range of facilities to help people of all abilities enjoy our wonderful parks around the state.
Change of Conditions
Nature being nature, sometimes conditions can change at short notice. It's a good idea to check this page ahead of your visit for any updates.
Notices Affecting Multiple Sites

Blue-Green Algae Alert

A red alert level warning for Blue-green algae has been issued from Psyche Pumps to lock 9, including Kings Billabong. Visitors to the Murray River Reserve between those two points, should avoid contact with the water. Blue-green algae occur naturally and can be dangerous to humans and animals. Characteristic signs of algae contact are skin rashes or itchiness, sore eyes, ears and nose, or, if swallowed, nausea or vomiting. Water from the lakes should not be used for cooking, drinking, washing, etc. Boiling the affected water will not make it safe to use. Anyone who comes into contact with affected water should wash skin immediately in clean water. See

more information about blue-green algae

from the Department of Health and Human Services.
How we keep it special
Corringle Foreshore is one of the jointly managed parks within Gippsland. The Joint Management agreement recognises the fact that the Gunaikurnai people hold Aboriginal Title and maintain a strong connection to Country. As custodians of the land, they are the rightful people who speak for their Country. These parks and reserves are cultural landscapes that continue to be part of Gunaikurnai living culture. For more information on Joint Management, please visit the
Gunaikurnai Traditional Owner Land Management Board
and the
Gunaikurnai Land and Waters Aboriginal Corporation
.