Ocean Grove Nature Reserve is part of an Aboriginal cultural landscape in the traditional Country of the Wadawurrung Peoples. Parks Victoria respects the deep and continuing connection that Traditional Owners have to these lands and waters, and we recognise their ongoing role in caring for Country.
Located near Geelong, Ocean Grove Nature Reserve protects a unique habitat and array of wildlife, making it popular for bushwalkers, birdwatchers and nature photographers.
The Ocean Grove Nature Reserve is the largest patch of non-coastal indigenous vegetation left on the Bellarine Peninsula, therefore provides an important remnant of Grassy and Heathy woodland. The reserve provides a crucial habitat for seven threatened species, including the Swift Parrot (Lathamus discolor), a migrating species which can be found feeding on the flowering Bellarine Yellow Gums, and the Bibron's Toadlet (Pseudophryne bibronii) an endangered species with a very small breeding population.
Ocean Grove Nature Reserve provides an important habitat for the Bellarine Yellow Gum, a vulnerable and endangered species which the nature reserve supports. The population of the Bellarine Yellow Gum only extends from Torquay to the Bellarine. It is the only eucalyptus species known to flower in the winter from roughly April to May. Spring is a great time of the year to see wildflowers such as Bent Goodenia, Yellow Rush Lilies, Chocolate Lillies, Greenhoods and Milkmaids.
Walking Tracks
A network of signposted tracks allow visitors to explore and learn more about this reserve. Two trailheads with car parks offer access to easy, gentle grade walking routes, some of which are wheelchair and pram accessible. Download the Visitor Guide to learn more about the inhabitants.
Go-yin/Wallaby Track - 500m, 20 minutes return
This easy track is a short return loop from the main Grubb Road entrance carpark via the Go-yin/Wallaby Track and one small section of Currawong Track.
Currawong Track to Picnic Area - 1km, 30 minutes one-way
This easy trail is great for birdwatching and passes a variety of habitats, including marshy wetlands alive with frog calls after rain.
Picnic Area Trail Head - Buluk/Lake Track - 1km, 30 minutes return
Follow the Buluk/Lake Track to the lake, where turtles can be seen basking in the sun on warm days. Swamp wallabies and echidnas are frequently sighted feeding near this track and spring wildflowers abound.
Wurrack/Banksia Track - 3km, 1.5 hours return
Following from the Buluk/Lake Track, wind gently by ancient grass trees and stands of the endangered Bellarine Yellow Gum.
Things To Do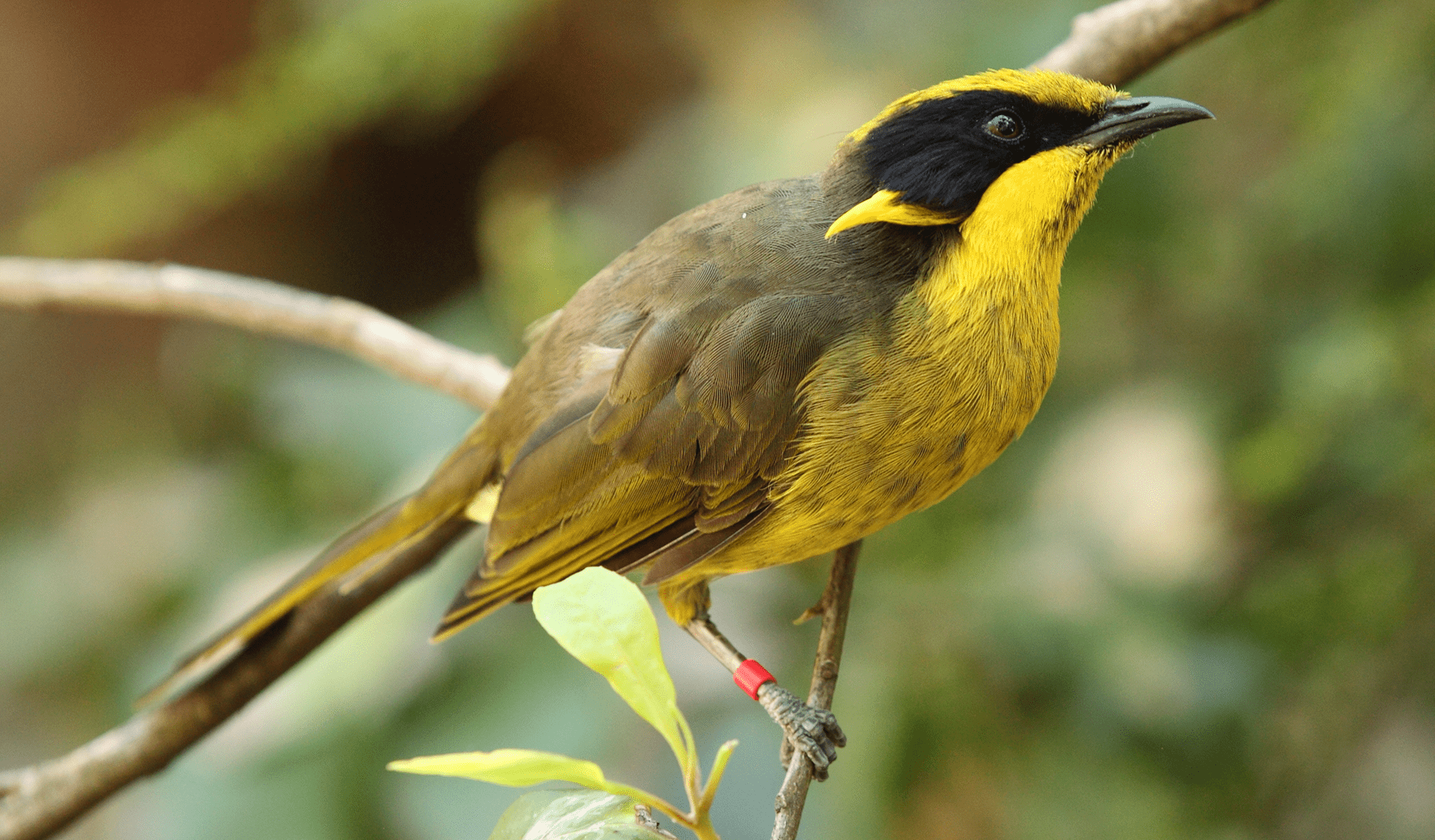 Birdwatching at Ocean Grove
Ocean Grove Nature Reserve is a haven for birdlife including honeyeaters, wrens and Yellow-tailed Black Cockatoos. More than 130 bird species have been recorded in the reserve.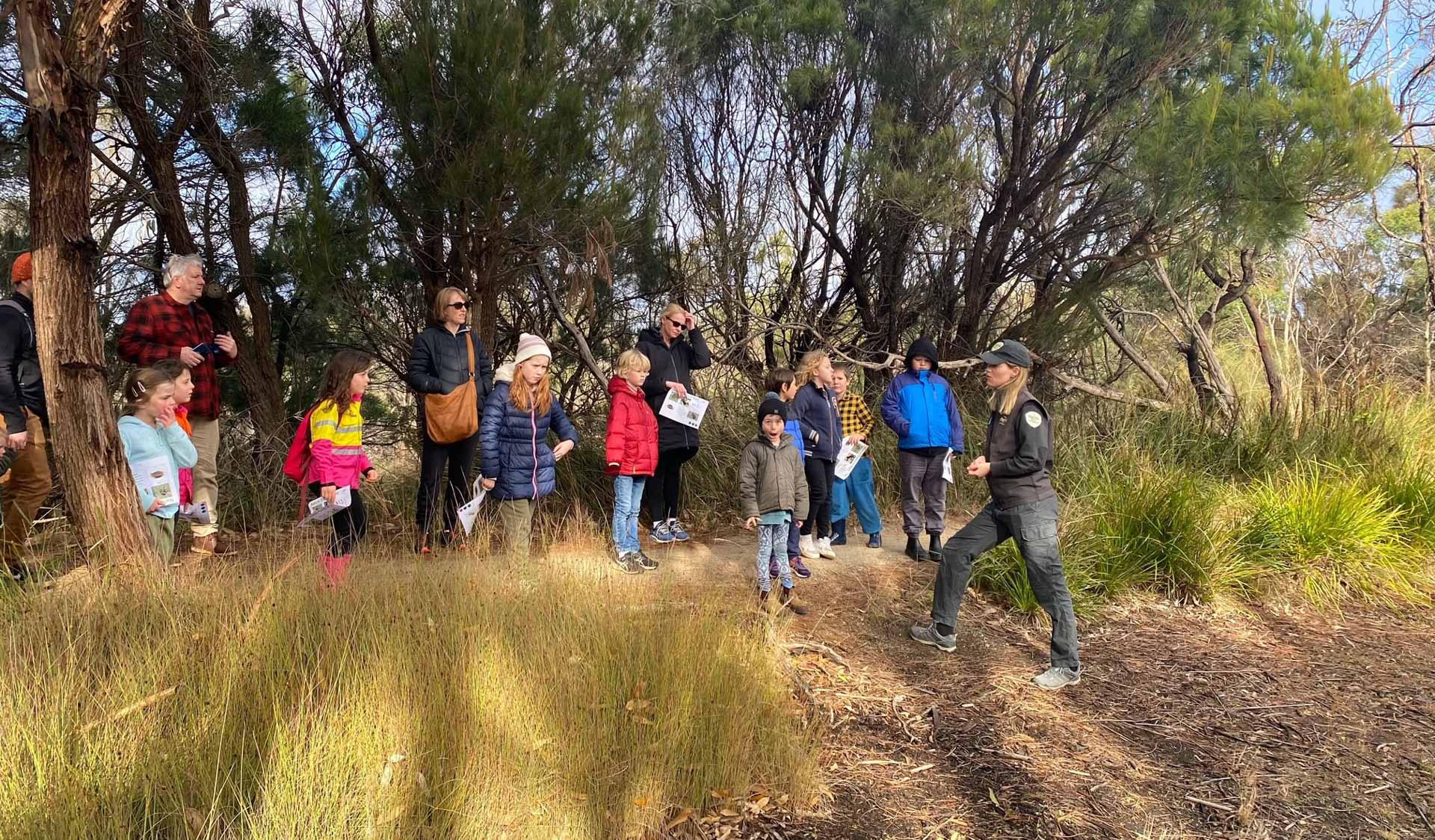 Join a Junior Ranger program at Ocean Grove Nature Reserve during school holidays. The Junior Ranger program encourages kids to explore Victoria's amazing parks with a park ranger. Visit the Junior Ranger website for more information on the program.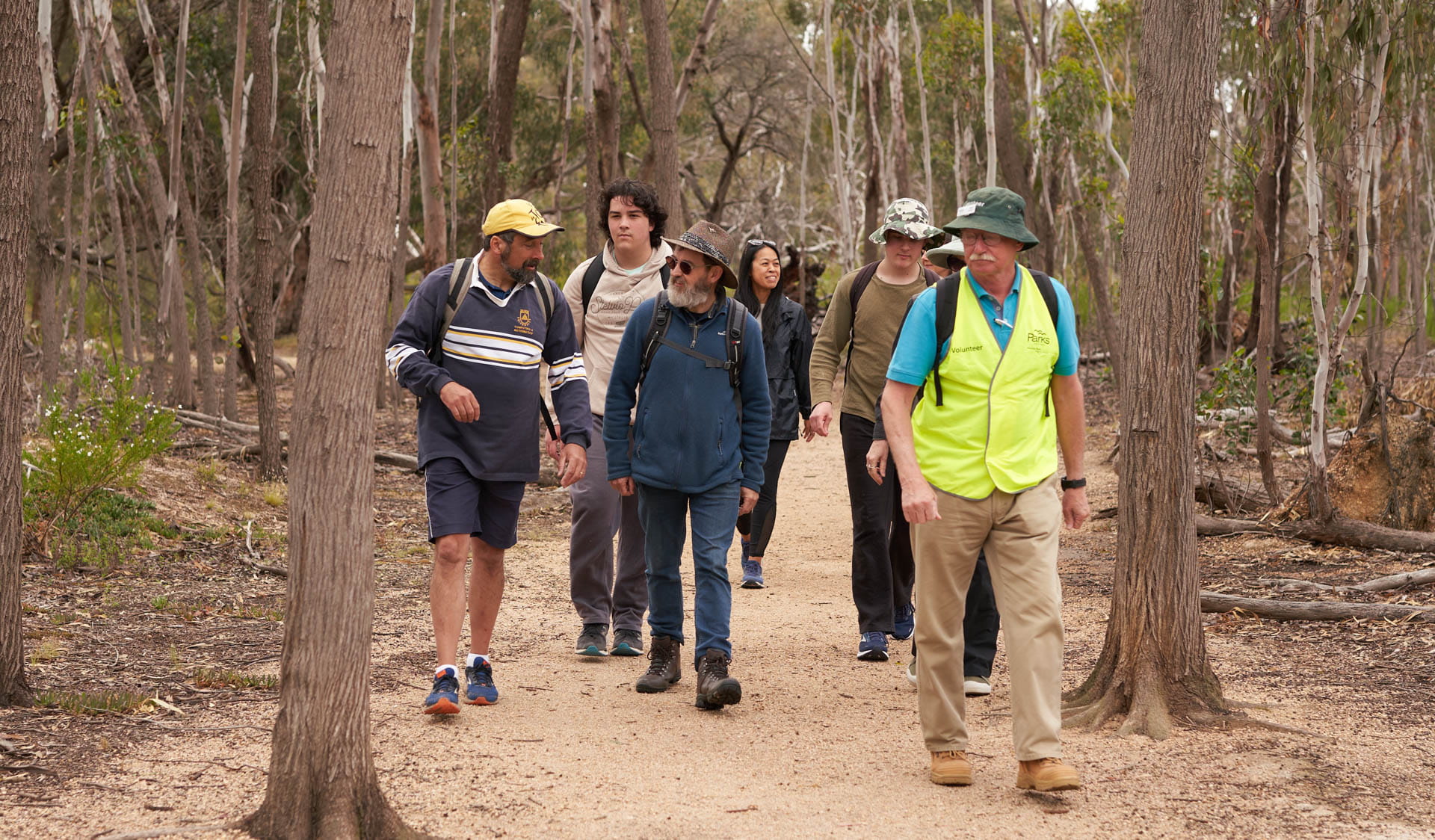 Join a free Parks Victoria volunteer-led walk through beautiful Ocean Grove Nature Reserve. Enjoy the peaceful natural surroundings, chat to fellow group members and spot some of the wildlife that call this park home.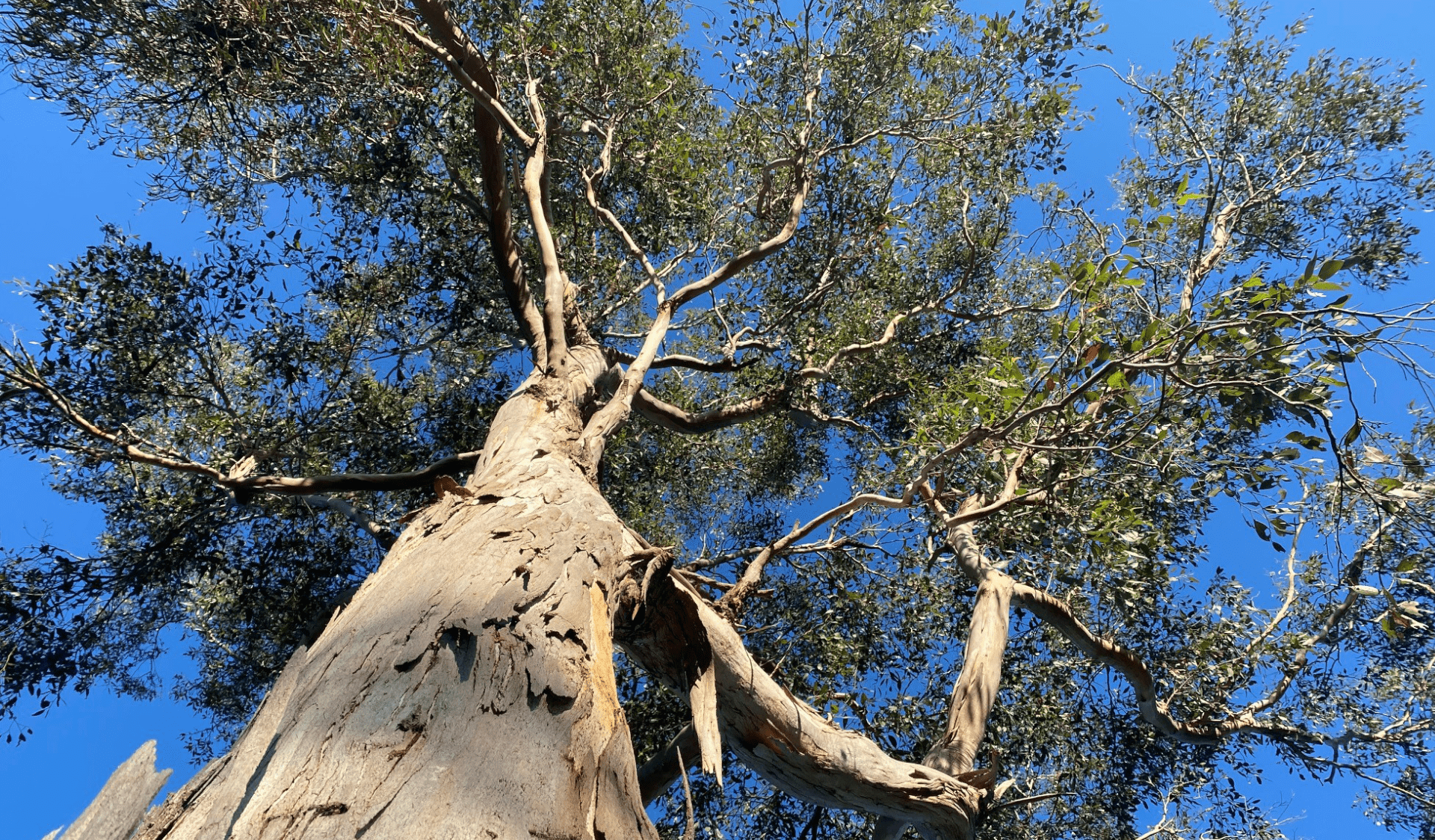 Picnic at Ocean Grove
Relax with your lunch at the picnic tables provided or bring your own wood and make use of the fire-pit barbecues. The Picnic Area Trailhead has toilets.
Tours and adventure experiences in parks
One of the best ways you can get into nature is with a Licensed Tour Operator.

There are more than 400 Licensed Tour Operators across Victoria who are ready and waiting to help you experience and connect with Victoria's spectacular parks and waterways.

Discover more than 60 different types of nature-based experiences including hiking, mountain biking, boating, four-wheel driving, indigenous culture tours, birdwatching, surfing, diving and so much more.

Licensed Tour Operators know all the best places to go and will plan and prepare your visit to ensure you are safe and can enjoy your nature-based adventure to the fullest.
Find a Licensed Tour Operator
This small, fenced bushland area is located on the Bellarine Peninsula, and is easily accessible from Ocean Grove, Queenscliff and Barwon Heads. The Reserve is 100km from Melbourne and 22km from Geelong. Reach the main entrance, car park and picnic area via Grubb Road.
When you're there
Download the Ocean Grove Nature Conservation Reserve Visitor Guide for more information and a map.
Education Excursions
This park offers curriculum-aligned ranger-guided excursions for school students. Download the Education Program to find out more and email serendipeducationcentre@parks.vic.gov.au to make a booking.
Friends of Ocean Grove Nature Reserve
The Friends of Ocean Grove Nature Reserve are a group of like-minded volunteers who highly value the reserve for its diverse flora and fauna. The Friends group work as a team to protect the flora and fauna of the reserve, ensuring it remains a vital, healthy piece of natural landscape for all to enjoy. They run a program of activities ranging from wildflower and bird walks to on-ground works such as weeding control and tree planting.
Volunteering is a great way for community members to get involved. To participate with the Friends of the Ocean Grove Nature Reserve, visit parkconnect.vic.gov.au.
Accessibility
Visiting a park can be more of a challenge for people with disabilities, however in Victoria there are a wide range of facilities to help people of all abilities enjoy our wonderful parks around the state. Assistance dogs are welcome in Parks Victoria parks and reserves. Entry requirements apply for parks and reserves where dogs are normally prohibited, such as national parks.
Anew picnic area and carpark features wheelchair friendly gates, paths and picnic tables allowing people of all abilities enjoy and experience this beautiful reserve.
The Bullock/Lake track and Currawong track are compacted gravel and are suitable for both non-motorised and electric wheelchairs. There is no designated accessible parking and toilets at present within the reserve.
Safety in nature
To ensure that you and your companions stay safe, always remember that the natural environment can be unpredictable. Before you go, take a look at our safety tips and check our changed conditions and closures information for a great visit.
How we keep it special
Help us look after your park by following these guidelines:
Dogs are to be kept on leash at all times (where dogs are permitted)
All plants, animals and other natural features are protected and must not be disturbed or removed
Take all rubbish home with you for recycling and disposal
Ocean Grove Nature Conservation Reserve Upgrade
The Ocean Grove Nature Reserve has been identified as an area of outstanding environmental and cultural significance. Find out more about future upgrades to the park.