Explore
Freshwater swimming
For an uplifting, cool dip into freshwater, turn to nature's refreshing pools for kids and families, committed hikers, walkers and cyclists. Many swimming holes are found in stunning greenery, or graceful waterfalls or rivers.
Witness one of the most photographed waterholes across the state. Lake Catani, an artificial lake in Mount Buffalo National Park is a firm favourite throughout summer, offering alpine breeze providing relief from the heat. The trek up the mountain is worth it for a rewarding day visit. Another highlight within the park is the Ladies Bath Falls, a perfect stop to splash your face, dip your toes and admire the spectacular scenery of the cascading waterfall. Be careful as the rocks can be slippery.
Turpins Falls near Kyneton is one of the most popular freshwater swimming spots in central Victoria. The water is extremely cold, but the natural beauty of the surrounding rock formations will quickly take your mind off it. Lesser known Gooram Falls within the Seven Creeks Wildlife Reserve features a beautiful series of tumbling cascades plus a picnic spot to take in the picturesque view of the waters and surrounding bushland after your swim.
Pound Bend Tunnel at Warrandyte is a popular freshwater swimming area. The shallow pools are a great spot for cool relief on a hot day. Swimmers should stay well away from the tunnel, which can be extremely dangerous, especially after rain.
Mackenzie Flat Picnic Area at Lerderderg State Park is a great spot to splash about with the kids, and the surrounding area is perfect for a family picnic after a swim.
Expedition Pass Reservoir and Vaughan Springs in Castlemaine Diggings National Heritage Park are favourite swimming spots for locals and visitors on a hot day. Visitors are pretty likely to have a wildlife encounter here, as the park is home to many native water birds and Rakali.
Freshwater swimming is an excellent way to escape the heat and with a little bit of caution, can be a fun and safe outing for everyone. Parks Victoria has established safety signage in parks and frequently shares safety messages with the public to ensure they don't get hurt while in nature, but visitors are ultimately responsible for their own safety.
Only swim in areas where swimming is permitted

Never go in the water by yourself

Beware of hidden underwater hazards like strong currents and debris

Stay within the limits of your training and experience
Freshwater swimming spots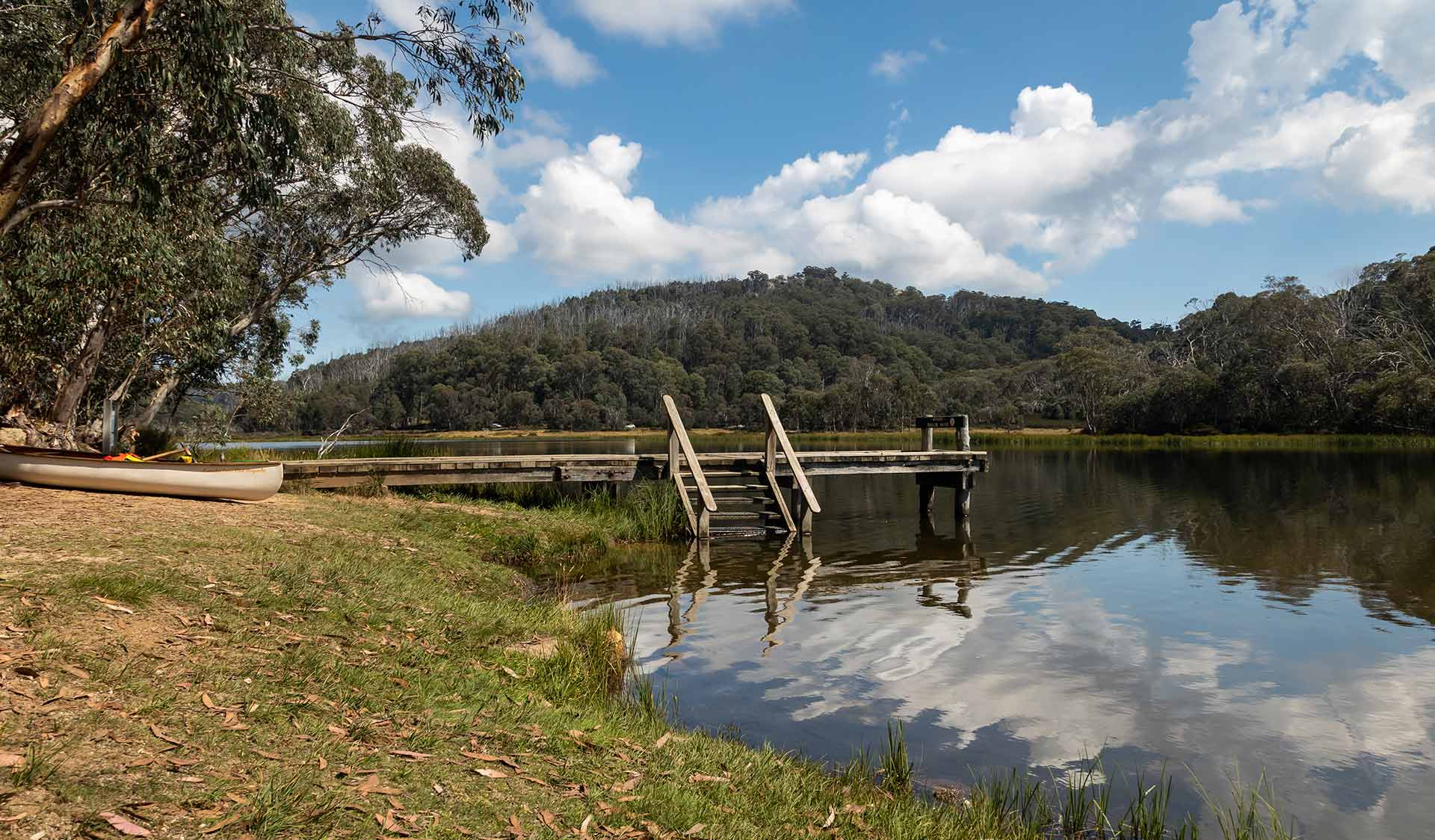 Discover magnificent waterfalls and remote alpine landscapes while camping within beautiful Snow Gum woodlands beside Lake Catani in Mount Buffalo National Park.