When planning your first ever camping trip, you'll need to know what to pack.
Most campsites have very basic facilities such as a car spot and an area to pitch your tent. Many also have picnic tables, shared bathrooms and running water, but not all. Make sure you know what facilities are available when booking your camping trip.
One of the best things about camping is its simplicity; it demonstrates that we can truly live well with less. However, with the right items, you can still create a comfortable and cosy home away from home.
We've compiled an extensive list of what you might need for your first camping trip. The more you camp, the more you'll be able to refine and tailor the packing checklist to suit your needs.
Campsite
Your campsite is your home base. When you're not exploring during the day, it's where you'll sleep, cook, clean, eat and socialise. Set it up to be a space you'll be comfortable to retire to after long days spent in the elements.
Essentials:
Tent
Hammer or mallet (to secure tent pegs)
Sleeping bag (designed for the specific climate)
Pillow
Blow-up mattress or sleeping mat
Camp chairs
Camp trestle table (if there is no picnic table)
Optional:
Lanterns (to provide additional campsite lighting to torches/headlamp)
Tarps (if your tent isn't lined with a floor, and/or for extra shelter)
Tablecloth with clips/tape to secure in wind
Rug or picnic blanket
Stretcher bed
Portable shower
Campsite items for families with kids:
Portable cot for younger kids
Sleeping bag or bedding for kids
Kids' favourite pillows and sleep toys
Portable highchair or booster seat
Cookware
Create a camp kitchen using the familiar items from your home kitchen to prepare and cook your meals and clean up.
Portable camp stove and fuel (if there are no barbecue facilities and/or fires are prohibited)
Cast-iron frypans and saucepans (great for cooking on a fire to withstand high temperatures)
Heavy duty oven mitts (great for moving pots and pans off the fire)
Waterproof matches / extra long matches kept in a waterproof container / lighter
Cooking utensils (tongs, sharp knives, spatula, mixing spoons)
Mixing bowls
Bottle opener, can opener and corkscrew
Large washing up tub
Biodegradable detergent
Sponges and scrubbers
Paper towels
Dish cloths and tea towels
Plates and bowls (reusable and unbreakable)
Mugs and cups (reusable and unbreakable)
Eating utensils
Esky (for ice, fresh food and drinks)
Plastic waste and recycling bags
Surface / water wipes
Roasting forks or skewers with wooden handles
Food storage containers / bags / aluminium foil
Food and drink
Without shops or grocery stores in close proximity, make sure you pack all the food and beverages you'll need for your entire trip. Preparing a meal plan before you go can help with quantities. Our 3-day camping meal plan is a great place to start. If your campsite doesn't have running water, you'll need to bring a water supply to hydrate, and keep good hygiene and sanitation.
Bags of ice (stored in esky)
4L drinking water per person, per day
Additional Water for cleaning and putting out fires (minimum 10L), if there is no running water
Cooking oil
Salt and pepper
Condiments
Tea and coffee
Long life milk
Packaged foods (canned food, snacks and other non-perishables)
Fresh food for open fire and stovetop cooking (see our meal plan for ideas)
Bottled drinks
Food and drink for kids:
Kid-friendly snacks
Formula or packaged baby food (if applicable)
Campfire
The warm glow of the campfire brings everyone together for a delicious meal and good conversation. It provides warmth in cooler climates and light when the sun goes down. Remember to check the rules of your campsite before you visit to see if campfires are permitted, and never light a campfire on a Total Fire Ban day.
Firewood (collecting firewood is not permitted)
Kindling
Fire starter
Extra-long waterproof matches / Extra-long regular matches kept in a waterproof container / Lighter
Fire starters
Clothing and footwear
A trip to your local camping store will give you a good idea of what clothing to pack. Always consider the weather and aim to pack your most comfortable items. Lightweight cotton pieces that can be hand-washed and air-dried on-site work well, or if exercising, synthetics/merino or activewear works best. Even in summer, the nights can get cold so remember your long-sleeve layers and weather-appropriate outerwear.
Weather-appropriate tops and bottoms
Underwear
Weather-appropriate outerwear (raincoat, insulated jacket)
Hiking shoes or boots (suited to terrain)
Sandals / thongs
Sleepwear
Socks
Gloves / beanie (for cold weather)
Long-sleeve layers (for sun-protection and warmth)
Sun hat and sunglasses
Extra clothing for kids who love getting messy
Optional:
Swimwear
Water shoes (for rocky surfaces)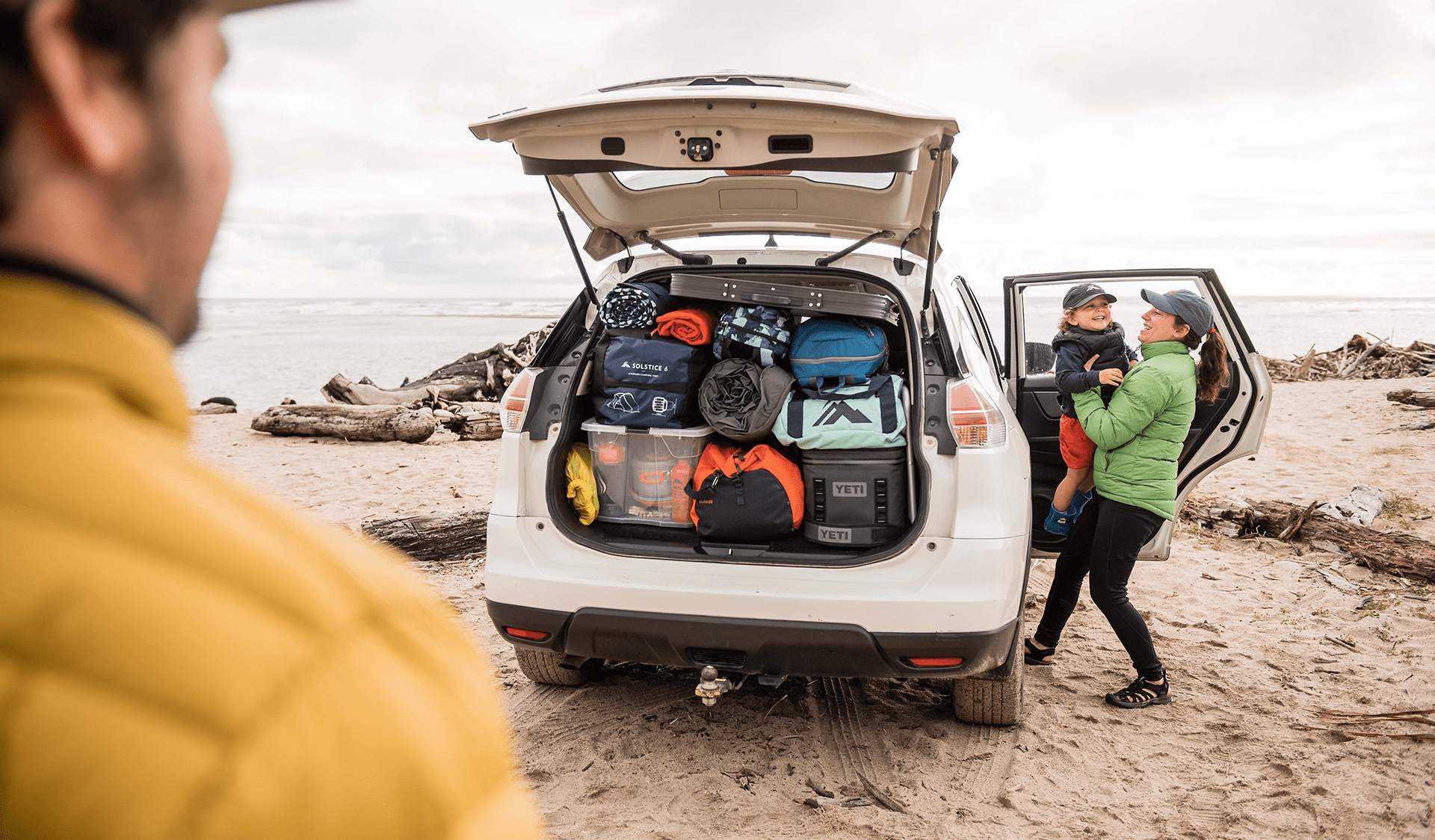 Toiletries
Camping is a great opportunity to ditch your usual skincare routine and go back to basics. A little multi-purpose, biodegradable soap and some protectants is just about what you need for a fuss-free refresh in the bush.
Sunscreen
Insect repellent
Toothbrush and toothpaste
Quick-drying or regular bath/beach towels (if there are shower facilities)
Tissues
Prescription medication
Menstrual products
Biodegradable soap
Hand sanitiser
Toilet paper
Rubbish bags
Safety
In many cases in remote areas, you won't be able to rely on streetlights and smartphones to get you places or out of trouble. Make sure you always let someone know when and where you're camping, and when you plan to return home. Similarly, let a camping buddy know when and where you're going on a hike.
Offline map (Avenza maps or download the area on Google Maps)
Torch and headlamps
Personal locator beacon if heading to remote areas or difficult terrain
First-aid kit
Entertainment
When you're not exploring the wilderness, pack items to keep you and your group entertained at the campsite. With loads of unplanned free time, you'll be invited to play, relax and socialise the old-fashioned way. Remember to respect other campers and keep noise to a minimum.
Board and card games
Books and magazines
Balls
Notepads and stationery
Music player and earphones
Camera
Entertainment for kids:
Junior Ranger's 'Make and Do' activities will help you and your family to uncover the wonders of Victoria's parks! Print out your favourite activities and take them along on your camping trip.
Bubbles
Glow sticks
Torches
Favourite games and books
Colouring books and crayons
Camera
Binoculars
Magnifying glass
Tools and Equipment
Packing the right items will mean nothing without back-up support. As well as erecting your campsite and powering your devices, camping gear is prone to punctures and tears, so you'll need the right tools to get them back up and running.
Solar / portable power pack
Multi-purpose camping tool
Spare batteries (for lanterns, torches and/or headlamps)
Hammer or mallet (for securing tent stakes)
Duct tape
Repair kits (for tent and mattress)
Extra cords (for securing a shelter, hanging or tying things down)
Dustpan and brush
Step-by-step guide for first time campers