Final stage of work underway for Rye Pier
Friday 2 June, 2023
The final stage of the reconstruction of Rye Pier on Bunurong Sea Country is now underway, with contractors starting work to renew and upgrade the outer structure.
The $3.95 million rebuild project, funded by the Victorian Government, completed its first phase in 2022 with the renewal of the pier approach.
The second and final phase will completely rebuild the rest of the pier, with all the benefits delivered in stage one, including a wider timber deck, solar lighting and safety handrails.
The pier's low landing will be extended to provide extra berthing space for visiting vessels. The pier head will be stronger too, with a new elevation to strengthen it against climate change.
To keep the public safe while work is underway, the entire pier will be closed on weekdays and the first 300 metres opened on some weekends for walking, fishing and sightseeing.
Boats will need to berth in an alternative location as the low landing will be unavailable over the coming months, with the project planned for completion in late 2023, subject to weather conditions.
Diving, swimming and snorkelling around the pier during construction is dangerous, with an exclusion zone in place for safety.
Protecting native marine life is key to the success of the project. Instead of being removed, piles will be cut beneath the low tide mark and left in place. These vertical wooden columns have been in place for decades and serve as an important habitat for marine life, including colourful seaweeds, sponges, tube worms and molluscs.
Rye Pier is a focal point which provides a positive opportunity for greater connection with the natural world by enabling people to connect with the waters of Port Philip.
As part of the reconstruction, Parks Victoria is planning a special signage trail to share what is happening in the mysterious underwater world beneath the pier and highlight why this habitat should be protected.
Learn more at https://www.parks.vic.gov.au/projects/melbourne-region/rye-pier-approach-reconstruction
Quotes attributed to Jodi Heath, Parks Victoria Acting Regional Director Southern and Maritime:
"Rye Pier is an important part of the Mornington Peninsula foreshore; we're pleased to be rebuilding the pier in keeping with its original character but with upgrades to meet current visitor demand. The new wider timber deck and sustainable solar lights, and extra low landing space mean the pier is now safer and better equipped to welcome more of the community."
"It is great to begin the final stage of works and complete this exciting project."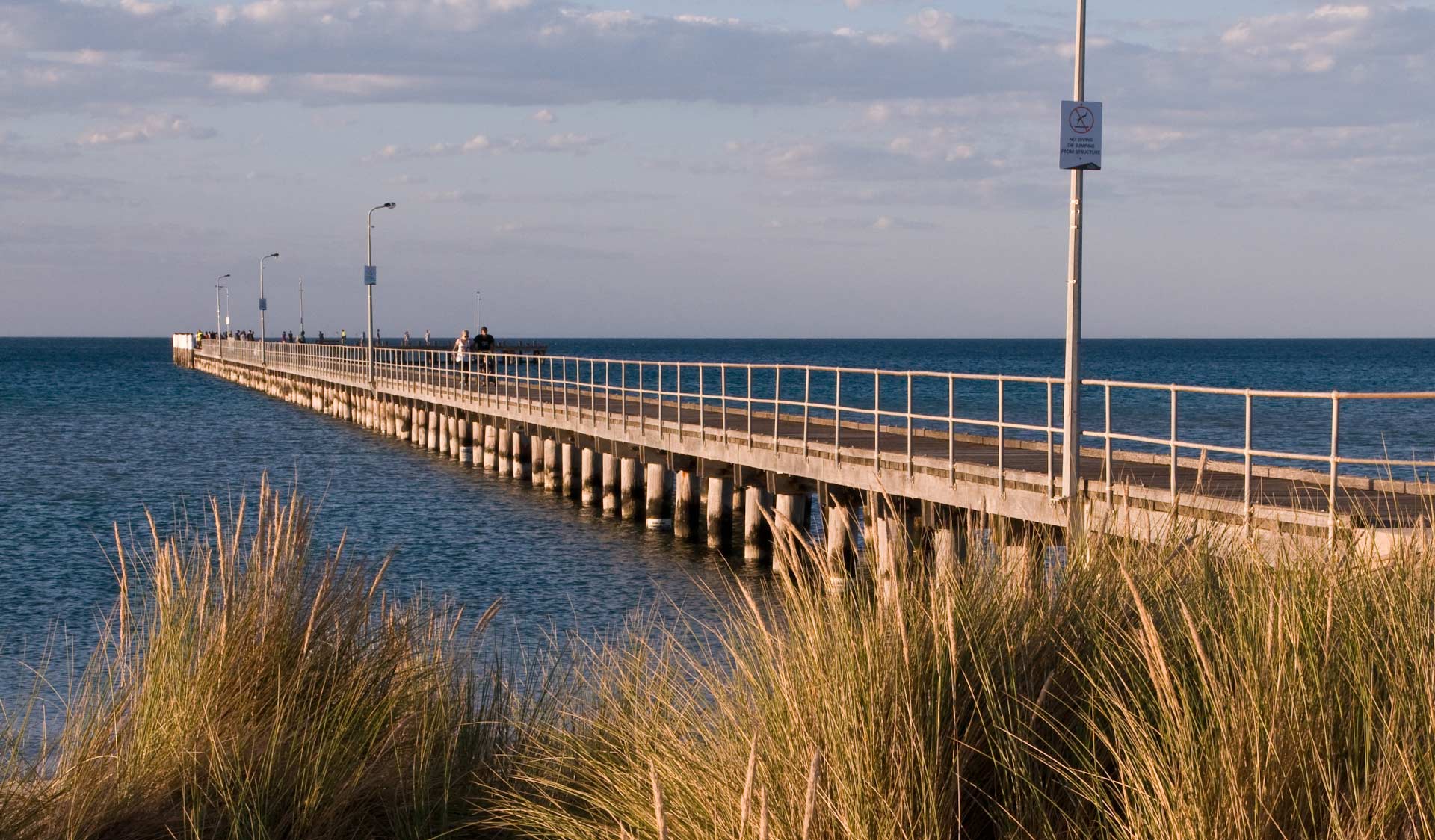 Rye Pier is in the middle of a $3.95 million rebuild. Credit: Parks Victoria