Project status
December 2022: Read the latest community news about Rye Pier
Rye Pier has reopened and the project to reconstruct the pier approach is complete. .
309-metres of the pier approach has been completely rebuilt during 2022 and is now stronger and safer. Visitors to the pier will enjoy the new wider timber deck, safety handrails and new solar lights. The rebuilt pier approach is elevated and to allow visitors to safely access the entire pier, a temporary access ramp has been installed.
With further funding the outer pier and pier head will be rebuilt in 2023, delivering an entirely new structure which is durable and safe. Once the contract for this package of work is awarded, a detailed project timeline will be shared with the community, including public access to the pier during the next stage of works. To be kept informed, please subscribe below to ensure you receive the next community update.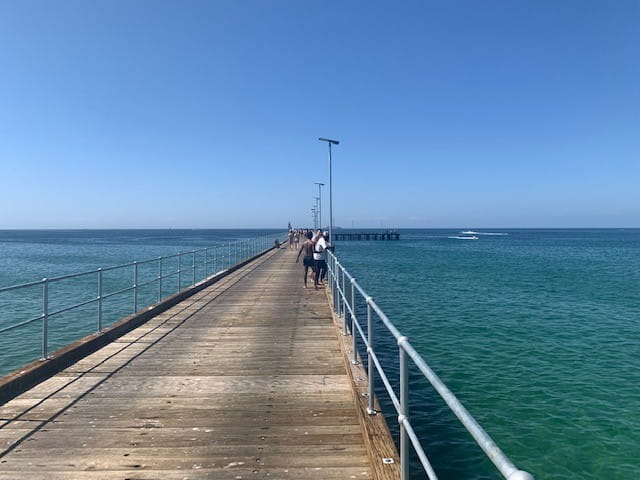 Above - Rye Pier reopens, December 2022
Background
Rye Pier is located in the town of Rye on the Mornington Peninsula in southern Port Phillip. Rye Pier, originally built in 1860 and then completely reconstructed in 1993-94, is a popular destination for the local community and visitors. The pier is 360 metres long with an 'L' shaped head. An accessible low landing was added on the eastern side in 2020, after the previous landing was damaged by storm and removed.

Today it is a popular sightseeing, fishing and swimming spot, featuring a low platform and seating for visitors. Rye Pier is an excellent day and night dive site offering beautiful underwater vistas and some of the warmest water in Port Phillip. There is a boat ramp nearby, a playground for the children and wide beaches for families to enjoy.

The pier is nearing the end of its design life and presenting signs of structural failure posing a risk to public safety. Engineering inspections identified several piles have failed which is compromising the load limits and structural integrity of the pier.

Funding has been committed by the Victorian Government under the $24 million Piers and Jetties Economic Stimulus Packages to make it safe, more durable and improve accessibility.
Key information
Rye Pier, on Bunurong Sea Country, is being rebuilt as part of the Victorian Government's construction blitz to create new jobs across Victoria and ensure the pier can remain open and safe for visitors to enjoy. The $24 million Piers and Jetties Economic Stimulus Packages support significant maintenance and safety upgrades to piers and jetties across Port Phillip and Western Port including Altona, Tooradin, Rye, Queenscliff South, Portarlington and Middle Brighton Piers.

Reconstruction of a 309-metre section of the pier inner approach walkway between the foreshore almost to the low landing, and widening the deck to 4.2 metres (1.2 metres wider than the current pier), will provide safer separation for pedestrians and vehicles and accommodate increasing visitation. A 600 millimetre lift in pier height at the rebuilt section caters for future sea level rise. Using all timber materials, nearly 200 new piles and all new beams, crossheads, capping and decking have been installed to renew the structure while retaining its traditional character.

Other improvements include construction of a ramp at the start of the pier and another at the end. More energy efficient solar public lighting and steel handrails on both sides of the pier approach provide improved safety.
Priority upgrades to this section of pier will ensure access is maintained to the areas that will have the greatest benefit to the wider community for many years to come.
Project partner and funding
Department of Transport
The Rye Pier reconstruction is part of the Victorian Government's $24 million piers and jetties economic stimulus packages.
Project stages and timing
Stage 1 works - Rye Pier Approach Reconstruction
Planning and design – Complete

Tender for

construction

– Complete

Work commences – early

February

2022

Work completed - December 2022 - Complete
Stage 2 works - Rye Pier Head and Outer Pier Reconstruction
Award the tender for construction - December 2022
Procurement and preparation - Early 2022
Work commences - February 2022
Work completed - Late 2023
Timing is estimated and may be subject to change.
Latest news
After a busy and wet winter and spring, works to redevelop the Rye Pier approach are now complete. The 309m which have been rebuilt reach the existing low landing.
New timber piles have been been installed and new wider decking is in place providing improved public safety and accessibility at this popular spot. The decking is Australian hardwood timber, which has been chosen to preserve the historical importance of the pier.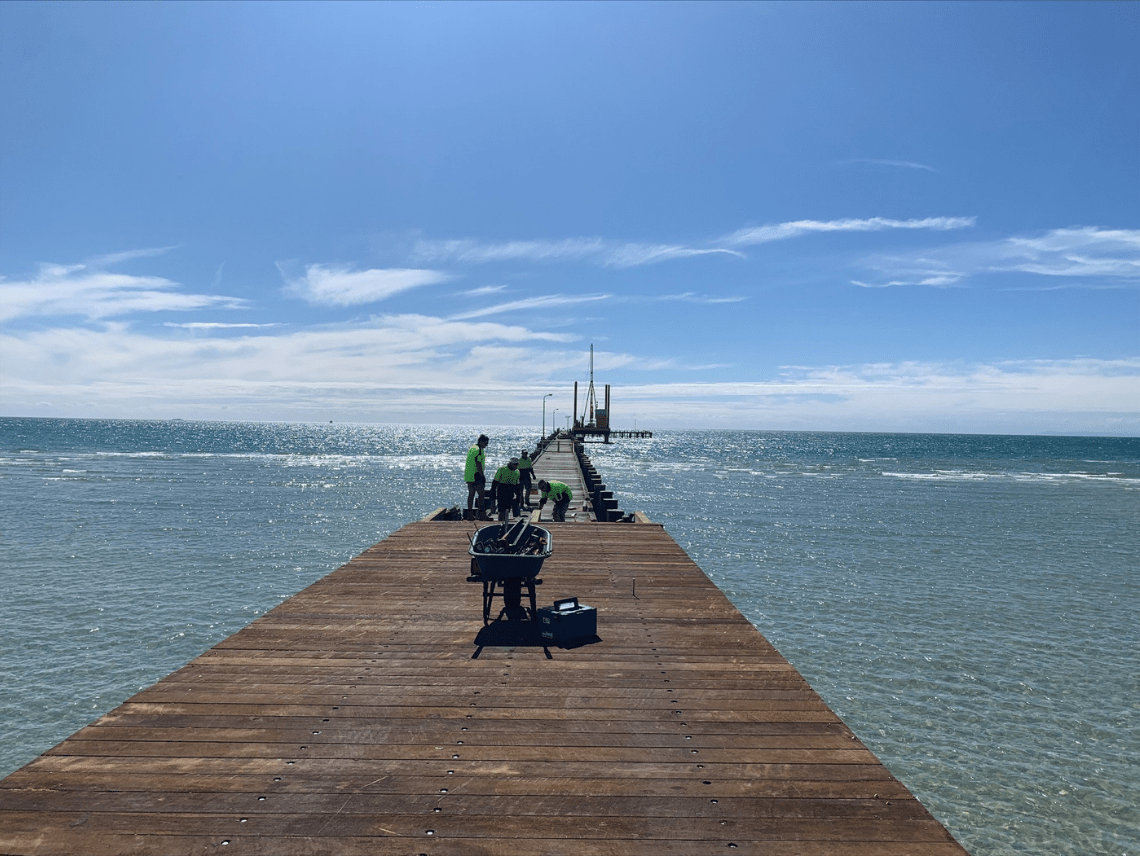 Rye Pier's new timber decking being installed.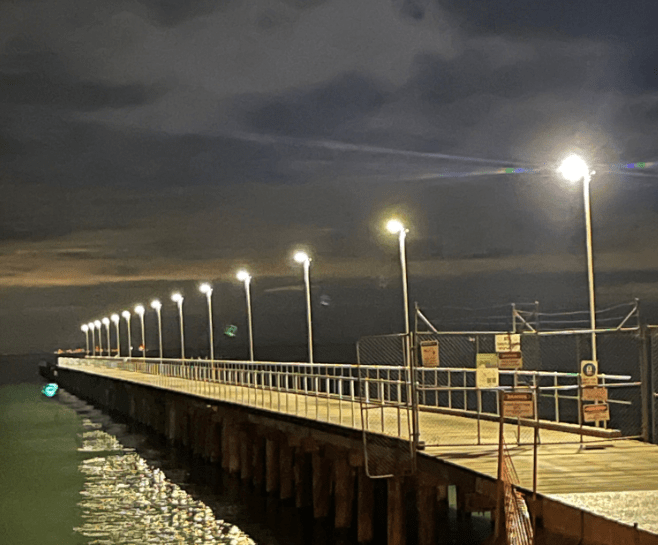 Above - New sustainable solar lighting at Rye Pier installed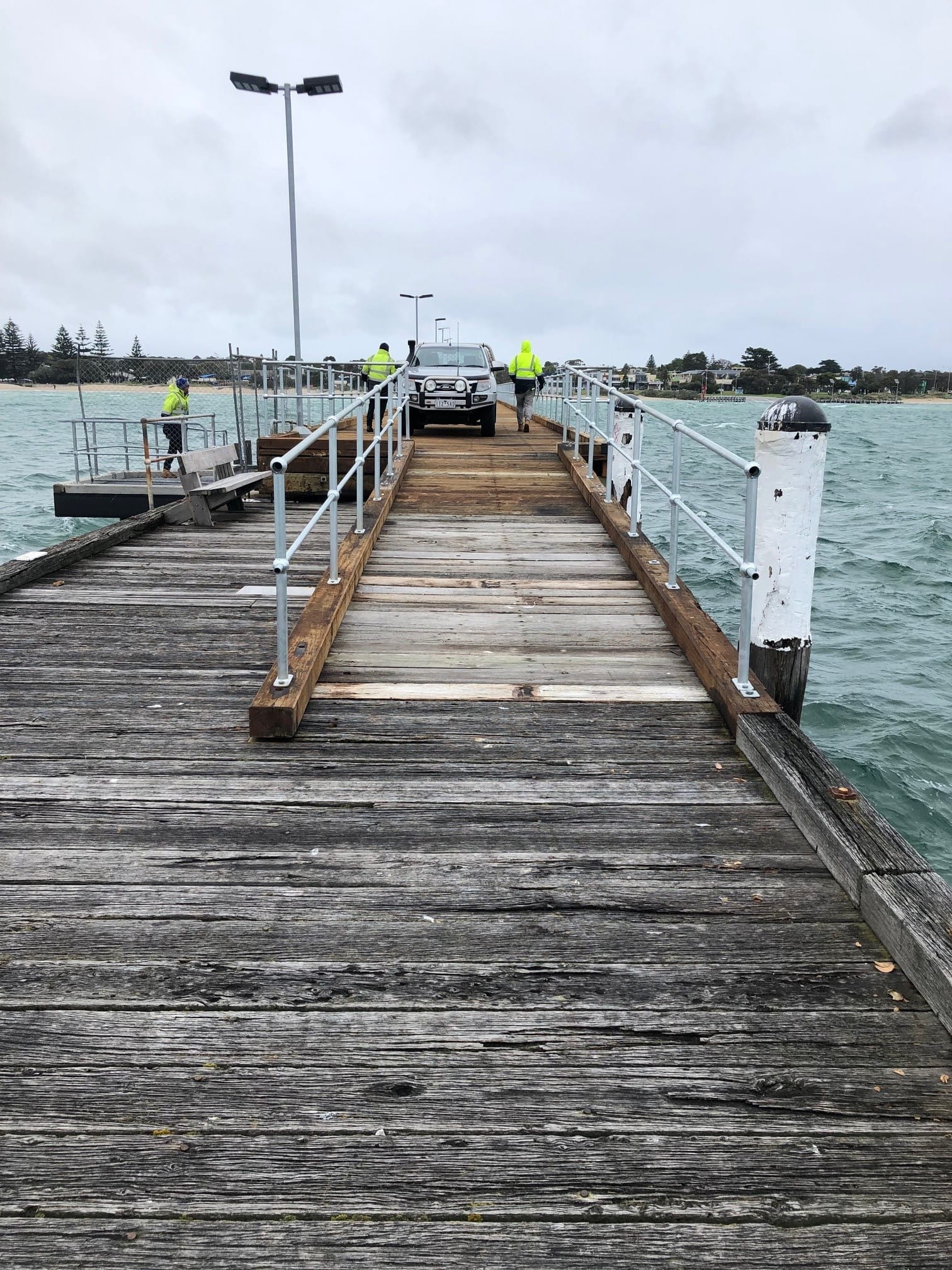 Above - A temporary ramp provides safe access from the pier approach to the lower pier head
Environmental management
Rye Pier is central to the beach and marine environmental amenity of the Mornington Peninsula on Bunurong Sea County. We know many incredible marine species rely on the artificial habitat provided by the pier, which is renowned as an ideal place to observe the Giant Spider Crab (Leptomithraxgaimardii) aggregation ahead of their annual Winter moult. This phenomenon, combined with the presence of many other incredible marine species from seasonal sightings of bottom feeding seahorses, stingrays, spider crabs and octopus through to a range of fish species, make it a popular dive location.
Consideration of the marine ecology data collected through citizen science initiatives and previous surveys, in addition to a new ecological study (Rye Pier Approach Reconstruction - retention of redundant piles as ecological habitat 2021 by CEE Pty Ltd) that was commissioned for this project has been used to consider the current marine life at the pier, important dive sites, impacts of pile removal and mitigation recommendations.
Using this information, Parks Victoria has retained a selection of the redundant piles between the 200 and 270 metre section of pier where there are the greatest identified ecological values. This is done by cutting off viable piles anywhere between 0.5 and 1.5metre above the seabed allowing marine biota attached to the existing piles to remain in their habitat with minimal disturbance and assist with recolonisation on the new piles over time.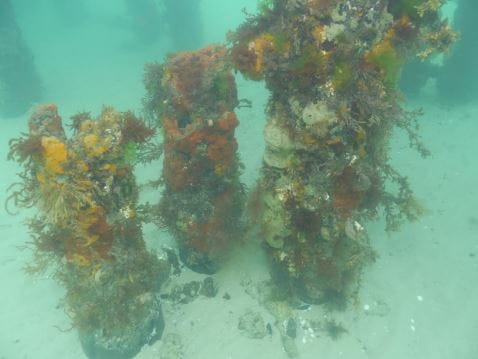 Completion of high impact work, such as piling, ahead of the anticipated annual Giant Spider Crab aggregation that generally occurs from May is planned to help minimise impacts on this natural phenomenon and the viewing opportunity Rye Pier traditionally provides at this time.
Other information
Parks Victoria is the local port manager for Port Phillip, Western Port and Port Campbell. The three local ports combined receive approximately 30 million visits a year, and include 263,000 hectares of waterway, marine protected areas, channels, piers and jetties, moorings and aids to navigation.
For further information or queries about this project email
info@parks.vic.gov.au
or you can call us on 13 1963.
Stay up to date
Related information

Places to see – Rye Pier
Rye Foreshore - Rye Township Plan | Shape our Future
Rye Pier Approach Reconstruction - retention of redundant piles as ecological habitat 2021 by CEE Pty Ltd
Frequently asked questions
Is the entire pier being rebuilt or just the pier approach?
In 2022, stage one has delivered a rebuilt pier approach but further works are planned after the busy summer holidays. In early 2023, stage two works will commence and will complete the reconstruction by rebuilding the outer pier and pier head.
What access will be available to the pier during the stage 2 works?
More details will be shared once the works contract is awarded and a detailed project timeline is known. Often a complete pier closure is necessary when construction commences to ensure public safety. The closure will allow repairs to be done with minimal interruptions so that the pier can be reopened as quickly as possible and minimise disruptions to the community and marine life, and allows for anticipated delays caused by weather and timber availability.

What impact will the works have on the heritage values of the area?
Parks Victoria recognises the heritage character timber piers like Rye Pier provide and is committed to ensuring these values are preserved. While Rye Pier is not heritage-listed, adopting an all-timber reconstruction approach, including for the piles, crossheads, beams, decking and capping, will retain the 1990s character of the pier.
Will the raised height of the pier still be DDA accessible compliant?
Yes. A ramp will be constructed where the pier entrance meets the foreshore, and another installed at the end of the rebuilt section before the low landing to connect with the existing lower pier head and low landing. The two ramps will ensure continued all-abilities access to the varying levels of the pier.
How are these works being considered as part of the overall Rye foreshore redevelopment?

Parks Victoria is working with the Mornington Peninsula Shire Council to ensure the improvements complement and integrate with the Rye Foreshore redevelopment currently being planned.