Banksia Park Cherry Grove
Friday 16 October, 2020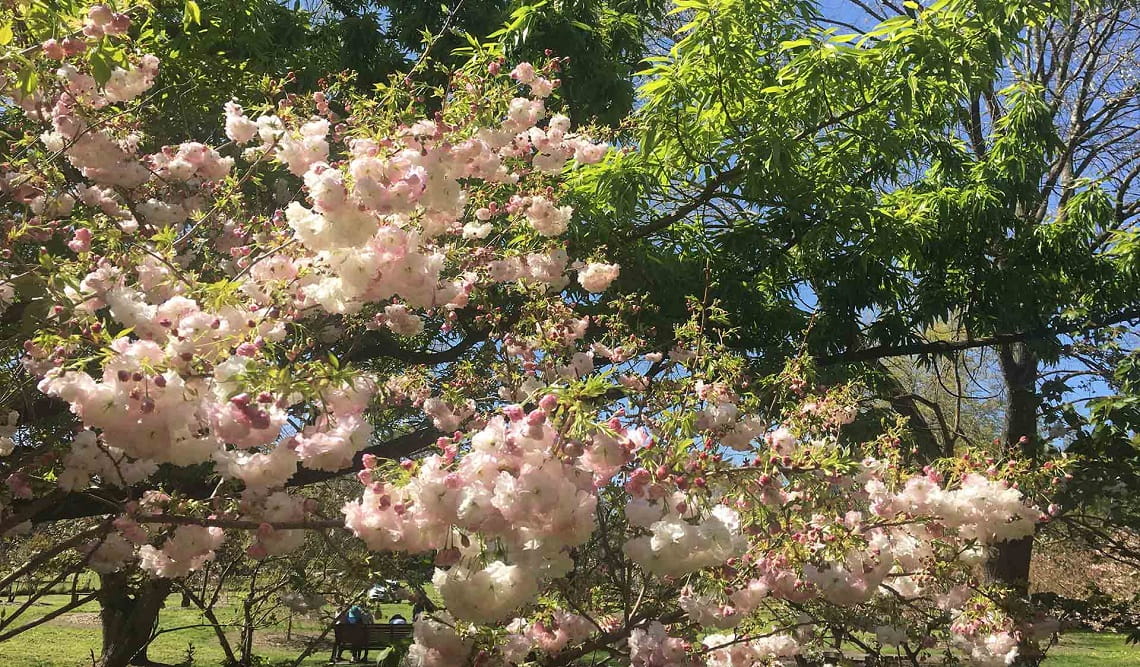 Cherry blossoms in Banksia Park, Wurundjeri Country.


The delicate blossoms of Banksia Park's cherry trees may be fleeting, but the history of this beautiful grove tells a story of resilience and lasting friendship.

In February 1980, the Japanese Government donated 100 flowering cherry trees to the people of Victoria to mark the visit of the Japanese Prime Minister Masayoshi Ohira. Having fought disease, drought and relocation in their 40-year life, the trees are now being maintained and cared for by a dedicated group of volunteers and Parks Victoria rangers.

The Cherry Friends started in 2015 when a group of Japanese-born residents began feeding and hand watering the trees, vastly improving the health of the grove.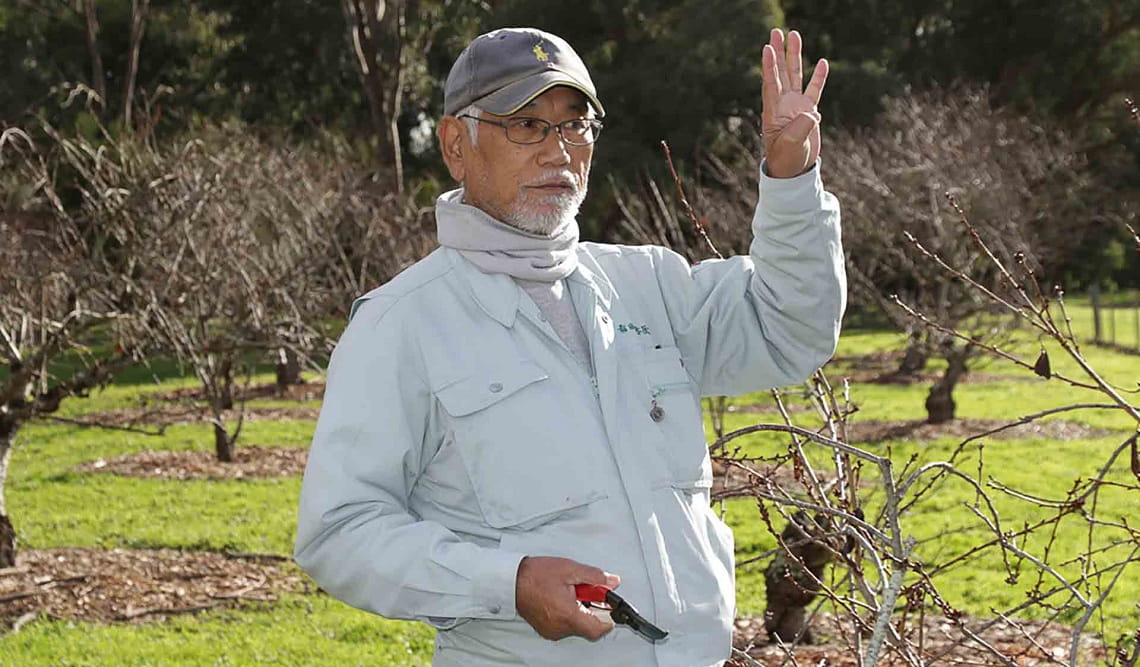 Visiting Japanese Arborist, Mr Kazumi Arita gives a pruning masterclass to staff and volunteers.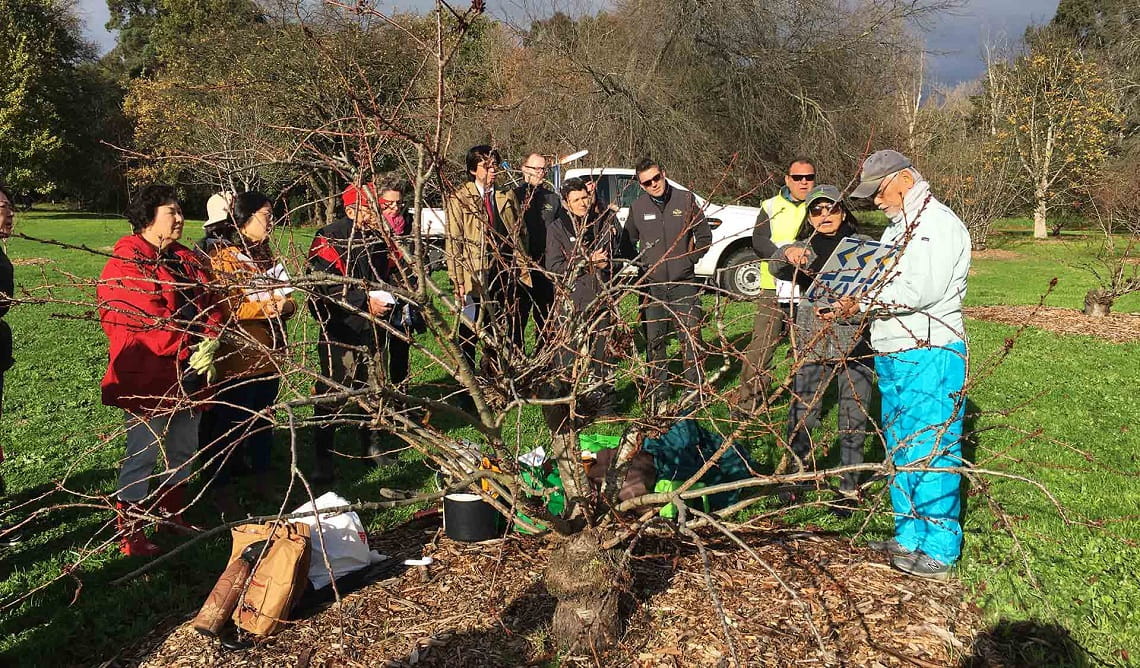 Mr Kazumi Arita demonstrates the specific pruning techniques for cherry blossoms to Parks Victoria staff and the Cherry Friends volunteers.
Since 2018, the Cherry Friends has hosted a visiting arborist from Japan to conduct a pruning masterclass with Parks Victoria rangers and the volunteers. This labour of love is celebrated at an annual 'Sakura' (cherry blossom) Picnic Day.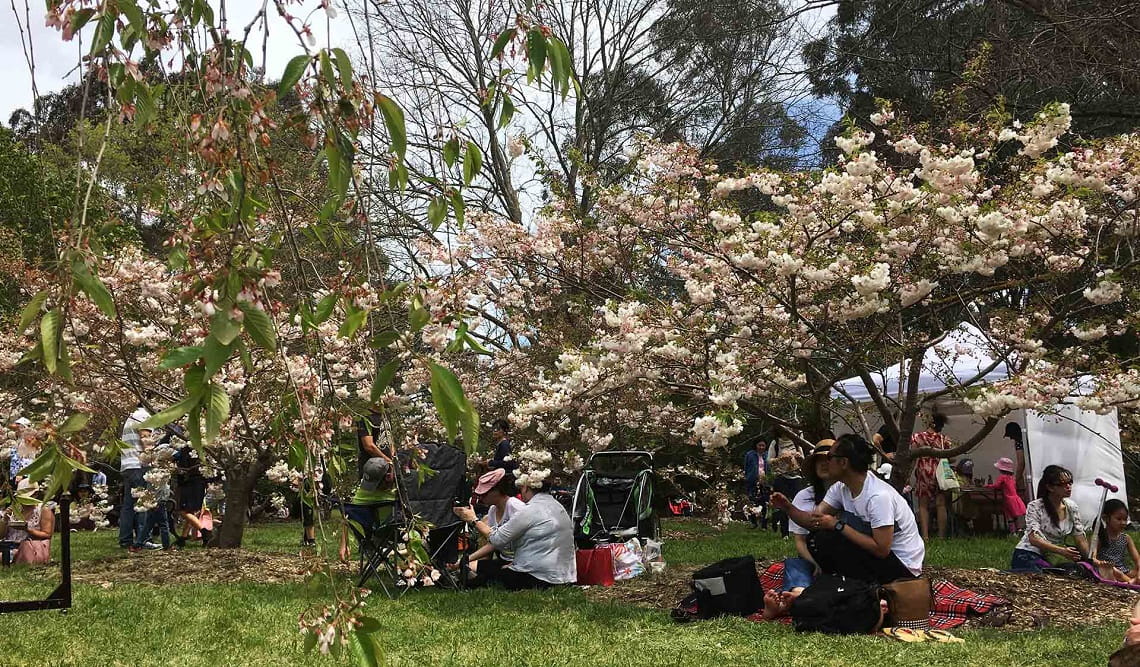 Visitors gather under blooms at Banksia Park for the annual 'Sakura' (cherry blossom) Picnic Day.
The Sakura Picnic Day in Banksia Park is a community event which has been hosted by the Australia Japanese Society and the Japanese Society of Melbourne since 2015, to celebrate spring and multicultural Melbourne.
Parks Victoria Rangers are proud to work with the volunteers, learning skills that will ensure traditional pruning methods are used into the future. This guarantees beautiful blooms and that the trees are in optimal health.
Plan a visit to Banksia Park in the Yarra Valley Parklands on Wurundjeri Country. As a vital wildlife corridor, many iconic Australian animals may be spotted during your visit. Among the cherry trees, there's a wide variety of other plants that provide a calming environment for locals and park visitors to enjoy - including the thousands of visitors who visit the Heide Museum of Modern Art each year.