Head offshore and get closer to nature
Monday 15 March, 2021
Need a breath of fresh sea air? One of Victoria's most underrated nature escapes isn't even on the mainland - but French Island National Park is closer to Melbourne than you think.
Swap the noise of busy urban life for the peaceful tranquility of French Island National Park, on Bunurong Country. A short ferry ride from Stony Point, 70km south-east of Melbourne, brings you to an island paradise of thriving and diverse natural landscapes, wildlife and quiet beaches you only need to share with seabirds.
French Island National Park is located in Western Port, just off the Mornington Peninsula. Its diverse and ever-changing landscape is shaped by water, from rocky shorelines and sandy beaches to mangroves, saltmarshes and wetlands that shift with the tides and seasons.
Heaths and open woodlands provide a home for wildlife, such as the Long-nosed Potaroo and Victoria's most significant koala population. It's a nature-lover's wonderland, with more than 580 indigenous plant species, including over 100 native orchid species. Over 230 bird species have been recorded on French Island, including rare birds such as the White-Bellied Sea-Eagle, King Quail and the Orange-Bellied Parrot, as well as 33 species of waders which forage along the coast at low tide.
Pack a picnic and plan a day trip to enjoy the short, half or whole-day walks from Tankerton Foreshore Reserve. Visitors cannot take their car onto French Island, adding to the feeling of remote seclusion and adventure.
If you need longer to explore the island's rich, diverse and unspoiled natural landscape, bring your tent for a beachside base-camp at the Fairhaven Campground, 5km from the jetty. Take the extra time to experience life side by side with nature. Even a wander to the local general store for supplies gives you a chance to spot koalas, Purple Moorhen, Swamp Harriers or Cape Barren Geese.
Discover a variety of island habitats on foot by bushwalking through heathland and woodland along the 5km Old Coast Road track, or follow the shoreline along Fairhaven Beach at low tide to see the roosting shorebirds without disturbing their nests. Bring long pants and sturdy boots for the West Coast Wetlands Walk (9.6km) and follow the undulating path, rising to the Pinnacles at 60m above sea level for expansive views of Phillip Island, Western Port and the wetlands below.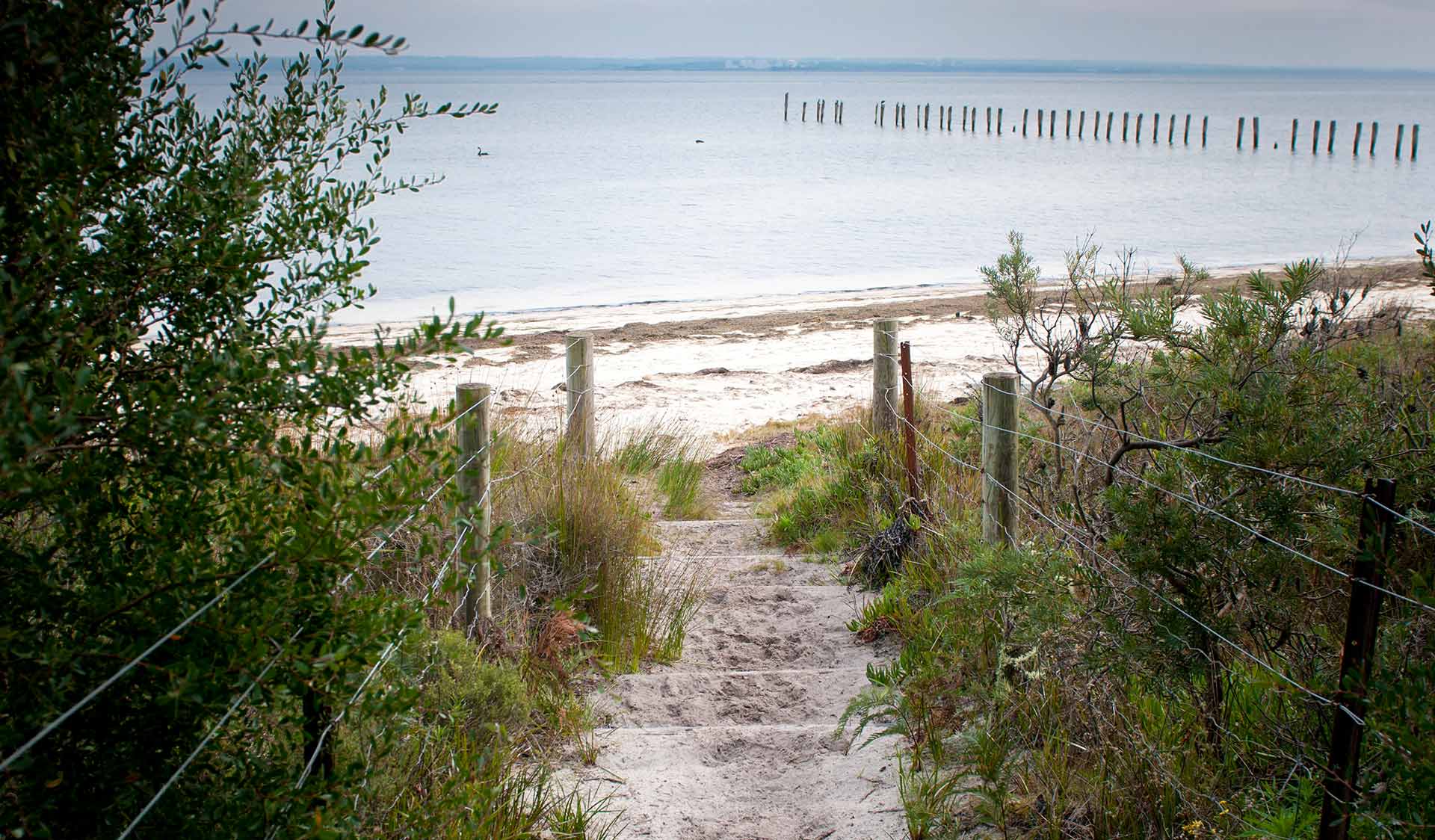 Prefer to take the road-less-cycled? Bring your mountain bike and explore French Island via the roads and cycleways. Whatever your fitness level and time to spare, there's a route to suit, from the Redbill Manna Gum Woodland Ride (8km) to the full-day Gartsides Ride (24km). Cycle through diverse and pristine protected landscapes, stopping to watch wildlife and admire the view over the sea. That distant mainland will feel a world away from the idyllic retreat of French Island.
Start planning your next nature escape. Visit the French Island National Park page to learn more.