Storytelling through art and song at Brambuk
Monday 22 August, 2022
During NAIDOC week, Brambuk: The National Park and Cultural Centre saw Traditional Owners, community members, and visitors connect, share stories, and celebrate creativity on Country in Halls Gap.
Following on from the hugely successful summer series, attendees joined workshops and performances – sharing in cultural knowledge through art and music. Each session inspired a deeper connection to culture, the Gariwerd cultural landscape, and Brambuk.
Acclaimed Keerray Woorroong, artist Sherry Johnstone taught the meaning behind Aboriginal symbolism. By sharing her story and explaining the use of cultural symbols, participants were invited to intersect symbols to stories from their own lives. Attendees shared experiences by yarning, drawing, and connecting with one another. Each person continued their own storytelling by creating a piece of art which incorporated symbolism to instil a deeper meaning.
A workshop on Aboriginal artefacts taught the significance of cultural objects. Kirrae Whurrung / Gunditjmara song man and facilitator Brett Clarke imparted cultural knowledge through deep truth telling, educating participants on the importance of traditional tools for cultural practice including clapsticks, boomerangs and coolamons.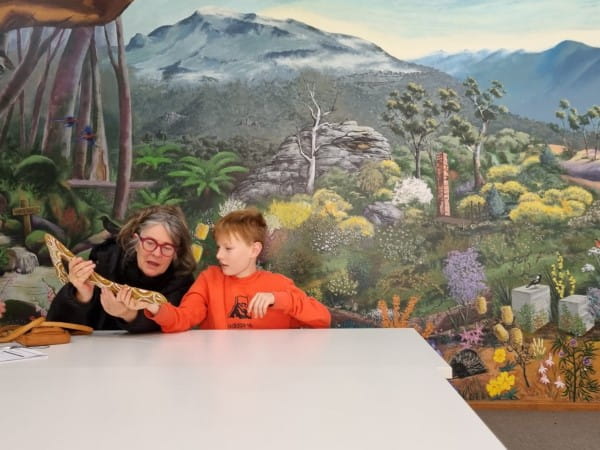 Participants had the opportunity to learn and see important Aboriginal artefacts
Surrounded by the Gariwerd landscape, the living culture and history of Brambuk came to life through musical performances by Andy Alberts and Lee Morgan.
A return performance from one of Brambuk's beloved artists, Gunditjmara Koorie songwriter Andy Alberts brought joy to the entire audience. Andy - who has been performing at Brambuk since it was first opened in 1990 - recalled memories of his time both at Brambuk and on Country throughout his performance. A true storyteller, his beautiful country vocals and lyricism evoked the spirit of the old days at the cultural centre.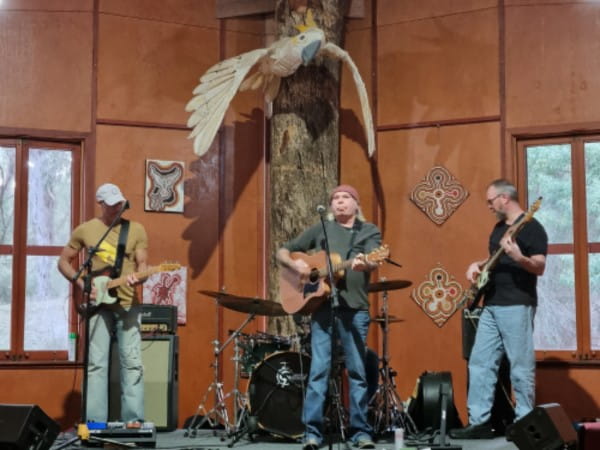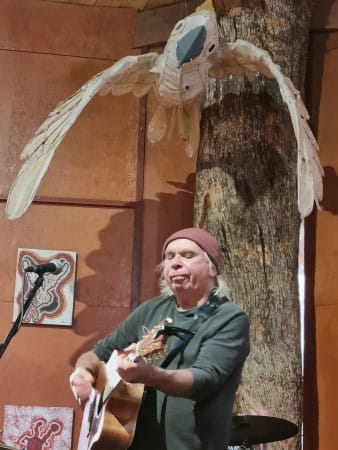 Andy Alberts performing his country music to the crowd.
With his powerful rock sound, enthralled audience members experienced Lee Morgan's loud and dynamic set with sound reverberating throughout the Brambuk centre. Speaking to truth, Lee a proud Gunditjmara / Kirrae Whuurung artist, talked to his lived experience growing up on a mission and the journey which his music has taken him until now.
A highlight for many was the Acknowledgement of Country facilitated by Brett Clarke. With a smoking ceremony and acknowledgement of the different Gariwerd cultural groups in his traditional language, Brett welcomed visitors and community members in the spirit of NAIDOC week.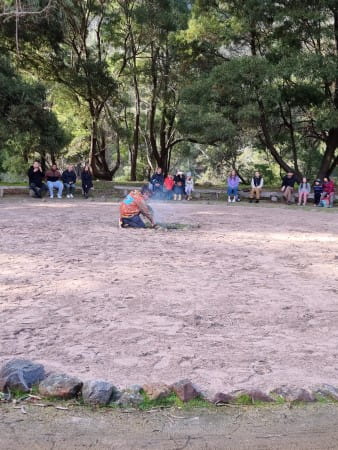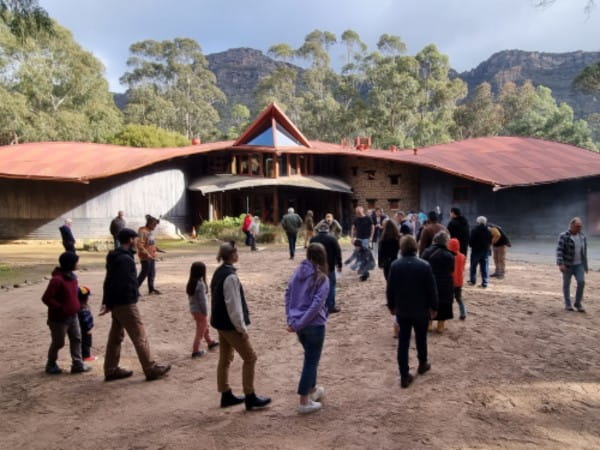 Visitors participating in the smoking ceremony
Brambuk: The National Park and Cultural Centre was designed collaboratively with the Traditional Owners of Gariwerd to celebrate the cultures of the Jadawadjali and Djab Wurrung Peoples.
Consultation with Gariwerd Traditional Owners has commenced as part of a project to upgrade and reinvigorate the Brambuk precinct.
Barengi Gadjin Land Council, and Eastern Maar and Gunditj Mirring Traditional Owners Aboriginal Corporations are working together through a strategic partnership committee to guide the future of Brambuk.
Aboriginal arts and cultural experiences and programs, new spaces and facilities for Traditional Owner community members and visitors, and events will be developed as Brambuk moves towards operation by a new Traditional Owner business that will be accountable to the three Gariwerd Traditional Owner Corporations. Learn more about Brambuk.