Five ways to wellbeing this Spring
Thursday 29 September, 2022
This spring, why not think about how you can increase your wellbeing by spending time in nature?
Five Ways to Wellbeing – Connect, Be Active, Take Notice, Keep Learning, Give - is a well-established, evidence-based model that identifies the behaviors which increase our physical and psychological wellbeing.
Science tells us that spending time in nature, as well as understanding and caring for our environment, has a powerful effect on our mental and physical health.
Discover some some tips to boost your wellbeing when you're in the wilds of nature this spring!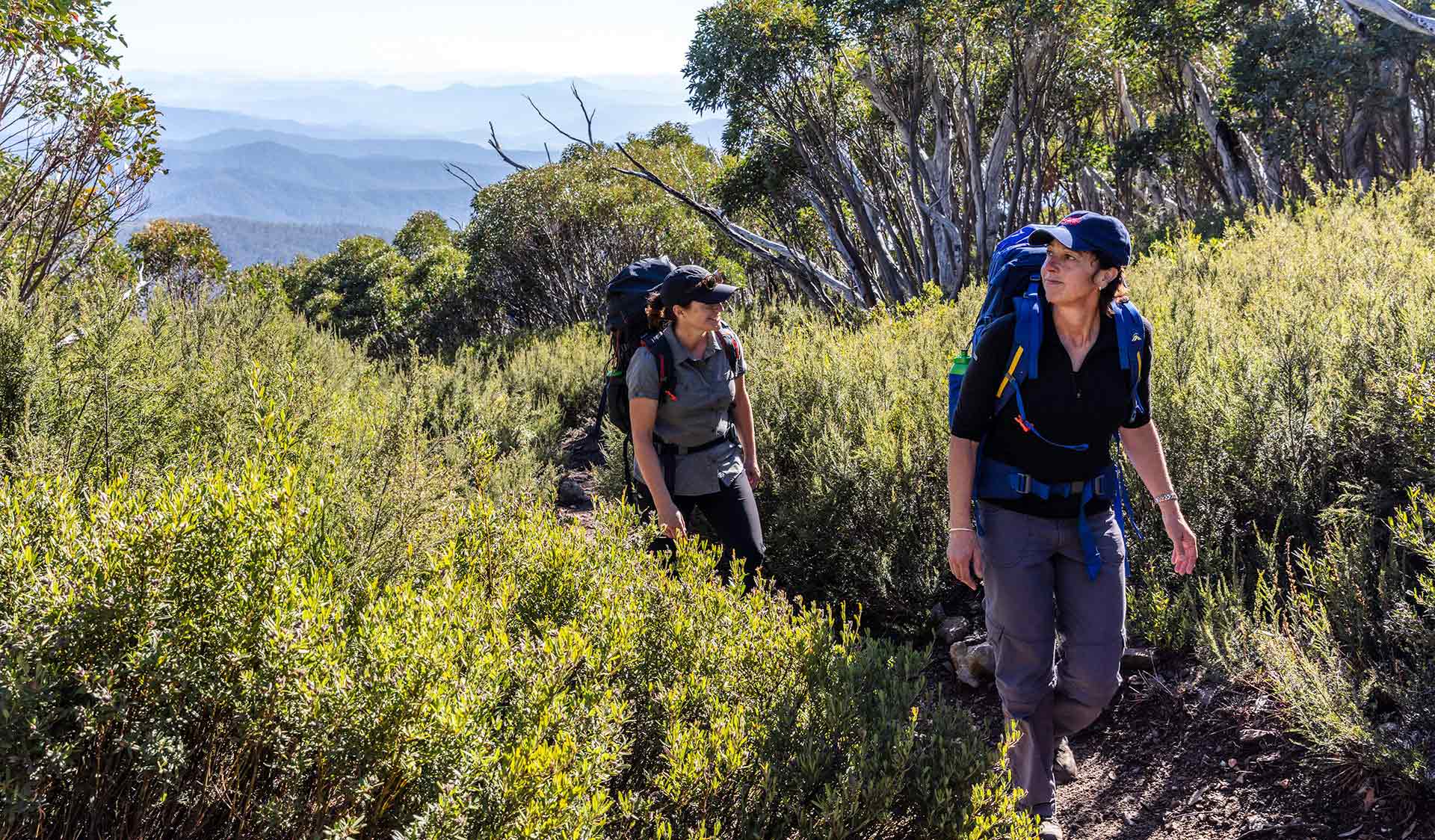 1. Connect
Camping is a great way to connect with others, with yourself and with the natural world. Without the constant barrage of everyday distractions, it becomes easier to connect.
The act of sharing stories around the campfire or under the stars is a fabled and sacred space in some cultures. It might be a great place to make or sustain those special connections in your life. Peak season bookings for camping sites are now open, you can book here.
2. Be Active
Walking in nature is a great way to be active, stay fit and keep healthy. Park Walks are free group walks, guided by our trained volunteers.
Enjoy learning about the stunning scenery, breathe in fresh air and, if you are lucky, see the local wildlife. Come with a friend or meet new people. Take a look at the variety of locations Parks Walks are held and make your booking here.
3.Take Notice
Kinglake National Park Ranger Tony Fitzgerald says, "mindfulness has never been more needed" and has put together a seven-day program to help you be mindful in nature. Tony has decades of practice in the field of mindfulness and meditation in nature.
Like all our rangers, Tony is a front line conservation worker. Park rangers have a special responsibility to manage the natural environment and everything that grows and lives there. They look, listen, observe, monitor. In other words, they take notice.
Why not give Tony's 7 Days of Mindfulness in Nature a try? You might be surprised by how much you change in just a week.
4. Keep Learning
You may have a special spot in the bush, but do you know the Aboriginal name for Country? Country is the term often used by Aboriginal peoples to describe, not just the lands and waters to which they are connected. Using traditional place names is a powerful reminder that we are, and always have been, living on Aboriginal land. Wherever you are, you can acknowledge First Peoples and connect with Country. To find out what Country you are on, go to the Acknowledgement of Country Map.
Ranger Ebonee, a proud Wadawurrung woman, explains her cultural connections at Wurdi Youang/You Yangs Regional Park and why she believes, it's an important and shared role and responsibility we all have for caring for Country and looking after Country.
5. Give back
Have you considered becoming a volunteer with Parks Victoria? Volunteering your time to make a difference to the things you care about can make a difference to your wellbeing. Environmental volunteering meets all of the Five Ways to Wellbeing and Parks Victoria has hundreds of exciting activities around the state for every age, skill and ability.
As a volunteer with Parks Victoria you have the opportunity to contribute to citizen science when you're out in nature. Citizen science is a fantastic way to explore nature and help scientists at the same time.
Science is a great way form your experience. Spend some time before your visit to research the topography, petrology, geology, geography can give new meaning to mountain ranges. Take a bird spotting book out with you. So much to learn and information to share with others.
Being out in nature, learning about Country, getting out into the bush, taking a long hike, hoisting the sails, collecting data for science. Whatever form the journey takes, however long it takes to get there, the benefits of nature are clear. Enjoy your wellbeing journey this spring.