Floods and storms in Victoria's parks and reserves
Thursday 8 December, 2022
Widespread flood, storm, and wind events are impacting public land across Victoria and will continue to do so for the coming months.
Some of Victoria's most popular national parks have been significantly impacted by recent storms and are closed or have limited access. Extreme weather has damaged roads, tracks and visitor facilities managed by Parks Victoria as well as the environment and cultural heritage.
The current situation: 8 December 2022
Parks Victoria's Director of Fire, Emergency and Enforcement David Nugent has been managing the organisation's response to the current situation.
'We are yet to see the flood peak in some parts of Victoria, such as along the Murray River in north-west Victoria. This summer will be different for Victorians. Above average rainfall is expected to continue into January 2023, which means that your favourite spots may not be accessible or safe to visit. As safety is our top priority, we're asking people to plan ahead and be prepared for changing conditions.
'Flood waters will take time to recede. Then recovery work will begin to reopen our campsites, visitor areas and access roads,' David said.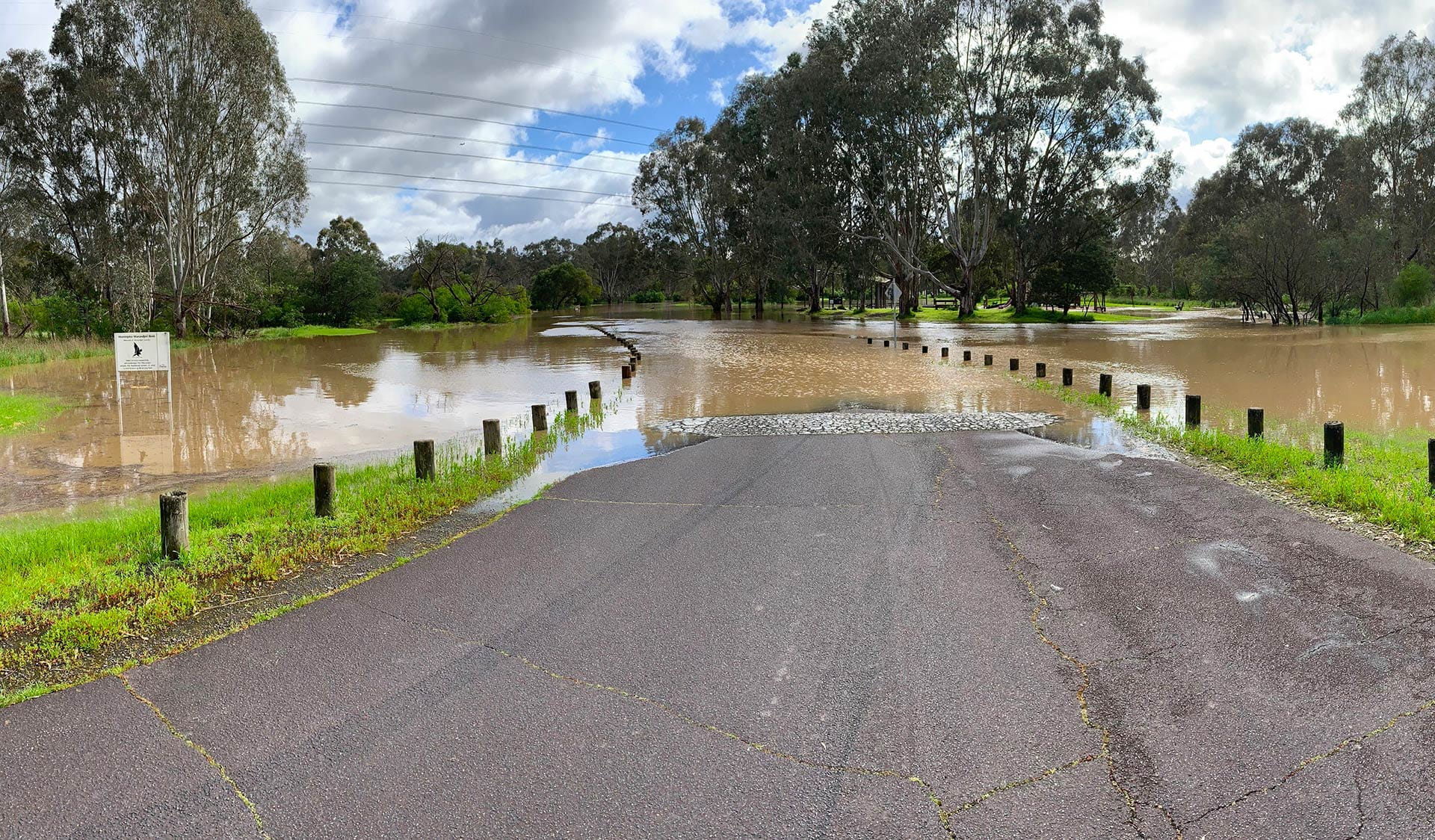 Flash flooding across Melbourne saw sections of the Yarra and Maribyrnong rivers spill over, submerging surrounding areas and communities with polluted water.
Photo taken by District Operations Leesa at Birrarung Park, Wurundjeri Country on 19 October 2022.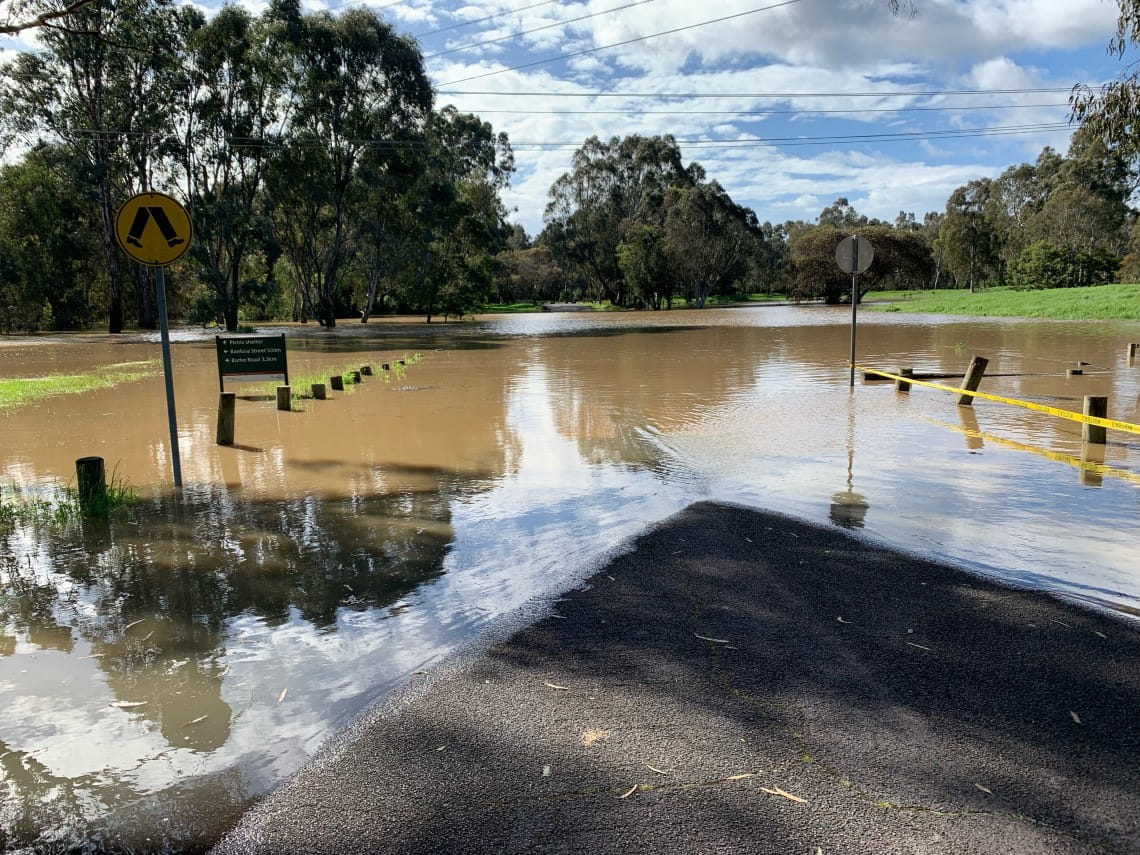 Photo taken by District Operations Leesa at Yarra Flats in Yarra Valley Parklands, Wurundjeri Country on 28 October 2022.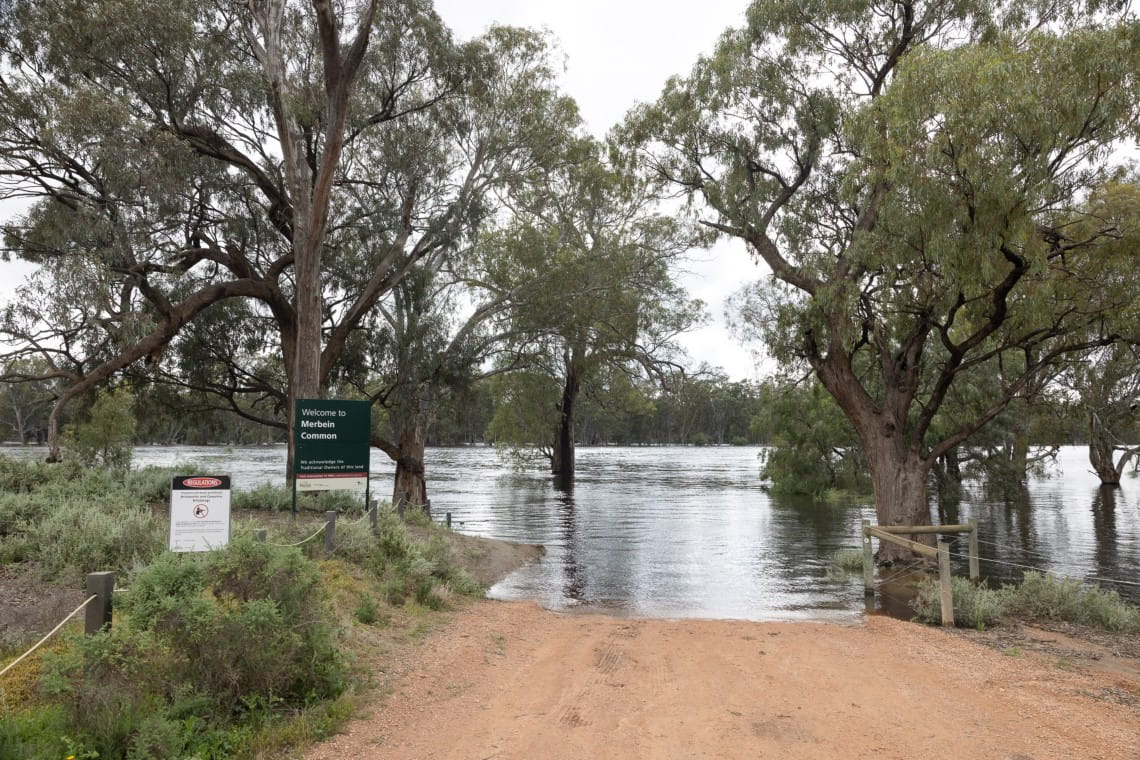 Northern Victoria has seen the greatest impact, with riverine flooding yet to peak. Places along the Murray River can expect the water to rise another two meters in the coming weeks. This includes Merbein Common (above) on the Country of the First Peoples of the Millewa-Mallee, Mildura.
Photo taken by Digital Content Producer Nick on 21 November 2022.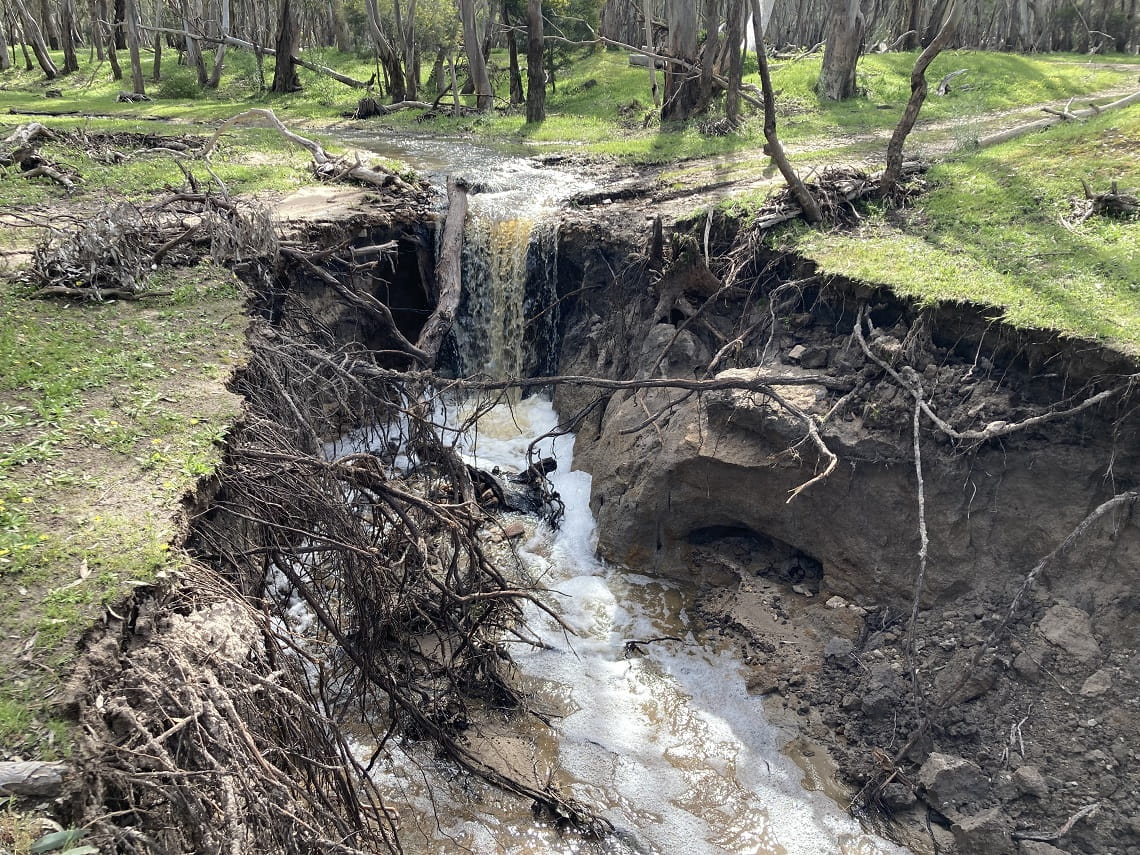 At Kooyoora State Park (above) Djaara Country, ground saturation has caused an ongoing sinkhole risk. Rangers are undertaking impact assessments and initial make safe works, but there will need to be a drying out period before recovery works can get underway.
Photo taken by Ranger Lachlan on 12 October 2022.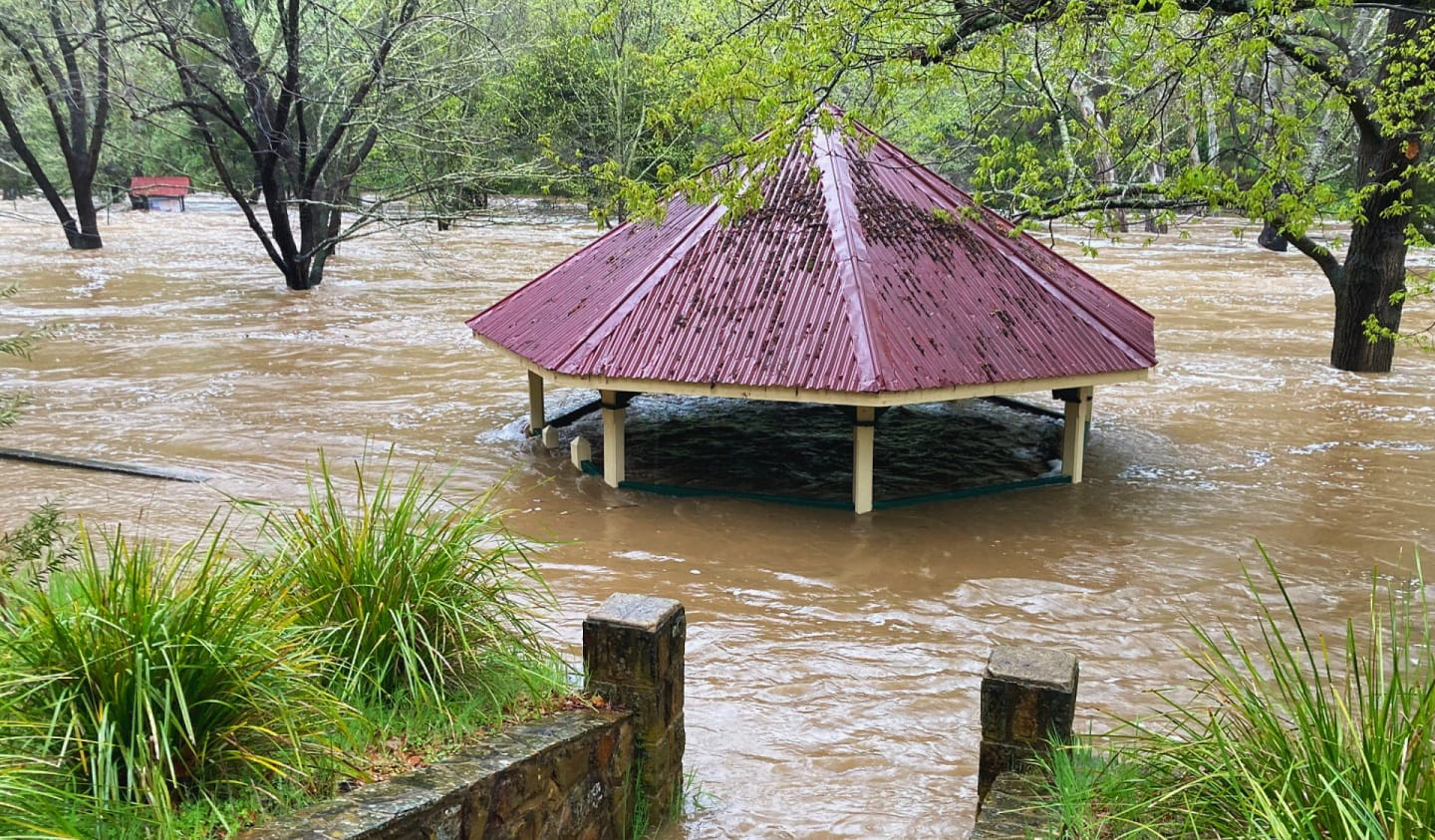 Flooding has impacted most of the main visitor areas at Vaughan Mineral Springs Reserve, Castlemaine Diggings National Heritage Park on Djandak Country. The road, carparks, campgrounds, toilet septic systems and pumps have been inundated with flood water, which has also polluted the mineral springs.
Photo taken by Ranger Team Leader Jamie at Vaughan Mineral Springs Reserve on 13 October 2022.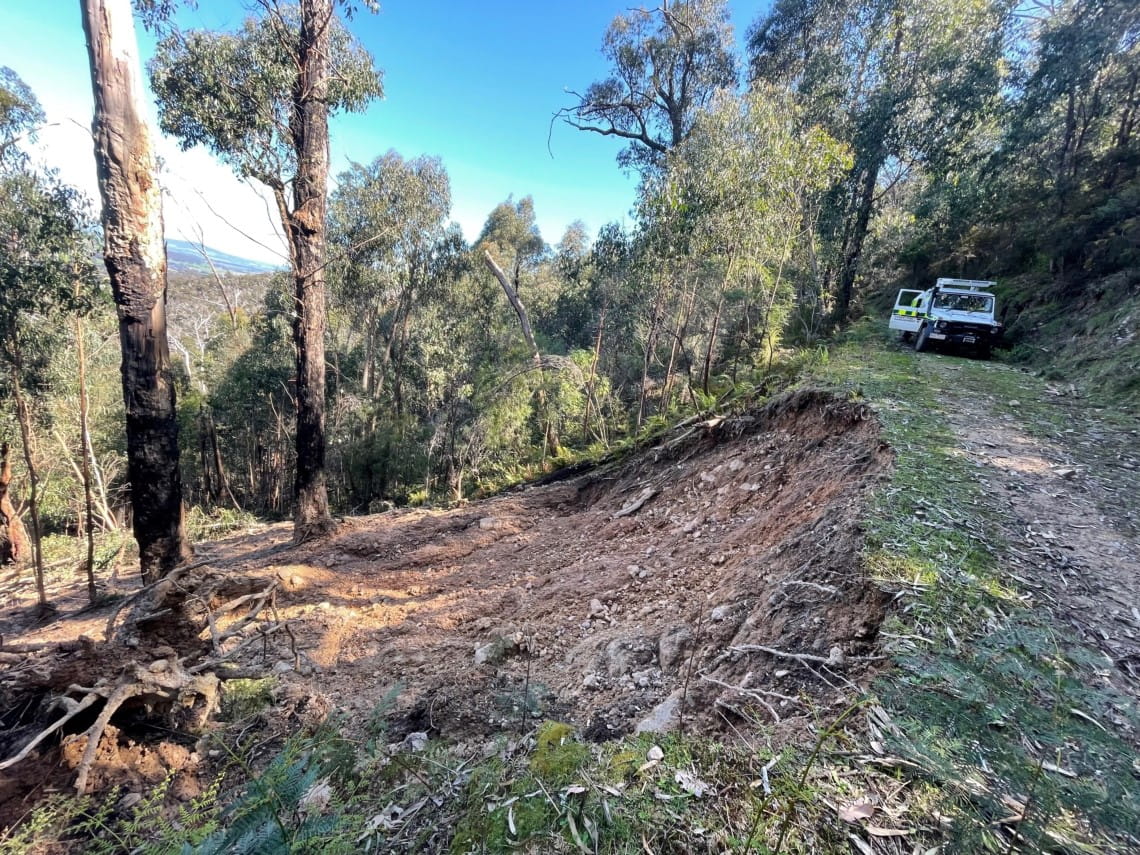 In Eastern Victoria, heavy rains and flooding have softened and loosened soil. This is damaging roads and tracks with dangerous landslips, potholes and sinkholes. An example of a landslip can be seen at Brock Spur (above), Kinglake National Park, Wurundjeri Country.
Photo taken by Ranger Team Leader Mathew on 20 October 2022.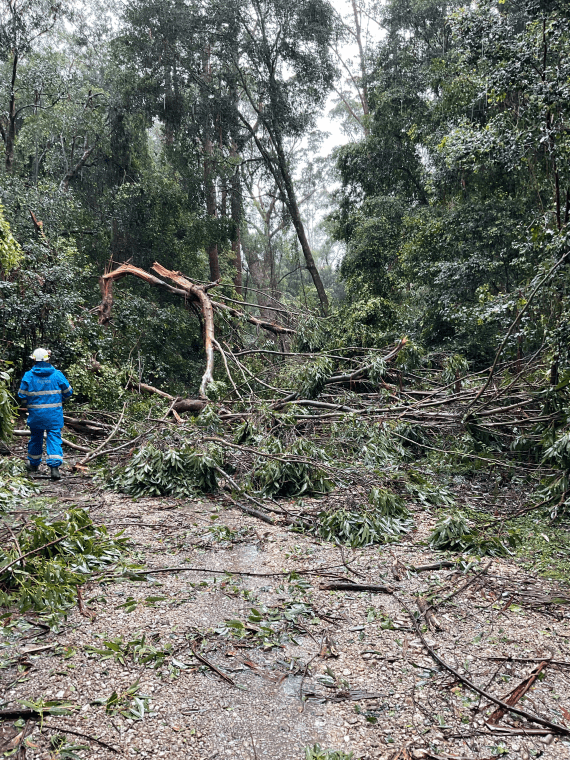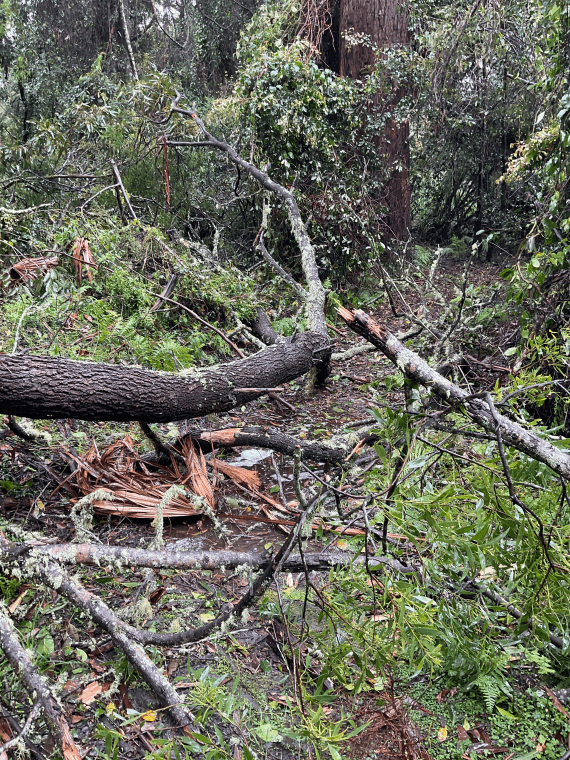 Along the coast of Eastern Victoria, the force of frequent severe coastal winds is snapping trees in half. At Cabbage Tree Creek Flora Reserve in East Gippsland (above), over 50 trees fell onto a single track in one night, blocking all access.
Photo taken by Recovery Project Officer, Shamis on 26 October 2022.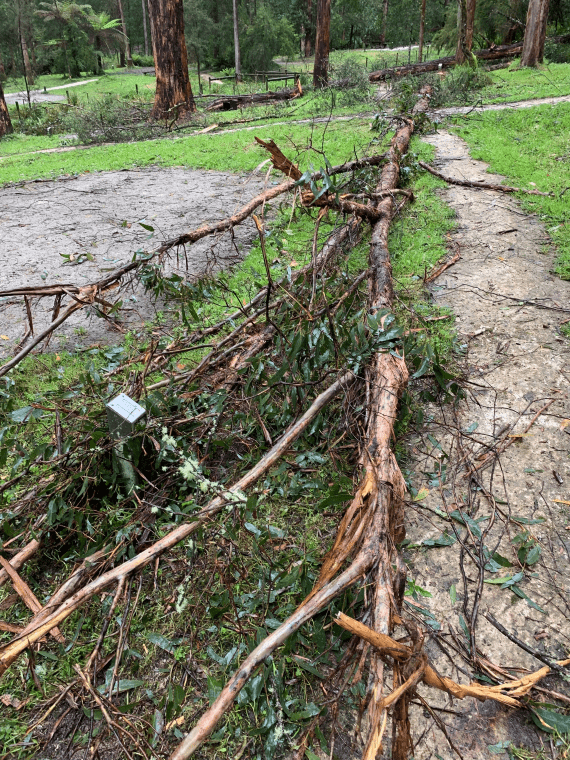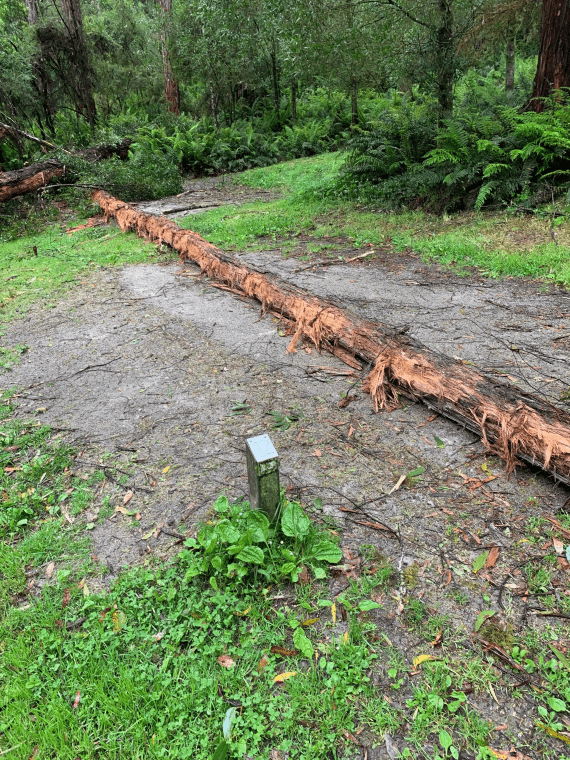 Western Victoria has seen healthy trees topple over suddenly, due to wet, loose ground. Lake Elizabeth campground (above), Great Otway National Park on Eastern Maar Country, experienced this overnight – a reminder to avoid tree range when selecting camping sites this summer.
Photo taken by Area Chief Ranger Andrew 24 October 2022.
What comes next?
The impacts of these continuing events are significant - on the parks themselves, but importantly, on the communities surrounding them.
David Nugent explains, 'Even if the rain has stopped, the impacts of flooding can continue for weeks and months after the weather event. Where it is safe to access, we are assessing the damage so we can then determine how to make roads, campsites and visitor areas safe'.
Assessments may include analysing landscape, heritage, engineering and other impacts to determine the next steps for each site.
Only once a site has been confirmed as safe for staff and contractor access, can plans be made to further stabilise impacts and consider repair efforts.
'Victorians getting into nature this summer must plan ahead for significant weather forecasts and changes to some of their favourite destinations,' advises David Nugent.
Climate change and putting safety first
Climate change is causing our weather and ecosystems to change.
Victoria's flood and storm events are the latest example of extreme weather, and the impacts to communities and landscapes. In the last few years, Victorians have experienced unprecedented storm events, altered fire regimes, changes to rainfall and access to fresh water. These events are expected to occur more often.
Parks Victoria will continue to put the safety of all Victorians first, working alongside Traditional Owners, communities and the wider Victorian Government.