Twelve Apostles lookout a boost for regional tourism
Monday 15 May, 2023
Visitors to the Twelve Apostles can look forward to a stunning new lookout this year, one of a number of projects set to boost regional tourism in the region.
Located on Kirrae Wurrung Country, the new 'Saddle Lookout' is replacing viewing areas that no longer cater for visitor numbers, to provide a superior, safer and more accessible experience.
The final major pieces of the lookout structure have been delivered and craned into position ahead of an environmental pause on the project during winter.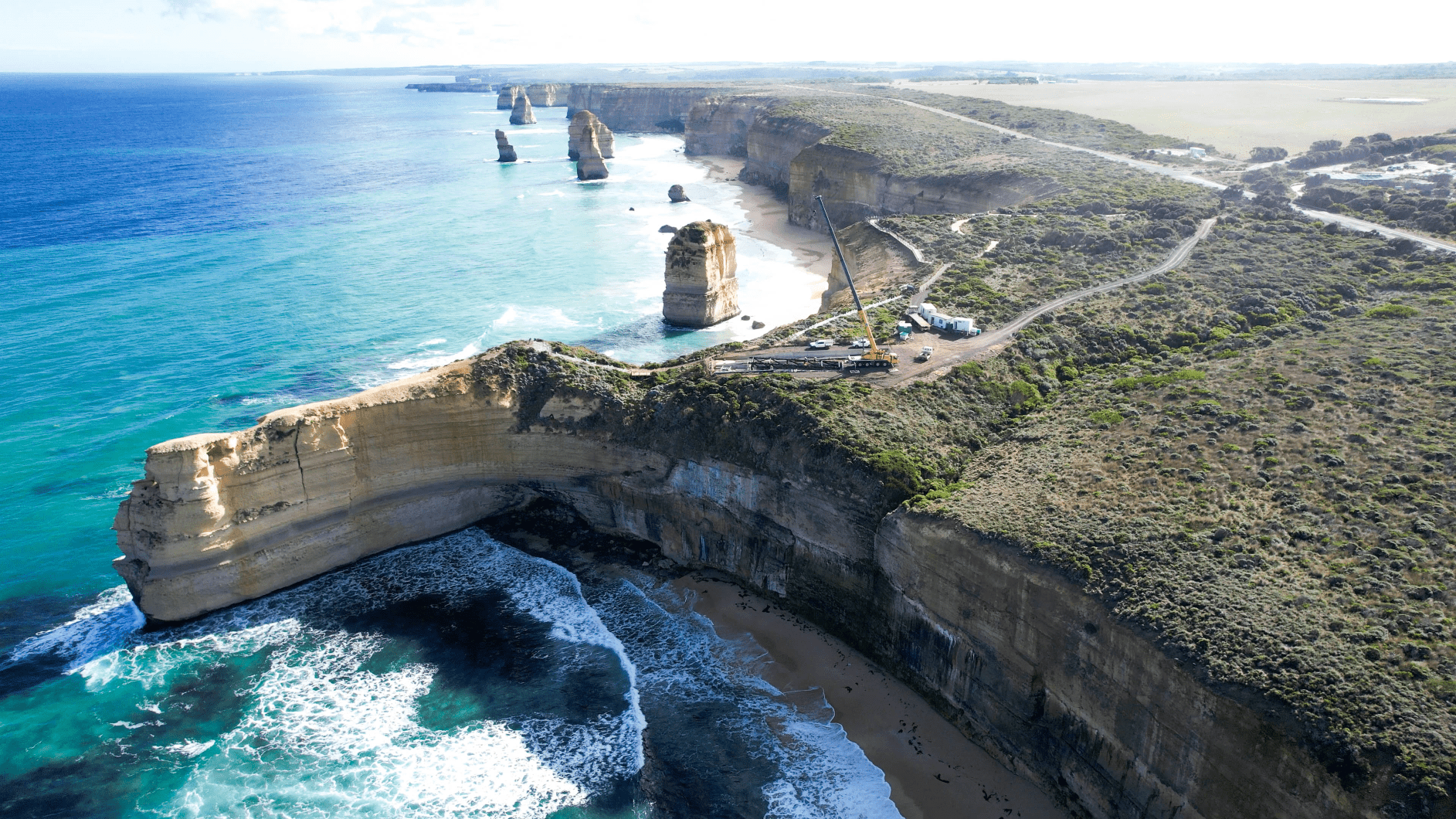 Above: Pieces of the lookout structure being craned into place at the Twelve Apostles.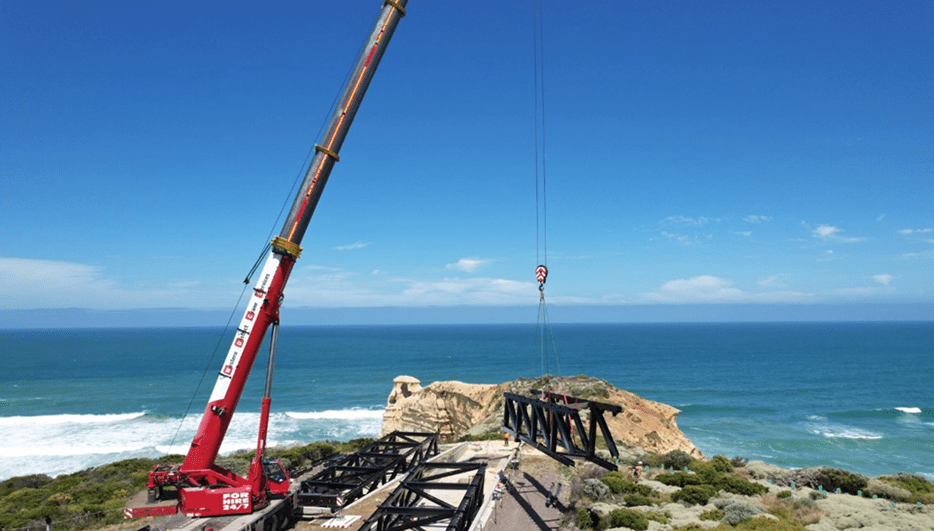 Above: Pieces of the lookout structure being craned into place at the Twelve Apostles.
The Saddle Lookout is the second major project being delivered as part of Stage One of the Shipwreck Coast Masterplan, following completion of the Port Campbell Pedestrian Bridge in 2020.
Comprised of two long rectangular sections (the clapsticks), the lookout design has been developed with Eastern Maar, which is partnering with Parks Victoria on the project. These two 'clapsticks' are in the colours of Ngayook (Sulphur Crested Cockatoo) and Ponponpoorramook (Red Tailed Black Cockatoo), primary totemic species of the Eastern Maar.
Millions of visitors typically head to the Great Ocean Road region each year, a number that is expected to increase.
Along with works supported through the Geelong City Deal to redevelop the park's visitor precinct, this lookout is part of a plan to help protect the fragile coastline, provide improved visitor experiences, and strengthen the local economy through sustainable tourism.
The construction phase of the Saddle Lookout project is expected to directly generate 25 jobs, while Stage One of the Shipwreck Coast Master Plan is expected to support approximately 120 ongoing jobs, add $12 million to the regional economy and increase the annual visitor spend by $14 million.
Subject to on-ground and construction industry conditions, the Saddle Lookout is scheduled for completion at the end of this year. For more information visit www.parks.vic.gov.au/projects
Quotes attributable to Jason Borg, Regional Director–Parks Victoria:
"This is an exciting period at the Port Campbell National Park, with projects underway that recognise the area's cultural heritage, help protect the coastal environment and improve the visitor experience."
"This is a place with a significant history and a unique beauty, and these types of projects help to connect people to the landscape and its stories.
"We're continuing to work with the Eastern Maar Aboriginal Corporation here on Kirrae Wurrung Country, and we look forward to soon seeing people enjoying these new visitor areas."