Top 10 budget-friendly spring nature experiences
Friday 20 October, 2023
If you're seeking an affordable way to connect with nature this spring, you're in luck. Here are some great activities that will have you enjoying fresh air and sunshine, whether you're a nature enthusiast, or simply looking for a fun day out. Try one of the suggestions below or mix and match activities and places – the possibilities are endless.

Top Tip: Connect deeper with nature by finding out which Country you'll be on. The Acknowledgement of Country map is a fantastic resource and easy to use.

Classic outdoor fun
1. Camping at Lerderderg State Park

Escape the everyday at Lerderderg State Park, just an hour outside of Melbourne.

Hop, skip and jump along stepping stones to cross the Lerderderg River, and admire the views at Lerderderg Gorge. The park is home to kangaroos, wallabies and koalas. Experienced hikers can challenge themselves with the East Walk and Cowan Track Loop, a 13.4km trek along the river. If that's not your thing, there are easier bushwalks of 1-2 hours available.

Camping spots are first in best dressed, and they're free!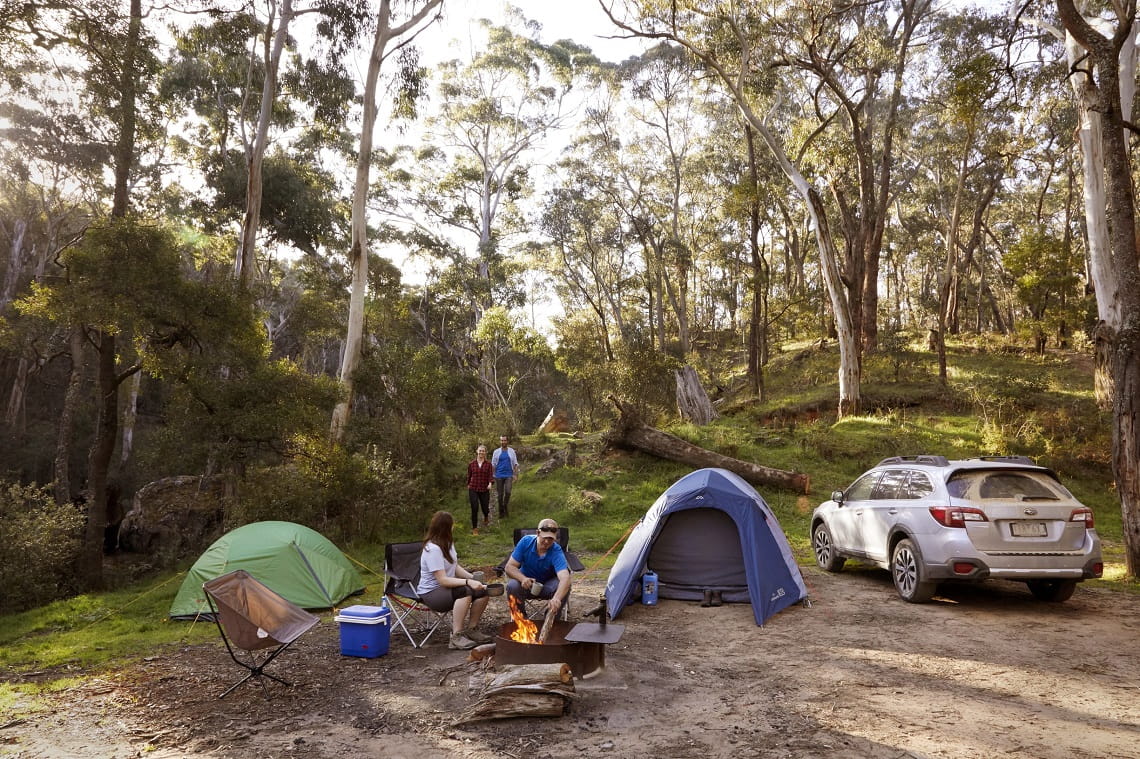 Camping at Lerderderg State Park is a great way to connect with nature. Image credit: Parks Victoria
2. Snorkelling at Point Cooke Marine Sanctuary

Point Cooke Marine Sanctuary is the largest marine sanctuary in Victoria. With its range of sea life and colourful coral, this sanctuary is a great choice for both beginner and experienced snorkellers.
You might spot a Southern Blennie (Parablennius tasmanianus), a small fish with a large head and a frilled tentacle above each eye. Or you could come across Southern Fiddler Rays (Trygonorrhina dumerilii), also known as Banjo Sharks. Harmless and easily approachable, they often hide just beneath the sand, so look before you step.
Ever wanted to explore a shipwreck? This sanctuary has two and all you'll need to explore them is a snorkel. Check out The Henrietta (which ran aground in 1940) and The Diane (sank in 1877.)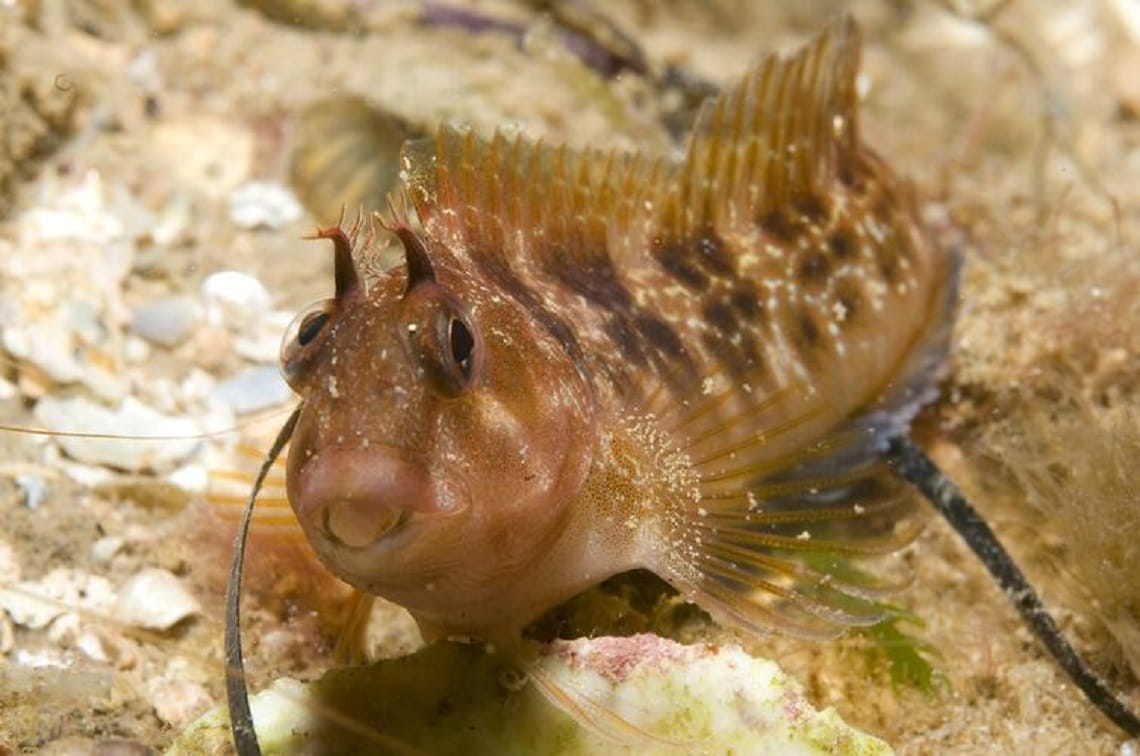 Point Cooke Marine Sanctuary on the sheltered rocky shores of north-western Port Phillip is a good place to see a Southern Blennie. Image credit: Museums Victoria

3. Swimming at Sorrento Back Beach

A 90-minute drive from Melbourne, Sorrento Back Beach offers swimming, surfing and walking. The beach is patrolled on summer weekends and holidays - remember to swim between the flags. For a unique experience, relax and submerge yourself in rock pools large enough to paddle in!

Check the weather before you go and visit on a day without strong winds. Safer and more comfortable, light winds also mean clearer and calmer water - better visibility if you're interested in snorkelling or observing marine life.

With a large car park, picnic area and toilets, Sorento Back Beach is the perfect spot for a day trip. A café and kiosk are open year-round.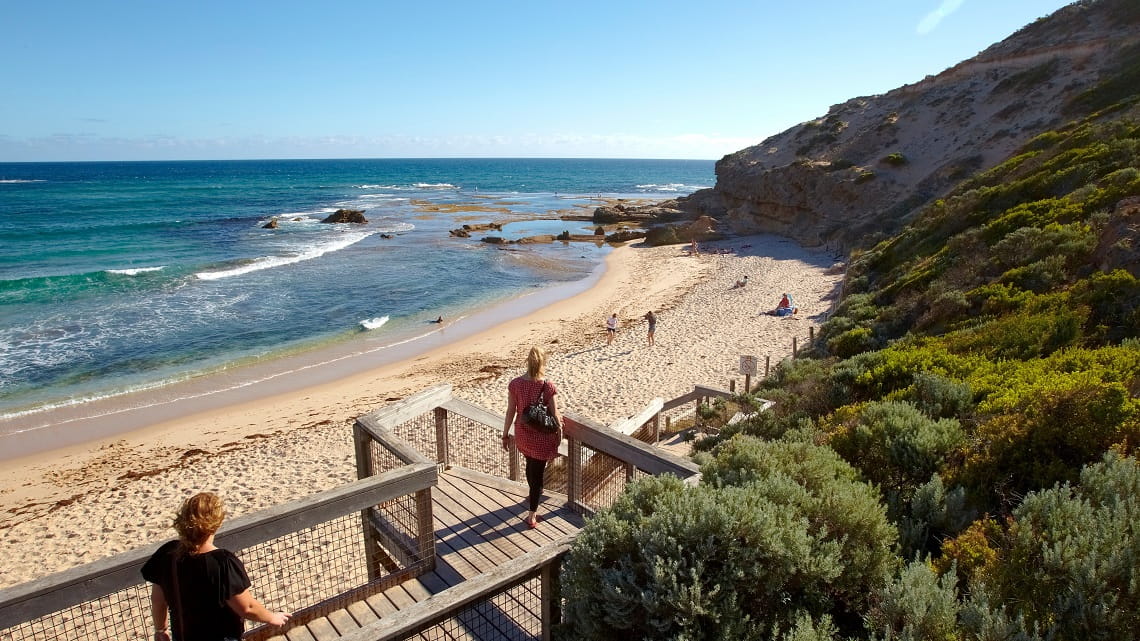 Sorrento Back Beach, around 1.5km south of the town of Sorrento. Image credit: Visit Victoria
4. Cycling at Point Gellibrand Coastal Heritage Park

In Williamstown in Melbourne's west, riding along the Bay Trail at Point Gellibrand Coastal Heritage Park lets you improve your fitness while you admire views of Port Phillip. With lots of places to stop for water, a coffee, food or a toilet break, you can cycle the Bay Trail all the way to Point Cook!

While you're at Point Gellibrand Costal Heritage Park, check out the Lava Bubble at Shelley Beach! This three-metre diameter rock formation was created when gases built up in lava as it flowed towards the shoreline.

This aerial view of Point Gellibrand Coastal Heritage Park shows the Bay Trail along the coastline. Image credit: Parks Victoria
Spot some wildlife

5. Bird watching at Ricketts Point Marine Sanctuary

Watch the birds in the peaceful and relaxing atmosphere of Ricketts Point Marine Sanctuary in Beaumaris. Not just a place for snorkelling and swimming, the Sanctuary is home to birds including Australian Pelicans (Pelecanus conspicillatus), Superb Fairywrens (Malurus cyaneus) and Black Swans (Cygnus atratus). Try writing a list of your favourite birds before you go and check them off as you spot them.

While you're there, keep your eyes peeled for Bottlenose Dolphins (Tursiops truncatus)!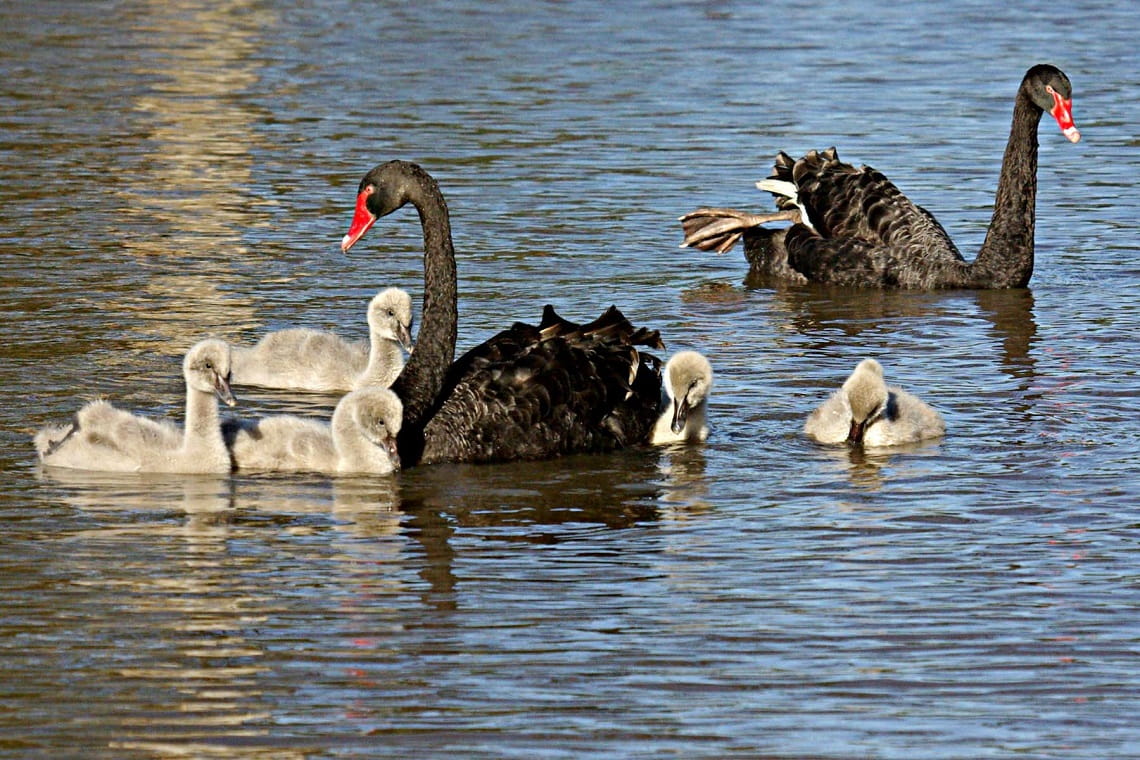 Black swans with their cygnets at Ricketts Point Marine Sanctuary. Image credit: Parks Victoria

6. Gather data on native frogs at Westgate Park

Westgate Park is an unexpected green oasis in the middle of Port Melbourne's Industrial Zone. You'll hear bird calls throughout the park, but if you go to the pond and listen carefully, you may hear the calls of native frogs. Did you know you can gather data to contribute to their conservation?

FrogID is a national citizen science project that exists to gather data on Australia's frogs, who face threats including habitat loss, climate change, pollution and invasive species. Record a frog call with the FrogID app to create a unique, time-stamped and geo-referenced audio recording that allows scientists to understand and conserve Australia's unique frog species.

You can gather data on frogs just about anywhere, but its central location makes Westgate Park a good place to start.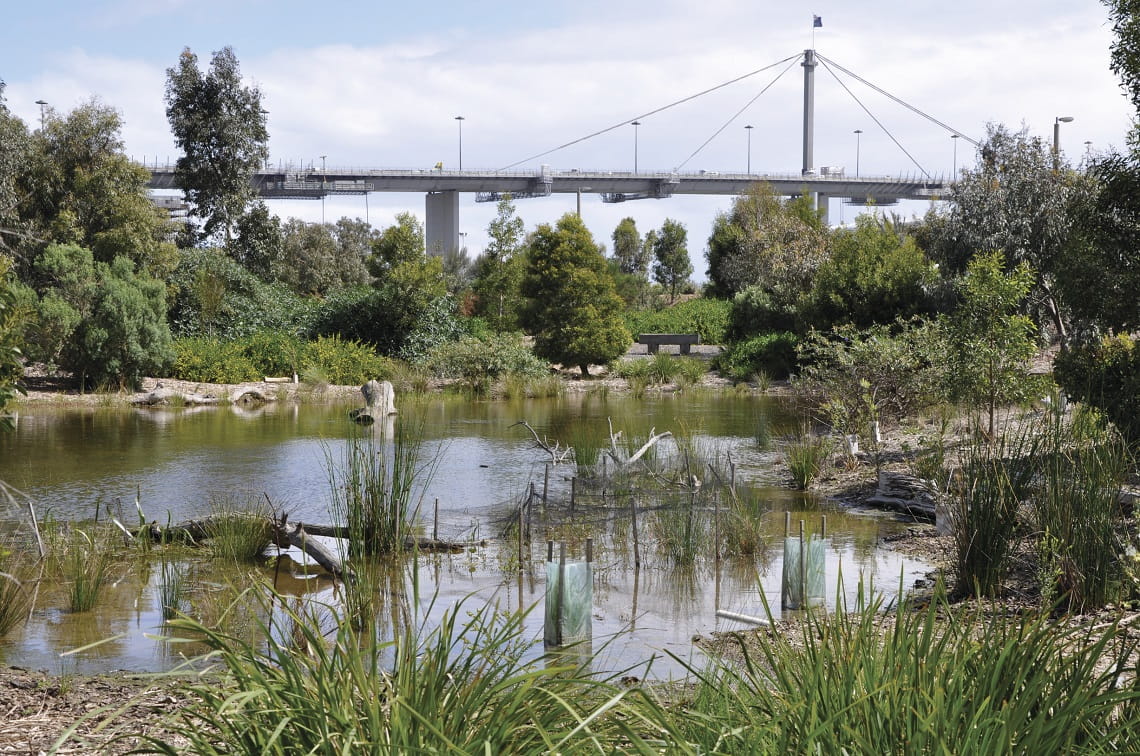 The pond at Westgate Park. Image credit: Parks Victoria
7. Wildlife Photography at Dandenong Ranges National Park

Decades ago, the cost of camera equipment meant wildlife photography was out of reach for many, but today all you need is a smartphone and some patience. The Dandenong Ranges National Park is a rainforest getaway on Melbourne's doorstep and provides an amazing backdrop for snaps of plants and animals. Wallabies, wombats, Superb Lyrebirds (Menura novaehollandiae) and the Powerful Owl (Ninox strenua) live among the greenery. With any luck, you could get some amazing shots.
Please note: Nature being nature, sometimes conditions can change at short notice and we might need to close access to a particular road or area. It's a good idea to check the Parks Victoria website for updates ahead of your visit.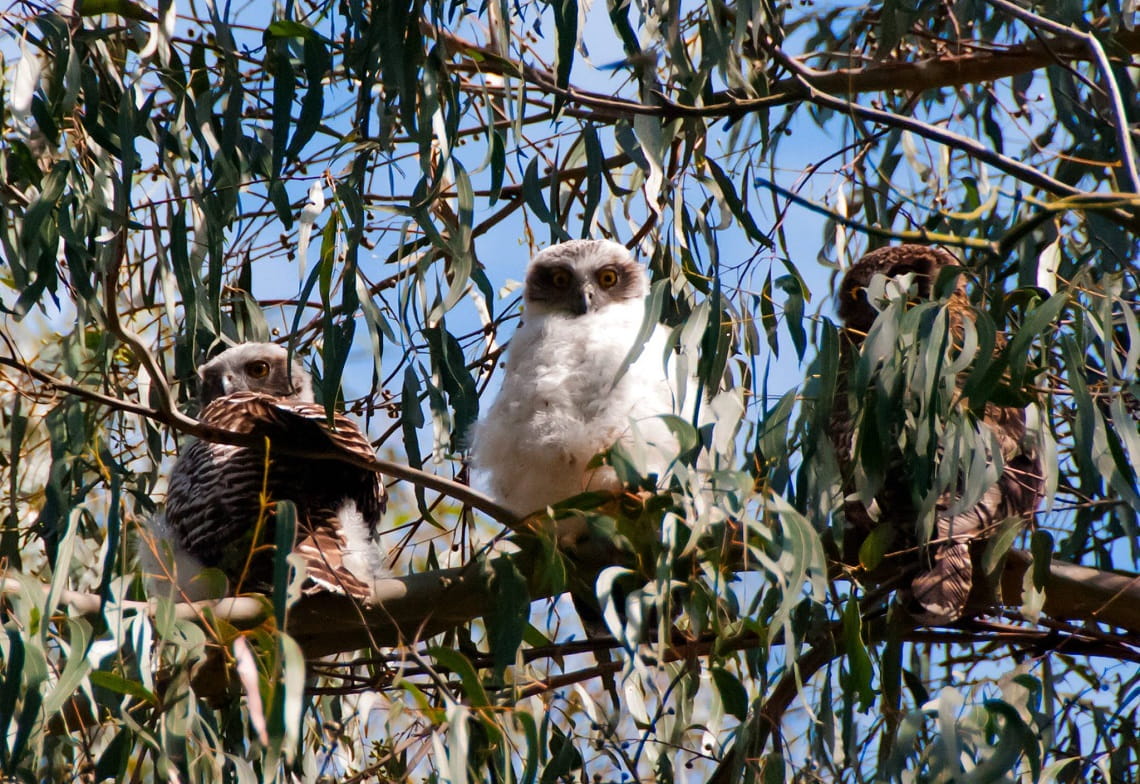 One of our rangers took this photo of Powerful Owls. Can you take a better one? Image credit: Parks Victoria
Outdoor learning
8. Learn about Bunjil the creator spirit at You Yangs Regional Park

One highlight of a visit to the You Yangs, just an hour from Melbourne, is the Bunjil geoglyph, a spectacular stone structure in the shape of a Wedge-tailed Eagle. It represents the Wadawurrung creator spirit, Bunjil, and can be viewed on the ground or from the You Yangs highest point, Flinders Peak.

With wildflowers currently in bloom across the rocky landscape, spring is a great time to visit.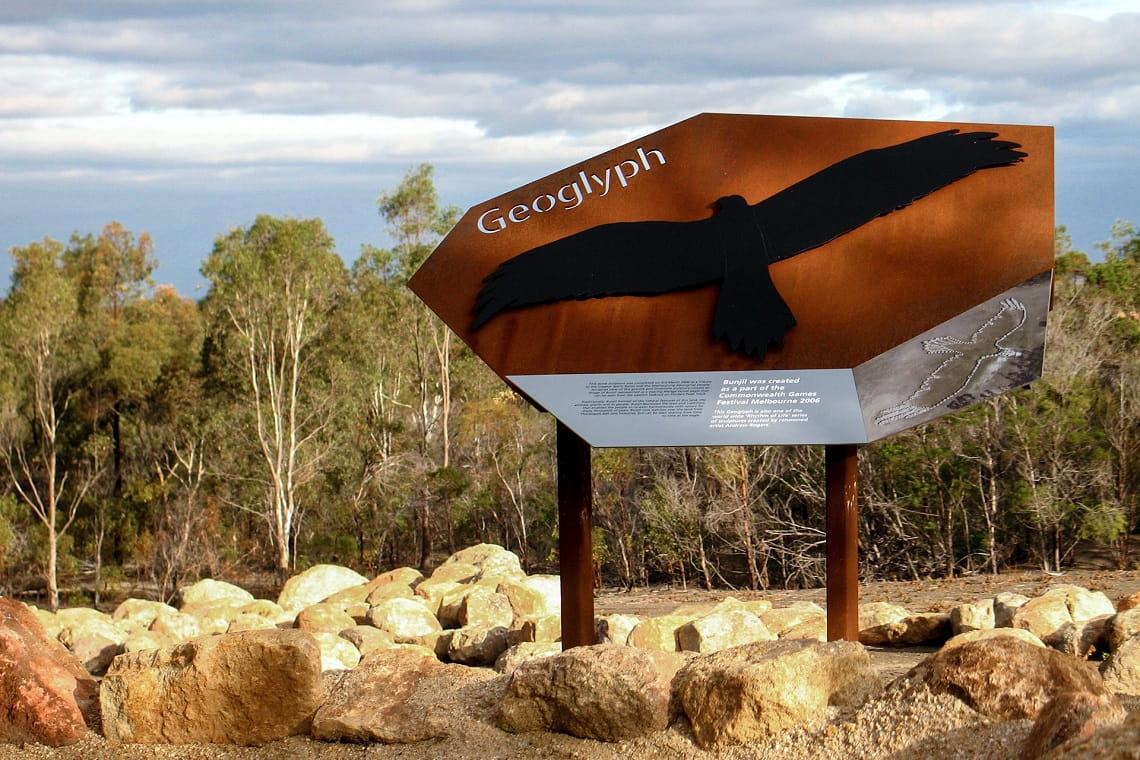 Geoglyph educational signage at the You Yangs. Image credit: Parks Victoria
9. Guided Park Walk at Yarra Bend

Did you know Parks Victoria offers free guided walks in our National Parks? If you live in Melbourne, your closest might be the Yarra Bend Park Walk. Learn from our friendly and knowledgeable volunteer guides about this urban oasis and the species that live here.

You can join this easy walk as a once-off to explore somewhere new, or as a regular part of your wellbeing or fitness routine. On a dirt track with some small hills, the walk is approximately 1.5-2 hours duration.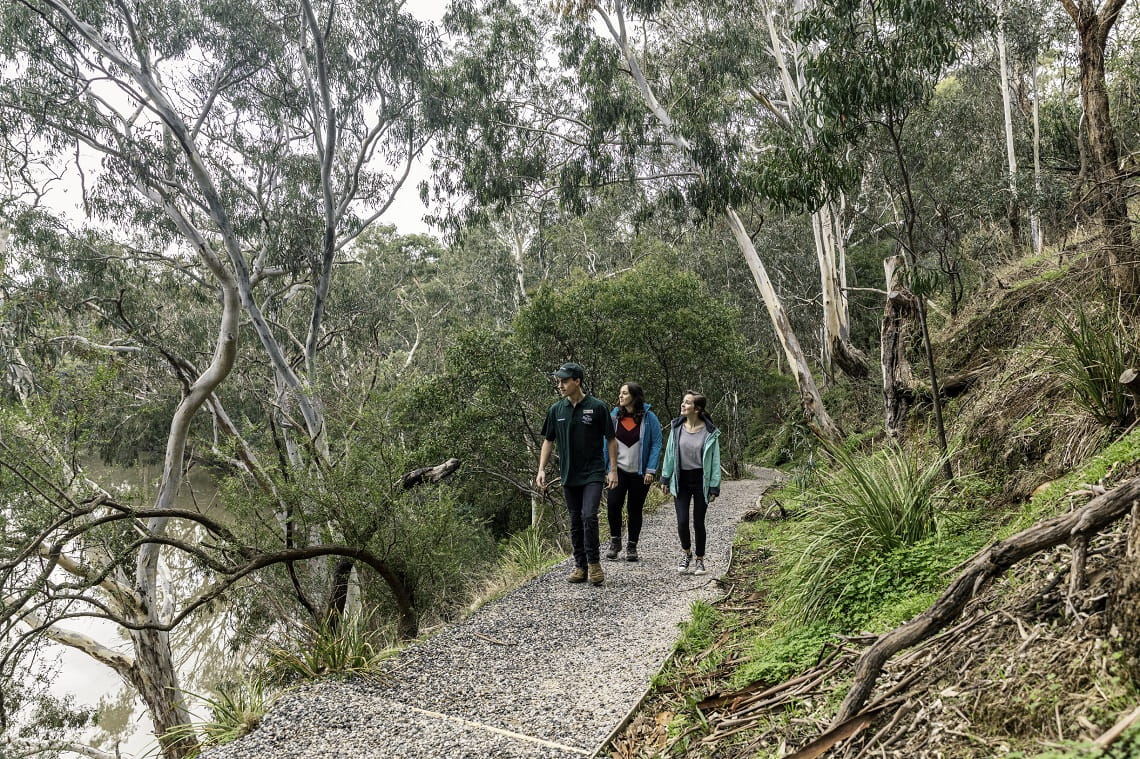 Yarra Bend Park is Melbourne's largest natural bushland park. Image credit: Parks Victoria
10. Explore rockpools at Jawbone Marine Sanctuary

Exploring a rockpool is like discovering a little underwater world. At Jawbone Marine Sanctuary in Williamstown you can admire pink coralline algae and say hello to sea urchins, crabs, limpets and sea snails. Keep an eye out for Australian Glass Shrimp (Paratya australiensis) and small fish darting amongst the seaweed. Admire the brightly coloured sponges and starfish around the submerged boulders. Low tide is the best time to come.

Remember to wear appropriate footwear, rocks are slippery and sharp!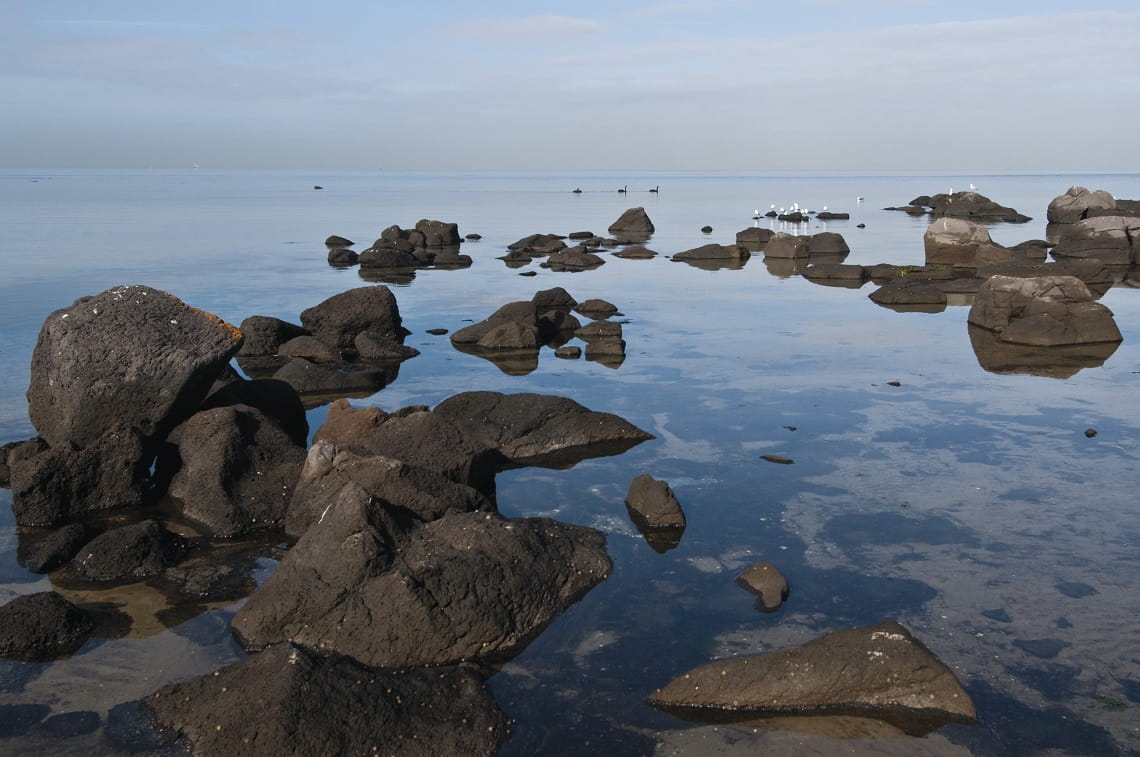 Jawbone Marine Sanctuary is incredibly diverse and contains examples of all the marine habitats of northern Port Phillip. Image credit: Parks Victoria