Running for nature: Erchana's inspiring marathon run from Tip to Toe
Monday 6 November, 2023
When faced with an overwhelming problem, sometimes the best thing you can do is turn and run.
That's the advice from an inspirational Victorian marathon-running wildlife-warrior who is urging more people to get outside and be active in nature.
Erchana Murray-Bartlett ran a whopping 6336km from the northern tip of Australia at Cape York all the way down to Melbourne, finishing the epic run earlier this year, more than five months after she started.
Her expedition was aptly named Tip to Toe and involved Murray-Bartlett running 150 consecutive marathons, 42.2km every day, smashing the previous Guinness World Record of 106 for most consecutive marathons by a female in the process.
"It was a bloody long way," Murray-Bartlett said.
Erchana's inspiration for Tip to Toe was found in her love of the Victorian bush, and the urge to do something positive for the environment. She documented her expedition via social media, encouraging people to join her for a jog as she passed through their town.
"I grew up in the Yarra Valley and literally spent my childhood running through nature. I'd be in the bush, exploring for hours at a time, and through this I found this connection to nature and the wildlife I shared it with," she said.
"I probably didn't appreciate it as much as I should have at the time, because it wasn't until much later in my 20s that I learned Australia is a world leader when it comes to biodiversity loss.
"Extinction is a choice. We have 124 animals on the critically endangered list, not to mention however many more on the endangered list on top of that. And then there's climate change and deforestation, and it just started to get a bit overwhelming - I didn't really know what to do about it.
"And then when lockdown happened, and that access to the outdoors and nature was taken away from me and my races and competitions were cancelled, it was the straw that broke the camel's back.
Murray-Bartlett's solution to feeling helpless was to do what she does best – run. She made the ambitious decision to run the entire east coast of the Australian mainland, with an aim to raise $10 for every kilometre she ran for the Wilderness Society. In the end, Murray-Bartlett raised more than $130,000 – more than double what she had initially hoped for.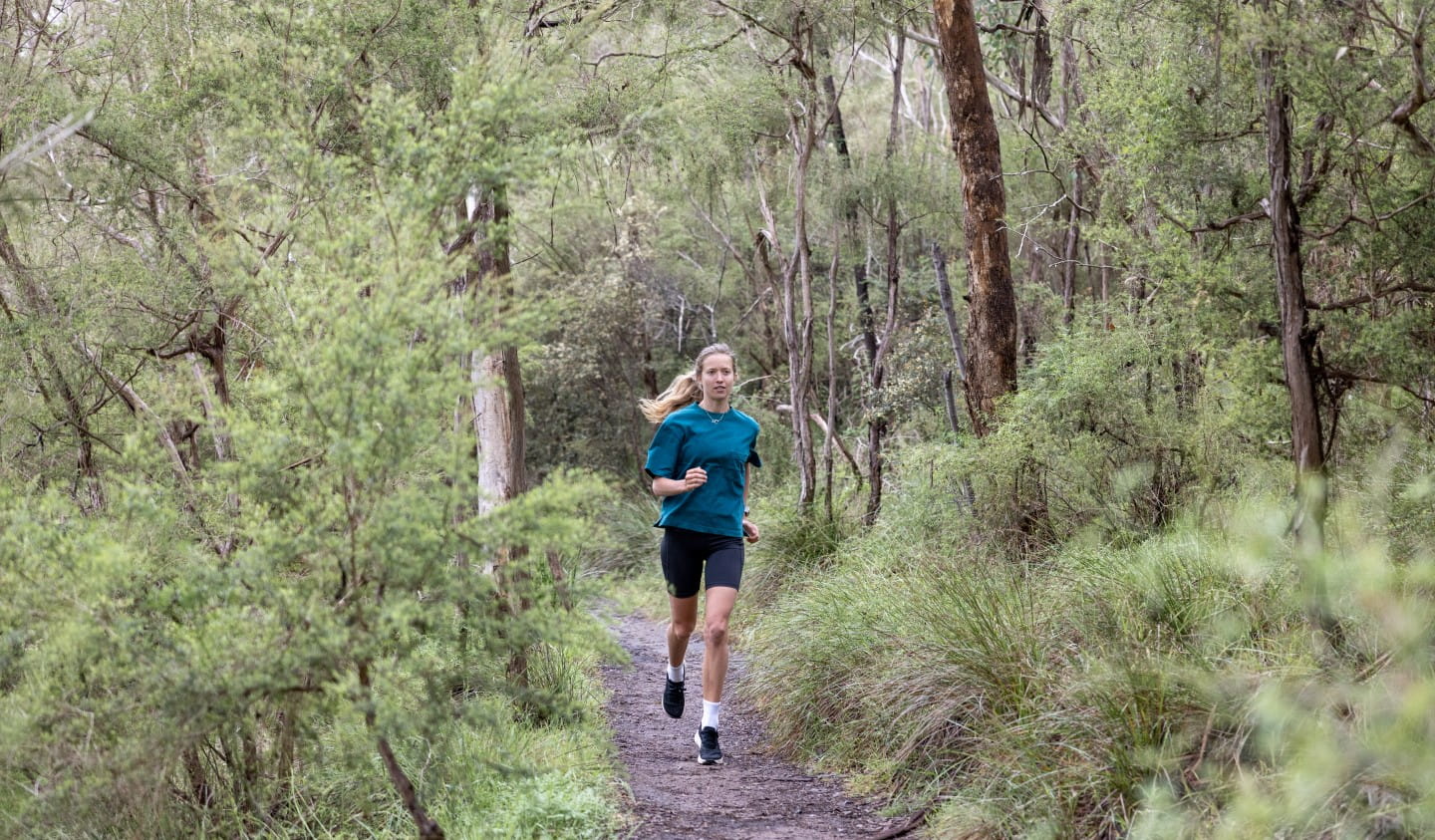 Photo: Erchana Murray-Bartlett ran 150 marathons in 150 days, breaking the world record in the process.
She now knows Australia's east coast and it's many national and state parks intimately.
"The landscapes I ran though were so varied. The Cape Peninsula up north was more beautiful than I ever could have anticipated, and the Daintree is a world heritage area for a reason. I really enjoyed the Blue Mountains, although my legs certainly didn't."
Upon crossing the New South Wales-Victorian border, Murray-Bartlett made a beeline for the Alpine National Park where she ran along the Razorback Trail to Mount Feathertop, before exploring the granite peaks and boulders of Mount Buffalo National Park, and then headed south towards Melbourne, passing Lake Eildon along the way. The final natural landscape Murray-Bartlett would run through would not just be one of her favourites, but one much closer to home – the towering Mountain Ash forests of Kinglake National Park and Yarra Ranges National Park.
"I loved running back through the old growth forests of Victoria as these were the forests that had originally kickstarted my love of nature. And after having run 140-odd marathons up to that point, spending the next six or seven days running through these forests, with these trees, at that point of the campaign, felt really special."
Since completing Tip to Toe in early 2023, Murray-Bartlett has continued running in the name of nature (including running the length of Tasmania in July) but is now putting her feet up for a while, turning her attention to a documentary on her record-breaking run that she is producing with her partner.
Murray-Bartlett said she wants to inspire more people to get outside as "the benefits you get from being active in nature are enormous".
"If I had a choice between running on a treadmill or getting out and running in nature, I'd choose outside every time. That's where you get the environmental changes, the wind, the hills, the changes under your feet, and you can stop and change direction," she said.
"I run for three reasons - to connect with the place I'm in, to connect with other people, and for the physical and mental benefits.
"I go outside to reconnect with the world and find my happy place, and forget about the problems that seem big on a normal day but seem little when you're out in the environment and the forests.
"Running, particularly in forests, is so healthy for you because there's no emphasis on time or pace. It's just about moving and getting yourself a bit sweaty and carrying yourself through the space on foot.
"You don't need to be a marathon runner to experience those things, you just need to get outside and enjoy it. It doesn't have to be big, but spending 10 or 20 minutes outdoors does wonders."
"Remember, there's no inequality in the outdoors. You can just get out there and enjoy it – it's for everyone."
Click here to learn more about the health benefits of being in nature.