Nestled on the western edge of the Sandpatch Wilderness Zone, the secluded sandy beaches and pristine rainforest of Wingan Inlet make for a wonderful spot to camp. Canoe or kayak up the Wingan River, cast a line to catch bream and tailor, or wander down to Fly Cove to see fur seals.
Enclosed by tall bloodwood trees, laze the day away in the tranquility of Wingan Inlet with goannas, currawongs and the occasional jumping fish as company. With tailor, bream, trevally, mullet, perch and more, go fishing for your dinner.

Branch out and paddle up the Wingan River in your trusty canoe or kayak. The river narrows upstream as it winds through sea rushes and paperbark thickets before opening on to a rainforest and the stunning Wingan Rapids. Here, crystal clear water trickles between gargantuan granite boulders decorated in a blanket of colourful lichen and moss. Curious water dragons peer out from behind wildflowers while native birds sing the day away.

While the Wingan Rapids are also accessible by foot, set out on the Fly Cove Walk for a change of scenery. Skirt the edge of Wingan Inlet, through paperbark forest before emerging on the lonely shores of Fly Cove. Take in the Southern Ocean vistas and admire the Australian and New Zealand Fur Seals that call the offshore rock stacks, known as The Skerries, home. One of only four Australian Fur Seal colonies in Victoria, and the largest, visit between October and December to see playful seal pups about.

Elusive Lake is another great wander from Wingan Inlet. The unique dune-blocked lake stands out among the tall eucalypts that surround its sandy banks. Reaching a depth of 22 metres in some places, jump in for a refreshing swim before returning to camp.
Things To Do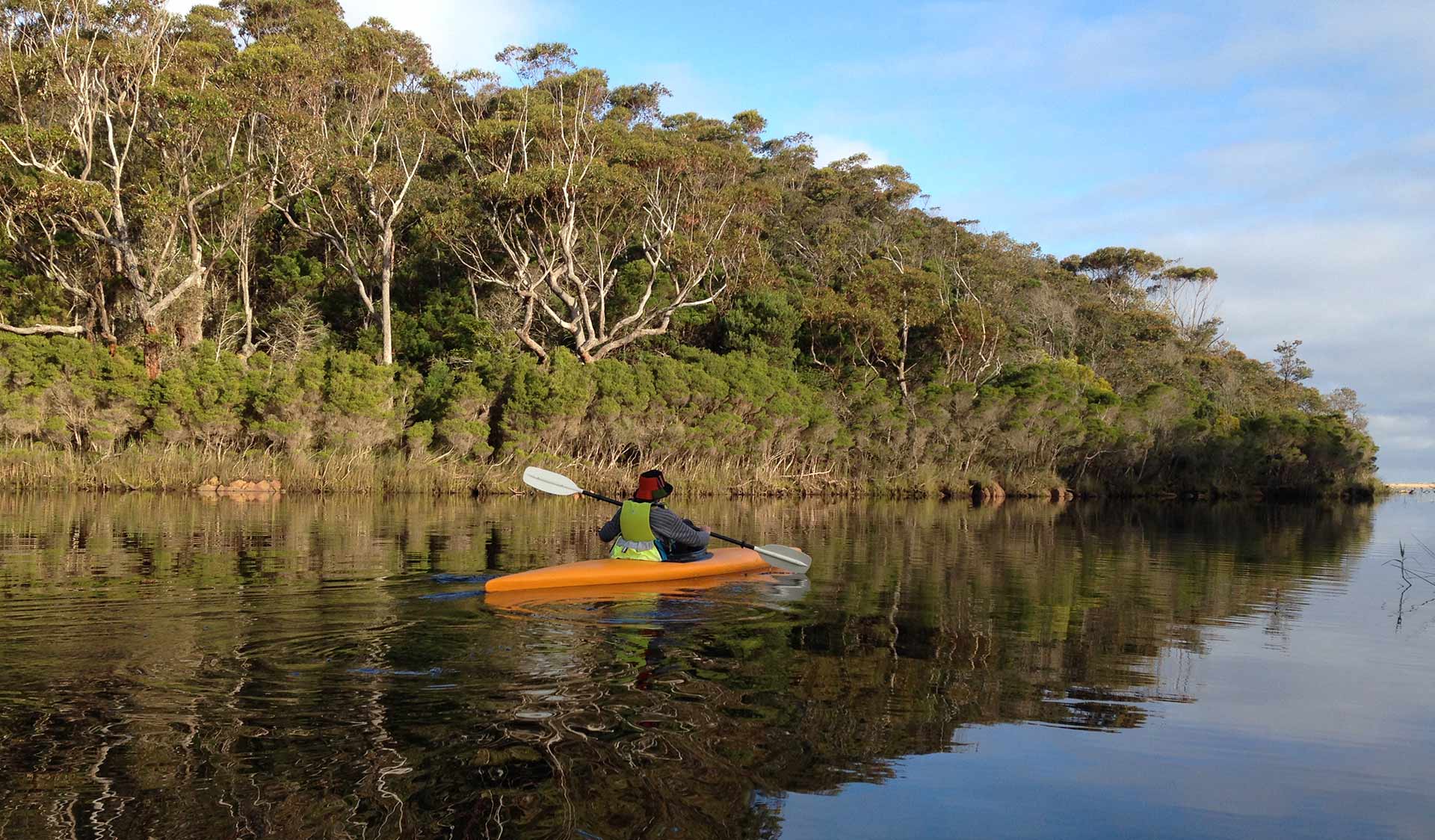 This campground is in a tall Bloodwood forest on the western shore of Wingan Inlet in a tranquil bush setting.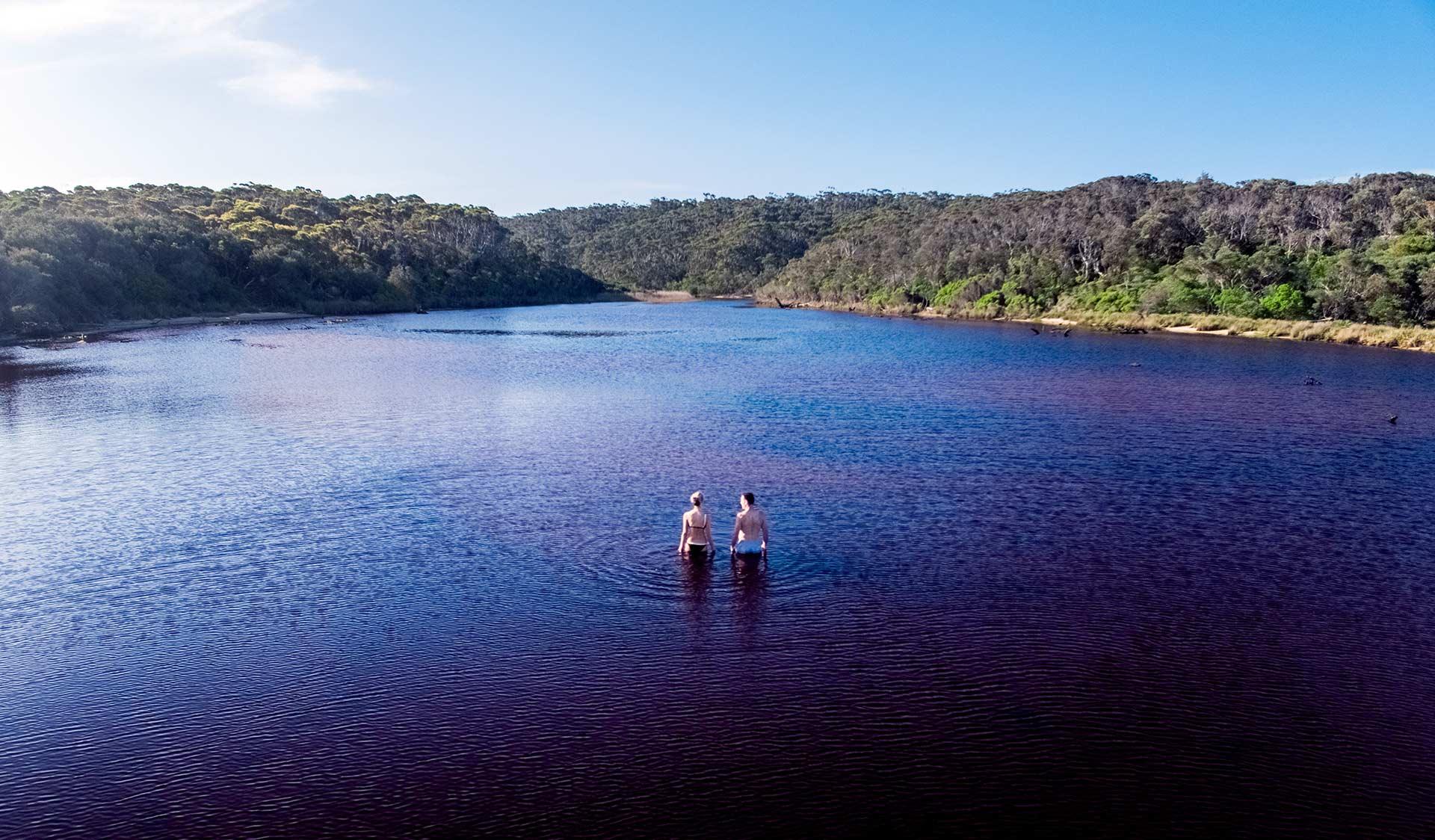 Elusive Lake is another great wander from Wingan Inlet. The unique dune-blocked lake stands out among the tall eucalypts that surround its sandy banks. Reaching a depth of 22 metres in some places, jump in for a refreshing swim before returning to camp.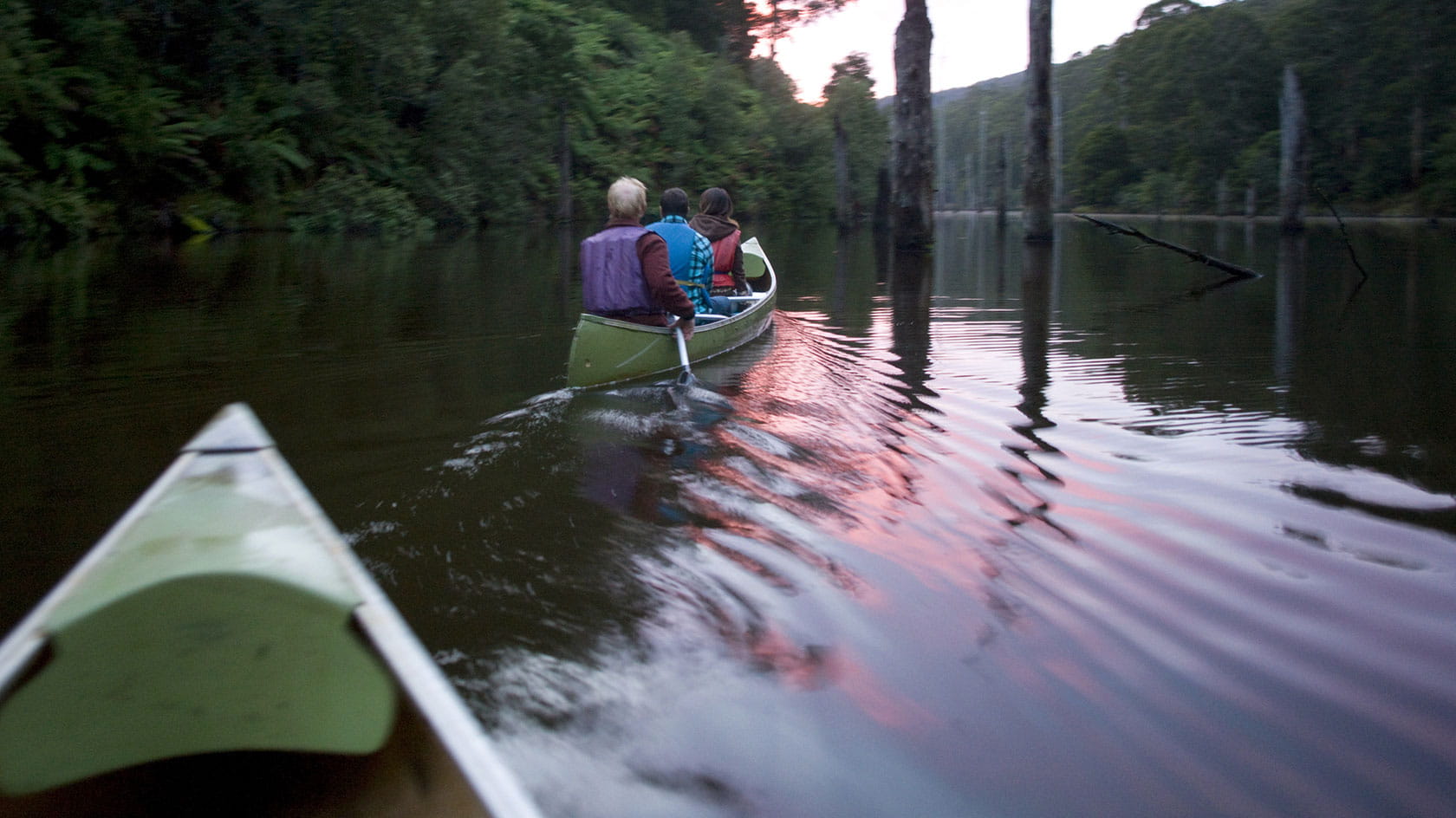 Canoeing and kayaking are great ways to explore beautiful waterways. Enjoy the tranquility and spot wildlife that hikers don't normally see.
How to get there
Wingan Inlet
Wingan Inlet is approximately 6-hours drive east of Melbourne and over 7-hours drive south of Sydney. It is accessible from the Princes Highway. An unsealed road - West Wingan Road leads to the secluded campgrounds nestled on the edge of the inlet.
When you're there
Download the Croajingolong National Park visitor guide for more information about the park and the plethora of experiences to be had within its borders.
When to go
The sheltered waters of Wingan Inlet are perfect for escaping the heat of summer and rough ocean swells of Fly Cove. Go swimming or bring a canoe, kayak or boat to explore further afield.

Along with Mallacoota, Sydenham and Tamboon Inlet, Wingan Inlet provides excellent fishing opportunities and draws anglers from across the state year-round. Big schools of Black bream can be caught throughout the lake system between December and May. While in winter, salmon, tailor and trevally are common.
Need to know
Wingan Inlet
Accessibility
Wingan Inlet contains a number of campsites that are relatively flat set in clear, open areas. But note that there's a lack of accessible toilets and the trails leading down to Fly Cove are narrow and steep in some sections.
Assistance dogs are welcome in Parks Victoria parks and reserves. Entry requirements apply for parks and reserves that are usually dog prohibited, such as national parks.
Boating
If you're planning to fishing or boating in the water, please note that Wingan Inlet has a 20hp motor size limit.
Change of Conditions
Nature being nature, sometimes conditions can change at short notice. It's a good idea to check this page ahead of your visit for any updates.
Thurra River (Croajingolong National Park)

Thurra Campground

The Thurra campground is currently closed pending replacement of the Thurra River bridge and safety works in the campground. Reopening is taking longer than expected due to the scale and complexity of works. Thurra campground may be reopened for summer 2023-2024, however please continue to monitor this site for updates and change of conditions.

Notices Affecting Multiple Parks

Seasonal road closures 2022

Some roads in this park are subject to seasonal road closures. Seasonal road closures generally operate from after the long weekend in June through to the end of October, but may be extended due to seasonal conditions. Visit the

seasonal road closures

page for maps and more information.

Mueller Camp (Croajingolong National Park)

Mueller Inlet Campground - Closed due to flood damage

Following heavy rainfall in East Gippsland in late March/early April 2022,

M

ueller Inlet Campground will be closed until further notice due to flood damage.

Notices Affecting Multiple Sites

Areas of Croajingolong National Park closed due to fire damage

The following areas of Croajingolong National Park remain closed:




· Gravelly Point, including the jetty

· Kingfish Point, including the jetty
· Wilderness Coast Walk is closed between Bemm River and Pebbly Beach due to fire and flood damage

· Thurra River Campground

· Point Hicks Road is closed south of Fishermans Track

· Wingan Inlet Rapids Walk


Parks Victoria apologises for the inconvenience and thank you for your patience and understanding as recovery works progress.

Croajingolong National Park

Lakeview, Miners and a section of Betka Tracks closed due to severe storm damage

Tracks closed due to severe storm damage making conditions Dangerous, impassable and unsafe for vehicle access

Flood impacts to tracks and visitor sites

Assessments are ongoing and further areas may be closed at short notice or not accessible on arrival.

Wingan Inlet Campground (Croajingolong National Park)

Wingan Water Supply Trough

Campers are advised that the water supply trough at Wingan has been impacted by recent flooding. Campers should be self-sufficient in providing for their water needs for the duration of their visit and not rely on re-supply from the trough.