Explore
Coppermine Campground
Located in the northern Grampians and accessible by 4WD only, Coppermine Campground is perfect for the adventurous camper.
Book now
Set high on the range with views out over the plains, this campground is ideal for those looking to get off the beaten track and experience some of the most beautiful and lesser known areas of the Grampians.
Accessible by 4WD only, this small campground offers four campsites, each accommodating up to six people. Sites are suitable for camper trailers, campervans or tents. Advanced bookings and payment are required year-round.
Things To Do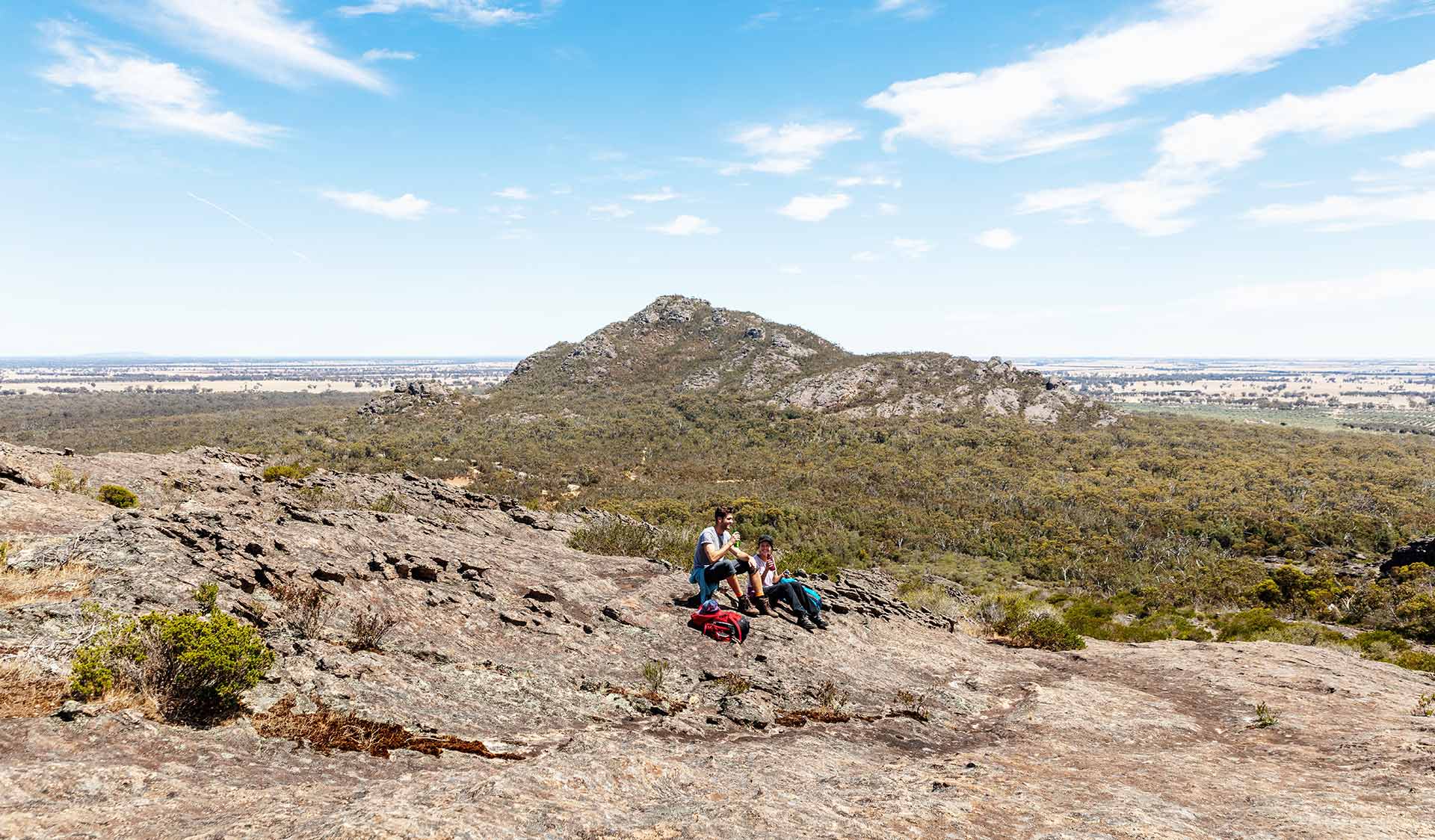 The northern Grampians National Park is dominated by the Mountt Difficult Range, Mount Stapylton and Mount Zero. Picnic at Mount Zero Picnic Area before tackling the gentle ascent to Flat Rock.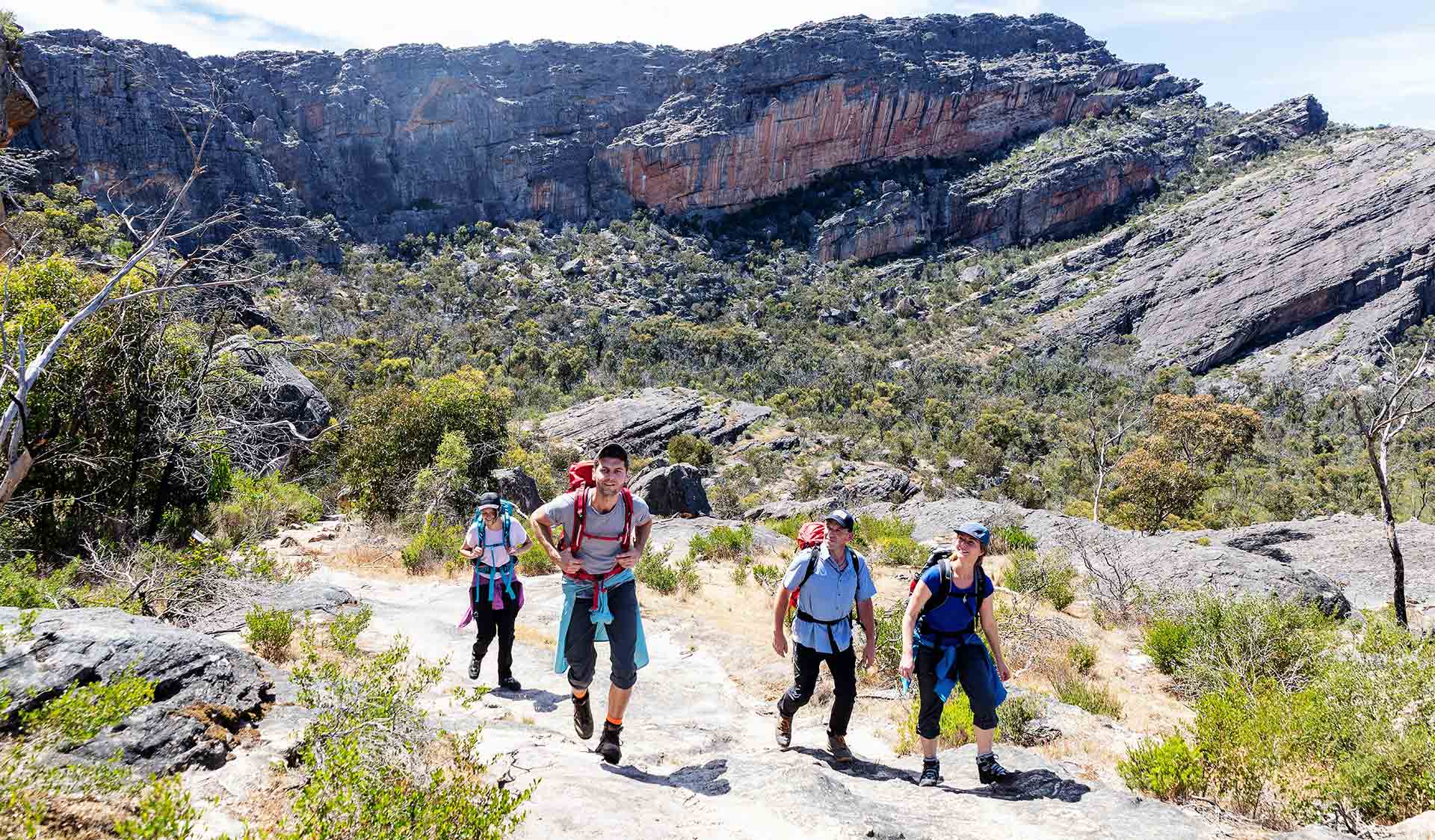 Hike through open forest and scramble over rocky outcrops on the Mount Stapylton Loop Walk. The adventurous walk will test your endurance as it dips into forested gullies and navigates the steep slope of Flat Rock.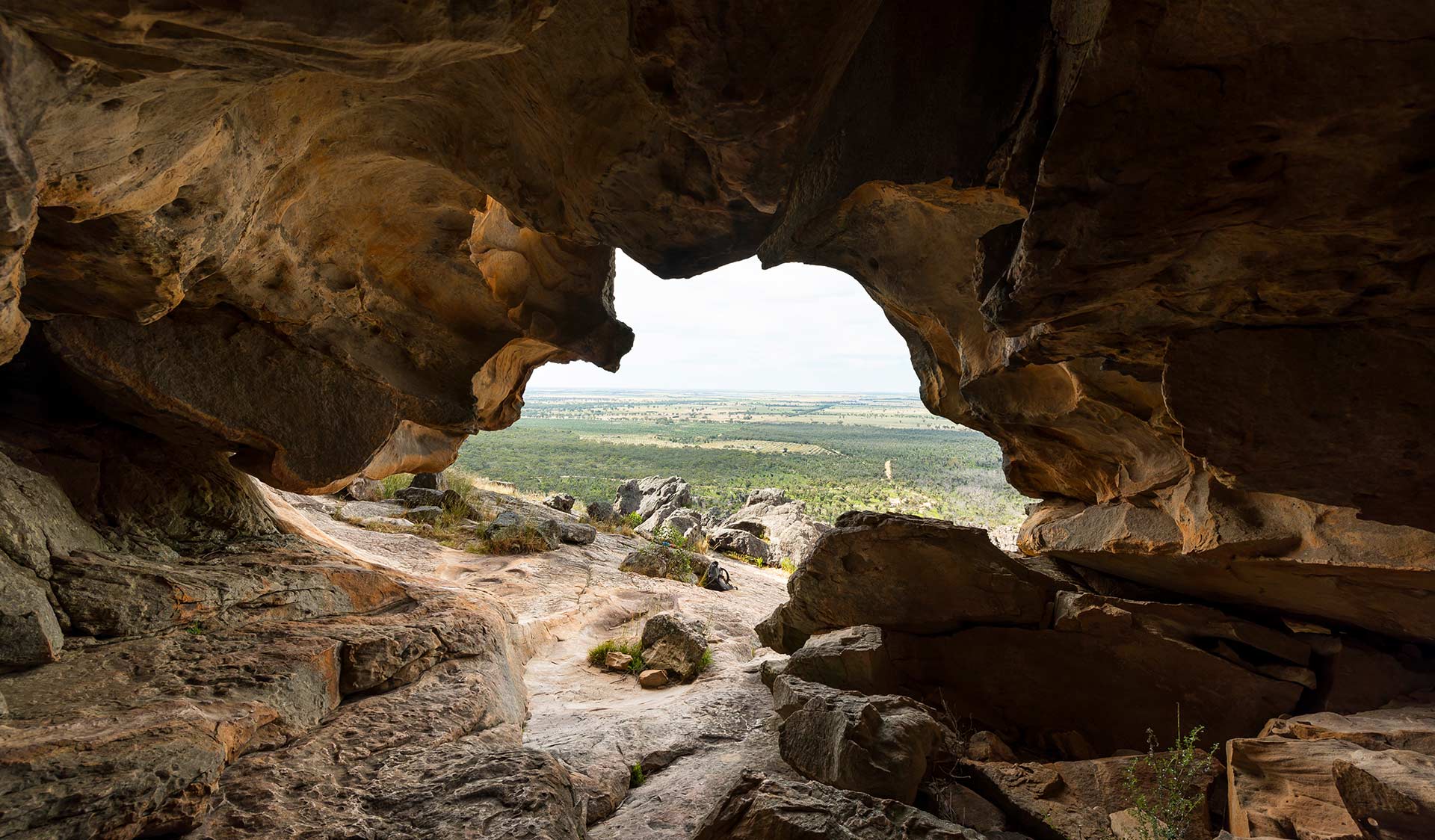 Hollow Mountain carpark is the start of another easy walk which takes you to the Aboriginal rock art shelter of Gulgurn Manja. Ponder the small hand prints on this rock art shelter wall while looking out over the surrounding Wimmera Plains.
How to get there
Coppermine Campground
Coppermine Campground is located on Coppermine Track, 1km from Pohlners Rd or 4km from Mount Zero Road.
When you're there
Download the Grampians National Park visitor guide to get the most out of your visit.
Camping & accommodation
Coppermine Campground situated in the northern Grampians is for four-wheel drivers only. Located high on the mountain range and overlooking the surrounding plains this campground is perfect for the adventurous camper.
Check availability
Need to know
Coppermine Campground
Safety tips for a great visit
Stay safe and get the most out of your park visit by preparing for natural hazards and other outdoor risks in Victoria's parks. You are responsible for your own safety and the safety of those in your care.
Accessibility
Visiting a park can be more of a challenge for people with disabilities, however in Victoria there are a wide range of facilities to help people of all abilities enjoy our wonderful parks around the state.
Change of Conditions
Nature being nature, sometimes conditions can change at short notice. It's a good idea to check this page ahead of your visit for any updates.
First Wannon Hike-in Camping Area (Grampians National Park)

Major Mitchell Plateau Partial Closure

The Major Mitchell Plateau walking track is closed between First Wannon Hike-in Camping Area and Jimmy Creek Campground due to Grampians Peaks Trail construction works.

First Wannon Hike-in Camping Area remains open and accessible from Mt William Carpark and Kalymna Campground as a return walk.

Notices Affecting Multiple Sites

Grand Canyon Staircase Closed

The steel staircase at the south-eastern exit of the Grand Canyon is closed due to an engineering issue.

The Grand Canyon remains open as a return walk from Wonderland Carpark.

The Pinnacle walk remains open via the canyon bypass walking track.

Mt Victory Road closure: 8th to 12th February 2021

Mt Victory Road closed between Halls Gap and Reed Lookout: 8th to 12th of February 2021

Due to

roadworks

from the 8th to the 12th of February 2021, Mt Victory Road will be closed to all traffic between Halls Gap and Reed Lookout.

Access to visitor sites in and around the Central Grampians will be impacted during this period. Walking Tracks in the Wonderland Range will only be accessible from Halls Gap or Lake Bellfield Dam Wall.

Visitor sites not accessible to vehicles:




Wonderland Carpark




Sundial Carpark


Rosea Carpark



Walking tracks only accessible by walking from Halls Gap:

Visitor sites only accessible from the western side of the park (not accessible from Halls Gap):

Zumsteins Picnic Area (via Northern Grampians Road)

Mackenzie Falls (via Northern Grampians Road)

Smiths Mill Campground (via Northern Grampians Road)

Boroka Lookout (via Old Mill Road - unsealed, AWD recommended)

Reed Lookout and the Balconies (via Northern Grampians Road)

Boreang Campground (via Rose Creek Road)

Stony Creek Group Camping Area (via Rose Creek Road and Glenelg River Road).

Download the attached PDF map for alternative access routes to open sites in the Central Grampians from Halls Gap.

For further information please contact Brambuk the National Park and Cultural Centre, 2.5km south of Halls Gap, Ph: (03) 8427 2058.

Attachments: Mt Victory Road Closure - Alt accces map (1,686KB)

Mitchell Road Closed

Mitchell Road is closed until further notice due to storm damage to a concrete causeway.

Park Access Update - 6/01/21

Road Report: 22/01/2021

Stony Creek Group Camping Area (Grampians National Park)

Stony Creek Group Camping Area Relocated

Stony Creek Group Camping Area has been relocated 500m west of Rosea Carpark on Stony Creek Road. Walkers should access this site by following Stony Creek Road from Rosea Carpark, rather than the link track from the Mt Rosea Walking Track.
Similar experiences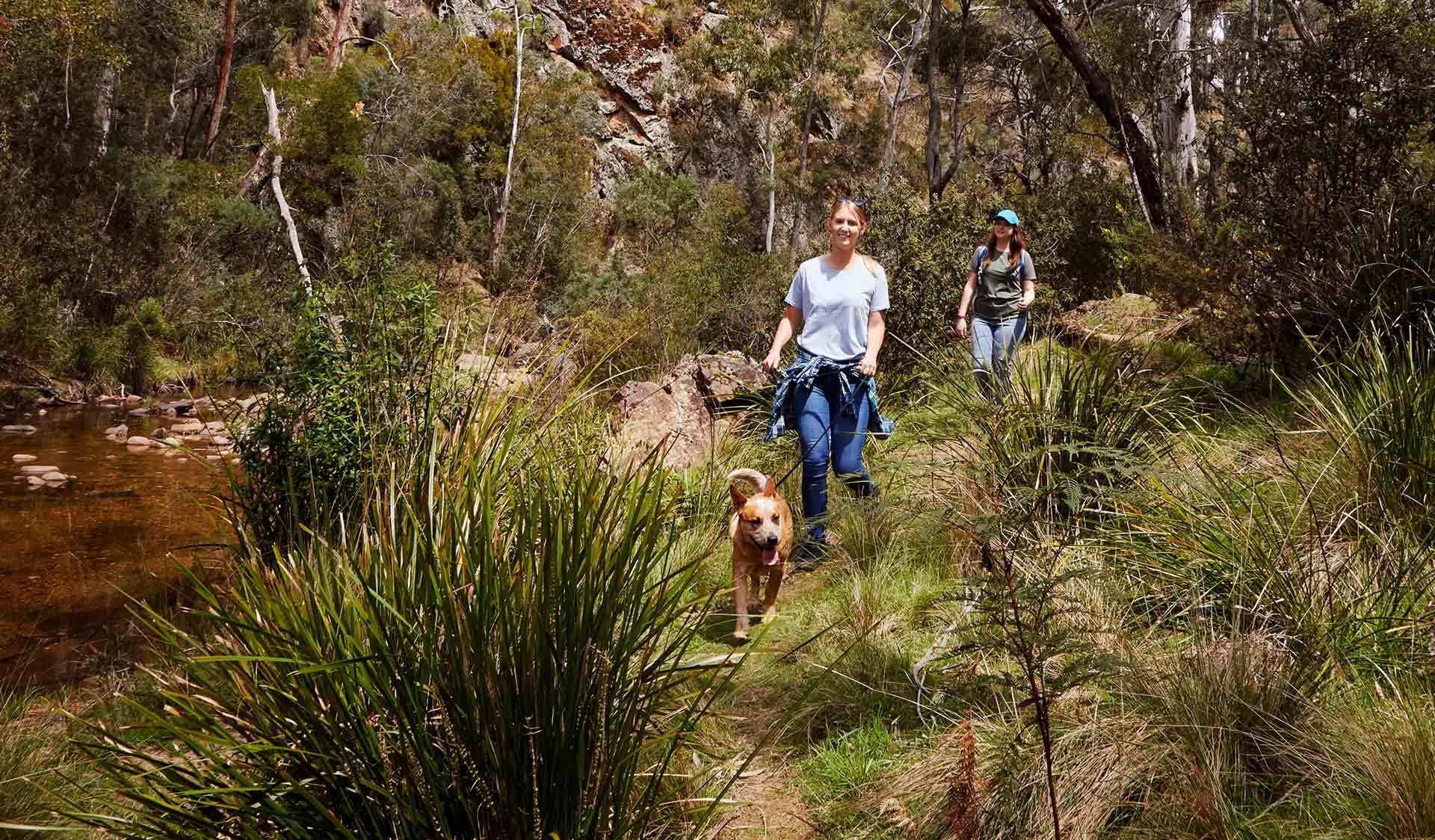 Amblers Crossing
Camping is permitted at Amblers Crossing. Amblers Crossing is 4WD or walk-in access only and due to the terrain and track surface is accessible in dry weather only.