Explore
Coppermine Campground
Located in the northern Grampians and accessible by 4WD only, Coppermine Campground is perfect for the adventurous camper.
Book now
Set high on the range with views out over the plains, this campground is ideal for those looking to get off the beaten track and experience some of the most beautiful and lesser known areas of the Grampians.
Accessible by 4WD only, this small campground offers four campsites, each accommodating up to six people. Sites are suitable for camper trailers, campervans or tents. Advanced bookings and payment are required year-round.
The campground features shared fireplaces and pit toilets and there is untreated tank-water available, however bring drinking water and firewood with you.
Things To Do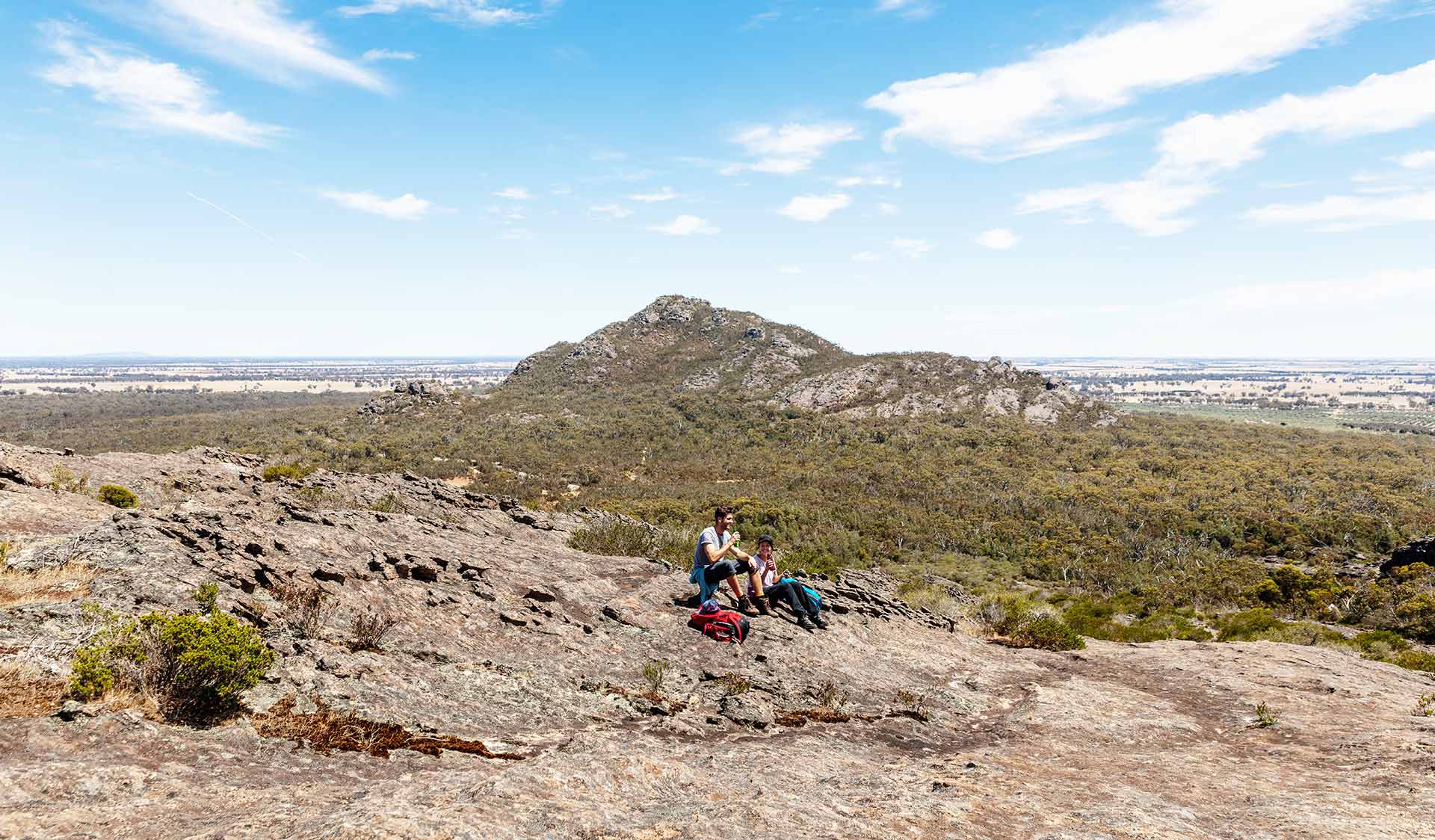 The northern Grampians National Park is dominated by the Mountt Difficult Range, Mount Stapylton and Mount Zero. Picnic at Mount Zero Picnic Area before tackling the gentle ascent to Flat Rock.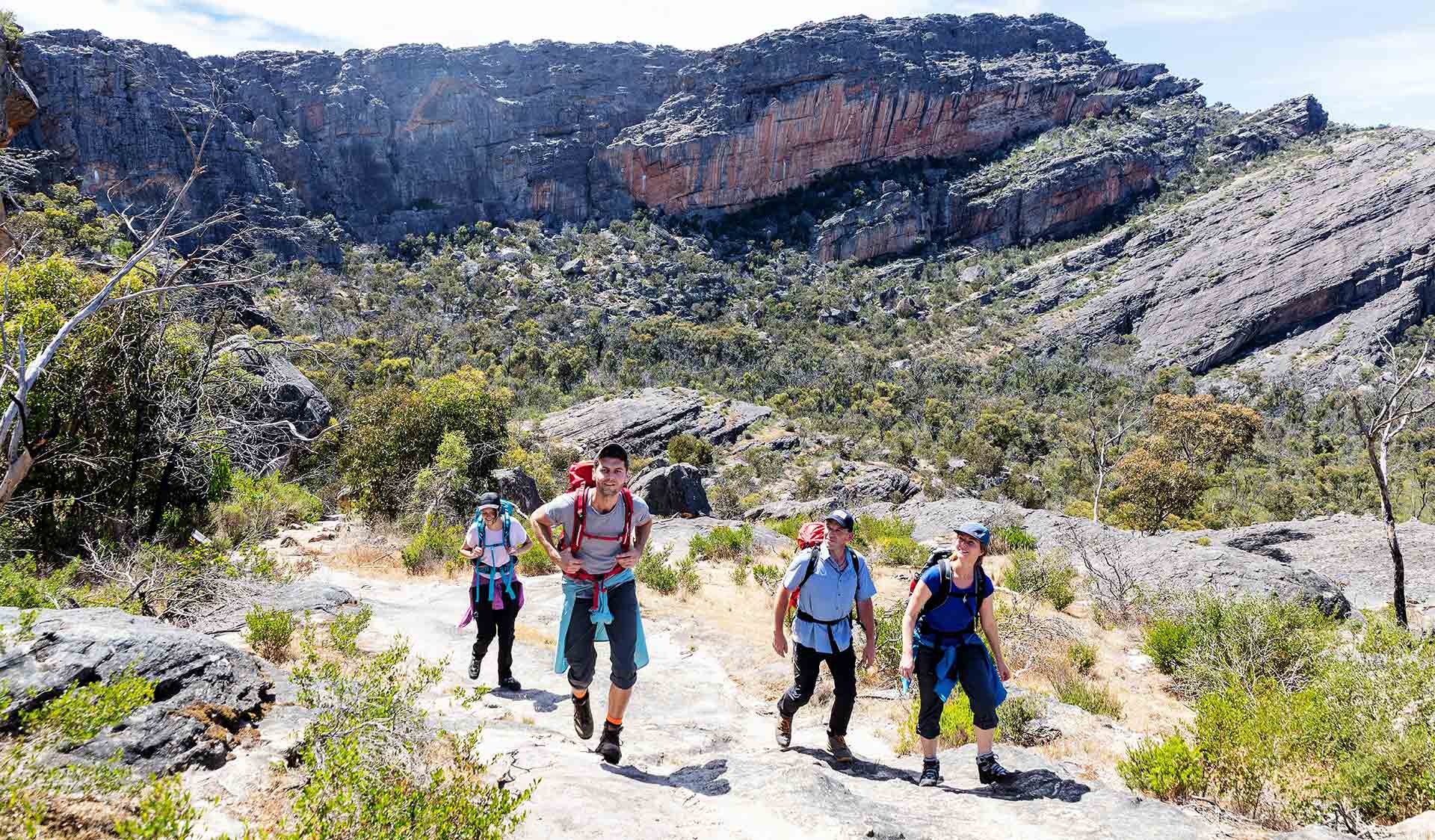 Hike through open forest and scramble over rocky outcrops on the Mount Stapylton Loop Walk. The adventurous walk will test your endurance as it dips into forested gullies and navigates the steep slope of Flat Rock.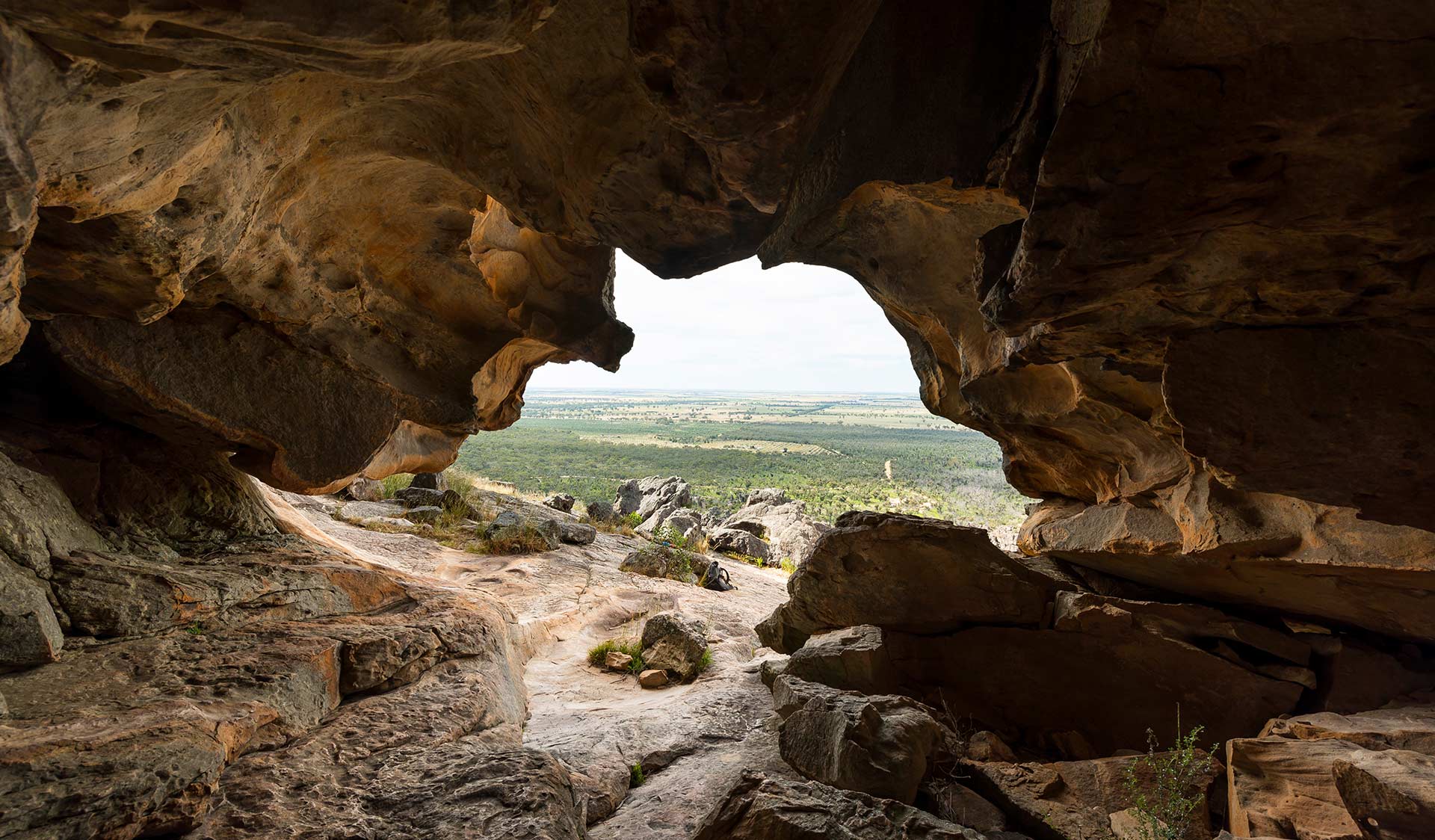 Hollow Mountain carpark is the start of another easy walk which takes you to the Aboriginal rock art shelter of Gulgurn Manja. Ponder the small hand prints on this rock art shelter wall while looking out over the surrounding Wimmera Plains.
How to get there
Coppermine Campground
Coppermine Campground is located on Coppermine Track, 1km from Pohlners Rd or 4km from Mount Zero Road.
When you're there
Download the Grampians National Park visitor guide to get the most out of your visit.
Need to know
Coppermine Campground
Safety tips for a great visit
Stay safe and get the most out of your park visit by preparing for natural hazards and other outdoor risks in Victoria's parks. You are responsible for your own safety and the safety of those in your care.
Accessibility
Visiting a park can be more of a challenge for people with disabilities, however in Victoria there are a wide range of facilities to help people of all abilities enjoy our wonderful parks around the state.
Bushfire awareness
Coppermine Campground in the Grampians National Park is in the Wimmera fire district. Bushfire safety is a personal responsibility. Anyone entering the park during the bushfire season needs to stay aware of forecast weather conditions. Check the Fire Danger Rating and for days of Total Fire Ban at emergency.vic.gov.au, on the Vic Emergency App or call the Vic Emergency Hotline 1800 226 226.
No fires may be lit on Total Fire Ban days. On Catastrophic Fire Danger Rating days this park will be closed for public safety. Closure signs will be erected but do not expect an official warning.
Change of Conditions
Nature being nature, sometimes conditions can change at short notice. It's a good idea to check this page ahead of your visit for any updates.
Grampians Gariwerd National Park Update 1.12.2022

Grampians Gariwerd National Park has been affected by heavy rainfall and flash flooding in the past month. Multiple roads and visitor sites are temporarily closed until floodwaters recede and sites can be assessed as safe. Visitor movement around the National Park is restricted due to road closures. Tree-fall may be an ongoing issue with wet soils and strong winds.


Major Road Closures (due to flood water or damaged crossings)



Mt Victory Road is open. For more information, visit regionalroads.vic.gov.au and search 'Mt Victory Road Halls Gap', call 133 788

- Glenelg River Road is closed in sections
- Lodge Road is closed
- Rose creek road is closed
- Multiple other roads and tracks in the north end of Victoria Valley
- Mitchell Road – closed
- Serra road – closed
- Glenelg river road south – open
- Mt Difficult road is open – 4WD only
**See latest road report for full road and track details at the bottom of this page


Key Visitor Sites impacted by walking track closure



Mackenzie Falls: Access to the Eastern Rock Shelf (across the steppingstones) at Mackenzie Falls is not open. Visitors can still access the walking track through to Fish Falls and Zumsteins

The Silverband Falls temporary closure is still in place due to flood damage. Visitors can access Clematis Falls and the Venus Baths loop as an alternative.

Current Campground closures due to closed roads

- Boreang Campground is closed
- Kalymna Campground is closed

Grampians Peaks Trail
Flash flooding has impacted many creek crossings, some are currently impassable, many have fast flowing water and deep channels. Some roads are temporarily closed surrounding the trail, so support services are not available in some areas. Weather conditions remain wet with strong winds.

Grampians Peaks Trail sites impacted by closures:

Temporary section closure of Grampians Peaks Trail – Base of Mt Sturgeon through to Dunkeld (Section S4) Recent heavy rains have caused flash flood impacts in areas of Grampians Gariwerd National Park. The section of Grampians Peaks Trail from the base of Mt Sturgeon through to Dunkeld is impassable. Hikers can still access Mt Sturgeon. Hikers are rerouted into Dunkeld from Emergency Marker GNP244, heading north to the Mt Sturgeon car park. Hikers will then walk south into Dunkeld on the eastern side of Victoria Valley Road. Signage has been installed to guide hikers. This is a temporary rerouting and will be reassessed when water levels drop.

Griffin Trail Head is Four-Wheel Drive access only


For park information, visitors can contact 13 1963 or they can visit Brambuk the National Park and Cultural Centre in Halls Gap.

Attachments: Grampians NP Road Report 01.12.2022 (165KB)
Similar experiences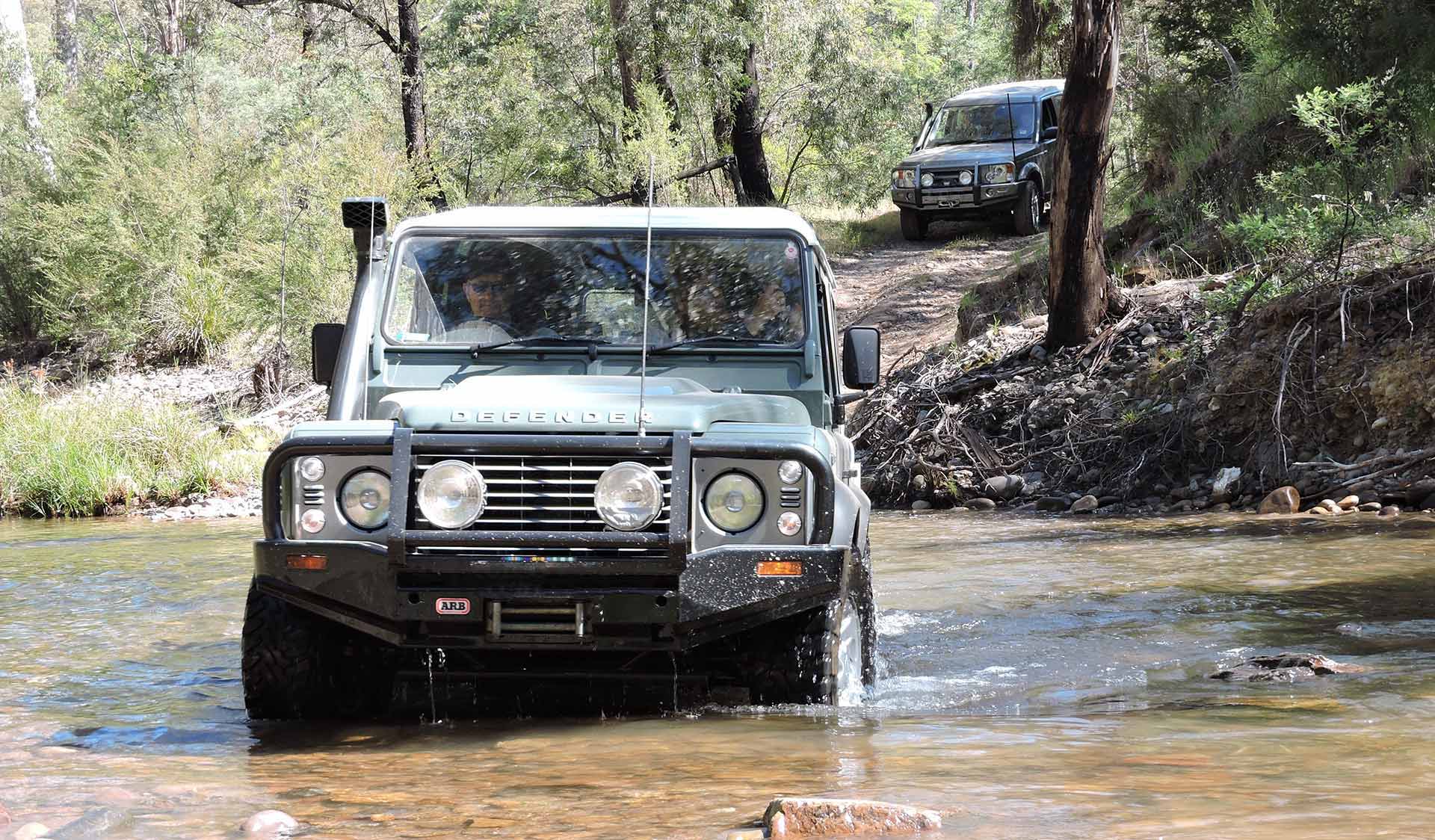 Four-wheel drive the secluded reaches of the park over towering alpine ridgelines, through lush river valleys and unforgettable alpine scenery.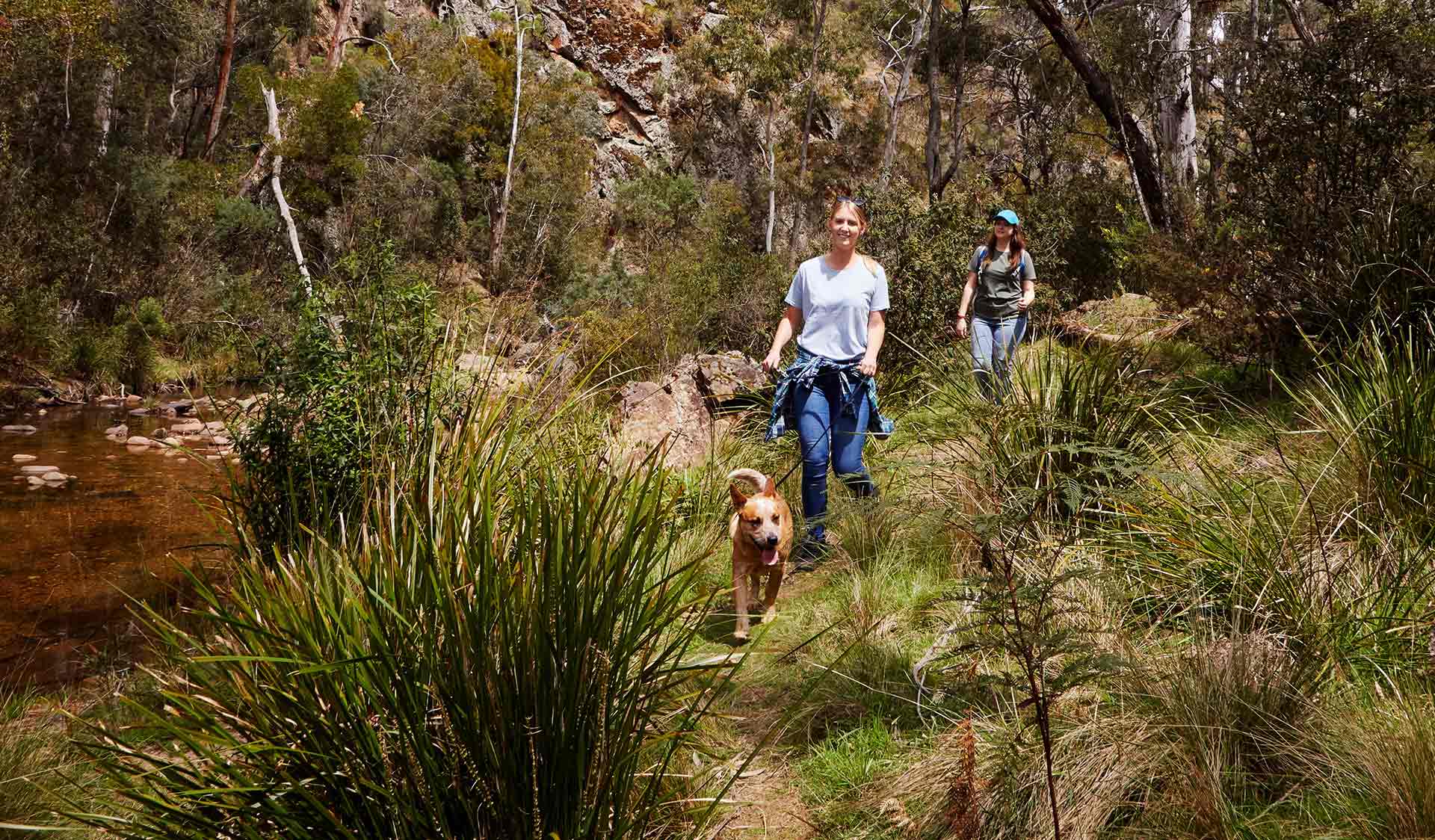 Amblers Crossing
Camping is permitted at Amblers Crossing. Amblers Crossing is 4WD or walk-in access only and due to the terrain and track surface is accessible in dry weather only.