Some of Lorne's best waterfall walks start from Sheoak Picnic Area. Trails to Henderson Falls, Phantom Falls, Sheoak Falls, Won Wondah Falls and Kalimna Falls all depart from here. If you want a break from your beachside holiday - or your Great Ocean Road drive - bring a picnic and take a hike.
Sheoak Picnic Area has a pretty good claim to be the waterfall capital of Victoria. Walks from this clearing surrounded by tall trees lead to at least six waterfalls through some gorgeous scenery. Some of the trails are along old timber tramway routes from the days when these forests were logged.

The waterfall walks of Sheoak Picnic Area make for a great day out in the Otway hinterland for people staying in nearby Lorne or one of the other seaside townships along the coast. Alternatively, this is a fantastic break from your drive along the Great Ocean Road. Sheoak Picnic Area is well-equipped for families with toilets, a picnic shelter and gas barbecues.
Henderson Falls - 3km return, 1 hour
The Henderson Falls Walk gently climbs from Sheoak Picnic Area, through dense wet forest shadowed by towering eucalypt trees. Finish your journey at the base of Henderson Falls, cascading over a moss-capped cliff face to a small pool below. There's also a short diversion to see Won Wondah Falls.
Kalimna Falls - 8.4km return, 4 hours
See two waterfalls for the price of one on this walk along an old timber tramway used for transporting timber to Lorne Pier from the 1890s-1920s. Wind through a deep valley carved by Sheoak Creek to see Lower Kalimna Falls cascading over an undercut rock ledge before pushing on to Upper Kalimna Falls framed by lush moss-covered trees.
Phantom Falls - 8.6km return, 3 hours
This walk from Sheoak Picnic Area to Phantom Falls is packed with highlights. You'll see Won Wondah Falls, Henderson Falls and the lost world of The Canyon on your way to Phantom Falls. Turn the walk into a circuit by continuing down to Allenvale and back to Sheoak Picnic Area along the unsealed road.
Sheoak Falls - 3.6km one way, 2 hours
Weave your way through the tall wet forest synonymous with the beautiful Otway Ranges along Sheoak Creek. Meander through coastal woodland via waterfalls and out to the coastal vistas of the Great Ocean Road. Sheoak Creek plunges into a tranquil pool at Sheoak Falls before continuing down to the ocean. If you'd prefer not to return to Sheoak Picnic Area via the same route, you can arrange to be picked up at Sheoak Falls Carpark.
Castle Rock - 5km return, 3 hours
Castle Rock Walking Track is in the Great Otway National Park near the town of Lorne. The trail starts at Sheoak Picnic Area and is approximately 5km return (3 hours) weaving uphill through coastal forest to a rocky outcrop with views over Cumberland River and the coast.
Things to do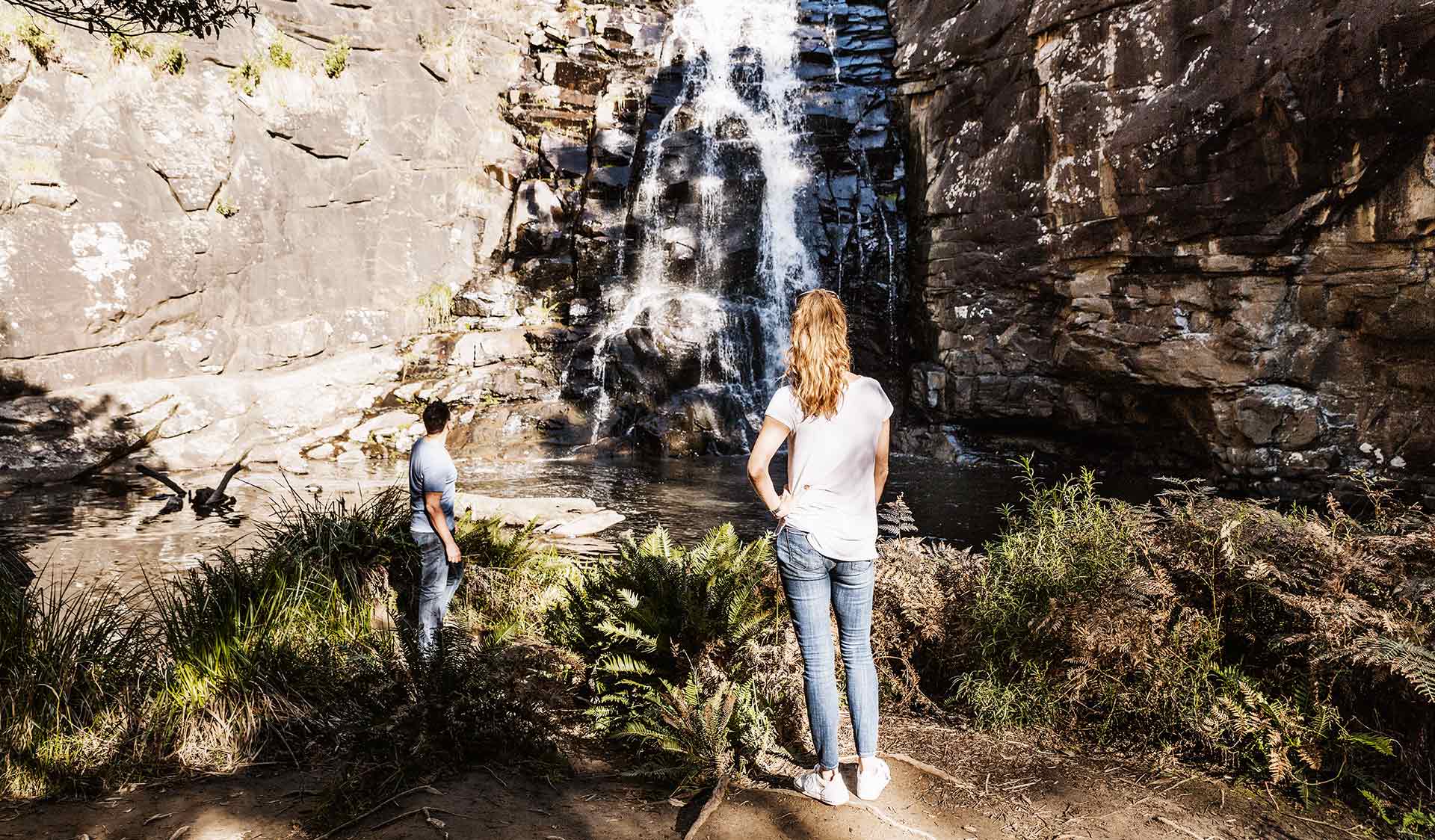 The Sheoak Falls Walk weaves its way from the coastal woodland at the mouth of the Sheoak Creek and through wet forest to the hidden cascades of Sheoak Falls.
How to get there
Sheoak Picnic Area
Sheoak Picnic Area is located just inland from Lorne on Garvey Track, just off Allenvale Road.
When you're there
All waterfall walks depart from Sheoak Picnic Area. Download the Great Otway National Park Lorne visitor guide before you go.
Need to know
Sheoak Picnic Area
Accessibility
Visiting a park can be more of a challenge for people with disabilities, however in Victoria there are a wide range of facilities to help people of all abilities enjoy our wonderful parks around the state.
Change of Conditions
Nature being nature, sometimes conditions can change at short notice. It's a good idea to check this page ahead of your visit for any updates.
Sheoak Picnic Area (Great Otway National Park)

Allenvale Road (Garvey Track) and Sharps Road are closed due to roadworks

Allenvale Road (Garvey Track) and Sharps Road are closed

for road works. there is no access to Sheoak Picnic Ground due to these works occurring.

No All-Abilities Toilet at Sheoak Picnic Area

No all-abilities toilet access at Sheoak Picnic Area. Portable toilets temporarily in use.

Notices Affecting Multiple Parks

Garvey Track Closed until further notice.

Garvey track will remain closed until further notice. Major road works are due to occur when conditions are suitable.

Cora Lynn Campground (Great Otway National Park)

Cora Lynn Campground Closure

This campground is closed until further notice due to hazardous trees.

Kalimna Falls Walk (Great Otway National Park)

Upper Kalimna Walking Trail Closed

Walking trail to Upper Kalimna Falls closed until further notice due to storm damage. Lower Falls remain open.

Kalimna Tramline Link Walk (Great Otway National Park)

Kalimna Tramline Trail Closed

This walking track is closed due to damage to a pedestrian bridge. Walkers can still access the Lower Kalimna Waterfall via the Kalimna Falls Walking Track, which starts at Sheoak Picnic Area.

Great Otway National Park

Curtis Track Closed

Curtis Track is currently closed due to hazardous conditions. Conditions continue to be monitored and assessed.

Lifejackets Required For Rock Fishers from March 1, 2022

A two-year trial of new laws

that require rock fishers to wear a lifejacket at high-risk locations will commence on

1 March 2022

.

For Great Otway National Park this includes:


Artillery Rocks, west of Lorne

The rock platform opposite Sheoak Falls, south of Lorne




Fines apply if you don't wear a lifejacket at these sites.

Notices Affecting Multiple Sites

Upper and Lower Distillery Creek Picnic Ground and track network closed due to planned burning

Planned burning operations are scheduled in this park which will result in

Distillery Creek Lower Picnic Ground, Distillery Creek Upper Picnic Ground, Currawong Falls track, Distillery Creek Nature Trail, Ironbark Gorge Trail, and Ironbark Drive being closed from the time a burn is approved for ignition until the area is declared safe. Ignition of the burn is scheduled from 24/03/2023 and is subject to favourable weather. Check the status of current planned burns at https://plannedburns.ffm.vic.gov.au

Maits Rest Rainforest Walk (Great Otway National Park)

Maits Rest Carpark- bus access

Maits Rest Carpark is suitable for small coaster buses only. Large buses or coaches are advised to use Melba Gully walk track near Lavers Hill.

Melba Gully Day Visitor Area (Great Otway National Park)

Melba Gully - Large bus access

Melba Gully Walk Track and picnic area is accessible for large coaches. Toilet facilities are available on site

Blanket Bay Campground (Great Otway National Park)

Blanket Bay - Bush Rats

Following the success of our fox and feral cat management programmes population numbers of

Rattus fuscipes

have grown again in the Blanket Bay campground area of the Great Otway National Park.

The combination of less predators and conducive weather conditions has allowed a population to return that campers at Blanket Bay should be cautious of.

The

Bush rat

has some specific features that can help you distinguish it from similar rats.

·

It has pointed head and rounded ears.

·

Its tail is smaller than the rat's body.

·

Another key feature is their front teeth - they are chisel-shaped with hard yellow enamel.

These native rodents are known to scavenge on campers' food, gnawing through tents to get to uncontained foodstuffs.

Native bush Rats are protected wildlife in the National Park and may form part of your camping experience while camping at Blanket Bay.

Attachments: Native vs Non-Native FS (779KB)
Similar experiences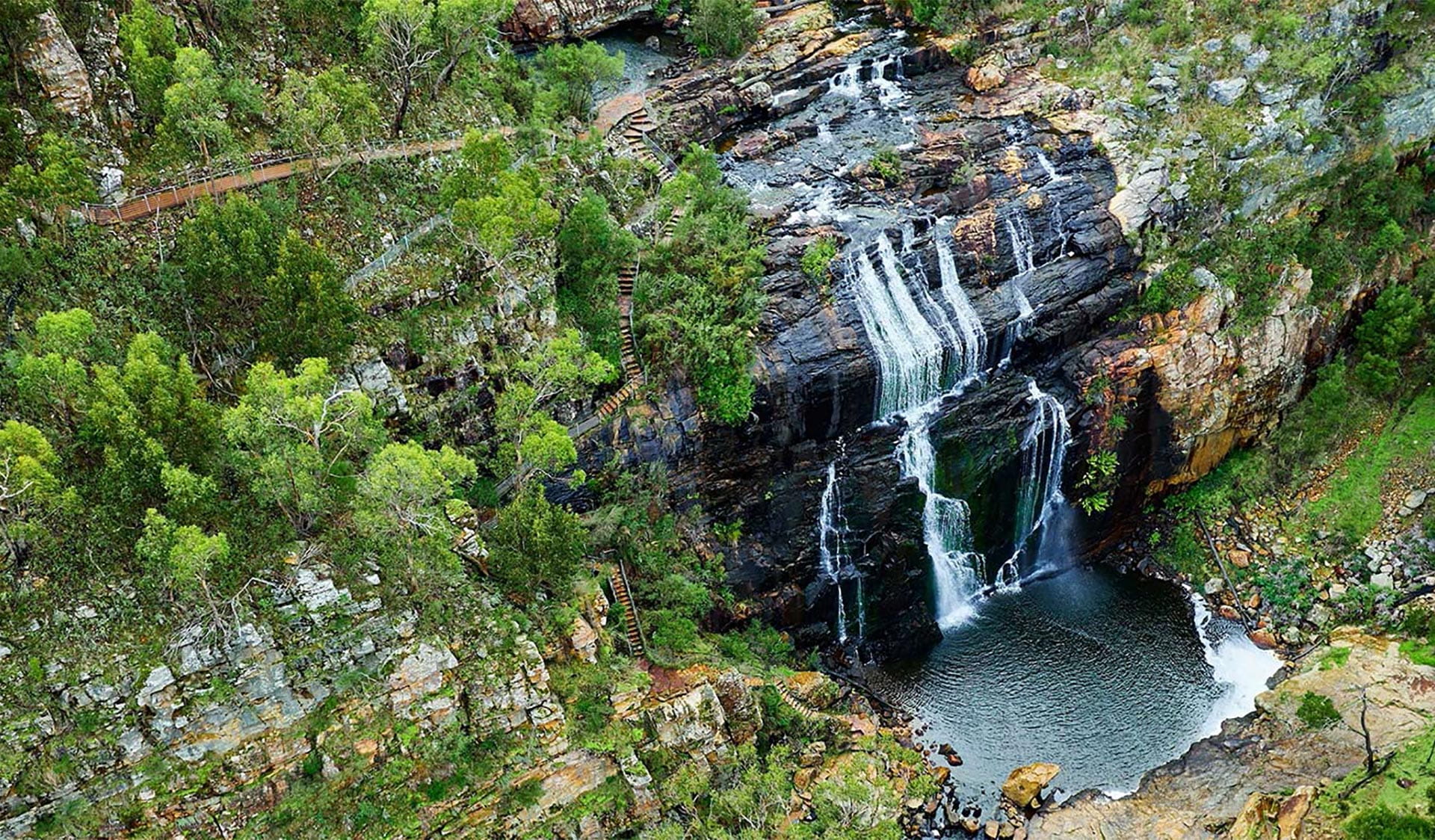 An easy stroll from the MackKenzie Falls carpark leads to a viewing platform overlooking the picturesque Broken Falls. To reach the base of MacKenzie Falls, follow the signs. Take care as this walk has many steps and is steep, slippery and strenuous in sections.