Some of Lorne's best waterfall walks start from Sheoak Picnic Area. Trails to Henderson Falls, Phantom Falls, Sheoak Falls, Won Wondah Falls and Kalimna Falls all depart from here. If you want a break from your beachside holiday - or your Great Ocean Road drive - bring a picnic and take a hike.
Sheoak Picnic Area has a pretty good claim to be the waterfall capital of Victoria. Walks from this clearing surrounded by tall trees lead to at least six waterfalls through some gorgeous scenery. Some of the trails are along old timber tramway routes from the days when these forests were logged.

The waterfall walks of Sheoak Picnic Area make for a great day out in the Otway hinterland for people staying in nearby Lorne or one of the other seaside townships along the coast. Alternatively, this is a fantastic break from your drive along the Great Ocean Road. Sheoak Picnic Area is well-equipped for families with toilets, a picnic shelter and gas barbecues.
Henderson Falls - 3km return, 1 hour
The Henderson Falls Walk gently climbs from Sheoak Picnic Area, through dense wet forest shadowed by towering eucalypt trees. Finish your journey at the base of Henderson Falls, cascading over a moss-capped cliff face to a small pool below. There's also a short diversion to see Won Wondah Falls.
Kalimna Falls - 8.4km return, 4 hours
See two waterfalls for the price of one on this walk along an old timber tramway used for transporting timber to Lorne Pier from the 1890s-1920s. Wind through a deep valley carved by Sheoak Creek to see Lower Kalimna Falls cascading over an undercut rock ledge before pushing on to Upper Kalimna Falls framed by lush moss-covered trees.
Phantom Falls - 8.6km return, 3 hours
This walk from Sheoak Picnic Area to Phantom Falls is packed with highlights. You'll see Won Wondah Falls, Henderson Falls and the lost world of The Canyon on your way to Phantom Falls. Turn the walk into a circuit by continuing down to Allenvale and back to Sheoak Picnic Area along the unsealed road.
Sheoak Falls - 3.6km one way, 2 hours
Weave your way through the tall wet forest synonymous with the beautiful Otway Ranges along Sheoak Creek. Meander through coastal woodland via waterfalls and out to the coastal vistas of the Great Ocean Road. Sheoak Creek plunges into a tranquil pool at Sheoak Falls before continuing down to the ocean. If you'd prefer not to return to Sheoak Picnic Area via the same route, you can arrange to be picked up at Sheoak Falls Carpark.
Castle Rock - 5km return, 3 hours
Castle Rock Walking Track is in the Great Otway National Park near the town of Lorne. The trail starts at Sheoak Picnic Area and is approximately 5km return (3 hours) weaving uphill through coastal forest to a rocky outcrop with views over Cumberland River and the coast.
Things to do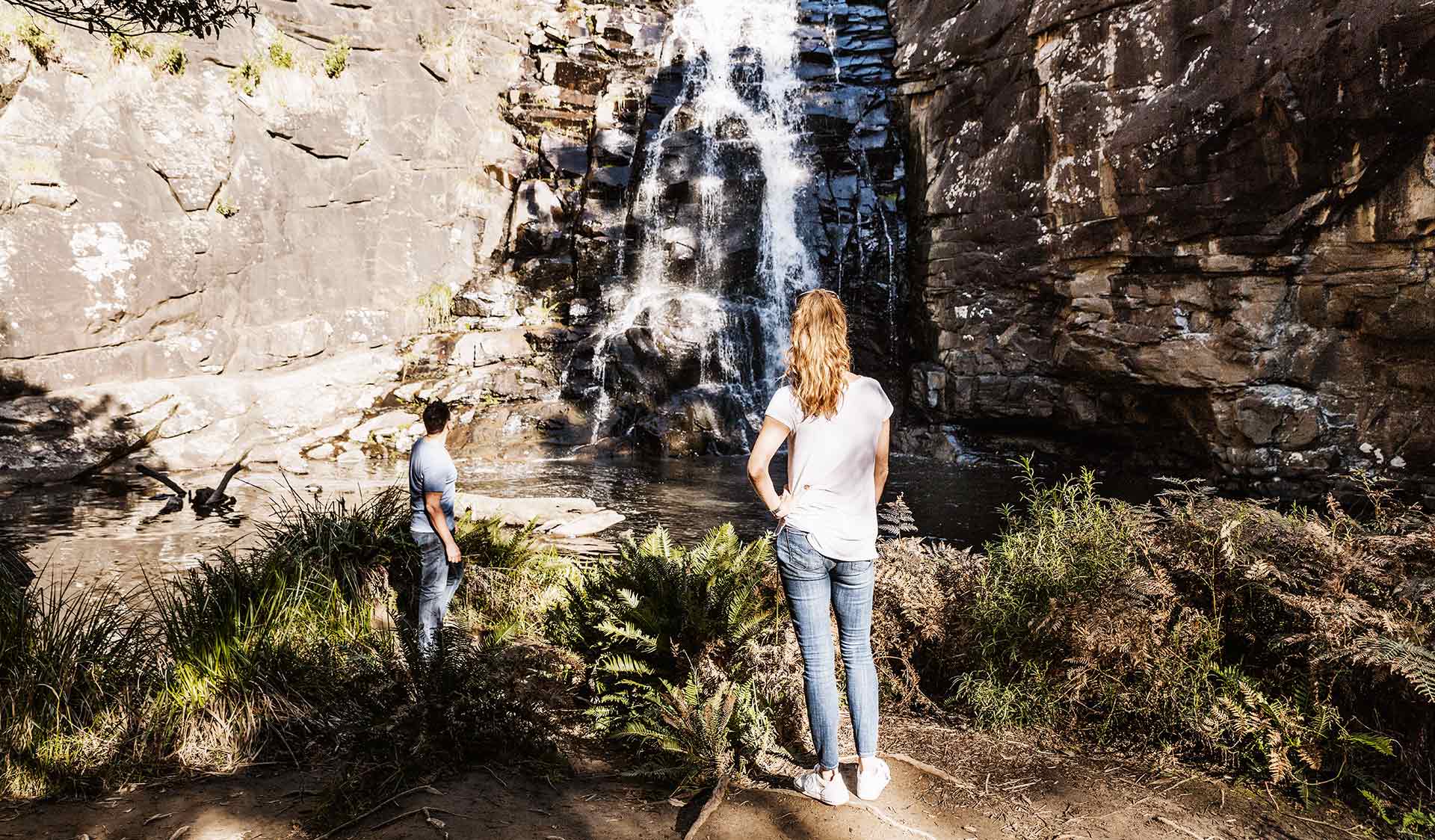 The Sheoak Falls Walk weaves its way from the coastal woodland at the mouth of the Sheoak Creek and through wet forest to the hidden cascades of Sheoak Falls.
How to get there
Sheoak Picnic Area
Sheoak Picnic Area is located just inland from Lorne on Garvey Track, just off Allenvale Road.
When you're there
All waterfall walks depart from Sheoak Picnic Area. Download the Great Otway National Park Lorne visitor guide before you go.
Need to know
Sheoak Picnic Area
Accessibility
Visiting a park can be more of a challenge for people with disabilities, however in Victoria there are a wide range of facilities to help people of all abilities enjoy our wonderful parks around the state.
Change of Conditions
Nature being nature, sometimes conditions can change at short notice. It's a good idea to check this page ahead of your visit for any updates.
Big Hill Campground (Great Otway National Park)

Big Hill Campground is currently closed during seasonal road closure period

The Big Hill Campground is closed during seasonal road closures. As the Campground is situated along Big Hill track which is seasonally closed due to wet weather. The Campground will reopen 30 October 2020

Herberts (Wymbooliel) Campground (Great Otway National Park)

Herbert's Campground closed

Herbert's Campground is closed until further notice due to hazardous trees.

Notices Affecting Multiple Sites

Aire River West and East campgrounds- Temporary Closure of sites

Aire River East and West Campgrounds in the Great Otway National Park are currently closed due to recent flooding.

Notices Affecting Multiple Parks

Seasonal road closures 2020

Partial closure due to COVID-19

Under the direction of the Chief Health Officer and in accordance with Department of Health and Human Services' requirements, this park is open to local residents in regional Victoria. You can use this park for walking, hiking, bike riding, surfing, kayaking or yoga so long as it is closest to your home. While exercising with a person outside your household, you should keep at least 1.5 metres distance from them and others. Some parts of this park are closed to reduce the number of people moving around in the community and reduce the risk of transmission. For more information, visit www.parks.vic.gov.au/covid-19

Great Otway National Park

Temporary Road Closure

Allardyce Track in the Great Otway National Park is temporarily closed for public safety.
Similar experiences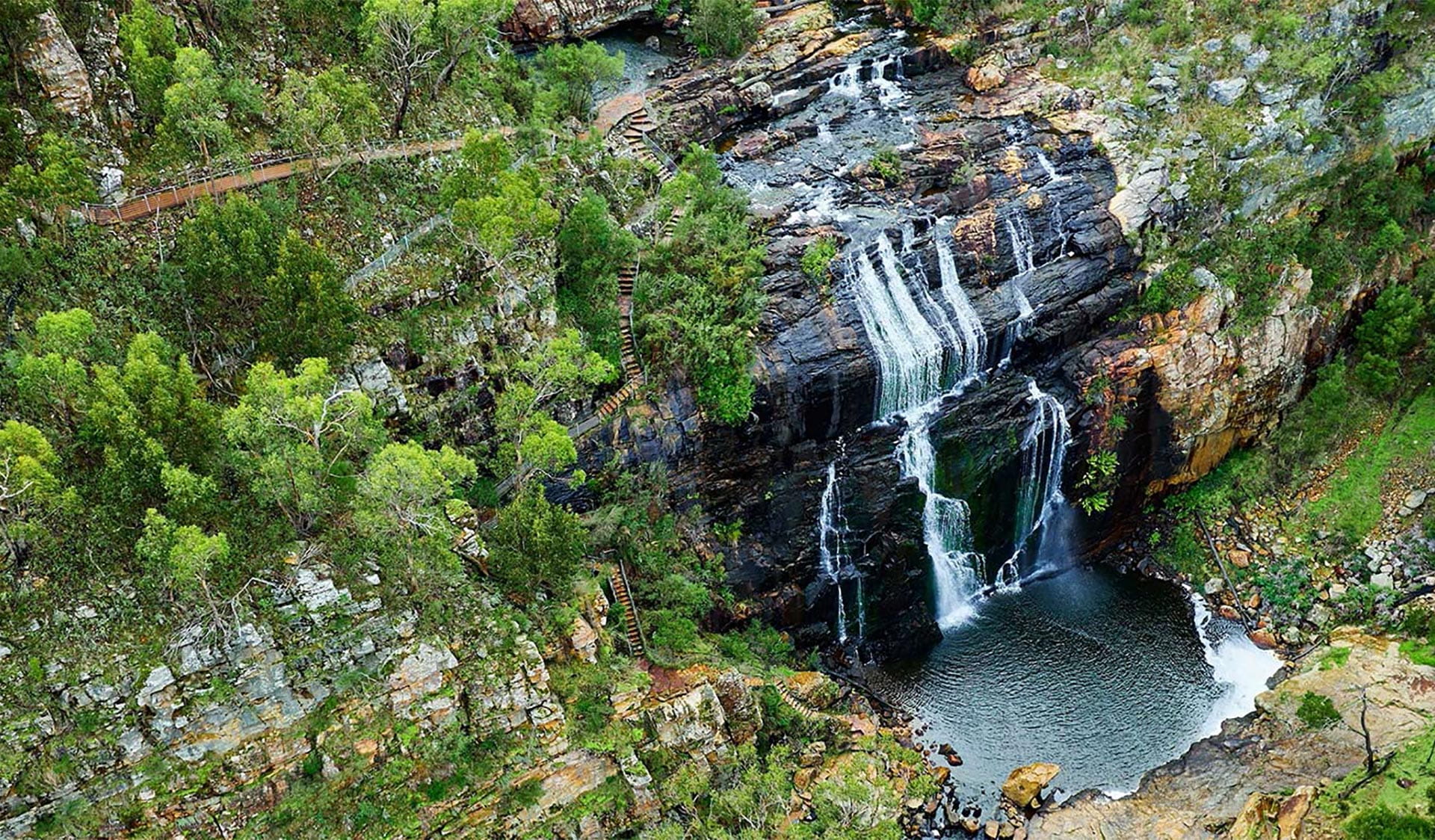 An easy stroll from the MackKenzie Falls carpark leads to a viewing platform overlooking the picturesque Broken Falls. To reach the base of MacKenzie Falls, follow the signs. Take care as this walk has many steps and is steep, slippery and strenuous in sections.