Explore
Johanna Beach Campground
Take a break from your Great Ocean Road drive at this low-key campground. Camp between coastal sand dunes in lush, grassy hinterland and a prime surf beach for an unforgettable seaside stay. Take in the ocean vistas, go surfing, fishing or stroll along a section of the Great Ocean Walk. Humpback and Southern Right-whales can be spotted out to sea from July to September.
Book now
An unpatrolled beach, the westerly facing breaks of Johanna Beach are popular for experienced surfers. This is also a good surf fishing beach. Try your hand at catching mullet or salmon for dinner.
Johanna Beach is close to several other park attractions of natural wonder. Melba Gully, the Twelve Apostles, Cape Otway Lightstation and Triplet Falls are all within an hour's drive.
Please note, Johanna Beach is an important nesting area for the threatened Hooded Plover. This small bird nests just above the high tide between August and February. If you are walking along the beach please walk below the high tide mark. To help protect this species and other wildlife, dogs are permitted on lead only.
Johanna Beach Campground has 25 non-powered sites available to book. Amenities are basic with non-flush toilets and no showers.
How to get there
Johanna Beach Campground
Johanna Beach is just off the Great Ocean Road near Glenaire. It's a three-hour drive from Melbourne via the direct inland route through Colac. Alternatively, it's a four-hour drive from Melbourne via the world famous and very scenic Great Ocean Road.
When you're there
Johanna Beach Campground and its adjoining day visitor area are on the route of the eight-day long distance walk, the Great Ocean Walk. Hikers can stay at the nearby hike-in campsites or in accommodation nearby. Download the Great Otway National Park visitor guides before you go, or visit the Great Ocean Walk website for accommodation, guides and shuttle services.
Need to know
Johanna Beach Campground
Accessibility
The Johanna Beach drive in camping area has a range of campsites located close to Johanna Beach. Sites are located on undulating grassland with some limited shelter provided by coastal vegetation. A number of the campsites are on slopes making them unsuitable for wheelchair access.
Parking is on the grass generally next to the campsite. There are no designated paths leading all the way to the toilets.
There are two standard toilet cubicles and a unisex accessible toilet servicing the camping area. Access is via the gravel service road and then up a short compacted gravel path leading to the toilets. There is no designated path leading from the campsites directly to the toilets; wheelchairs are required to go over grassy surfaces and parts of the service road.
The entrance to the accessible toilet cubicle is approximately 870mm wide with an inward swinging door. The door has a turnstile locking mechanism. There is ample room for manoeuvrability in the cubicle and there are two types of toilet roll dispensers. Grab railing is on the left side of the cubicle wall and extends behind the toilet. The cubicle also has a bench seat.
The vanity basin is located outside the toilet cubicles and is accessible for wheelchairs. It has a knob handle cold water tap and a stainless steel mirror.
Johanna Beach is not accessible by wheelchair from the camping area.
Be prepared and stay safe
No solid fuel fires permitted.
Fuel stoves or gas barbecues are preferred for cooking.
Bring your own drinking water.
Come and enjoy the peace and quiet – please, no generators.
Please take your rubbish home with you.
Johanna Beach Campground is in the Great Otway National Park in the South West fire district. Bushfires can occur during the warmer months. It is your responsibility to check current and forecast weather conditions. Campfires cannot be lit on days of Total Fire Ban, however gas cookers can be used for preparing food.
Check the Fire Danger Rating and for days of Total Fire Ban at emergency.vic.gov.au, on the Vic Emergency App or call the Vic Emergency Hotline 1800 226 226.
Change of Conditions
Nature being nature, sometimes conditions can change at short notice. It's a good idea to check this page ahead of your visit for any updates.
Aire River East Campground (Aire River Heritage River, Great Otway National Park)

Aire River East campground Temporary closure

Aire River east campground is temporarily closed due to wet conditions making the area unsuitable for camping.

Great Otway National Park

Delayneys Track Closed

Delayneys Track is closed until further notice.

Lifejackets Required For Rock Fishers from March 1, 2022

A two-year trial of new laws

that require rock fishers to wear a lifejacket at high-risk locations will commence on

1 March 2022

.

For Great Otway National Park this includes:


Artillery Rocks, west of Lorne

The rock platform opposite Sheoak Falls, south of Lorne




Fines apply if you don't wear a lifejacket at these sites.

Notices Affecting Multiple Sites

Erskine Falls Lower Lookout Closed

Erskine Falls lower lookout is closed until further notice. Access to the base of the waterfall is no longer open due to unsafe conditions. Erskine Falls can be viewed from the top lookout which looks across to the top of the falls. Straw Falls is also inaccessible from the Erskine Falls carpark due to this closure. Erskine Falls walking track is still open from the Lorne township up to the base of Erskine Falls.

Great Ocean Walk - Wet and Muddy conditions

As a result of ongoing rain in the Great Otway National Park over autumn and through winter 2023, conditions of the track on the day 1 and day 2 sections of the Great Ocean Walk are advised to be very wet and muddy.




The Elliot Road section of walk is particularly unfavourable, and heavy conditions are anticipated to be ongoing until late Spring 2023.




South West District Weather forecast

Attachments: GOW May 2023 (540KB)

Great Ocean Walk - walking event

A permitted walking event from Cape Otway in the Great Otway National Park to the Twelve Apostles in the Port Campbell National park will be taking place on the Great Ocean Walk on Saturday 28 & Sunday the 29 October 2023.
The group of approximately 100 walkers will be walking in small groups of 10 starting from around 9am at the Cape Otway Light station.
The group has booked and is staying overnight at the Johanna beach campground, on Saturday 28 October.
No Great Ocean Walk campgrounds are being used, including at the Johanna Great Ocean Walk camp site.
The group will be shuttled from Johanna Beach to Moonlight Head to finish their walk on Sunday concluding at the Twelve Apostles in the Port Campbell National Park approximately 3pm.
The event is weather dependant.
For more information or concerns please call 131963.

Notices Affecting Multiple Parks

Seasonal road closures 2023

Seasonal road closures apply to areas within and tracks bordering this park from 15 June 2023. See

MapshareVic

for locations of the closures. Visit the

seasonal road closures

page for more information.

Sharps Campground (Great Otway National Park)

Sharps Campground Permanently Closed

Due to environmental and safety risks, Sharps campground will be permanently closed from Thursday 22nd December 2022.




For more information please see attached fact sheet.

Cora Lynn Campground (Great Otway National Park)

Cora Lynn Campground Closed

Due to environmental and safety risks, Cora Lynn campground is permanently closed.

Blanket Bay - Bush Rats

Following the success of our fox and feral cat management programmes population numbers of

Rattus fuscipes

have grown again in the Blanket Bay campground area of the Great Otway National Park.

The combination of less predators and conducive weather conditions has allowed a population to return that campers at Blanket Bay should be cautious of.

The

Bush rat

has some specific features that can help you distinguish it from similar rats.

·

It has pointed head and rounded ears.

·

Its tail is smaller than the rat's body.

·

Another key feature is their front teeth - they are chisel-shaped with hard yellow enamel.

These native rodents are known to scavenge on campers' food, gnawing through tents to get to uncontained foodstuffs.

Native bush Rats are protected wildlife in the National Park and may form part of your camping experience while camping at Blanket Bay.

Attachments: Native vs Non-Native FS (779KB)

Maits Rest Rainforest Walk (Great Otway National Park)

Maits Rest Carpark- bus access

Maits Rest Carpark is suitable for small coaster buses only. Large buses or coaches are advised to use Melba Gully walk track near Lavers Hill.

Melba Gully Day Visitor Area (Great Otway National Park)

Melba Gully - Large bus access

Melba Gully Walk Track and picnic area is accessible for large coaches. Toilet facilities are available on site
Similar experiences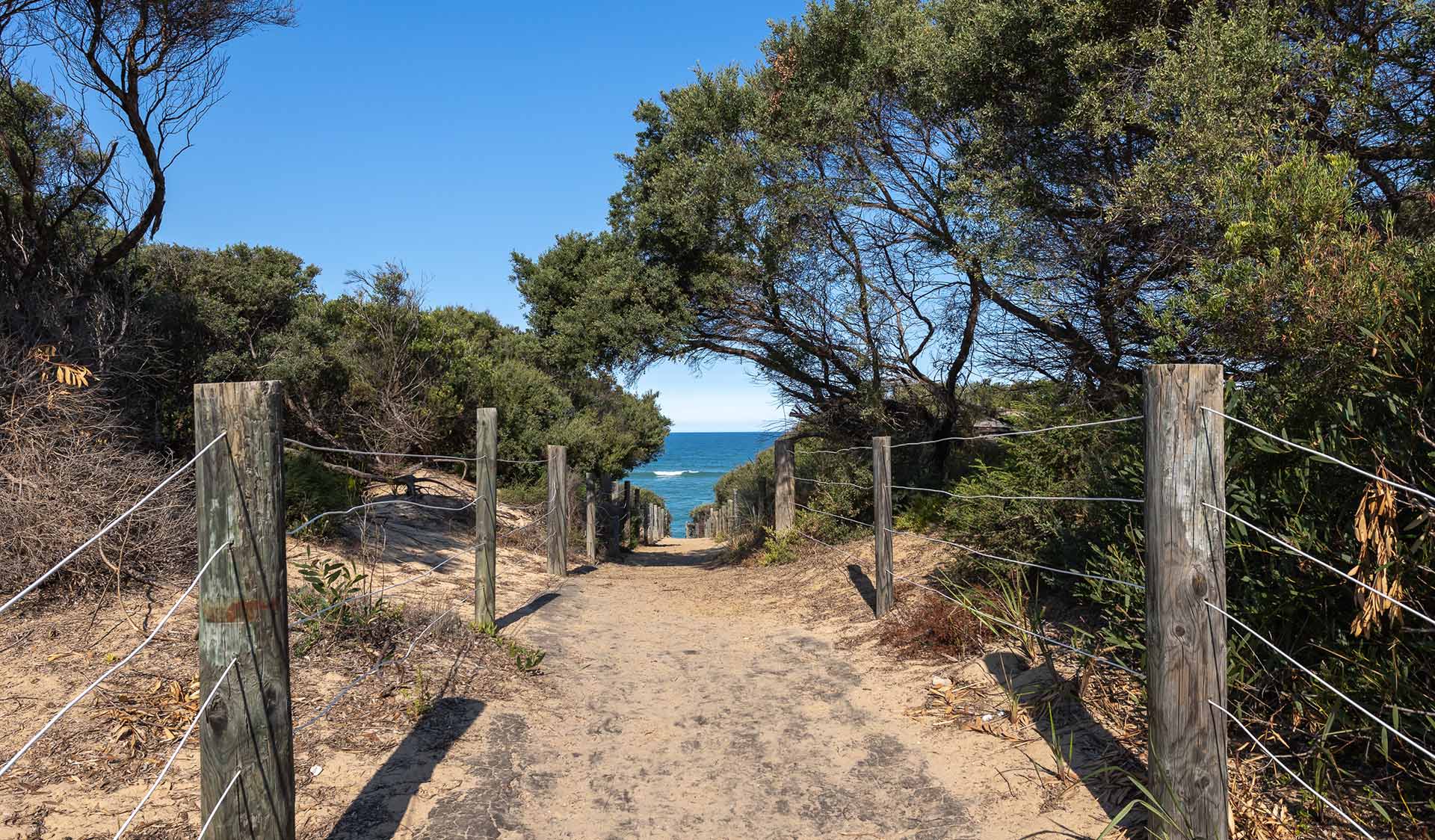 The campground is separated from the beach by a stretch of fenced vegetation. There is access to the beach from the Paradise Beach camping area. Use this access points to reduce damage to the sensitive coastal vegetation.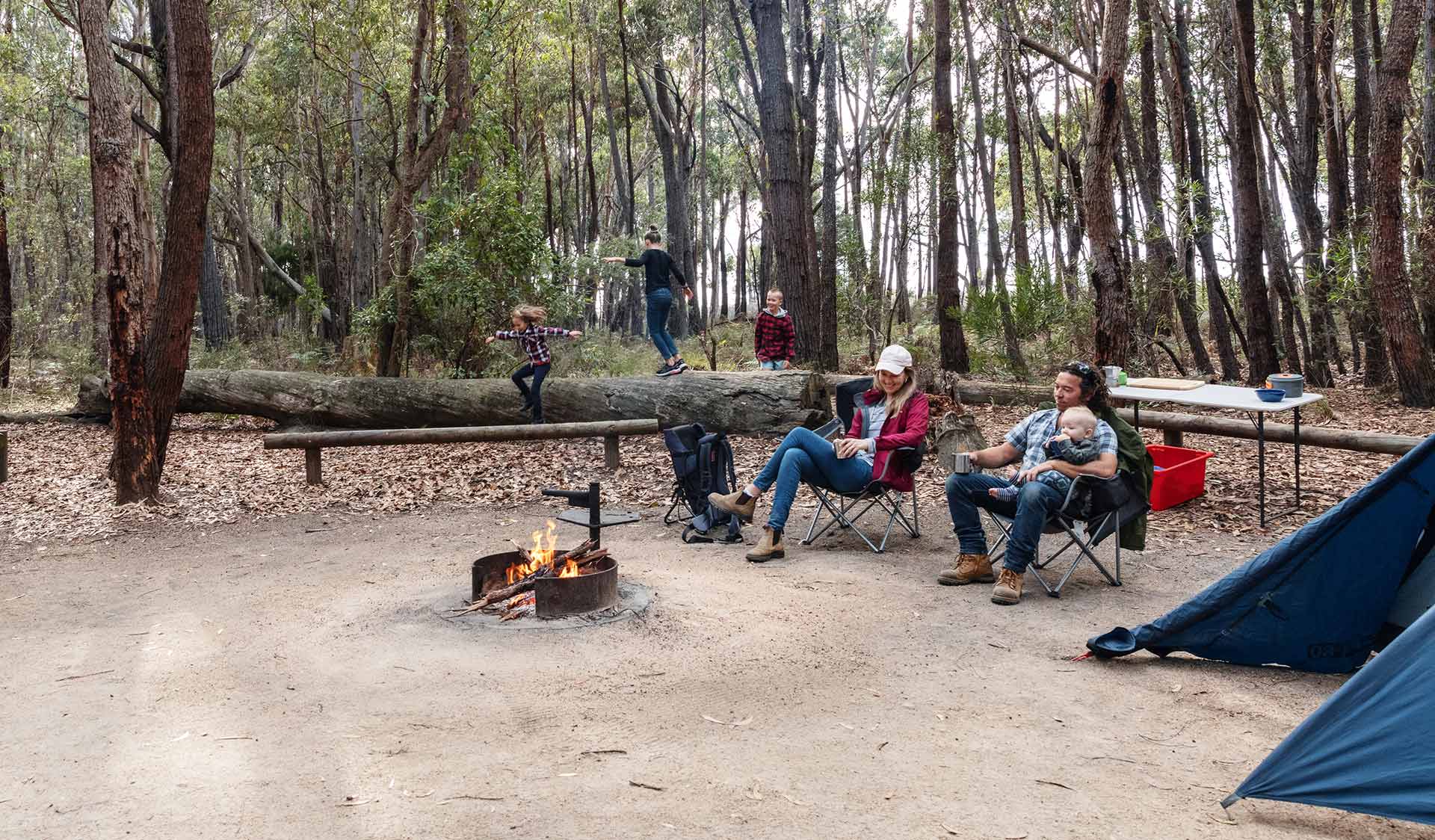 This small campground is set in a tall forest above a small secluded cove which is only a 10 minute walk away. It is an excellent base for walks covering both heathland and coastal scenery.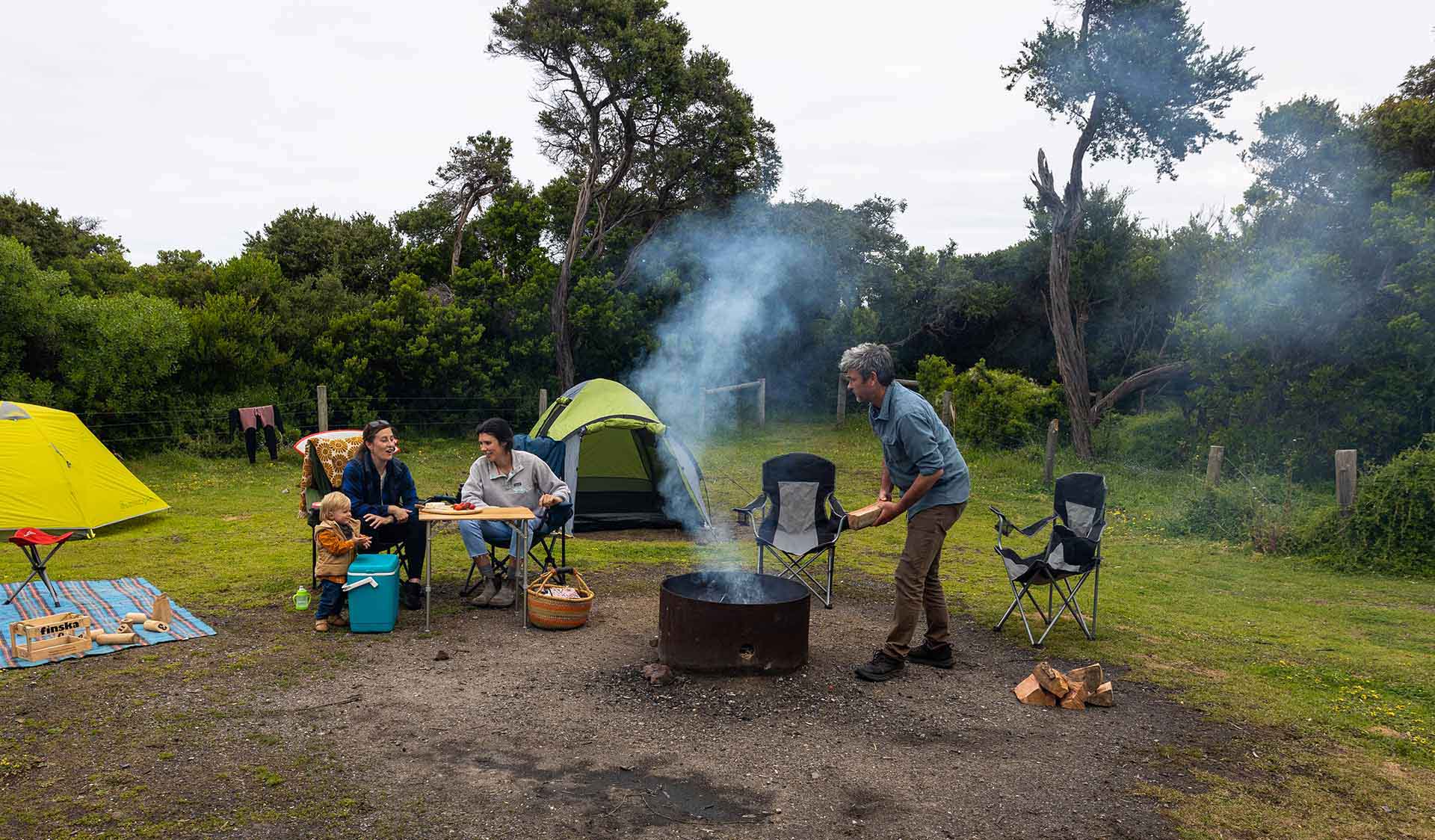 This camping area offers shady campsites set among tall Banksias right on the shore of Waratah Bay. The adjacent beach is unpatrolled and not recommended for swimming. The area is popular for fishing and rock pooling.