Embracing the wild ocean beaches between Portsea and Flinders, and the kangaroo haven of Greens Bush, Mornington Peninsula National Park is a favourite of Melburnians looking to escape the nearby city.
Popular visitor areas include the historic Cape Schanck lighthouse precinct, the ocean beaches of Sorrento and Portsea, the rugged Flinders coastline and walking tracks through the wildlife haven Greens Bush.

Barbecue facilities are provided Fingal Picnic Area (near Cape Schanck) and Sorrento Ocean Beach. Kiosks operate at Sorrento and Cape Schanck and takeaway food is often available during summer holidays at Gunnamatta and Portsea.
Dogs are not permitted in Mornington Peninsula National Park. This includes beaches, carparks and Greens Bush.
Things to do in the area
Fingal Picnic Area
Enjoy a picnic in the peaceful Fingal Picnic Area located two kilometres north of Cape Schanck. This area was subdivided for housing but was re- purchased by the government from 1974 to 1977. Facilities at the site include electric barbecues, toilets, tables and a ball games area.
Walking tracks lead to nearby lookouts with spectacular views of basalt cliffs and Fingal Beach which is exposed at low tide. The return walk (3km) and access to the beach is via a steep staircase which may not be suitable for visitors with low mobility. A longer walk to the northern Gunnamatta Beach (5km) is also available from the Fingal Picnic Area.
Bushranger Bay Picnic Area
The beautiful Bushrangers Bay comprises of a sandy beach surrounded by basalt cliffs. This serene location is contrasted by dark and brooding headlands and wild waves that often crash onto jagged rocks guarding the entrance to the bay.
Bushrangers Bay can be accessed along Main Creek from the Boneo Road car park and picnic area (2.5km). This section of the Two Bays Walking Track provides fine views and passes through shady Banksia groves.

Sorrento Ocean Beach

Sorrento Back Beach is located around 1.5km south of the town of Sorrento. The beach is a popular location for activities such as surfing, swimming, walking and exploring the rockpools at low tide.
The beach is patrolled on summer weekends and holidays. Please swim between the flags as ocean beaches are dangerous for swimming.
Facilities at the site include a large car park and picnic area with toilets. A café and kiosk is available year round and also caters for functions and weddings.
Cape Schanck offers stunning landscapes; the mystery of dramatic volcanic features, unspoilt and wild beaches and scenic walking tracks with spectacular ocean views. It is also a site of rich European history with its heritage listed lighthouse precinct.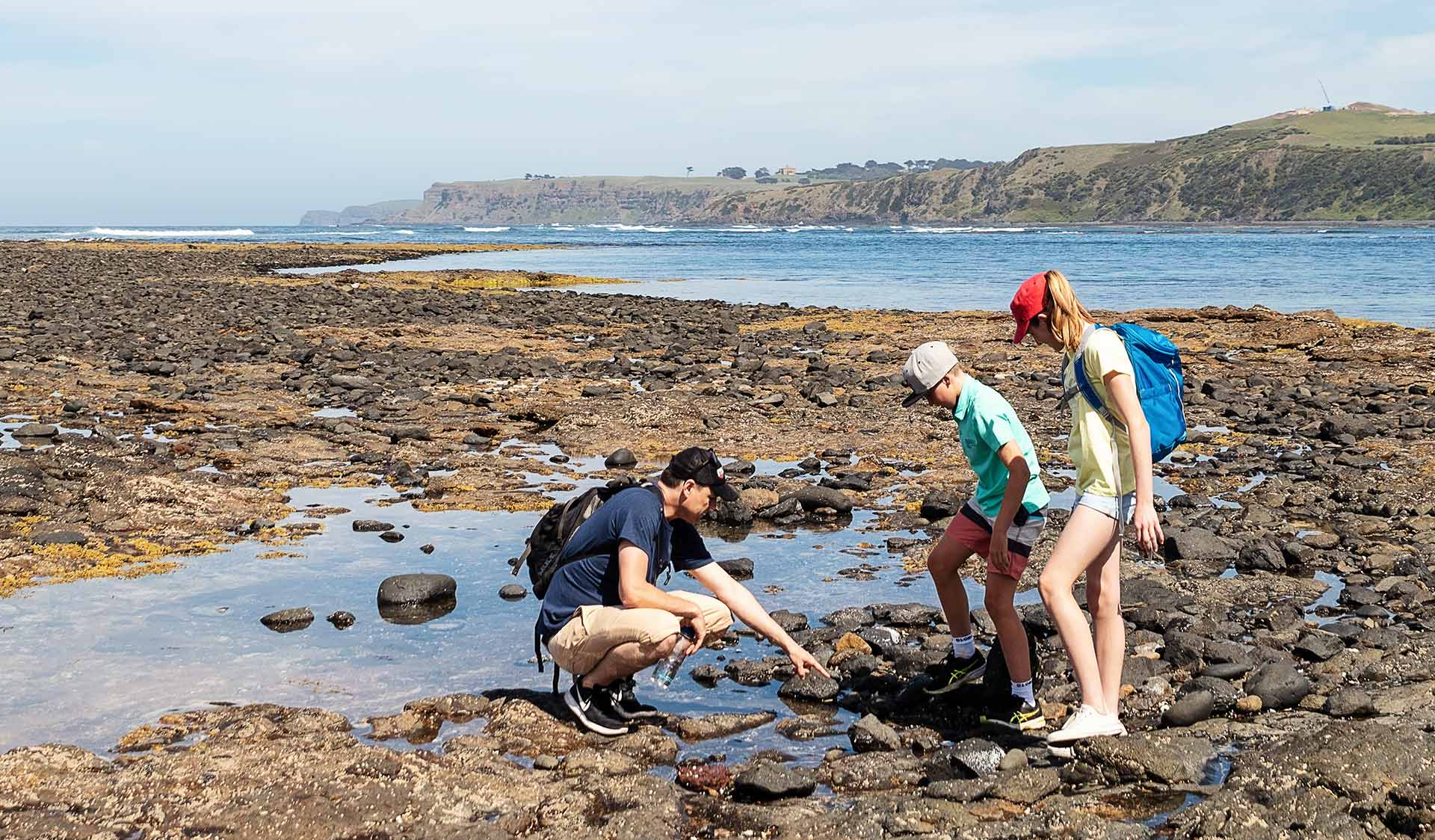 A favourite family pastime is exploring the amazing rock pools of Mushroom Reef Marine Sanctuary. At low tide, the ocean withdraws to expose a huge mushroom-shaped rock platform extending from the beach. The reef is formed from ancient basalt and is famous for the diversity of marine life which make it their home.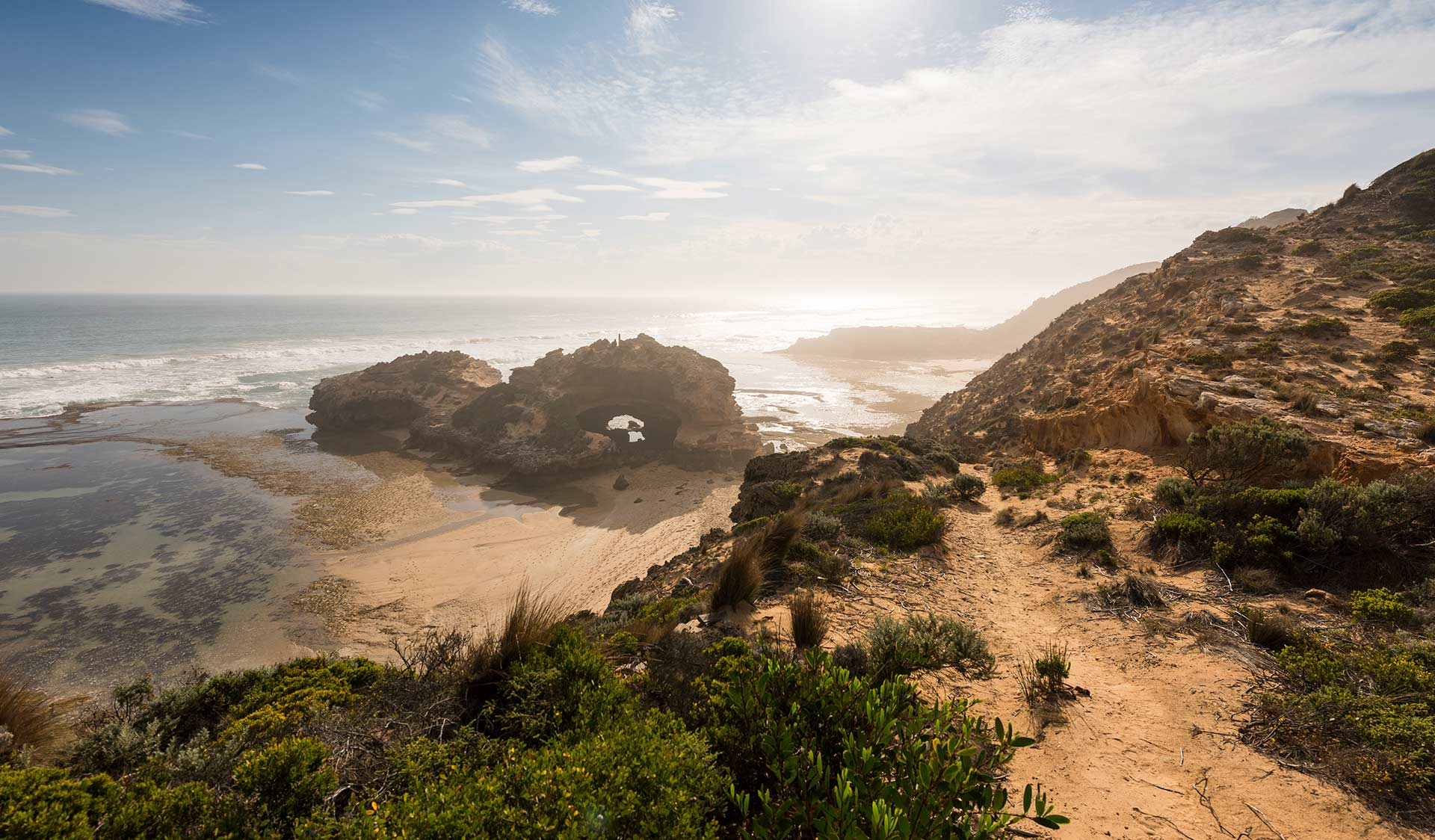 London Bridge
The London Bridge area is the most northern beach in the Mornington Peninsula National Park and borders Point Nepean National Park. This famous landform is composed of sandstone and has been formed through weathering action of thousands of years of wind, rain and waves.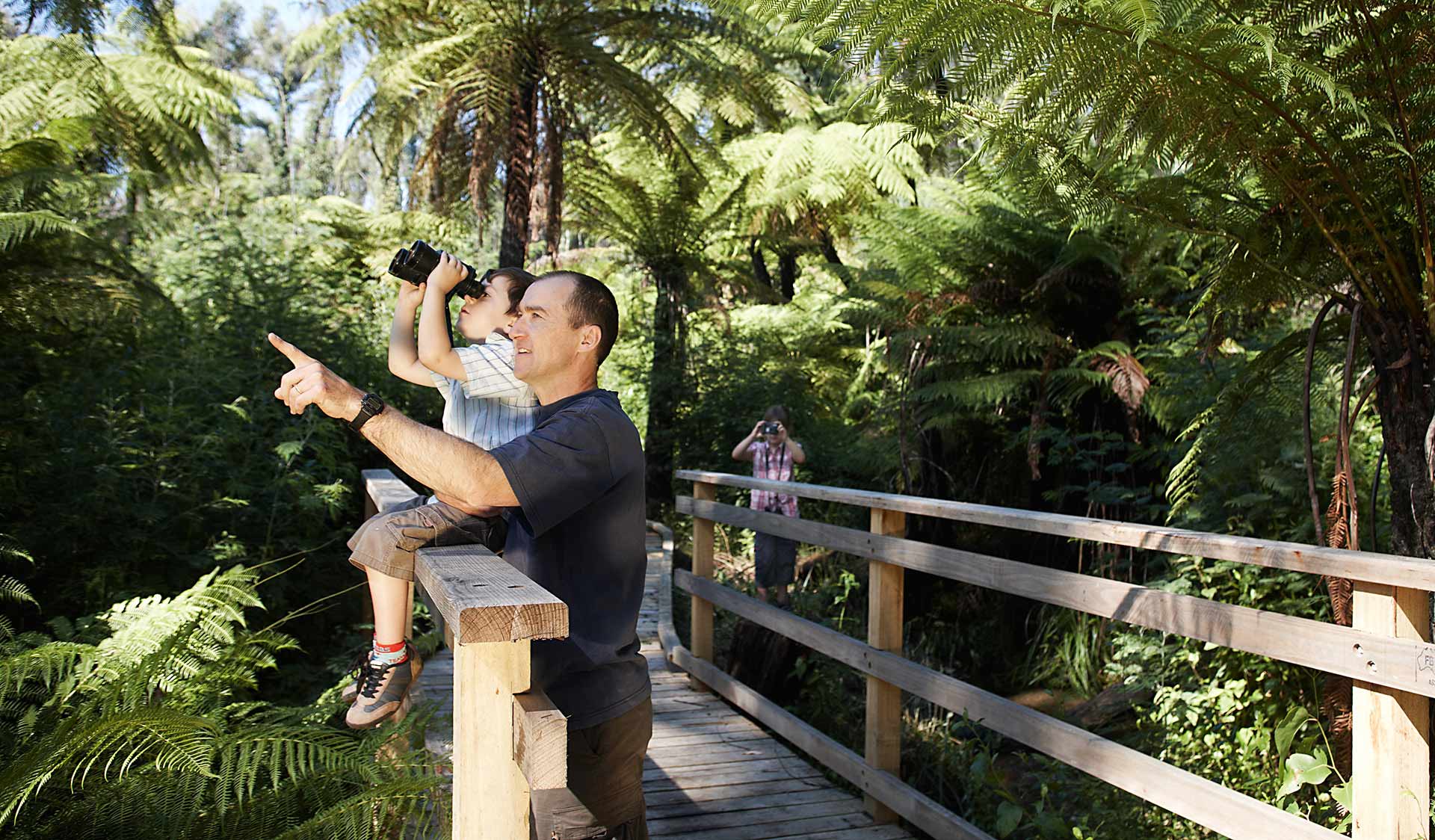 From bushland to wetlands and everything in between, parks provide habitat to an abundance of common and rare bird species. Go for a wander and see how many you can spot.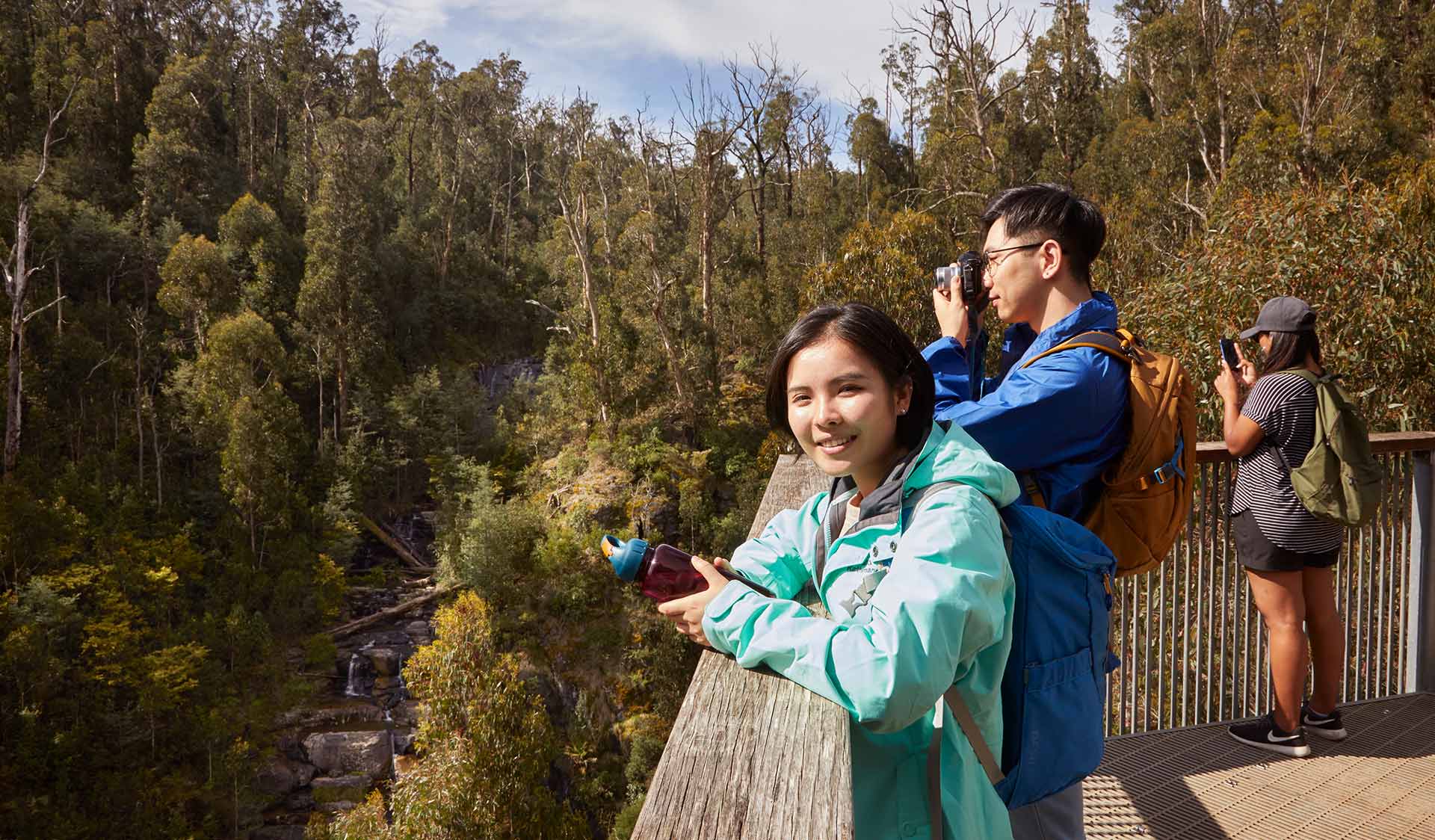 Pack the car and round up your family and friends. Whether you're seeking relaxation or adventure, parks offer a variety of day trips close to Melbourne.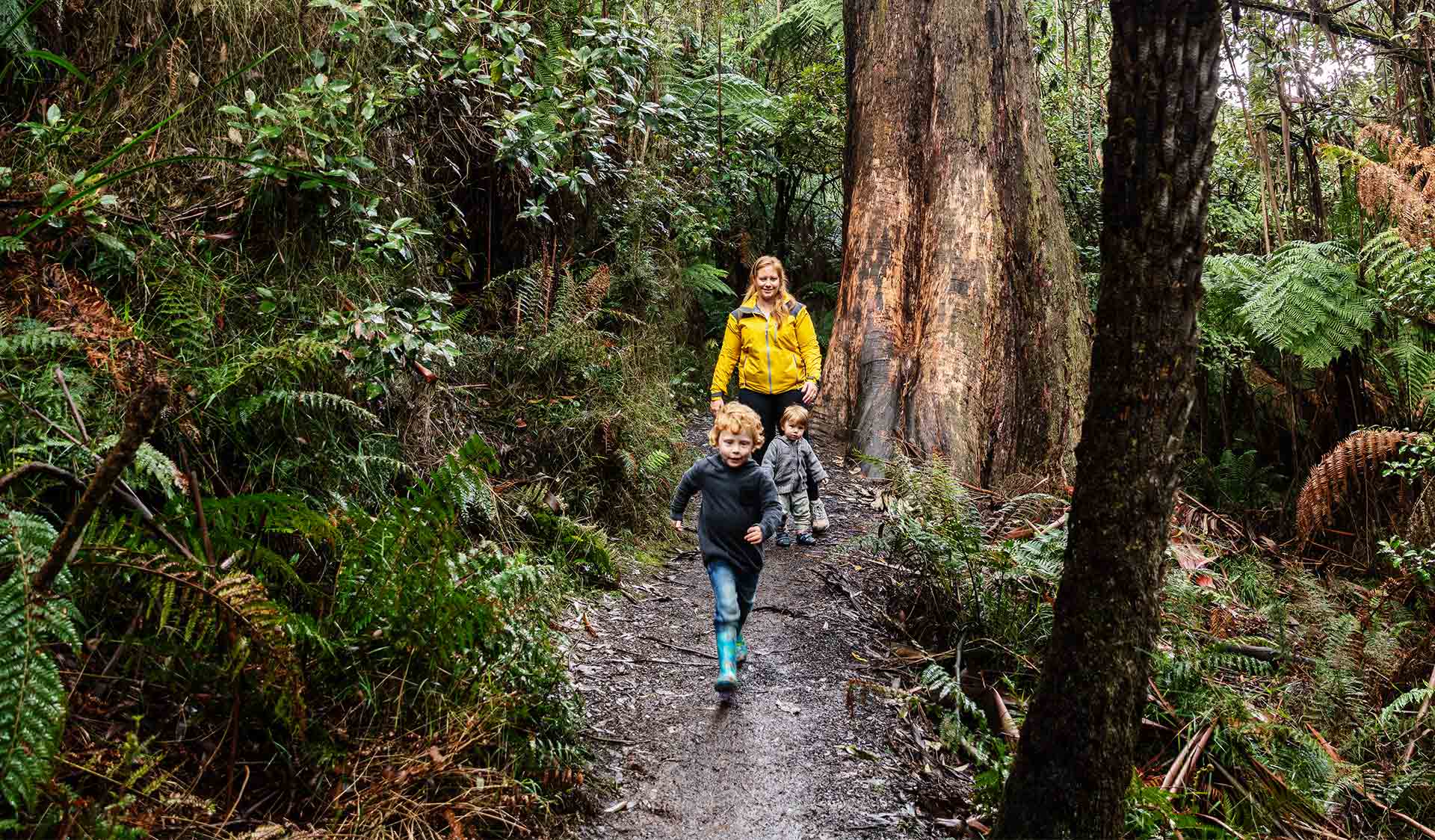 Stash some supplies into a back pack and take the family out for a day trip and in only a short drive from Melbourne you can be surrounded by nature.
How to get there
Picnic Areas
When you're there
Download the Mornington Peninsula National Park visitor guide for more information about the park and the plethora of experiences to be had within its borders.
Need to know
Picnic Areas
Accessibility
Visiting a park can be more of a challenge for people with disabilities, however in Victoria there are a wide range of facilities to help people of all abilities enjoy our wonderful parks around the state.
To make it easier for people with limited mobility to see the all abilities access and experiences on offer at Cape Schanck Lighthouse Reserve in Mornington Peninsula National Park, Parks Victoria has released this video - produced and narrated by accessibility advocate Ryan Smith, who uses a wheelchair.
;
Assistance dogs are welcome in Parks Victoria parks and reserves. Entry requirements apply for parks and reserves that are usually dog prohibited, such as national parks.
Change of Conditions
Nature being nature, sometimes conditions can change at short notice. It's a good idea to check this page ahead of your visit for any updates.
Fort Nepean (Point Nepean National Park)

Closures - Fort Nepean

Engine house walking track closed until further notice. Access to Gun emplacements 5 & 6, Engine House, Battery Observation Posts restricted.

Mornington Peninsula National Park

Lifejackets Required For Rock Fishers from March 1, 2022

A two-year trial of new laws that require rock fishers to wear a lifejacket at high-risk locations will commence on 1 March 2022.

For Mornington Peninsula National Park, this includes the following locations:

Sorrento Back Beach rocks

No. 16 beach at Rye back beach

Bushrangers Bay rocks, east of Cape Schanck

Fines apply if you don't wear a lifejacket at these sites.

Mornington Peninsula National Park Fox Control Programs

Parks Victoria are undertaking fox control in Mornington Peninsula National Park from Portsea Ocean Beach to Greens Bush to relieve predation of vulnerable and threatened native fauna. Programs involve the use of Canid Pest Ejectors and para-aminopropiophenone (PAPP) poison as well as buried PAPP poison to bait foxes in strategic locations.




Fox baiting will occur until June 2025.

Dogs are prohibited from entering Mornington Peninsula National Park. If pets are suspected of having consumed a PAPP bait during the baiting period, a vet should be consulted immediately. An antidote to PAPP (methylene blue) is available and stocked by most vets on the Mornington Peninsula.

Flinders Ocean Beach (Mornington Peninsula National Park, Mushroom Reef Marine Sanctuary)

Landslip affecting beach west of Mushroom Reef, Flinders Ocean Beach

There is a landslip affecting the beach west of Mushroom Reef, Flinders Ocean Beach (within Mornington Peninsula NP). Please do not approach the slip.