Cresta Valley is a perfect all-seasons playground.
In winter grab your trusty snow gear and enjoy family-friendly tobogganing and snow play or head out on one of four marked cross-country ski trails and two marked snowshoe walks. Visitors are asked to not walk on groomed ski trails as foot tracks create hazards for skiers.
When the snow melts, the grassy plains burst into bloom and make for some scenic and invigorating walks.
This winter with restrictions caused by COVID-19 there will be systems in place during anticipated busy periods, such as the school holidays and weekends, to ensure the safety of staff and visitors and compliance of restrictions.
At these busy times, Parks Victoria staff will limit the number of visitors permitted into the park at any one time. Once capacity is met, entry to the park will be temporarily. Vehicles will be permitted to enter as other vehicles leave. Parks Victoria staff will be at the park entry to assist visitors and monitor vehicle numbers. A message sign at the roundabout at Porepunkah will show the current entry conditions and any expected delays.
The following will also apply:
Indoor shelter will not be available during school holidays and weekends, and will not be guaranteed at other times.
Observe physical distancing of 1.5 metres at all times
Do not gather in groups of more than 20 people
Visitors are encouraged to come well prepared – bring sufficient food, drinks, warm and waterproof clothing, spare dry clothing etc.
If the car park is full, no more people can visit that site. Do not join vehicle queues or park illegally.
Things To Do
Tobogganing
The dedicated toboggan area is only available when there is adequate snow and is marked with fencing and signage. All toboggan users must walk up the side of the slope to avoid being hit by those coming down the hill. Conditions on the toboggan slope can deteriorate late in the day due to freezing, making the snow very fast and rock hard. Only moulded plastic toboggans are allowed. Check the daily snow report in the Change of Conditions section below.
How to get there
Cresta Valley
Need to know
Cresta Valley
Change of Conditions
Nature being nature, sometimes conditions can change at short notice. It's a good idea to check this page ahead of your visit for any updates.
Lake Catani Campground (Mount Buffalo National Park)

Lake Catani Campground CLOSED

Lake Catani Campground is currently CLOSED.




Winter camping at Lake Catani is from Queens Birthday long weekend in June through to 31st August each year. The toilet, showering and laundry facilities are closed during this period. A pit toilet behind the Stone Hut is open for winter camping use. No booking is required.




Summer camping is from the Friday before Melbourne Cup long weekend at the beginning of November and the campground is closed at the end of April. All facilities are open for this duration. Campsites must be booked online and in advance.




Remote camping at Mt McLeod and Rocky Creek campsites are open year round and require an online booking. These sites are NOT accessible by car and require lightweight overnight hiking equipment and reasonable fitness to walk to.




Notices Affecting Multiple Sites

Mt Buffalo Seasonal Road Closures

Extension of Mt Buffalo National Park Seasonal Road Closures

Mt Buffalo Road from Cresta Valley to The Horn Picnic Area (The Horn Road)

Reservoir Road

Lake Catani Campground circuit road (closed)

Now Open -

Lake Catani Road to Lakeside Picnic Area




These roads will remain closed until the weather and road conditions improve. Each road will be assessed on an individual basis.




Carparking for overnight hiking into the remote campsites at Mt McLeod and Rocky Creek is at the junction of Reservoir Road and Mt Buffalo Road (near the Vic Roads depot).




Mount Buffalo National Park

Mount Buffalo Road - requirement to carry vehicle snow chains

The Mt Buffalo Road is a declared hazardous road from 1st June through to 7th October. Vehicle snow chains may be required to be carried throughout this period. An assessment is made prior to each day as to whether snow chains are required. This decision is based on forecasted snow below 1600 metres or the current road conditions are considered hazardous from snow and/or ice.




A Mount Buffalo Snow Report is posted daily on the Mt Buffalo National Park web page.

This report provides information on current snow conditions and whether chains are required to be carried and also if they are currently being fitted.

Mt Buffalo - vehicle snow chain carrying requirement

The requirement to carry vehicle snow chains on the Mount Buffalo Road has been lifted.

If this requirement changes due to forecasted snow this report will be updated.

Notices Affecting Multiple Parks

Planned deer control operations - Eastern Region

Planned deer control operations - Eastern Region

Deer control operations

(ground and aerial)

will be carried out across the following parks and reserves between October 2022 and June 2023.

Alpine National Park

Mount Bogong & Bogong High Plains

Dinner Plain/Dargo High Plains

Feathertop

Foothills and Southern Alps

Ingeegoodbee/Tingaringy

Buchan Caves Reserve

Cabbage Tree Creek Flora Reserve

Cape Conran Coastal Park

Coopracambra NP

Croajingolong NP

Errinundra NP

Lake Tyers State Park

Baw Baw NP

Mount Buffalo NP

Snowy River NP

Upper Murray - Wabba Wilderness, Burrowa Pine NP, Mt Mittamitite

Wilsons Prom NP

More information on temporary park closures for aerial shooting operations will be provided in the coming weeks

For more information on deer control to protect native species visit parks.vic.gov.au.
Nearby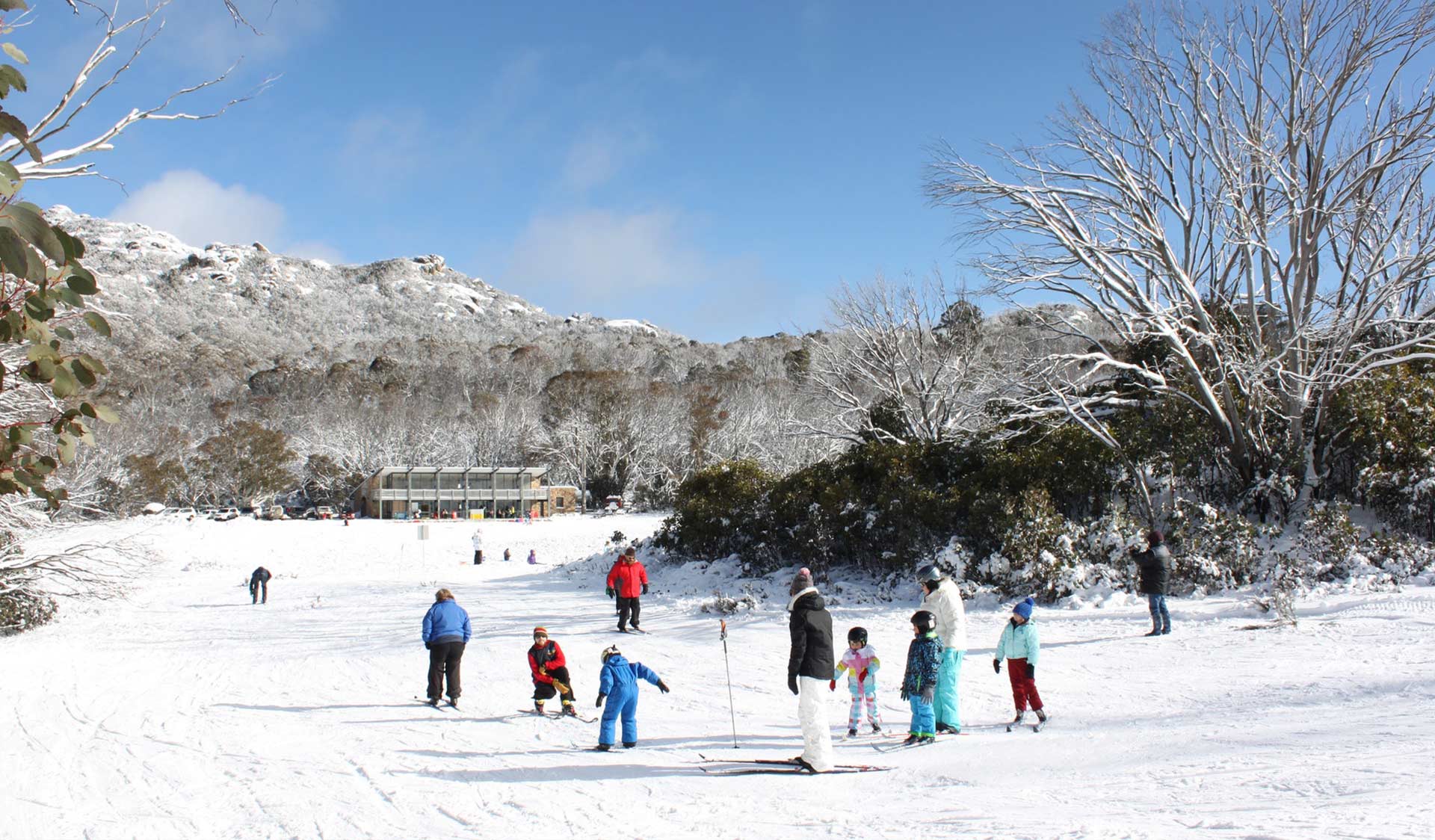 Facilities at Dingo Dell include a designated toboggan slope, open areas for snow play, first aid room, take away food and drinks, toilets, and a marked snowshoe track to the hilltop above.