The Point Nepean Shuttle is a hop-on hop-off shuttle service transporting visitors between the front entrance, Quarantine Station and Fort Nepean.
rosebudcharter@venturabus.com.au
Visitors can hop on and off at the designated stops along the way, or stay on until the end and return back to the stop they boarded from. It currently operates from a single 55 seater bus and can accommodate standard wheelchair access. The bus cannot accommodate motorised / scooter style or the Parks Victoria all-terrain wheelchairs due to access limitations. Bicycles cannot be taken on the bus.

Note that the service does not regularly stop at the park entrance. The Shuttle Bus connects with the Portsea public bus (788) stop at the front entrance gate at three designated times – see timetable below.
This service is operated by Ventura Buslines under permit arrangement with Parks Victoria. Tickets are available for purchase from the driver at the designated stops. Most credit cards and cash accepted. Tickets are valid for the day of purchase only. One-way tickets are not available.
Shuttle service timetable and prices
The shuttle bus operates every day of the year (including public holidays) except Christmas Day.
Please arrive at the stop at least five minutes prior to scheduled time. These times may be subject to change.
During Daylight Savings there is an additional run, however, there will not be a stop at the front entrance at 4:15 pm, it will be at 4.45 pm.
Departs front entrance*
Departs Quarantine Station
Departs Fort Nepean
Arrives front entrance*
10:25 am (pick up)
10:30 am
10:45 am
11:00 am
11:15 am
11:30 am
11:45 am
12:00 pm
12:15 pm
12:30 pm
12:45 pm
1:00 pm (drop off)
1:30 pm (pick up)
1:35 pm
1:45 pm
2:00 pm
2:15 pm
2:30 pm
2:45 pm
3:00 pm
3:15 pm
3:30 pm
4:00 pm
4:15 pm (drop off)
Outside Daylight Savings
Daylight Savings Only
4:15 pm
4:30 pm
4:45 pm (drop off)
* Stops at park front entrance gate to connect with 788 Frankston - Portsea Bus. See the 788 bus timetable.
Shuttle service prices
Adult: $12.00 per person
Child/Concession: $8.00 per person
Group bookings of 15 or more: $8.00 per person
One way tickets not available.
Charter and group bookings and prices are available on request.
For more information regarding schedules, ticketing or group bookings call (03) 5986 5666 or email rosebudcharter@venturabus.com.au
Things To Do
Fort Nepean is one of the fortifications that protected Melbourne during World War I and II. Located at the very tip of the Mornington Peninsula, where the calm waters of Port Phillip meet the wild waves of the Southern Ocean, explore the extensive tunnel complex which connects the historic gun emplacements.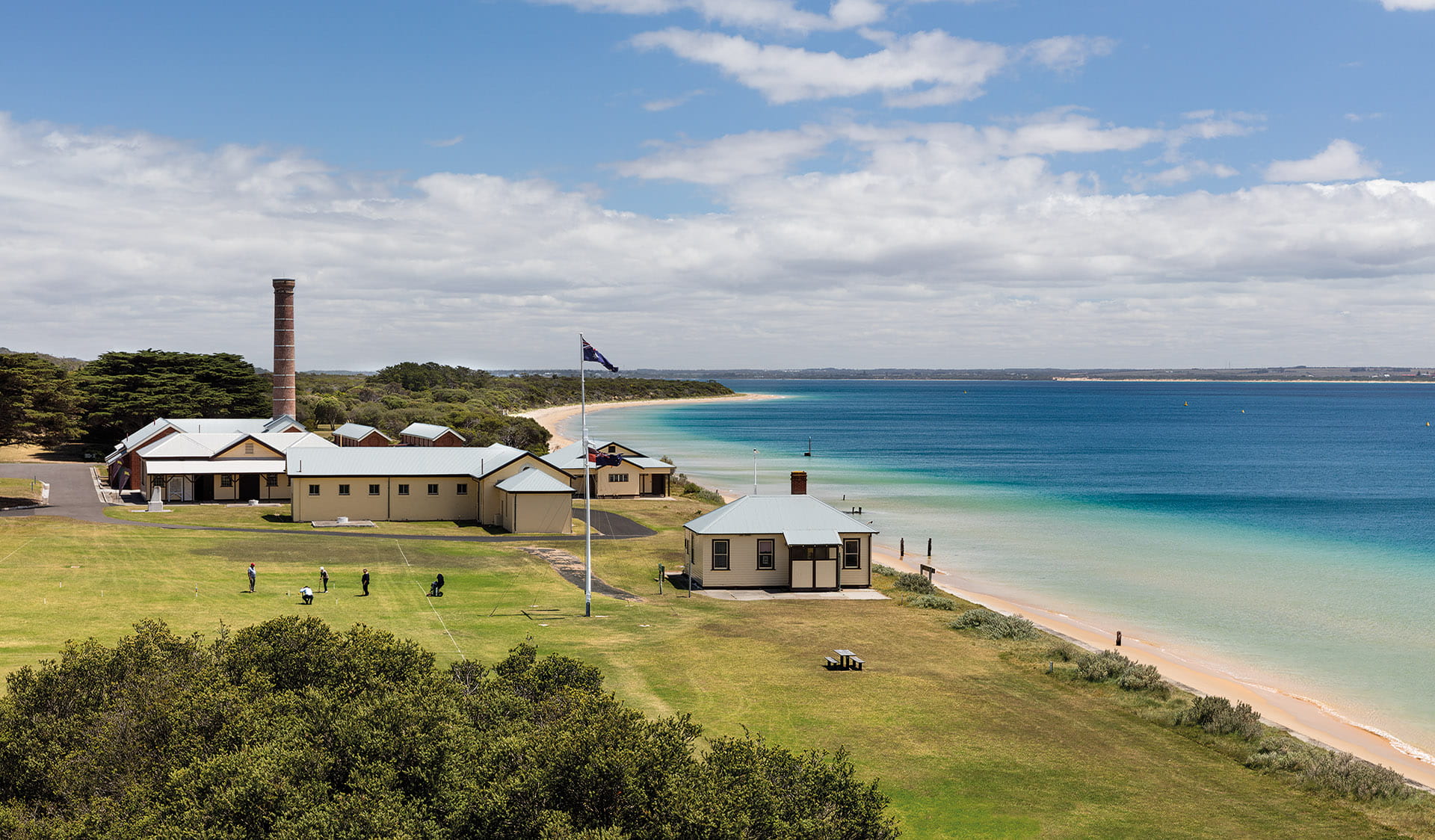 Point Nepean Quarantine Station offers a glimpse into the early European history of Victoria. Established in 1852, explore nearly 50 heritage-listed buildings. Learn about life at this once-remote location and the station's critical role in protecting Australia from introduced diseases.
How to get there
Shuttle service
Viewing Lookout - Fill Section
Need to know
Shuttle service
Change of Conditions
Nature being nature, sometimes conditions can change at short notice. It's a good idea to check this page ahead of your visit for any updates.
Fort Nepean (Point Nepean National Park)

Closures - Fort Nepean

Engine house walking track closed until further notice. Access to Gun emplacements 5 & 6, Engine House, Battery Observation Posts restricted.

South Channel Fort (Point Nepean National Park, Local Port of Port Phillip)

South Channel Fort (Point Nepean National Park) - Tunnels closed

The South Channel Fort and Jetty remains open to public access. However, all access into the sub terrain tunnels/ keep (via Licensed Tour Operators) is currently restricted due to safety concerns - pending further engineering/ technical assessments.

Point Nepean National Park

Beach access at The Bend

Beach access from the Bay Beach Walk at The Bend, within Point Nepean National Park, is affected by storm damage.

Altered Front Gate Opening/Closing Times

Point Nepean National Park is open daily. Temporarily vehicles may enter the park between 7am-7pm and can exit at any time. Pedestrians and cyclists can enter and exit the park any time.