A few minutes' down the Great Ocean Road from the world-famous Twelve Apostles, discover another mighty rock stack and a stunning sandy beach enclosed by sheer yellow coloured limestone cliffs. The nearby Mutton Bird Island hosts a daily wildlife spectacular, while Loch Ard Gorge was the scene of the Shipwreck Coast's most famous shipping disaster.
Loch Ard Gorge is the site of the most famous shipwreck on the aptly named Shipwreck Coast. The Loch Ard ran aground crashing into Mutton Bird Island in 1878. The only two survivors Tom Pearce and Eva Carmichael managed to drag themselves to the safety of the beach inside Loch Ard Gorge. For a moment, these two tragic teenagers were the talk of the English-speaking world, which very much hoped they would marry (they did not). Walk along this sandy beach, dramatically closed in by towering sandstone cliffs. Explore several other short walks in this area including the cemetery where Tom and Eva's less fortunate shipmates are buried.
A short walk from Loch Ard Gorge, Mutton Bird Island used to be called 'The Sow' back in the days when the Twelve Apostles were known as 'The Sow and Piglets'. Every spring and summer the island is home to a noisy colony of Short-tailed Shearwaters (aka muttonbirds). Every day at dusk between October and April, these birds flock home to their burrows in their thousands, to feed hungry chicks. Experience this incredible natural event before heading to Port Campbell for dinner and an overnight stay.
Things to do in the area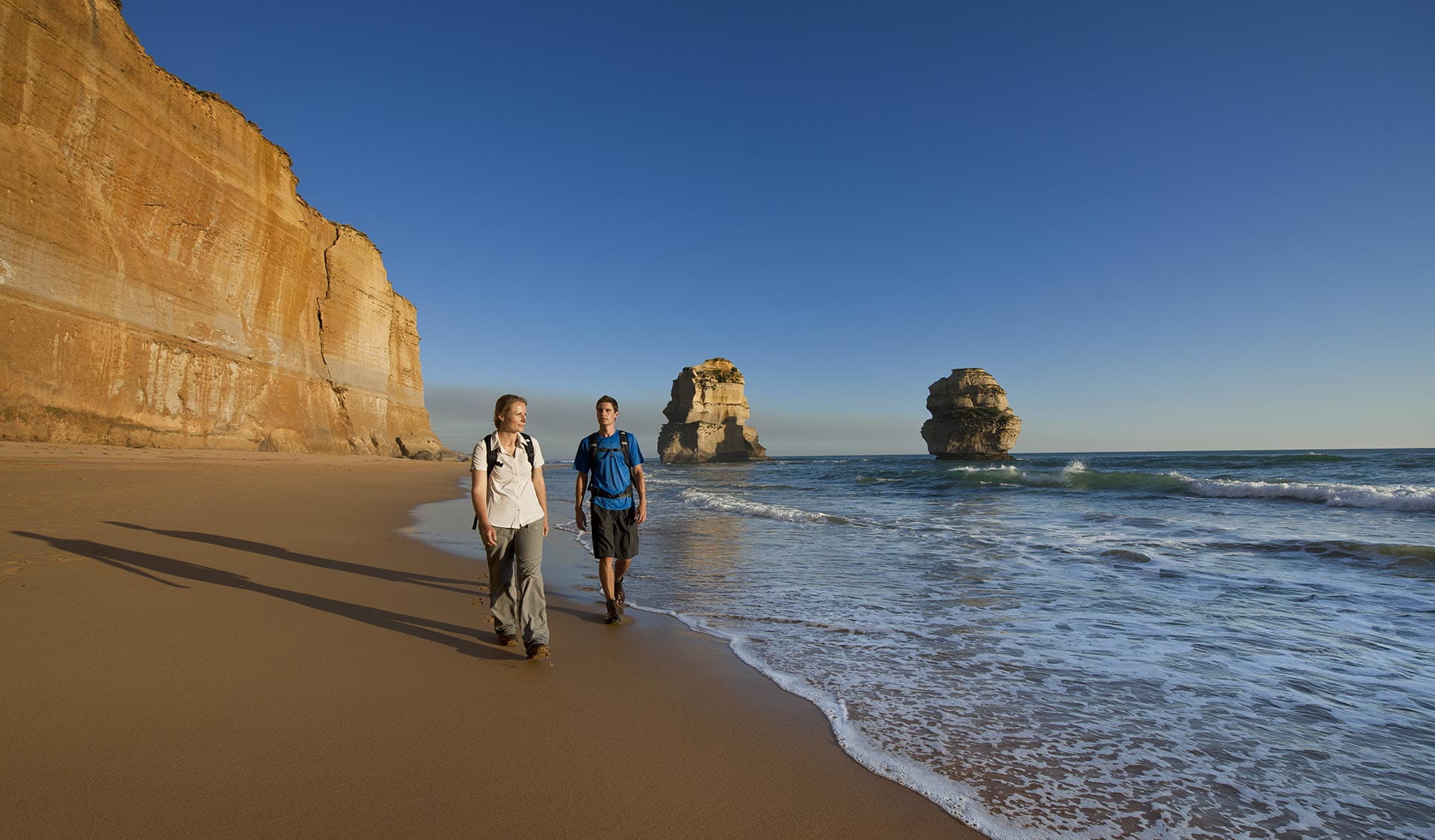 Gibson Steps
A gentle 1.1km track takes you to Gibson Steps Lookout and, when open, 89 steps lead down the cliff‐face to a wild ocean beach. If the tide is low you can view the rockstacks 'Gog and Magog' up close.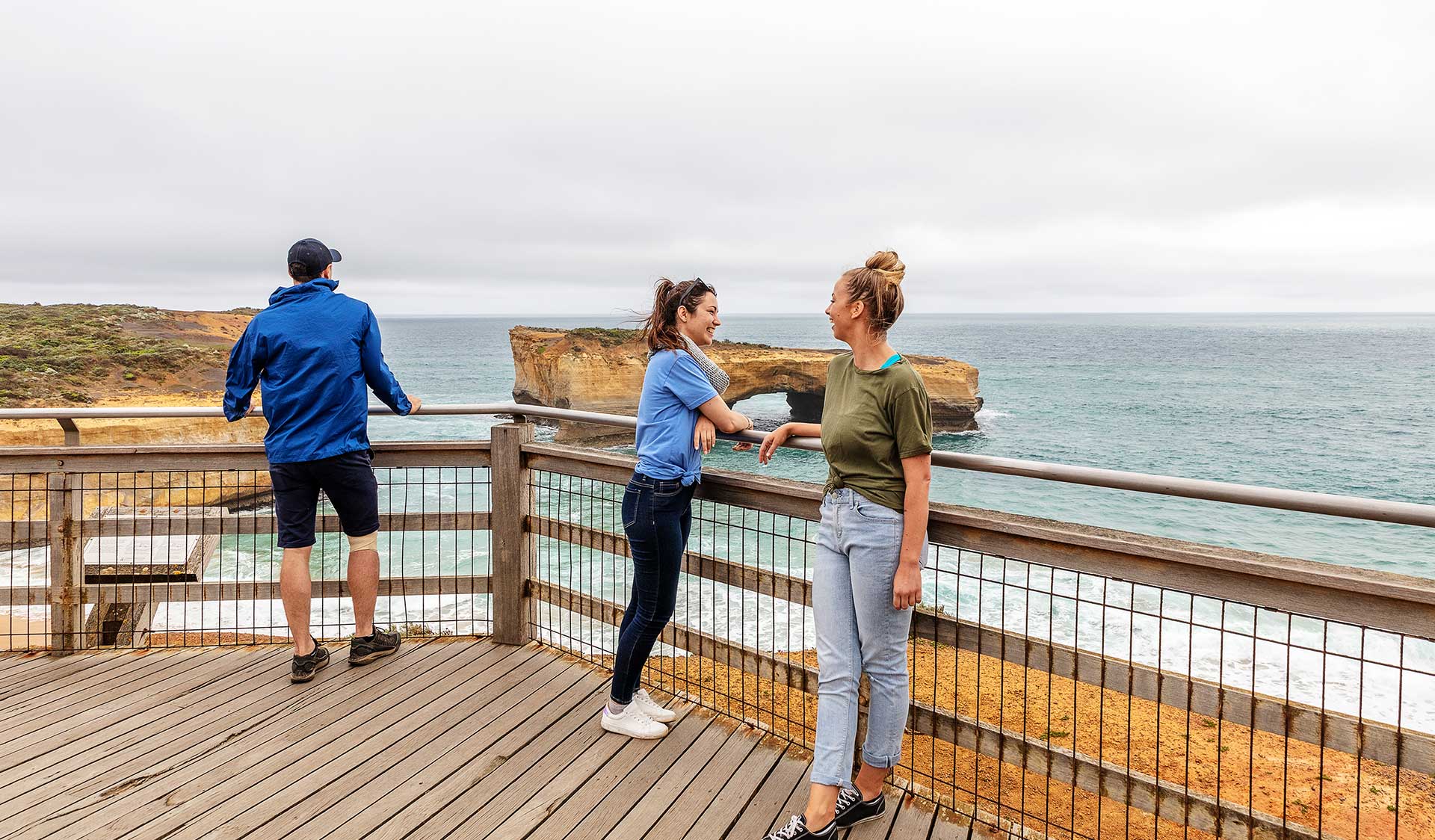 A short drive along the Great Ocean Road from the Twelve Apostles just beyond Port Campbell, discover these three unique and spectacular rock formations. See Little Penguins come ashore at dusk from London Bridge Lookout, coastal vistas framed by the charming Grotto and the Arch precariously balanced on a rock platform smashed by waves.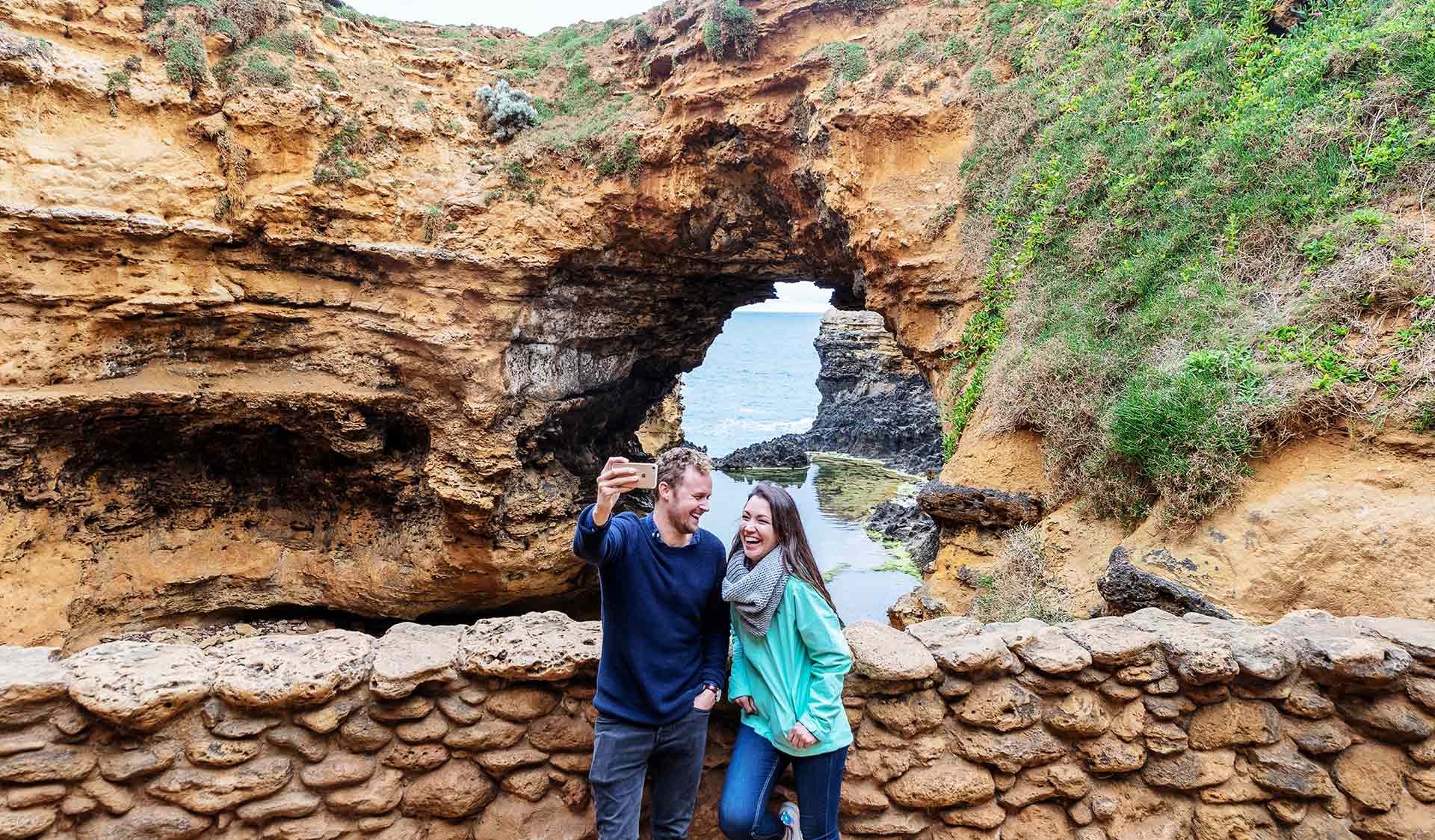 The Grotto
The Grotto is a cave and sinkhole located about halfway up the cliff, from sea level. The paved pathway leads to a decked staircase that descends into a viewing area. Enjoy the view of the rock pools carved out in the jagged edged limestone. Stay inside barriers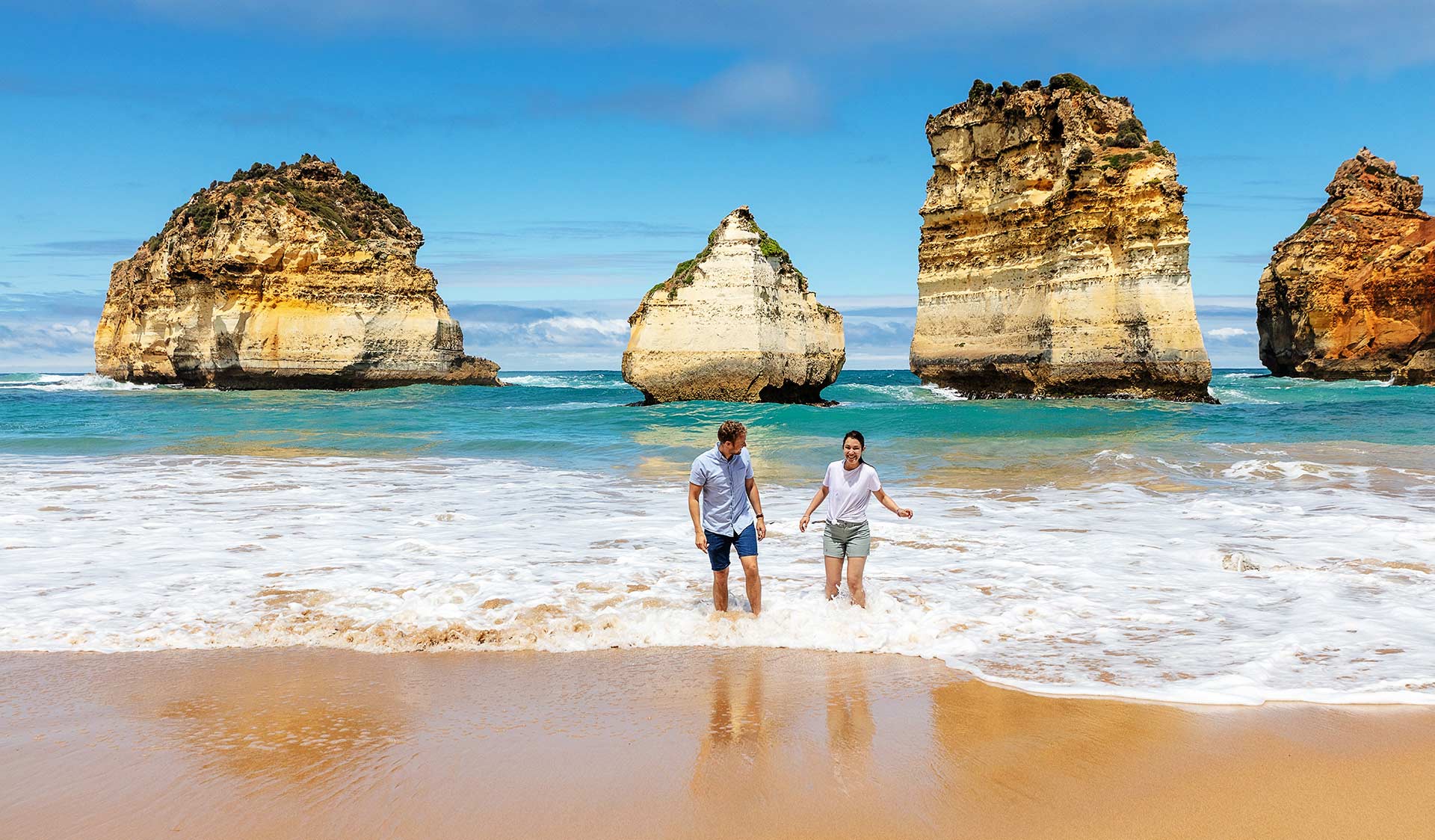 The world-famous Twelve Apostles are the undisputed highlight of the equally famous Great Ocean Road. View these limestone sea stacks at sunset for a quieter and even more spectacular experience. And be sure to walk the short trail to Gibson Steps for a view from the beach.
How to get there
Loch Ard Gorge
Loch Ard Gorge is a four-and-a-half-hour drive from Melbourne along the Great Ocean Road. There is a more direct route along the Princes Highway via Colac that takes three hours. Loch Ard Gorge is a five-minute drive along the Great Ocean Road from the Twelve Apostles and a 10-minute drive from Port Campbell, where there are accommodation options and places to eat.
When you're there
There are several easy walking tracks and three of them have storyboards revealing the area's wildlife, history and geology:
Geology Walk - Discover the secrets of the forces that shape the coastline on this easy self‐guided walk.
Shipwreck Walk - Follow the tragic story of the Loch Ard shipwreck site to the cemetery. This amazing story of courage and survival is also featured in Warrnambool's Flagstaff Hill Maritime Village.
Living on the Edge - Discover the lives of plucky Short-tailed Shearwaters on the edge of the sheer cliffs. This easy walk encompasses the Mutton Bird Island viewing platform, Thunder Cave and Broken Head.
Download the Port Campbell National Park visitor guide for more information about the park and the plethora of experiences to be had within its borders.
Need to know
Loch Ard Gorge
Accessibility
Visiting a park can be more of a challenge for people with disabilities, however in Victoria there are a wide range of facilities to help people of all abilities enjoy our wonderful parks around the state.
To make it easier for people with limited mobility to see the all abilities access and experiences on offer at Twelve Apostles and Loch Ard Gorge walks, Parks Victoria has released this video - produced and narrated by accessibility advocate Ryan Smith, who uses a wheelchair.
Assistance dogs are welcome in Parks Victoria parks and reserves. Entry requirements apply for parks and reserves that are usually dog prohibited, such as national parks.
Tread lightly as the coast is fragile and your safety matters. Stick to marked trails to avoid injury, and to protect the delicate coastal vegetation and wildlife that call the park home.
Change of Conditions
Nature being nature, sometimes conditions can change at short notice. It's a good idea to check this page ahead of your visit for any updates.
Gibson Steps (Port Campbell National Park)

Gibsons Steps beach access reopened

The Gibsons Steps beach access has been reopened after the the completion of a rock hazard works project.

A geotechnical report commissioned by Parks Victoria confirms that the access can be reopened to allow safe

beach

access for park visitors

.

Newfield Bay Walk (Port Campbell National Park)

Blue Green Algae Alert for Curdies Inlet - Peterborough

The Department of Environment Land Water and Planning (DELWP) are investigating a blue-green algae bloom at

Curdies River Estuary at Peterborough.

Blue-green algae can be harmful to humans and animals, so we urge people and pets to avoid direct contact with affected water until notice. This includes swimming, fishing and boating activities.

Do not eat any whole fish, shellfish or crustaceans from either water bodies. Fish caught from affected water should have its gills and guts removed prior to cooking.

Anyone who comes into contact with affected water should immediately wash in fresh water and seek medical advice if they experience any illness.

Signage is being installed at both locations to advise visitors of the algal bloom. We will continue monitoring both water bodies until the bloom disperses and advise when they are safe for use again.
Similar Experiences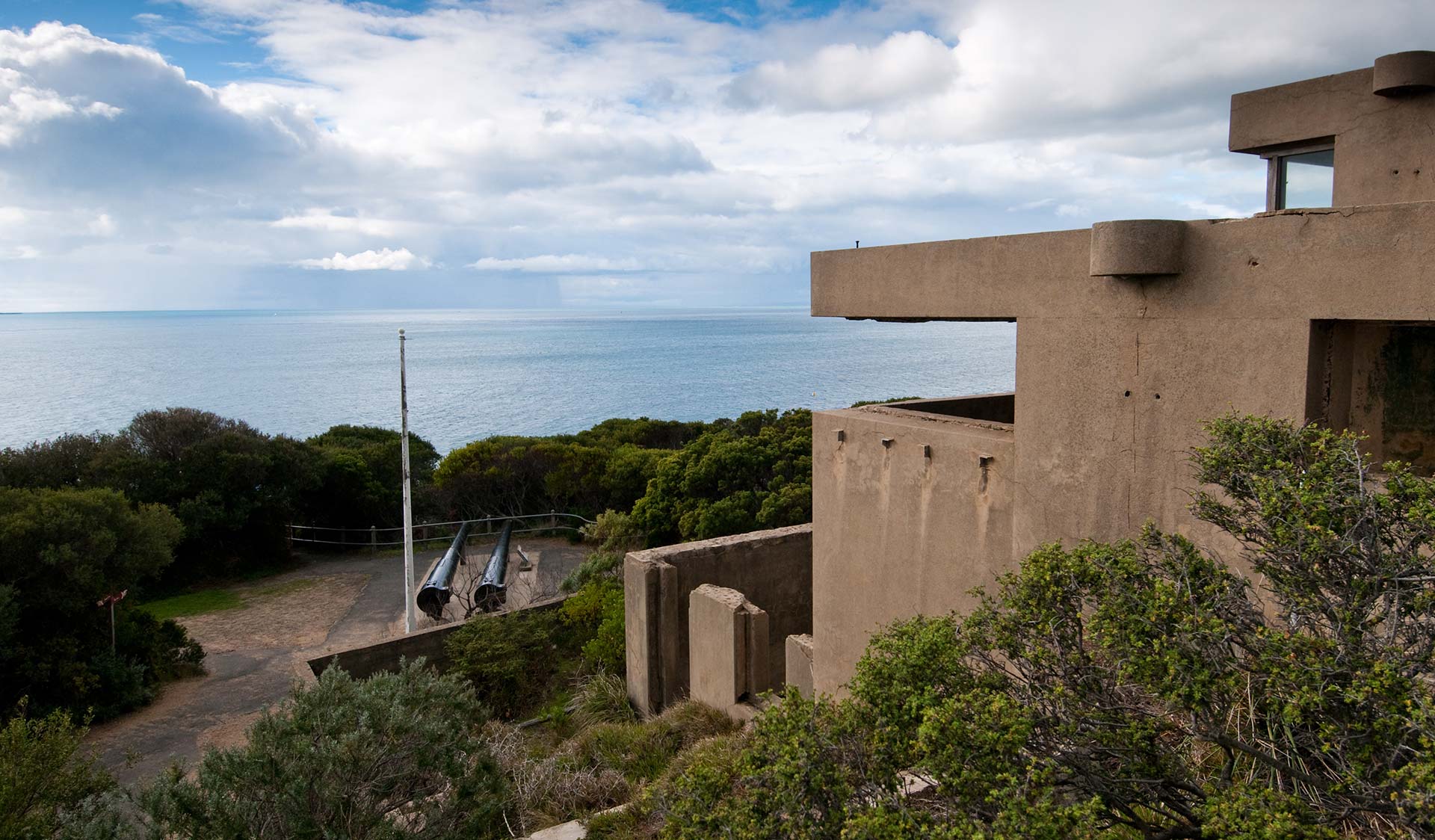 Fort Nepean is one of the fortifications that protected Melbourne during World War I and II. Located at the very tip of the Mornington Peninsula, where the calm waters of Port Phillip meet the wild waves of the Southern Ocean, explore the extensive tunnel complex which connects the historic gun emplacements.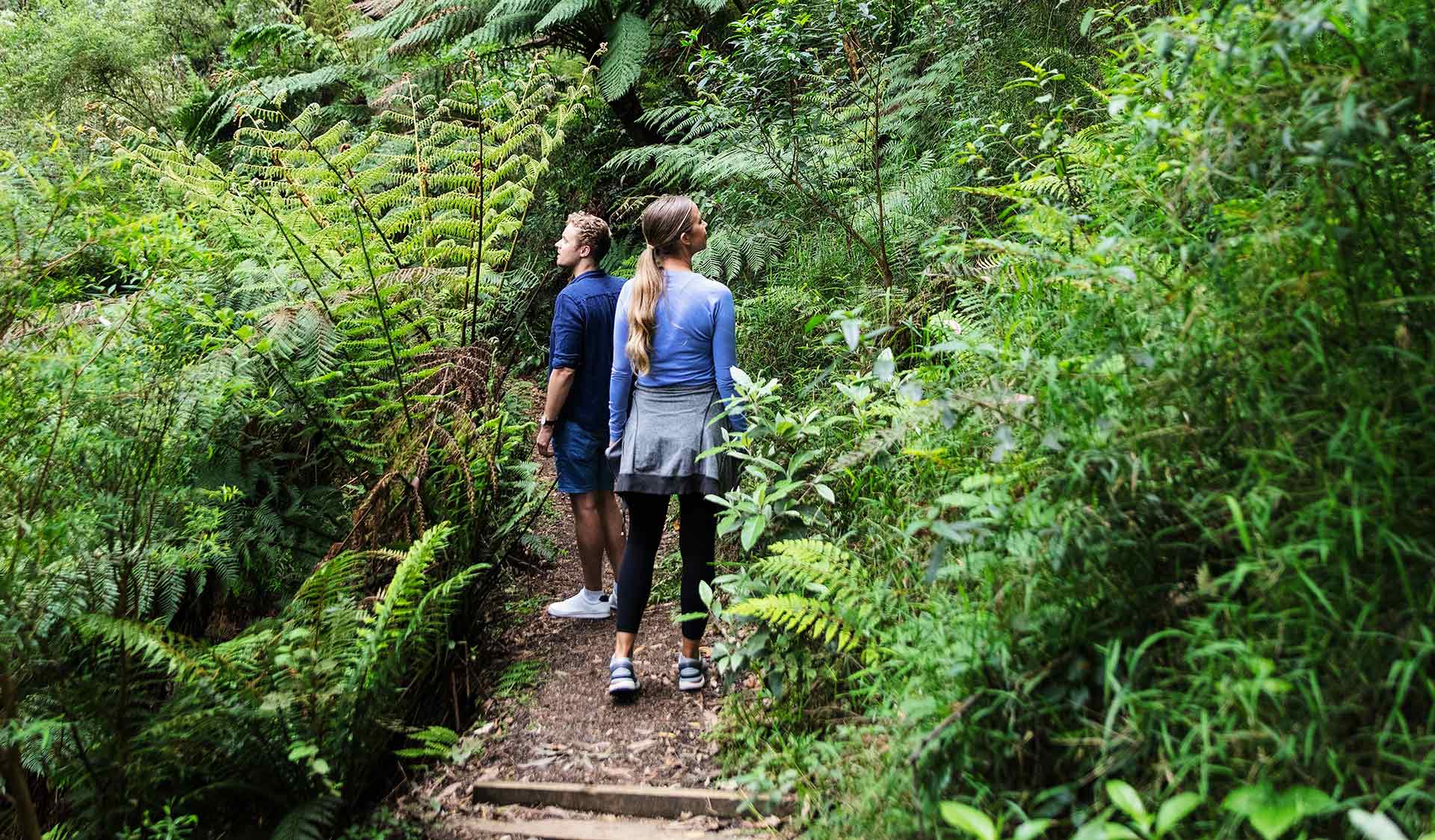 Melba Gully has prolific plant growth and is a dense rainforest of Myrtle Beech, Blackwood and Tree-ferns, with an understorey of low ferns and mosses. Perhaps the most unusual inhabitants of the area are the glow worms, which can be seen at night along the walking tracks.