Experience the awesome natural beauty of the world-famous Twelve Apostles. Rising abruptly from the tempestuous Southern Ocean, these seven limestone stacks are the highlight of the Great Ocean Road. They are best viewed at sunset when the yellow rock turns red, orange and every shade in between.
Stop at the Twelve Apostles visitor centre and walk the short trail to the windswept lookouts to see the dramatic sight of waves crashing against the famous sea stacks.

The Twelve Apostles is one of Australia's most popular attractions all year round. You'll be lucky to have the lookouts to yourself, but there are likely to be much fewer people if you arrive earlier or later in the day.

If you time it right, you can view the rock stacks in their best light – at sunset. In the summer, the sun sets further out to sea, while in the winter, the sun sets closer to shore. If the clouds stay away, you're guaranteed a memorable photographs. Get snapping and admire the results over an evening meal in nearby Port Campbell.

At dusk you may see Little Penguins coming ashore on the beach far below. the tiny tracks in the sand show where they waddle back to their burrows safe from foxes, cats and dogs.
Things to do in the area
How many Twelve Apostles are left?

The Twelve Apostles can be seen as seven limestone rock stacks. Six of them are visible in the classic view enjoyed by millions of people every the year, while the seventh is located several metres away from the corner of the main viewing platform.

There were never 12 rock stacks here, and they were not always called the Apostles - Sow and Piglets did not remain as a name for long. There were nine rock stacks at the beginning of the 21st century. Then at 9:18am on 3 July 2005, one of them collapsed. Another collapsed in 2009.

The rough waves not only destroy 'Apostles', or rock stacks, but they form them too. The arches and bridges you will see along this stretch of coast will one day collapse and become stacks which will in turn collapse back into the ocean from where they came.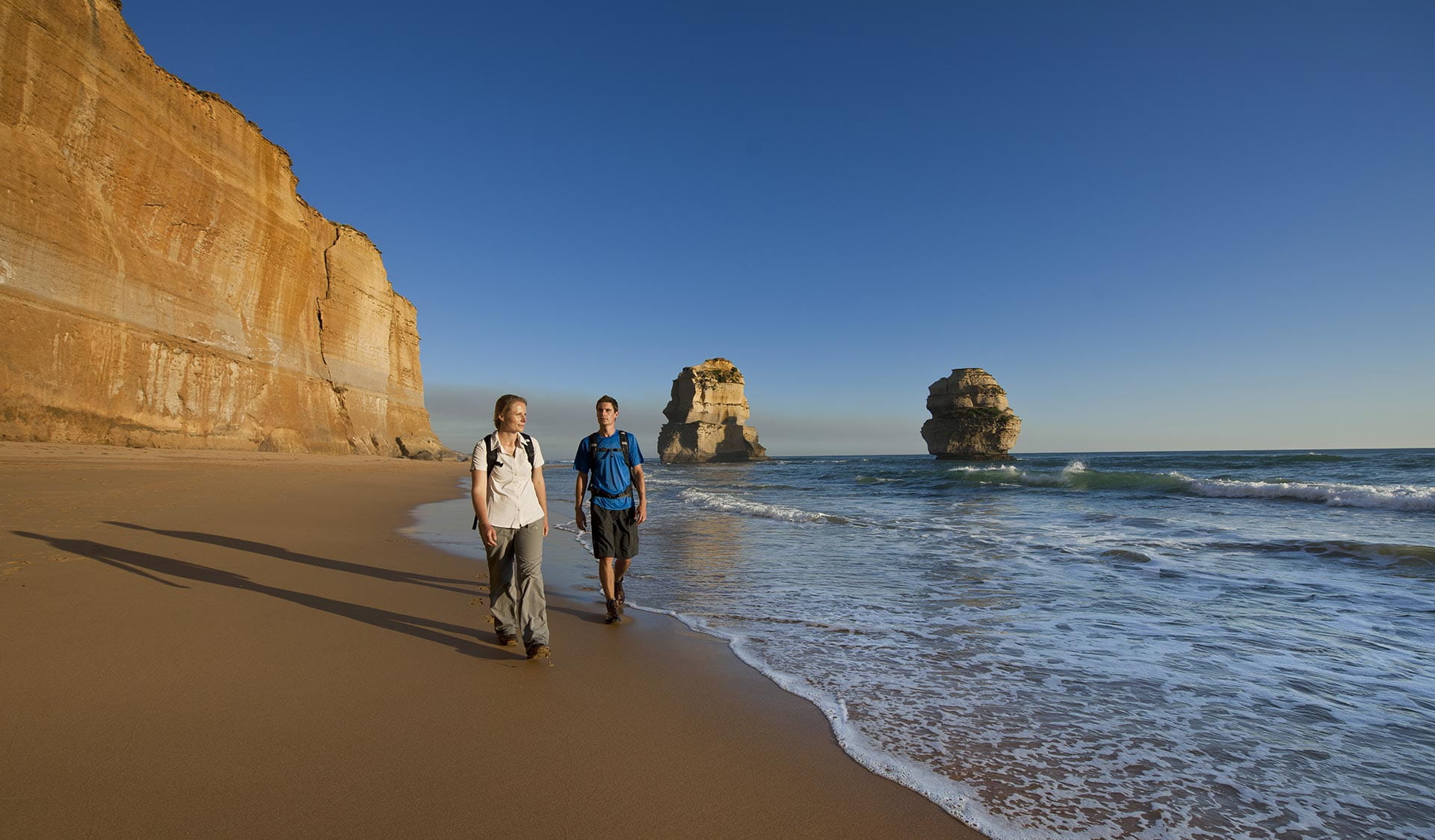 Gibson Steps
A gentle 1.1km track takes you to Gibson Steps Lookout and, when open, 89 steps lead down the cliff‐face to a wild ocean beach. If the tide is low you can view the rockstacks 'Gog and Magog' up close.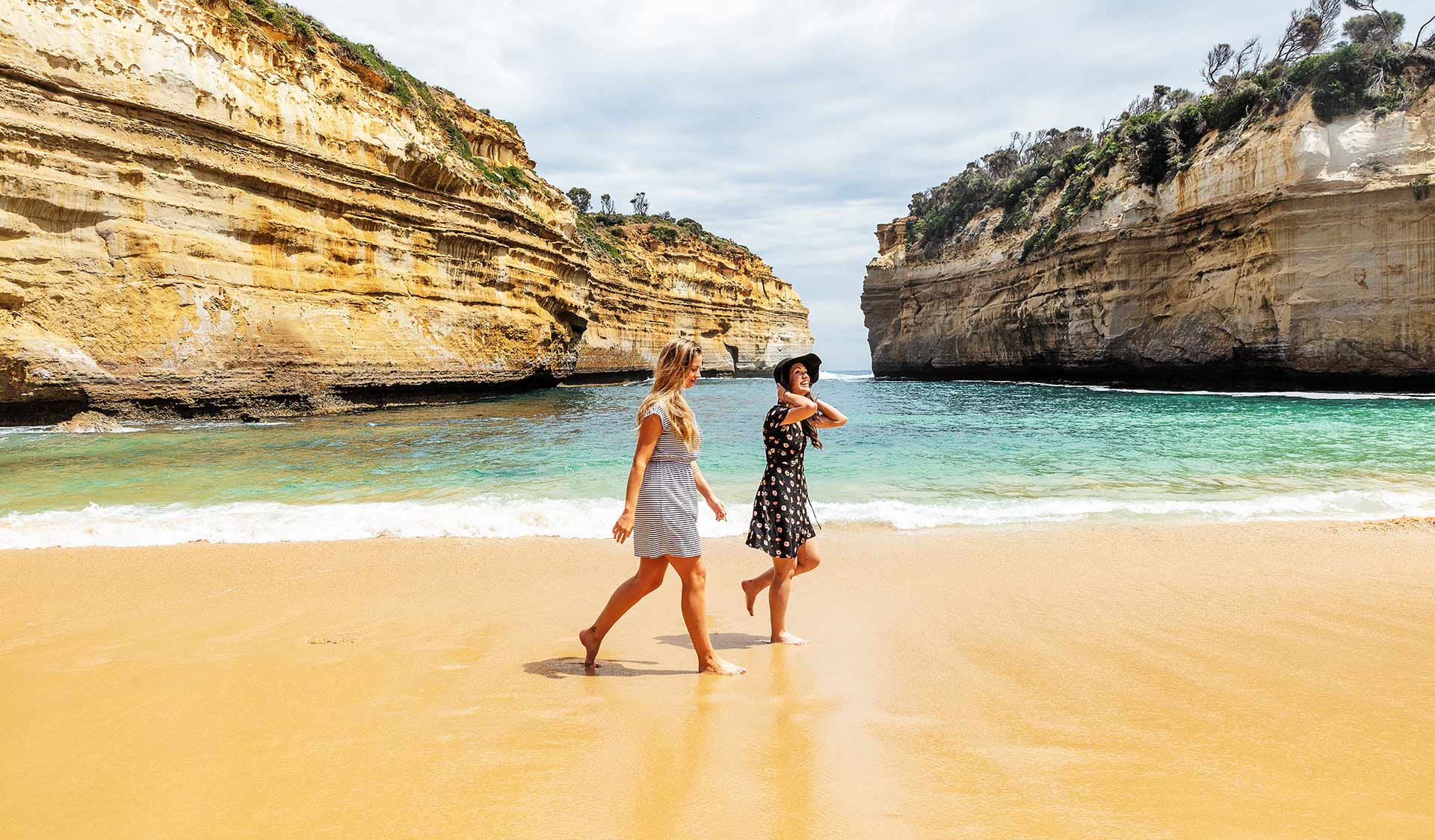 A few minutes' down the Great Ocean Road from the world-famous Twelve Apostles, discover another mighty rock stack and a stunning sandy beach enclosed by sheer yellow coloured limestone cliffs.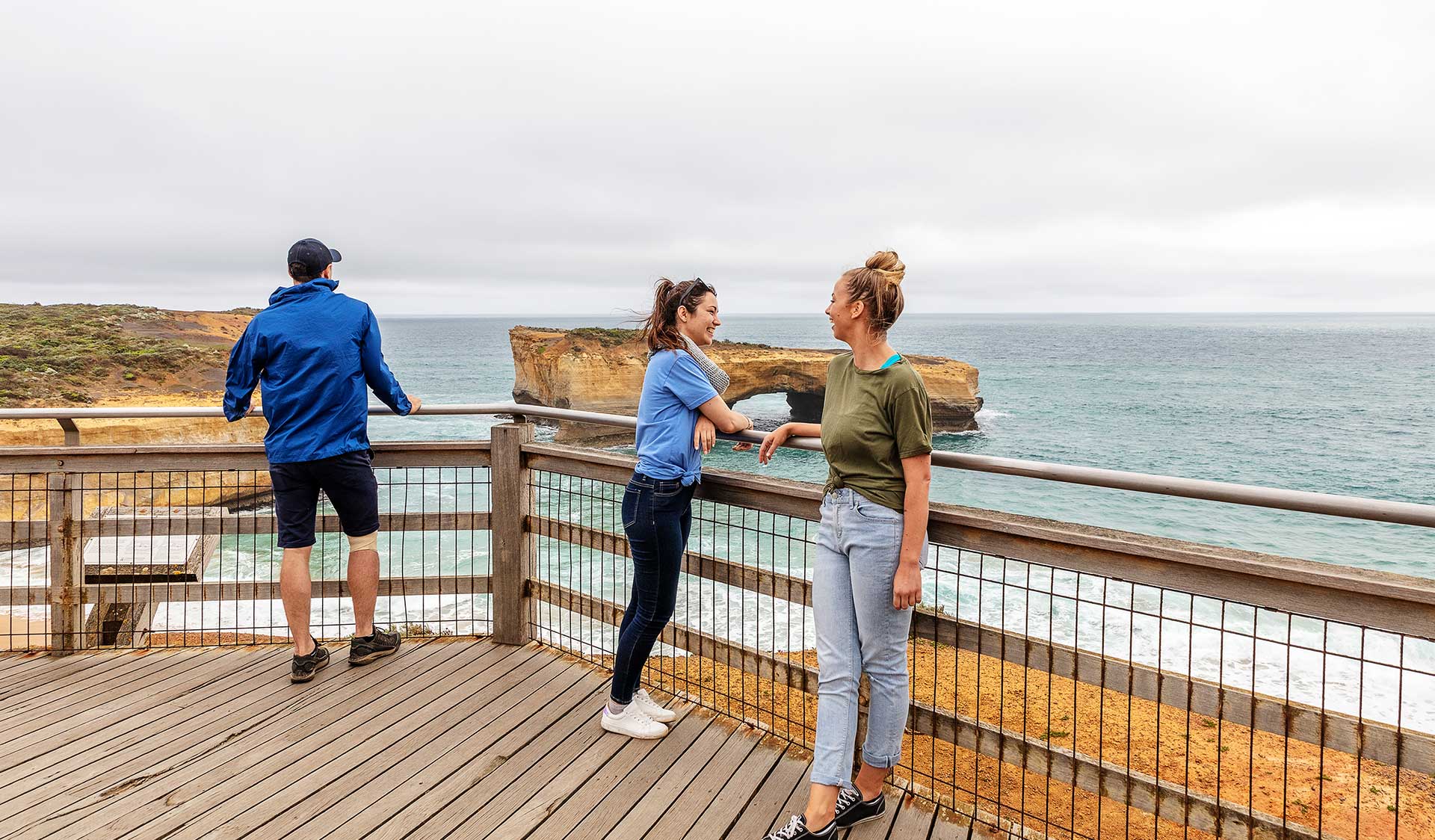 A short drive along the Great Ocean Road from the Twelve Apostles just beyond Port Campbell, discover these three unique and spectacular rock formations. See Little Penguins come ashore at dusk from London Bridge Lookout, coastal vistas framed by the charming Grotto and the Arch precariously balanced on a rock platform smashed by waves.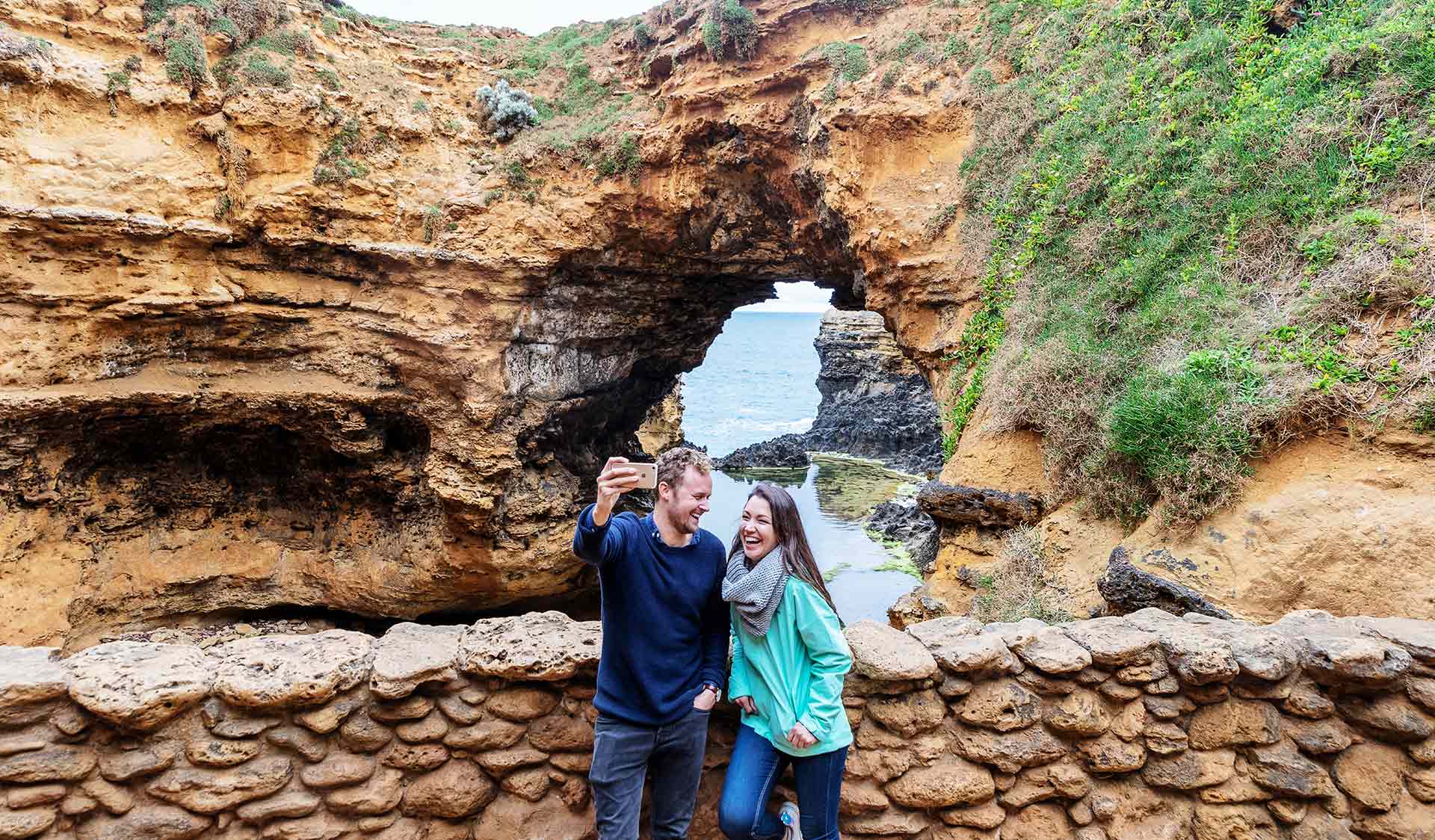 The Grotto
The Grotto is a cave and sinkhole located about halfway up the cliff, from sea level. The paved pathway leads to a decked staircase that descends into a viewing area. Enjoy the view of the rock pools carved out in the jagged edged limestone. Stay inside barriers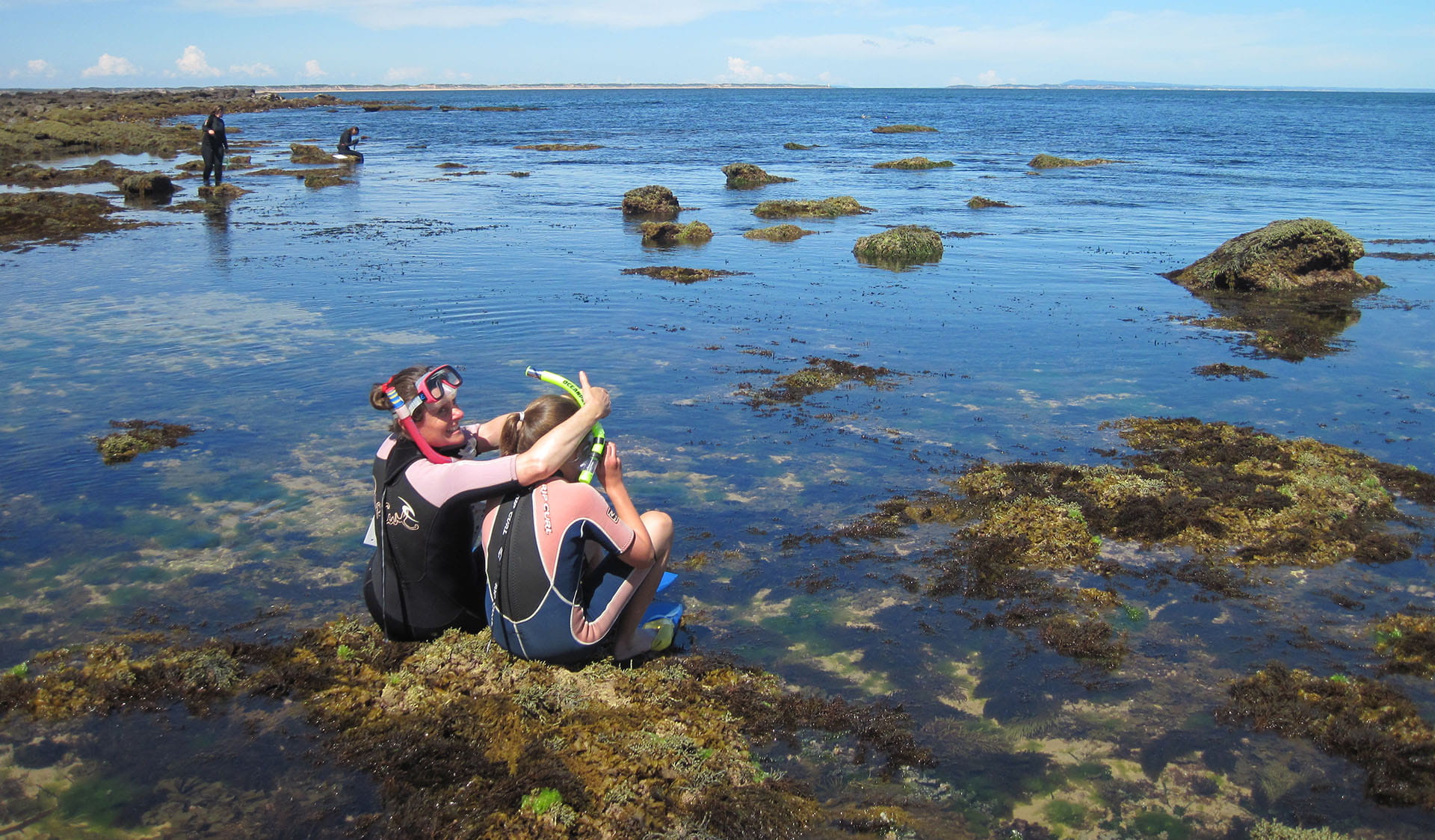 If you're looking for the best places to see underwater ecosystems and encounter marine wildlife, look no further! We've rounded up some of the best ways to explore marine protected areas. So, pack your togs, wetsuit, a mask and snorkel and head to the coast!
How to get there
Twelve Apostles
The Twelve Apostles is a four-and-a-half-hour drive from Melbourne along the Great Ocean Road. There is a more direct route along the Princes Highway via Colac that takes three hours. The Twelve Apostles is a 10-minute drive from Port Campbell, where there are accommodation options and places to eat.
When you're there
The Twelve Apostles kiosk is open 10.00 am to 5.00 pm daily. The kiosk sells a range of items including tea, coffee, cold drinks, confectionery, ice creams, souvenirs, and a small range of hot/cold food. Sunscreen, hats and insect repellent are also sold. Toilets and parking are available.

Visitors must park in the carpark and walk to the Twelve Apostles lookouts along the well-marked path. A separate well-signposted trail leads to Gibson Steps. Walk the 1km to Gibson Steps where you can usually access a beach at low tide - and a fantastic view of two rock stacks called Gog and Magog. Allow about an hour for this side-trip. The Great Ocean Walk multi-day hike ends at the Twelve Apostles
Download the Port Campbell National park visitor guide for more information about the park and the plethora of experiences to be had within its borders.
Need to know
Twelve Apostles
Accessibility
Visiting a park can be more of a challenge for people with disabilities, however in Victoria there are a wide range of facilities to help people of all abilities enjoy our wonderful parks around the state.
To make it easier for people with limited mobility to see the all abilities access and experiences on offer at Twelve Apostles and Loch Ard Gorge walks, Parks Victoria has released this video - produced and narrated by accessibility advocate Ryan Smith, who uses a wheelchair.
Assistance dogs are welcome in Parks Victoria parks and reserves. Entry requirements apply for parks and reserves that are usually dog prohibited, such as national parks.
Tread lightly as the coast is fragile and your safety matters. Stick to marked trails to avoid injury, and to protect the delicate coastal vegetation and wildlife that call the park home.
Change of Conditions
Nature being nature, sometimes conditions can change at short notice. It's a good idea to check this page ahead of your visit for any updates.
Twelve Apostles (Port Campbell National Park)

Saddle Lookout - access change

From mid-September 2021 there will be no access to the Saddle and Castle Rock viewing areas while a new lookout is being built.


Visitors can continue to enjoy the other lookouts, boardwalks and visitor areas at the Twelve Apostles and the other spectacular visitor sites in the Port Campbell National Park.




Notices Affecting Multiple Sites

Great Ocean Walk - conditions

Walking Track -

The Great Ocean Walk is experiencing wet and muddy conditions. A wet winter and spring have seen conditions along most areas of the track maintain high levels of moisture, tending to mud in heavily tracked areas. Walkers should not expect a dry walking track which will be slippery in areas. Some sections of track are prone to land slippage and rock fall. Only attempt to cross these areas if safe to do so and report any slips to 13 1963 when within phone signal range.

Camp sites -

All sites are high in dampness. More rainfall will see these conditions maintained. Camp site water tanks are all fall as a positive.

Tree Risk in Windy Conditions -

Given high National Park soil moisture levels tree fall in windy conditions are probable. Walkers and campers should be on heightened alert in windy conditions and avoid prolonged periods under tree canopy. Wind forecasts of 30+kph should trigger a walker and camper alert level. Report tree fall over track and in camp sites to 13 1963 when within phone signal range.

Great Ocean Walk - Helicopter operations

Helicopter operations

Subject to final approvals, some western sections of the Great Ocean Walk will be closed and access restricted on Tuesday 13 December 2022 between 0900hrs -1600hrs (conditions permitting).

This is for sling load helicopter operations to improve camp site and walking track infrastructure. Licenced Tour Operators and walkers should be aware of activity on this day and restrictions that will be in place via authorised Parks Victoria Rangers.

Camp sites impacted – Ryans Den and Devils Kitchen

Walking Track sections – Section 7 and 8

Attachments: Restricted Area Map (105KB)
Similar Experiences
Fort Nepean is one of the fortifications that protected Melbourne during World War I and II. Located at the very tip of the Mornington Peninsula, where the calm waters of Port Phillip meet the wild waves of the Southern Ocean, explore the extensive tunnel complex which connects the historic gun emplacements.
Breathtaking coastlines, dramatic cliff faces, deep valleys of tall forest and fern-clad gullies, and spectacular waterfalls all feature here in Cape Otway and Apollo Bay.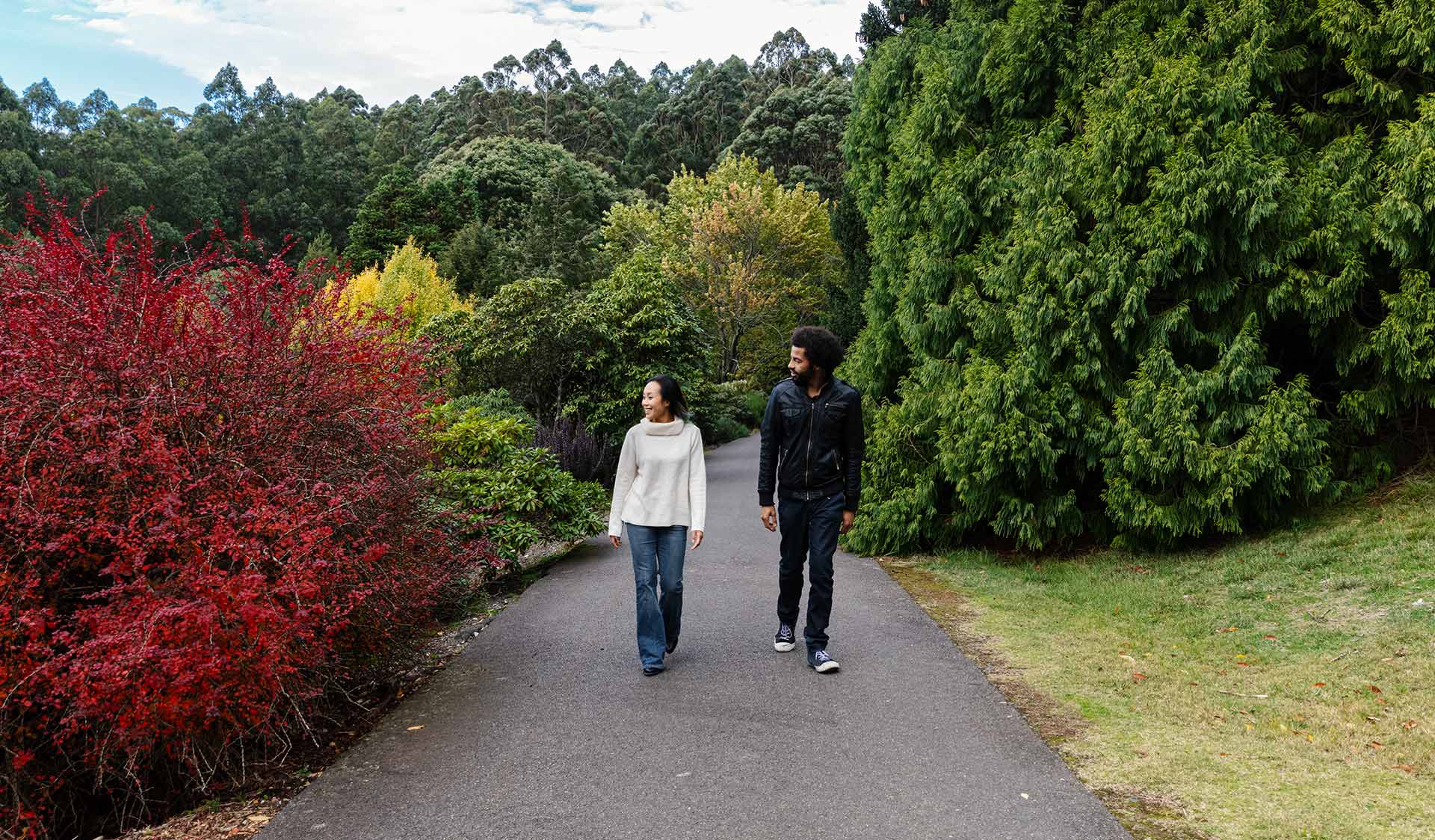 The Dandenong Ranges Botanic Garden (formerly the National Rhododendron Garden) is host to brilliantly coloured blooms of rhododendrons, azaleas, camellias, cherries and daffodils. Seasonal changes ensure the gardens are a delight all year around.