Cape Otway and Apollo Bay
Breathtaking coastlines, dramatic cliff faces, deep valleys of tall forest and fern-clad gullies, and spectacular waterfalls all feature here in Apollo Bay and Cape Otway. From glow worms to rockpool rambles and fishing, you will be delighted with things to see and do in this incredibly beautiful south western part of Great Otway National Park.
Cape Otway Lightstation is a wonderful place to visit with many reminders and stories of Australia's maritime history. Take a tour during business hours and explore Australia's oldest working lighthouse, operating between 1848 and 1994. Entry fees apply.
The Great Ocean Walk is one of Australia's iconic walks. Linking Apollo Bay with the Twelve Apostles it weaves through tall forests, coastal heathlands beside rocky shores and along windswept clifftops. Hike up to eight days or choose a day walk.
A feature of the spectacular waterfalls found in this part of the Great Otway National Park is their short walk access. Be sure to visit Triplet Falls, Beauchamp Falls, Sabine Falls, Hopetoun Falls and Anne's Cascades at Melba Gully.
The Aire River and Gellibrand River's upper waters are popular with anglers seeking River Blackfish, Brown Trout and Black Bream near Princetown.
Get the most out of your day and plan for a picnic at Shelly Beach Picnic Area (loop walk through tall forest leading down to rocky shoreline), Blanket Bay (rockpools and beach at low tide), Aire River (camping riverside on a quiet estuary protected from the ocean), Johanna Beach Day Visitor and Camping Area (wild coastal beach), Melba Gully Picnic Area (rainforest walk and glow worms), or Sabine Falls.
A host of camping areas are available and plenty of off-park camping and accommodation opportunities in the Cape Otway area. Aire River Camping features two campgrounds located on opposite banks. This area is a haven for wildlife including wetland birds and a host of fish species. A great place to go bird watching, fishing, swimming and canoeing.
Alternatively, dog-friendly Johanna Beach Campground offers access to prime ocean swells while the smaller Parker Hill Campground is set on a forested hill high above the beach and inlet. Blanket Bay Campground is heavily used in holiday periods. It has a boat ramp, day visitor area, short walk and rockpools to explore.
As beaches and coasts are natural environments, you may encounter hazards. Follow our water safety advice to make sure your day out at Cape Otway and Apollo Bay is a safe and enjoyable one.
How to get there
Cape Otway and Apollo Bay
Great Otway National Park is south-west of Melbourne via Geelong or Colac. From the east, approach Apollo Bay and Cape Otway along the Great Ocean Road (B100) by taking either Anglesea Road or Surf Coast Highway from Geelong.

From Colac, approach through Lavers Hill (inland route C155).
From the west, pick up the Great Ocean Road by approaching via Port Campbell (inland route C164).

A daily bus service between Geelong, Lorne and Apollo Bay connects with train services to Melbourne.
When you're there
Stay on the path while looking for the different mosses, fungi, lichens and ferns found growing on the forest floor. They play an important role in maintaining the rainforest - recycling leaf and bark back into soil nutrients.
Download the Cape Otway and Apollo Bay visitor guide for more information about this part of Great Otway National Park.
Need to know
Cape Otway and Apollo Bay
Accessibility
Visiting a park can be more of a challenge for people with disabilities, however in Victoria there are a wide range of facilities to help people of all abilities enjoy our wonderful parks around the state.

The Colac Otway Shire and Surf Coast Shire each have an all-terrain wheelchair, called a Trailrider, that is available for park visitors with mobility difficulties. The chairs can be booked with the respective shires.
Assistance dogs are welcome in Parks Victoria parks and reserves. Entry requirements apply for parks and reserves that are usually dog prohibited, such as national parks.
Change of Conditions
Nature being nature, sometimes conditions can change at short notice. It's a good idea to check this page ahead of your visit for any updates.
Aire River East Campground (Aire River Heritage River, Great Otway National Park)

Aire River East campground will be closed due to wet conditions until October 31 2023.

Aire River East campground will be closed due to wet conditions until October 31 2023. Camping is available at the Aire West Campground.

Great Otway National Park

Delayneys Track Closed

Delayneys Track is closed until further notice.

Lifejackets Required For Rock Fishers from March 1, 2022

A two-year trial of new laws

that require rock fishers to wear a lifejacket at high-risk locations will commence on

1 March 2022

.

For Great Otway National Park this includes:


Artillery Rocks, west of Lorne

The rock platform opposite Sheoak Falls, south of Lorne




Fines apply if you don't wear a lifejacket at these sites.

Notices Affecting Multiple Sites

Erskine Falls Lower Lookout Closed

Erskine Falls lower lookout is closed until further notice. Access to the base of the waterfall is no longer open due to unsafe conditions. Erskine Falls can be viewed from the top lookout which looks across to the top of the falls. Straw Falls is also inaccessible from the Erskine Falls carpark due to this closure. Erskine Falls walking track is still open from the Lorne township up to the base of Erskine Falls.

Great Ocean Walk - walking event

A permitted walking event from Cape Otway in the Great Otway National Park to the Twelve Apostles in the Port Campbell National park will be taking place on the Great Ocean Walk on Saturday 28 & Sunday the 29 October 2023.
The group of approximately 100 walkers will be walking in small groups of 10 starting from around 9am at the Cape Otway Light station.
The group has booked and is staying overnight at the Johanna beach campground, on Saturday 28 October.
No Great Ocean Walk campgrounds are being used, including at the Johanna Great Ocean Walk camp site.
The group will be shuttled from Johanna Beach to Moonlight Head to finish their walk on Sunday concluding at the Twelve Apostles in the Port Campbell National Park approximately 3pm.
The event is weather dependant.
For more information or concerns please call 131963.

Notices Affecting Multiple Parks

Seasonal road closures 2023

Seasonal road closures apply to areas within and tracks bordering this park from 15 June 2023. See

MapshareVic

for locations of the closures. Visit the

seasonal road closures

page for more information.

Sharps Campground (Great Otway National Park)

Sharps Campground Permanently Closed

Due to environmental and safety risks, Sharps campground will be permanently closed from Thursday 22nd December 2022.




For more information please see attached fact sheet.

Cora Lynn Campground (Great Otway National Park)

Cora Lynn Campground Closed

Due to environmental and safety risks, Cora Lynn campground is permanently closed.

Maits Rest Rainforest Walk (Great Otway National Park)

Maits Rest Carpark- bus access

Maits Rest Carpark is suitable for small coaster buses only. Large buses or coaches are advised to use Melba Gully walk track near Lavers Hill.

Melba Gully Day Visitor Area (Great Otway National Park)

Melba Gully - Large bus access

Melba Gully Walk Track and picnic area is accessible for large coaches. Toilet facilities are available on site
Similar experiences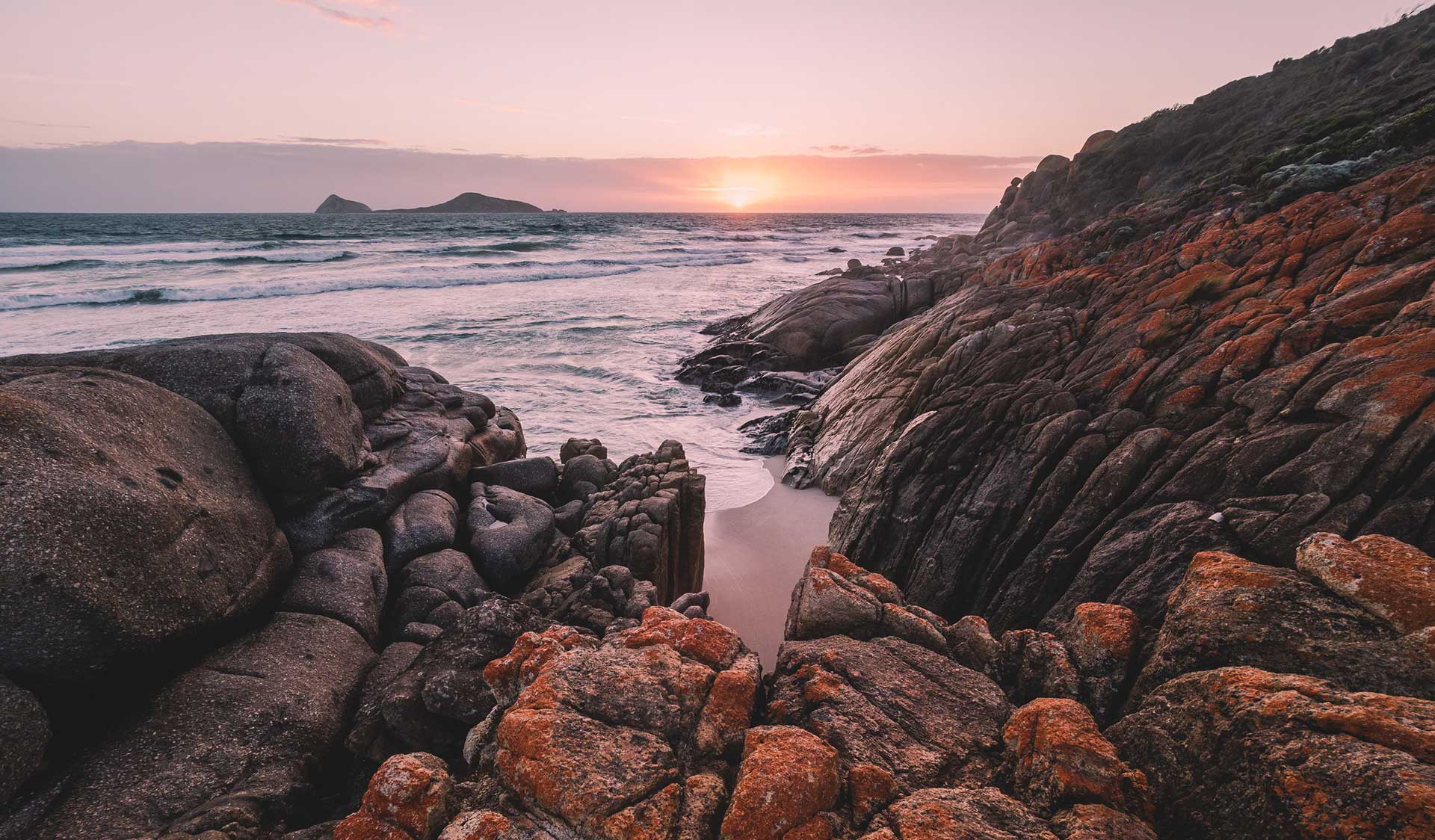 Welcome to Wilsons Prom, the southernmost tip of mainland Australia. Walk remote coastal bushland trails and swim at pristine beaches dominated by granite tors. Camp in comfort at family-friendly Tidal River or hike to a more secluded campsite