Background
The Main Yarra Trail is one of Melbourne's most iconic routes following the Birrarung Yarra River from the north eastern suburbs to the city, but it currently comes to a barrier at the steep steps at Gipps Street in Abbotsford. Parks Victoria is providing a solution with a new ramp to make the trail accessible for everyone.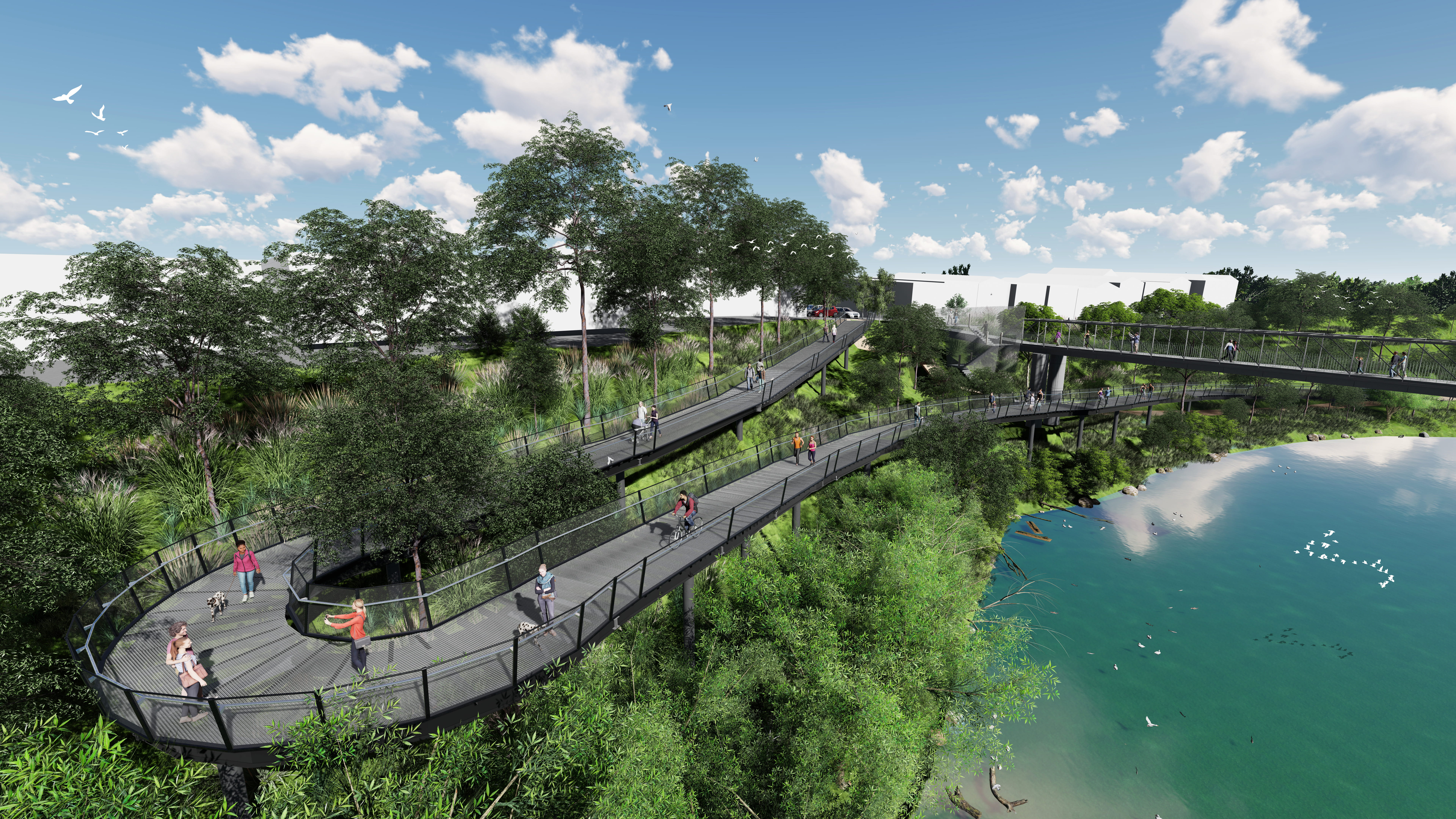 This image is an artist's impression of the proposed ramp design for illustrative purposes only.
Project benefits
Visitors
Users of the Main Yarra Trail have long been keen to see improvements to accessibility and connectivity of the trail at the point of the Gipps Street steps. The new ramp will dramatically improve how all users can access the trail regardless of their accessibility requirements or choice of transport along the trail.
Community
This project is being undertaken in consultation with key community and user groups including the Bicycle Network, Yarra City Council and local residents to ensure minimal disruption for the community and maximum benefit for trail users. A stakeholder working group was established for this project in 2017 and we intend on reconvening this working group in early 2022.
The Project
The project involves replacing the steep steps with a ramp, improving how cyclists, people with prams and people with accessibility requirements can continue along the Main Yarra Trail.
Protecting the environment
We won't be removing any native tree species and we plan on regenerating the embankment by planting native plants as part of this project. Much of the vegetation currently on the embankment at this part of the Yarra is invasive week species, and we'll remove some of these weeds as part of this project.
Protecting cultural heritage
We have consulted with First Peoples-State Relations and a cultural heritage management plan has been approved for the project. We will continue to workwith the Wurundjeri Woi-wurrung to ensure cultural heritage is appropriately managed.
Project safety
To ensure the safety of the public and our contractors, we will need to temporarily close a section of the trail between Gipps Street and Clarke Street in Abbotsford when work commences in 2022.
Project funding
The Victorian Government is investing more than $8.6 million for this project.
Project timeline
Subject to on-ground conditions, and any public health directions that may be in place, below are the estimated milestones for this project:
Spring 2021: Council planning permit approval (pending)
Late 2021: Construction contract awarded
Autumn 2022: Construction to commence
Spring 2022: Construction complete
Project partner
Department of Environment, Land, Water and Planning
Access changes
As of October 2021, there are no access changes to the steps or the trail.
The trail will be temporarily closed between Gipps Street and Clarke Street in Abbotsford once work commences in 2022. We'll update this page and signage on site when there are access changes ahead of them being in place. Alternative routes will also be communicated at that time.
Related information
Bicycle Network - Gipps Street Steps project ramps up
FAQs
What will the ramp look like?
The steps will be replaced with an elevated ramp that follows a gentle gradient to link with the Collins Bridge, enabling all users to enjoy an easy, continuous journey along the trail.
Will there still be steps available at this location for those who want to use the steps?
The existing steps will be demolished and new steps will be rebuilt nearby. The new steps will be designed and constructed with similar materials to the ramp.
How is vegetation being protected during works?
Much of the vegetation on the embankment at this location is invasive weed species. Existing native trees on the embankment will not be removed and replanting of native species will be incorporated into the works to regenerate the embankment.
When will the Gipps Street ramp be built?
Subject to on-ground conditions and any public health restrictions in place, construction will begin in Autumn 2022 and be completed later in the year.
How is the community being consulted on this project?
Extensive community consultation was undertaken in 2017 for input into the ramp designs. Ongoing engagement is happening with people and groups, including Traditional Owners, Bicycle Network Victoria, neighbouring residents and Yarra City Council.
Stay up to date