Yarra Bend Park - Fairlea Reserve - Netball Courts and Pavilion
Background
Parks Victoria is working with Sport and Recreation Victoria to develop new and improve sporting facilities in parks to offer more opportunities for the community to get active and play their favourite sport.
Thanks to funding from the Victorian Government through the Inner City Netball Program, an under-utilised section of Yarra Bend Park in the Fairlea Precinct will be activated with eight new netball courts, a shared-use pavilion and upgraded toilet facilities.
The addition of netball courts to Yarra Bend introduces more opportunities for women and girls, and junior level sport at the precinct, in addition to the existing soccer, cricket and fly-fishing options within the Fairlea Park Precinct.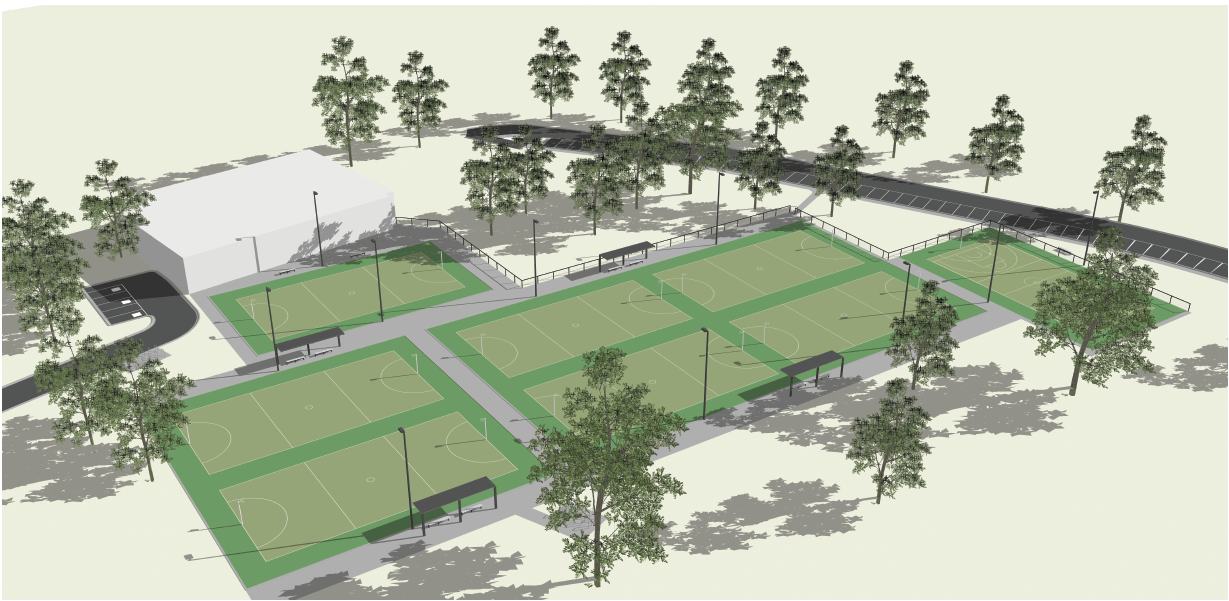 Note: Image is an artist impression and for illustrative purposes only.
Project Benefits
Community
The new netball courts and pavilion will provide modern sporting facilities to support competition netball for all age groups, so that more of the community can play sport and stay active. The pavilion facilities will be shared by the local netball, soccer, cricket and fly-fishing sports clubs.
Visitors
Once completed, there will be increased parking capacity at Fairlea Reserve enabling more visitors to use this section of the park.
The Project
The project includes:
building eight competition-standard outdoor acrylic surfaced netball courts with competition standard lighting and includes one multi-sport court (netball/basketball),
installing a new modular pavilion for local sporting groups located between the netball courts and the Fairlea West Oval,
replacing the existing 1960s toilet block (satellite pavilion) with a modular pavilion (completed),
landscaping, bike racks and pedestrian pathways, and
increasing car parking capacity.
Protecting the environment
We recognise the importance of minimising our impact on the environment wherever we can. While we need to remove around 120 trees in order to complete this project, we're offsetting this by planting a further 900 trees in around Fairlea Reserve in Yarra Bend Park. These new trees will be planted at the Westfield, Deep Rock, Lower Loop and Andrews Reserve areas of the park.
The pavilion will be a pre-fabricated modular pavilion, which means the majority of construction of the pavilion will take place off site before it is installed on site. By opting for this type of pavilion there will be a shorter build time which means less disruption for the park and the community, and the pavilion will have a smaller environmental footprint.
Protecting cultural heritage
We have worked with Wurundjeri Woi-wurrung Aboriginal Cultural Heritage Corporation to develop and implement a Cultural Heritage Management Plan for this project.
The Yarra Bend Fairlea Precinct was once the site to the Yarra Bend Asylum and Fairlea Women's Prison. Given the historic value of the site we have sought a Heritage Victoria permit and are undertaking the project in accordance with that permit.
Project timeline
October 2021: works to commence
Project Partners
Sport and Recreation Victoria
Netball Victoria
Yarra City Council
Project funding
Through Sport and Recreation Victoria, the Victorian Government has invested $8 million for this project.
Access changes
From October 2021:
Visitors to Fairlea Reserve may see tree removal and earthworks taking place.
The access road to the park office from Yarra Bend Road will be inaccessible at times. Alternative access will be available via Fairlea Road.
The section of the reserve between Fairlea West Oval and Yarra Bend Road will be fenced off and inaccessible to visitors for the duration of the works.
The half-basketball court in this section of the reserve will be permanently closed – one of the new courts will be suitable for basketball.
The Parks Victoria park office will remain open and accessible by foot from Fairlea West Oval.
Access information last updated 5 October 2021.
Related information
Places to see - Yarra Bend Park
Inner City Netball Program
FAQs
Will the new netball courts be suitable for evening games?
Yes, all the courts will be equipped with LED lighting suitable for evening training and competition. The lighting will be designed to limit obtrusive lighting for the surrounding areas.
Will these works impact access to the soccer and cricket fields?
No, we don't expect these works to have an impact on access to the existing sporting fields. Pedestrian access will be retained to the existing sports fields during works.
Why are you removing trees for this project?
To make space for the new netball courts, we'll need to remove some eucalypt, casuarina and acacia trees in this section of Fairlea Reserve. However, to make up for this we will be planting 900 trees of the same species within the Fairlea Reserve to offset this environmental impact – that's almost eight times the trees we will need to remove.
Will I be able to walk my dog on or off lead here?
The existing dog on lead and dog off lead areas will stay the same within Fairlea Reserve, as indicated by on site signage. Visitors will able to walk their dogs around the netball courts and pavilion, however dogs will not be permitted on the netball courts.